Here's One Advantage Crypto Has Over the Stock Market, According to Bloomberg Strategist Mike McGlone
Bloomberg Intelligence's senior commodity strategist Mike McGlone says crypto may have one big advantage over the stock market.
The closely followed strategist compares the S&P 500 to the MVIS CryptoCompare Digital Assets index which tracks the performance of the 10 largest and most liquid digital assets. According to McGlone, the ability of digital assets to shake out excess leverage from the system with sudden plunges and rebounds is one advantage crypto has over the equities market.
"It's almost guaranteed that the Federal Reserve will expand easing the next time the stock market wobbles, if past patterns hold, which should solidify underpinnings for Bitcoin. A cleansing of speculative excesses in 1H (1 hour) may be an advantage crypto assets have over the S&P 500."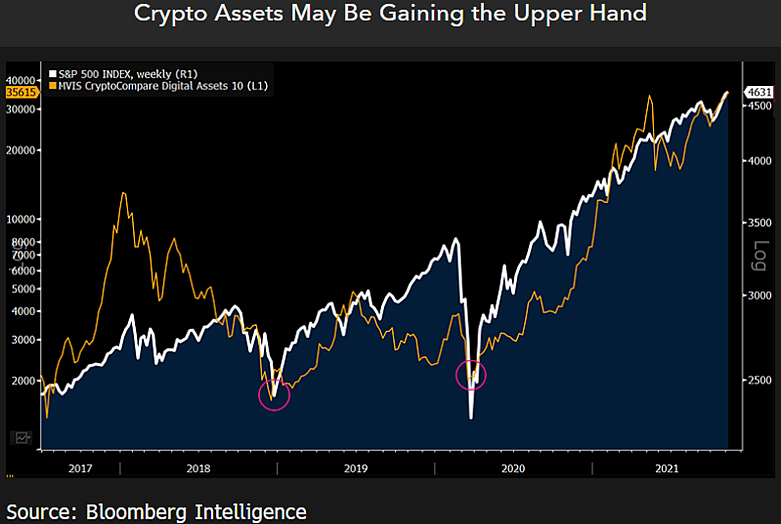 Looking at Bitcoin, McGlone says that BTC continues to build a solid base as prices of crude oil and commodities show that peak inflation is in sight.
"Crude oil and commodities are good indicators that peak inflation is near. We believe crude is fundamentally a bear market bumping against the upper end of its price range since the 2014 plunge. Bitcoin is becoming digital collateral and part of the technology revolution."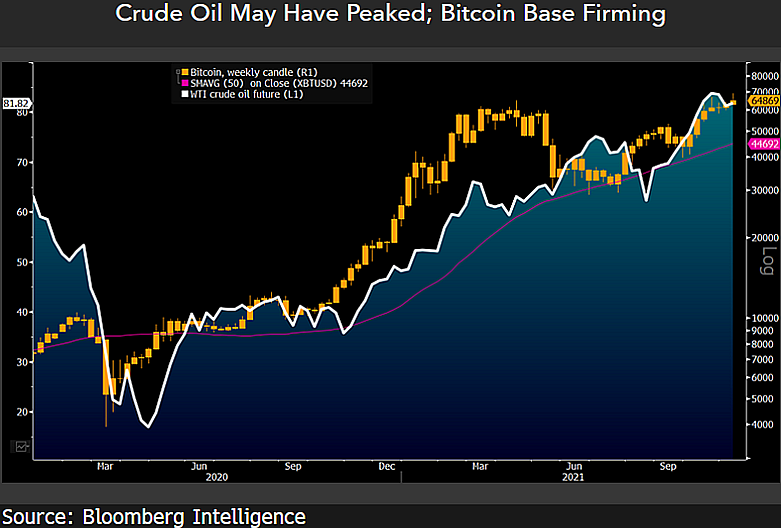 McGlone also highlights the three main components driving the growth of the crypto markets, which include Bitcoin, Ethereum (ETH), and the vast amount of stablecoins, which he refers to as "crypto dollars."
"Three crypto musketeers driving $3 trillion market cap – representing a better way to transact, a strengthening ecosystem and here-to-stay asset class, crypto dollars are the most significant advancing part of the digital-money revolution and the third leg of the crypto stool."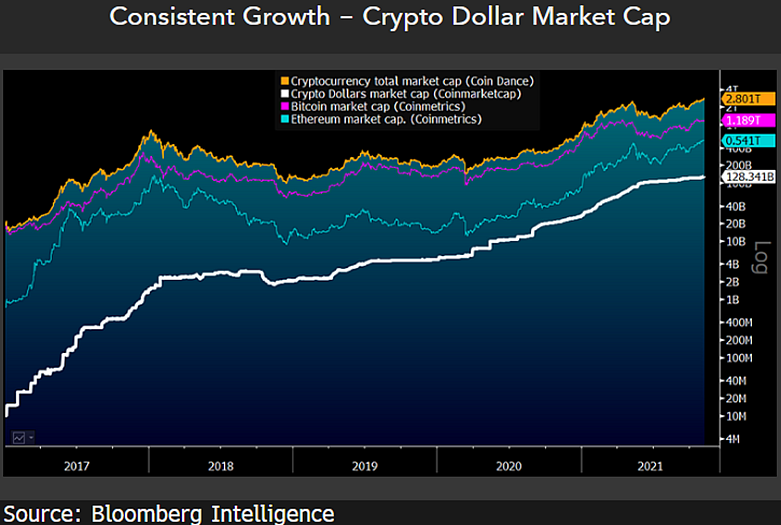 Hardware Wallet vs Software Wallet: Crypto wallet choices for 2022
Crypto wallets enable crypto users to send, receive, and store their digital assets/currencies. Once a user picks a crypto platform or exchange to hold transactions over the crypto market, he is essentially signing up for a crypto wallet of the respective coin/cryptocurrency.
Digital assets are safest to store in a wallet instead of keeping them in cryptocurrency online exchange platforms. The crypto market is prone to cyber threats, and therefore, picking a reliable and safe platform is essential. If certain platforms cannot service their wallet, they might also recommend you to third-party wallets.
Creating a crypto wallet account to store your assets from the get-go might seem troublesome but necessary. For new users, the most important choice is to pick between hardware wallets and software wallets. The ultimate crypto wallet helps ensure one's smooth crypto future. We will review all the pros and cons of hardware and software wallets to help you pick which one suits your needs.
Analyzing hardware wallets
In the world of crypto, hardware wallets are called cold wallets interchangeably. Cold storage wallets do not require online servers at all times and can store the assets in the wallets, which are physical devices. The software program of hardware wallets allows users to keep their assets safe offline and only allows access via private key once the device is connected to the main computer system or device.
Since the assets are not stored in any online servers but rather get stored offline, cyber-attacks are reduced This storage type adds immense security to assets since they cannot be accessed by a third party over the Internet, especially if they do not have a private key. No third party is involved in a hardware wallet that can dictate transactions or access the user's transaction history.
How to choose a hardware wallet
The offline features of hardware wallets make them safer than software wallets since there is no dependency on a third party. A hardware wallet is protected from any security threats and asset loss. If your hardware wallet is lost, stolen, or damaged, you can easily and securely recover all of your crypto assets, as long as you have access to the 12, 18, or 24-word recovery seed. 
All of your cryptocurrency is actually stored on the collective blockchain network. The hardware wallet stores the recovery seed that you backup offline, on paper, or much better yet on a stainless steel recovery seed backup device. If you no longer have access to your hardware wallet, you can import the recovery seed into another wallet and you will regain access to all of your accounts, balances, and transaction data.
The numerous layers of security offered by hardware wallets make them costly but worthy of investing. Compared to the services of other online wallets and bitcoin wallets, a hardware wallet will last much longer without making changes to its system. Crypto assets should not be kept in online wallets for too long to avoid hacking or other security threats; the hardware wallets store assets in such a way that the user doesn't need online storage.
Hardware wallets contain a range of security features to protect your digital currency keys. They're protected by a PIN and often include other security measures, such as a screen for viewing transaction details and buttons on the device for manually verifying transactions. We have summarized comparison points to help you with your hardware wallet choice.
Security features. What features ensure security? Is it secured by a PIN? Does it include its own screen? Can transactions be verified by manually pressing buttons? Are there any reported instances of security breaches involving the wallet?
Ease of use. How easy is the wallet is to set up and use? Are the instructions easy to understand the processes involved? Does the wallet makes it as simple and straightforward to keep track of your crypto holdings?
Supported currencies. Are coins and tokens you want to store actually supported by the wallet?
Supported operating systems. Is the device compatible with the operating system you're running on your computer or smartphone?
How you actually access your crypto. Does the hardware wallets come with its own hot wallet, which is typically a browser extension or web wallet? Or does the hardware wallet allow you to interact with your crypto holdings using a third-party wallet?
Back up and restore. Is there a process to back up your wallet and restore your coins if something goes wrong? Is this easy to do and will it increase the level of security for your funds?
Price. How does the price compare with the prices of competing wallets, including exchange rates and shipping costs if buying from an overseas provider? Which option gives you better value for your money?
Portability. Consider how easy it would be to carry around on a day-to-day basis.
Independent reviews. What problems (if any) were encountered by users? Were they easily resolved by the provider? Is there support for the wallet?
Hardware wallets compared
There are essentially two separate parts to a hardware wallet. The first part is a desktop, mobile, or web client connected to the Internet and performs nearly all the basic features of an ordinary hot wallet.
This software wallet creates the transactions but cannot sign them – which is where the second part, the physical hardware wallet that contains your private keys, comes in. The transaction must be sent to your offline hardware wallet, verified by you, and signed by the device before it can be completed.
All in all, having a hardware wallet to store your digital assets offline is the best way to go among other cryptocurrency wallets. You can browse the ideal wallet from reliable providers and enhance your crypto storage options over mobile wallets. Choices, as well as prices, are wide-ranging. You can also view several discussions on crypto hardware wallets vis-a-vis exchanges here.
Hardware Wallet
Coins Supported
Features
Cost
Ledger Nano X
BTC, ETH, XRP, BCH,
ADA, LTC, BNB, EOS,
XTZ, XLM & 1,350+ more
Bluetooth functionality, more memory;
higher quality screen than Nano S.
$119
Ledger Nano S
BTC, XRP, ETH, BCH,
EOS, XLM, LTC, TRX,
ADA, MIOTA & 1,330+ more
$59
Trezor Model T
BTC, ETH, XRP, USDT,
BCH, LTC, EOS, XTZ, LINK,
XLM & 1380+ more
New features include touchscreen
and improved processing.
$221
Trezor One
BTC, ETH, BCH, LTC, LINK,
XLM, HT, USDC, DASH
& 1280+ more
Keeps your cryptocurrency
safe from hackers and malware.
$63
Keepkey
BTC, BCH, DASH, DOGE,
ETH, LTC, NMC
Virus- and malware-proof hardware wallet
$49
Sugi
BTC, ETH, LTC, XRP, BCH,
ERC20
An NFC cryptocurrency wallet card with
a mobile app that supports major cryptos
and select ERC20 tokens.
$69
Analyzing software wallets
Software wallets are downloaded as applications over phones and other devices connected to the Internet. The application has a simple user interface, and only the user can access it through his private keys. Between hardware and software wallets, the software wallets are a type of digital wallet that can keep all your data and transactions on a mobile device.
Software wallets have private and public keys to help users access their wallets and also allow other users over the crypto market to hold transactions with the user. It is not too much hassle even if you lose your wallet's private keys; access to online wallets can easily be recovered. The two-step verification process and all the private keys keep your assets safe from security breaches.
Although most wallets on various crypto exchange platforms are prone to hacking, the presence of a software wallet over the blockchain means that users can store cryptocurrency without worrying about its safety. The blockchain protects user data and privacy to the fullest through its software.
What are mobile wallets?
Mobile wallets can easily be downloaded on your mobile phone from the respective provider. There are different functions that various mobile wallet apps perform for their users. The software wallets on mobiles either store their users' assets or allow users to hold transactions over the crypto market actively. Online mobile wallets are usually susceptible to hacking. Therefore, most people do not use one wallet alone. The functionality of the interphase is the primary factor in choosing a mobile wallet. We also have discussions of mobile wallets here.
What are desktop wallets?
As the name suggests, desktop wallets allow users to download the software wallet of their choice over a laptop or PC screen. This option might be better for traders who want constant communication and news of the crypto market and their assets. Desktop wallets allow users to interact more with third parties over the blockchain while maintaining their assets.
The user has complete control over processing their transactions and storing their assets. Most people fear that desktop wallets might expose their assets too much, but that's where personal responsibility comes into place.
What are online wallets?
Online wallets are the most convenient as they can easily be accessed. Most devices allow users to search their online wallets, and they can log in easily with their private keys at any time or place. These online wallets are controlled by third-party players, and therefore most of the control and access lies with them. A wallet's accessibility is only good if it doesn't open up the users' assets to online hacking.
Hot or cold?
A hot wallet is any wallet that has an active connection to or is hosted on the Internet. Hot wallets go with almost all new coins to facilitate accessibility; they're more user-friendly than cold wallets and are often more user-friendly. Thanks to their connection to the Internet, moving funds in and out of these wallets is quick and easy. Unfortunately, this ease of use also comes with disadvantages, such as being susceptible to hackers, phishing scams, and other vulnerabilities. Examples of hot wallets include those offered by exchanges or web wallets.
A cold wallet refers to any wallet stored offline. Cold wallet storage can refer to several methods, such as creating a paper wallet with a QR code, storing a wallet on an air-gapped computer (disconnected from the Internet), or using a hardware wallet. While considered more secure than a hot wallet, cold wallets are often slow to use, require a physical object, and can be damaged in ways hot wallets cannot. Hardware wallets are a particular type of cold wallet, popular for their additional security and redundancy features.
Conclusion
A wide range of cryptocurrency platforms and exchanges offer various hardware wallets and software wallets. The ultimate choice mostly depends on a user's business plan that determines the type of wallet. Both wallets offer their advantages and disadvantages.
Hardware wallets are much more secure but are limited in their scope. A software wallet can be accessed anytime and much more conveniently than a hardware wallet. There are many types of software wallets and ways to access them; the race is on for the wallet that can offer the most features at a reasonable price.
There is a far wider range of software wallets than hardware wallets, as every new coin can come up with its wallet. The rule of thumb is to compare features, emphasizing security – remembering not your key, not your coin – come up with a solid plan, and choose a crypto wallet suitable for the purpose.
Investor Charlie Munger Calls Crypto 'Crazier Than DotCom Era', Backs China for Banning Them

The crypto market rally this year in 2021 has been indeed crazier with the broader growing market growing 3x by adding nearly $2 trillion to the overall market cap. However, traditional investors and big names like Charlie Munger are finding it too difficult to digest.
The investment legend calls this rally in the crypto market to be crazier than the dotcom era. Addressing Australian investors at the Sohn Hearts and Minds conference on Friday, December 3, Mr. Munger called this investment environment "a little more extreme". He also backed China on clamping down on "some of the exuberances" of capitalism. Expressing his extreme criticism towards cryptocurrencies and Bitcoin, Mr. Munger said:
"I think the dot com boom was crazier in terms of valuations than even what we have now. But overall, I consider this era even crazier than the dot-com era. I just can't stand participating in these insane booms, one way or the other. It seems to be working; everybody wants to pile in, and I have a different attitude. I want to make my money by selling people things that are good for them, not things that are bad for them.
Believe me, the people who are creating cryptocurrencies are not thinking about the customer, they are thinking about themselves," he added.
Munger Backs China for Banning Digital Assets
The legendary investor further added that he would never participate in this "insane" crypto boom. More interestingly, Munger even backed China for banning cryptocurrencies entirely. He noted:
"I'm never going to buy a cryptocurrency. I wish they'd never been invented. I think the Chinese made the correct decision, which is to simply ban them. My country – English-speaking civilisation – has made the wrong decision".
Legendary investor Warren Buffett and Munger's partner at Berkshire Hathaway have also showered strong criticism on Bitcoin in the past calling it 'rat poison squared'. After Buffet's comments back in 2018, Bitcoin has just continued to grow higher.
3 Cryptocurrency To Buy For Christmas: Bitrise Coin, Cardano $ADA And Solana $SOL
Investing in the cryptocurrency industry is one of the smart decisions one can make today. The year 2021 has proven the kind of potential the crypto industry has with cryptocurrencies like Bitcoin and Binance recording bullish growth and making many dollar millionaires.
The industry is still young, and there are still many high-potential cryptocurrencies to invest in. Bitrise coin, Cardano $ADA, and Solana $SOL are three cryptocurrencies everyone crypto investor should have for this Christmas. These are high utility tokens with a solid 2022 development plan.
Cardano and Solana are blockchains that are doing very well in the crypto industry. The two blockchains address the problems associated with Ethereum and Bitcoin, which are scalability, security, and gas fees/transaction costs. At this moment, both Cardano and Solana have higher throughput than Ethereum.
Cardano is older than Solana, having been launched in 2017, and has so far achieved incredible milestones. That's why Cardano ADA has been doing very well. Just like Solana, the Cardano platform uses the Proof-of-Stake consensus protocol to address the mentioned limitations. The accomplishments made by Cardano and Solana blockchains are some of the reasons their coin's demand is ever rising.
Already Cardano and Solana have released their 2022 roadmaps, something that has excited the crypto community. There are big developments coming up in 2022 that will increase the demand for Cardano $ADA and Solana $SOL.
But investors need to pay more attention to the Bitrise coin. Bitrise is a still mooning coin that has been around for just 4 months but is attracting the crypto community's attention. It is a hyper-deflationary token that rewards investors for just holding tokens.
Bitrise is a DeFi protocol built on the Binance Smart Chain and has already made impeccable accomplishments in developing a decentralized financial system. Like Cardano and Solana, the team is addressing the centralization of the financial services.
The team had already developed key products for this DeFi ecosystem, including Bitrise Audits, Techrate Audi, and dApp wallet in its first 3 months of launching. Bitrise exchange is launching in Q1-2022, and blockchain is in the development stages. These developments have made Bitrise coin popular, just like Cardano and Solana coins.
The staking process and investors' rewards are other reasons why Bitrise coin is a good buy for Christmas. Like Cardano and Solana, Bitrise is soon launching the staking process and will be sharing 80% APY of the generated revenue. Like Cardano, there are already multiple products in the Bitrise ecosystem, and this means more money for staked tokens.
Bitrise tokenomics also redistributes 4% of the 12% tax on all transactions token holders for just holding tokens. The reward is BNBs and is automatically sent to Holders' wallets every 60 minutes as static income.
Crypto investors looking to start 2022 on a high, Bitrise coin, Cardano $ADA, and Solana $SOL are cryptocurrencies to buy for Christmas. These are coins with massive potential because of their utility and a solid development plan.