Safemoon price nears support as bulls await the right moment for the second breakout
Safemoon price is in the second week of price correction.
Safemoon price almost wholly reversed the bullish breakout from October.
With support at $0.00000289, expect a bounce and a new breakout to come.
Safemoon (SAFEMOON) price is stuck in a sharp correction following the initial nose dive last week after breaking the high of June. Safemoon price sees bears pushing Safemoon price further downwards, almost but fully reversing the gains. Support is coming in at $0.00000289 and could potentially trigger a new breakout like three weeks ago.
Safemoon price sees bulls waiting a fitting moment for the next breakout
Safemoon price hit $0.00000700 at the end of October before the price reversed quite rapidly. This week proved to be no other, and the gains from October are almost entirely paired back. With that said, bulls will be gearing up for another breakout as the breakout proves that profits are there and bears are not that insignificant presence as since May and the whole summer throughout. Support at $0.00000289, coming from the beginning of October, looks promising and will undoubtedly see a slowdown or even a halt for the bearish candle next week, as bulls will undoubtedly want to buy in the opportunity again. 
Safemoon price will see bulls possibly going for the fade-in trade if $0.00000289 does not hold that firm enough, with the green ascending trend line and $0.00000117 as two close support elements. As bulls will have averaged in on these levels, expect a breakout towards the red descending trend line around $0.00000600. When Safemoon price sees bulls break that red trend line, expect more buyers to flock in, and price action could shoot higher towards $0.00001200, which would be a 300% return.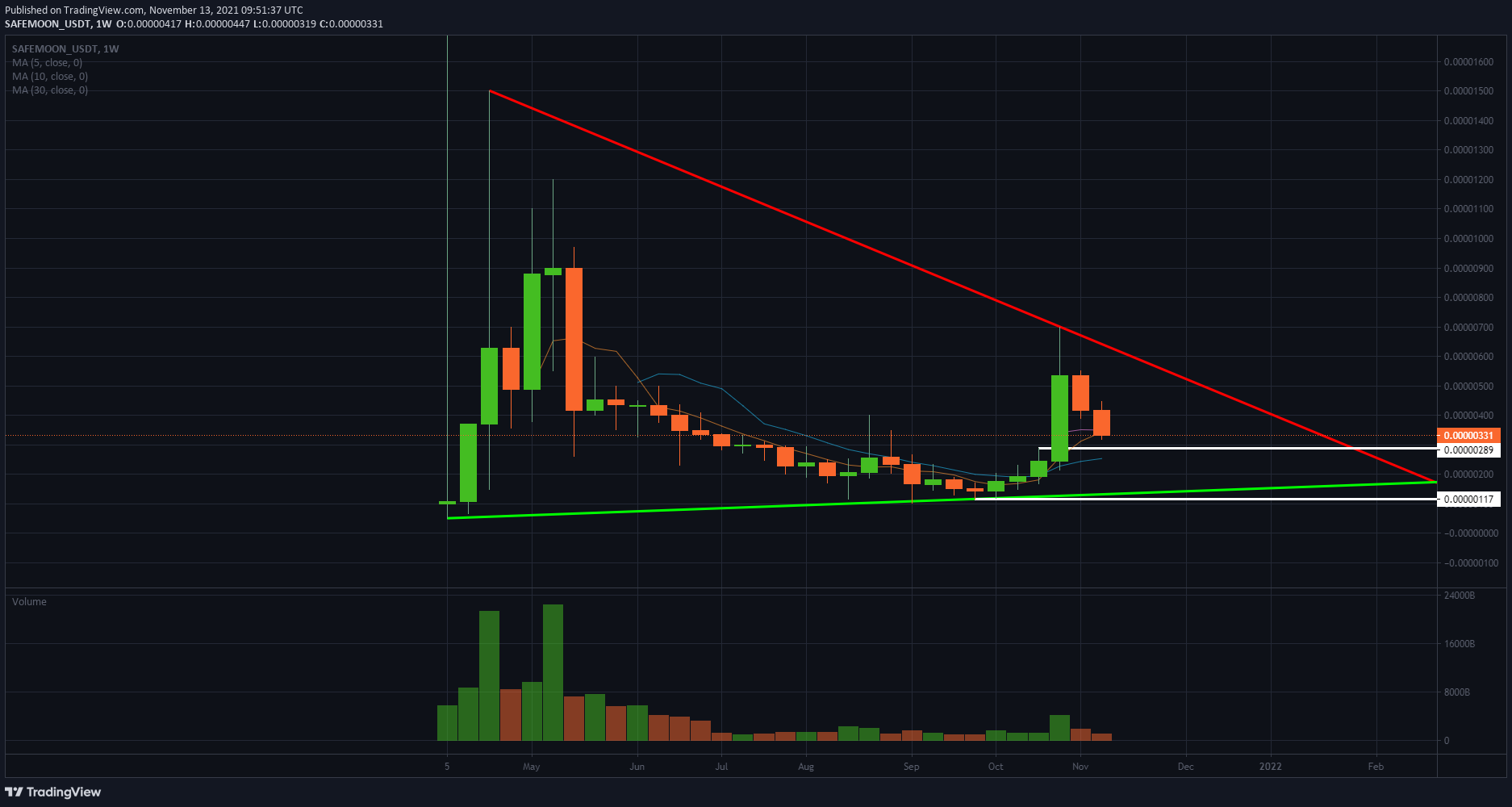 Safemoon/USD weekly chart
If Safemoon would fall back into its same regime as during past summer, expect a break below $0.00000289. As support turns into resistance, Safemoon price could stay muted below that level and get caught in a squeeze between the green ascending trend line and the resistance. Expect a prolonged squeeze with bulls, in the end, being able to break the $$0.00000289 resistance level and push the price back up towards $$0.00000700 for a retest and double top formation.
SafeMoon ready to bounce after 30% bearish fakeout
SafeMoon price collapsed nearly 30% on the Tuesday trading session.
Bears are unable to break the supportive structure in SafeMoon's oscillators.
Sell-off is likely a stop-loss run and a fakeout.
SafeMoon price action is nearly singular in its current behavior and structure. Very few, if any, significant altcoins have displayed the kind of price behavior SafeMoon has.
SafeMoon price sell-off is likely a fakeout, massive buying opportunity ahead
SafeMoon price faced a strong sell-off during the early part of the Tuesday trading session, collapsing nearly 30% from the daily open of $0.0000030 to $0.0000023. However, that sell-off was met with immediate and significant support – rallying 21% from the 0.0000023 low to $0.0000028.
SafeMoon has moved nearly 70% below the all-time high of $0.0000070 that was achieved on October 29th. Additionally, the move today represents the second-largest percentage drop of the entire downswing. From a time cycle and price action perspective, SafeMoon price is primed for one heck of a massive rally.
The 2021 Volume Point Of Control and the daily Tenkan-Sen both sit at $0.0000027. If SafeMoon price can close its daily candlestick at or slightly above that level, then moving to the Kijun-Sen at $0.0000036 is all but inevitable. That would represent a 35% spike.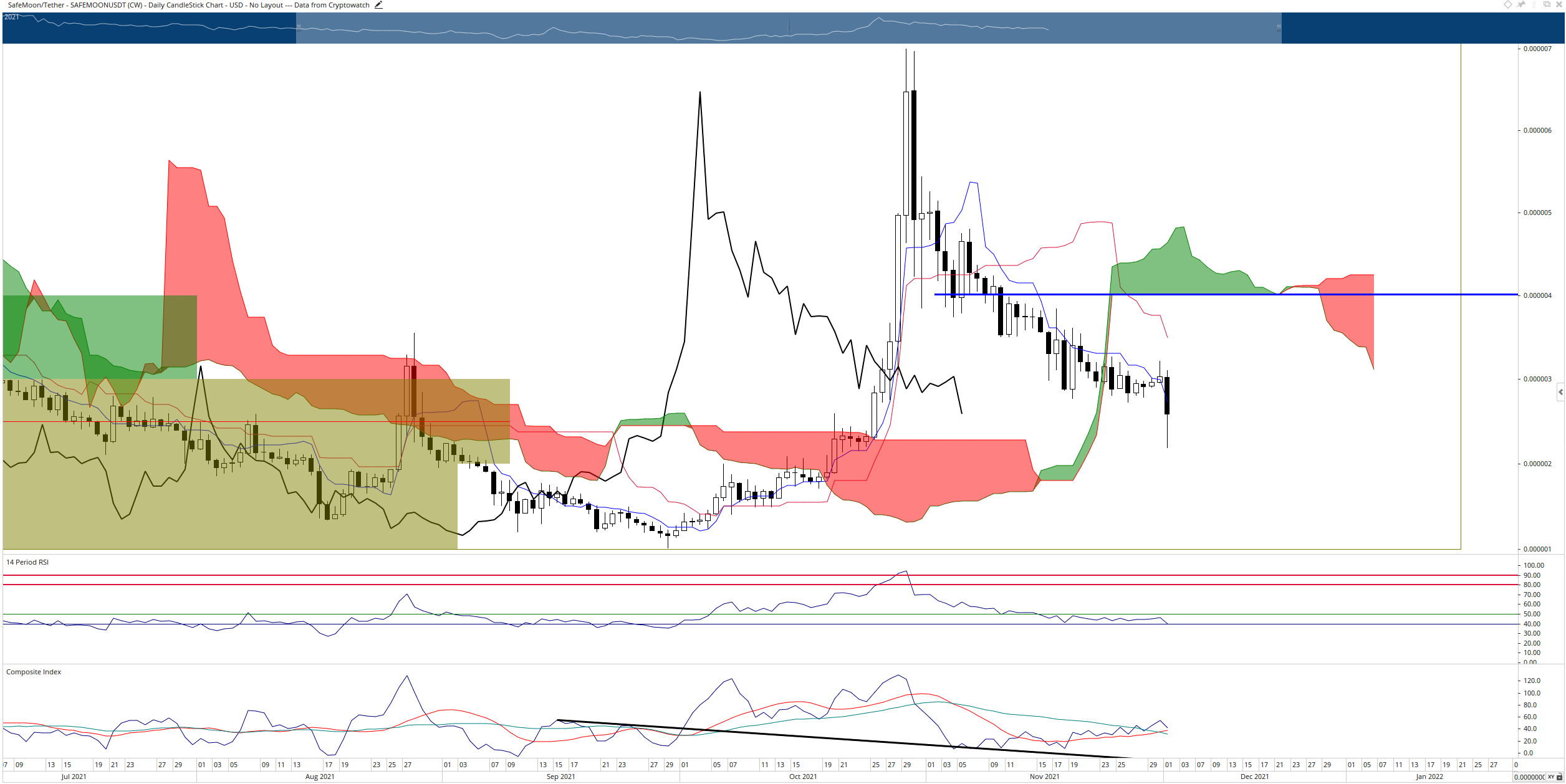 SafeMoon/USDT Daily Ichimoku Chart
SafeMoon's oscillators, shockingly, have not transitioned into bear market territory despite the nearly 70% drop in November and the current 30% drop today. Instead, the Relative Strength Index remains in a bull market territory with the final oversold level of 40 holding support. Likewise, the Composite Index remains above both of its moving averages.
While downside risks remain extremely low at these present value areas, they do exist. Any daily close below $0.0000023 would likely trigger a capitulation move that would push SafeMoon towards the all-time low of $0.0000010.
SafeMoon price gears up for upcoming V2 launch with drop in circulating token supply
Ahead of the SafeMoon V2 upgrade, there is a drop in the supply of circulating tokens.
SafeMoon price hit an all-time high seven months ago; since then, the token has plunged nearly 75%.
The petition to rename Jazz arena to "SafeMoon arena" gathered 4,878 signatures from the community.
Analysts note a bullish uptick in the RSI and target $0.000004 as the first target after a month of downtrend in SafeMoon price.
Despite being stuck in a downtrend, analysts predict a bullish breakout in the token. The shrinking supply of SafeMoon coupled with the upcoming V2 upgrade is likely to trigger a rally in the token.
SafeMoon price prepares for announcement of V2 upgrade launch date
The supply of SafeMoon has dropped to 571,000,000,000, and the shrinking supply is expected to drive the token's price higher. Historically, a drop in supply or implementation of burn policy fuels a bullish narrative in the token's price. 
SafeMoon hit a new all-time high several months ago; the token's price has plunged nearly 75% since then. Holders are awaiting the announcement of the V2 upgrade launch date. SafeMoon price has posted 16% losses over the past week and nearly 20% over the past two weeks. 
SafeMoon community added 4,878 signatures on a petition to rename Jazz Arena in Salt Lake City, Utah, to "SafeMoon Arena." SafeMoon plans to make Utah its future base of operations. Therefore SafeMoon HQ will be located in the Vivint Arena (Jazz Arena).
Cryptocurrency analysts at the YouTube channel "SafeMoon Army" have noted a bullish uptick in RSI. Analysts consider $0.000004 as the first target after nearly a month of downtrend in the token's price. 
The analyst has identified $0.00000271 as the base, and with the rise in interest from buyers, RSI is rising, providing support for a rebound in SafeMoon price. 
SafeMoon V2 countdown begins with prices ready to explode
John Karony, SafeMoon CEO shared an update on new developments in the project, announcing the transition to a new team.
Thomas Smith, SafeMoon's Chief Blockchain Officer has been replaced with a new team as part of the company's restructure and preparation for V2 launch.
The former Chief Blockchain Officer told David Gokhstein in a recent interview that he will make products that support SafeMoon from the outside.
SafeMoon is going through restructuring ahead of the V2 launch. CEO John Karony shared details of the team's progress and addition of new members to replace Thomas Smith. 
SafeMoon makes progress on V2 launch
SafeMoon's V2 upgrade will improve the security on the network. The upgraded contract brings utility features like reducing tax by 80% for ecommerce and wallet transfers. For SafeMoon users, the net value of their holdings will remain the same.
John Karony, CEO of SafeMoon explained that the net holdings of users will be divided by a factor of 1000, and the overall value remains the same. 
Transferring SafeMoon between two wallets is currently taxed at 10%, a drop by 80% makes it 2%. Users can migrate from V1 to V2 in two clicks, and a small amount of BNB to cover the transition fees.
Interestingly, SafeMoon recently announced that Chief Blockchain Officer Thomas Smith is now being replaced by a team. Karony shared details of the transition and revealed that the V2 upgrade is imminent, the handover process has started. There is no news of delay due to the transition.
The team has started a countdown and the upgrade is currently going through the final checks.
Thomas Smith told David Gokhstein of Gokhstein Media that he will support SafeMoon externally. 
Still here though, what if I create uses for it externally 🤷‍♀️ now is a great time to be excited— Thomas (@papacthulu) November 24, 2021
Earlier this month SafeMoon was recognized as the crypto community of the year. Analysts are bullish on SafeMoon based on the recent price trend.
SafeMoon ranks in one of the highest price gainers over the past 24 hours.
Adam Bergman, a cryptocurrency analyst at "The Adam Bergman Show" on YouTube is bullish on SafeMoon. Berg stresses on the role of centralized and regulated exchanges and SafeMoon's roadmap and community in pushing the asset's price higher.
Bergman expects SafeMoon price to explode, similar to Binance Coin, Shiba Inu token and Crypto.com (CRO).