SafeMoon Price Prediction 2022 – 2025 – 2030 | SAFEMOON Forecast
Today we are reviewing SafeMoon. Now let me see – Safemoon Inu, no. SafemoonCash – nope, that's not it. NotSafemoon? Someone's having a laugh here. Unsafemoon – really? Aha, found it! SafeMoon.
If imitation is the sincerest form of flattery, then SafeMoon should feel sincerely flattered. With a name containing the word Moon, you've got a lot of heavy lifting ahead of you to prove you're not a waste of everybody's time and money. Never since the second coming of crypto dog memes has the community looked so unhinged. Let's see if SafeMoon can convince this skeptic.
What is SafeMoon?
---
SafeMoon is a decentralized finance (DeFi) protocol token with three specific functions embedded in its code. Every transaction has Reflection, LP Acquisition, and a Burn. You can read about it for yourself here, but simply put –
Reflection/Static Rewards smooths out the profits paid by liquidity pool staking. The problem it tries to solve is early investors selling their SafeMoon, forcing a downward price pressure, and crippling more recent investors. By basing static rewards on trading volume and the amount held, early birds are incentivized to hold their SafeMoon rather than dump them on the market. I'm not sure this worked judging by the initial pump, followed by the typical price crash.
LP Acquisition automatically grows the liquidity pool by taxing buyer and seller tokens from each transaction. An efficient market requires high liquidity, but this also benefits the price stability. I get the principle, but it feels like they are trying to steer a massive oil tanker with a pair of dinghy oars.
Manual Burns are more flexible than scheduled burns, true. The destruction of coins has its own set of problems in the long term, but appearing to be deflationary is a must-have for cryptocurrencies these days. Having the team control the burns will future proof the protocol, or at least, that's the theory. It actually sounds like both the most arbitrary, and the least decentralized approach possible.
SafeMoon Price Prediction 2022 – 2025
---
Like almost every other cryptocurrency, SAFEMOON has tanked badly over the last quarter. The difference is that SAFEMOON only spawned a few months ago. The price will almost certainly recover in line with the general market, so for technical price analysis, you'd be better off looking at BTC and ETH trends. There's simply not enough SAFEMOON data to go on, so far.
Fundamentals
---
If SAFEMOON is to survive and flourish beyond a market recovery, it will do so on its merits as a cryptocurrency. We can take a look at the usual fundamentals, however, SAFEMOON is a meme coin. It doesn't claim to be world-beating technology or a much-needed piece of infrastructure. They're not showing off their team of massive brains, or bragging about their deep-pocketed angel investors.
If a meme coin like SAFEMOON is to prosper, it relies on awareness, hype, fans, community, and attention. These are new and different fundamentals. It's similar to the obsession tech some companies have with gaining market share over profitability. It makes no sense to the traditional Boomer investor studying price/earnings ratios, but it's a disturbing reality of the current economic zeitgeist.
Use Case
---
This is a good question. The SafeMoon protocol is yet another token that the world could probably live without. From the hype on social media, its main purpose today is to make everyone rich for free. If this is the attraction then I have bad news. Trying to get something for nothing out of the universe will likely bite you on the behind. This is a fundamental law of nature.
On the other hand, SafeMoon is a fair-launched token with some ok looking tokenomics. For example, the dev team burned all their tokens, making a rug-pull or a dump much less likely. They participate in the project like everyone else, aligning their interests with those of the wider community. At least that's the theory.
Looking forward, it could provide a stable platform on which to launch DeFi projects and new tokens. SafeMoon faces stiff competition, but who's to say they won't succeed?
Tokenomics
---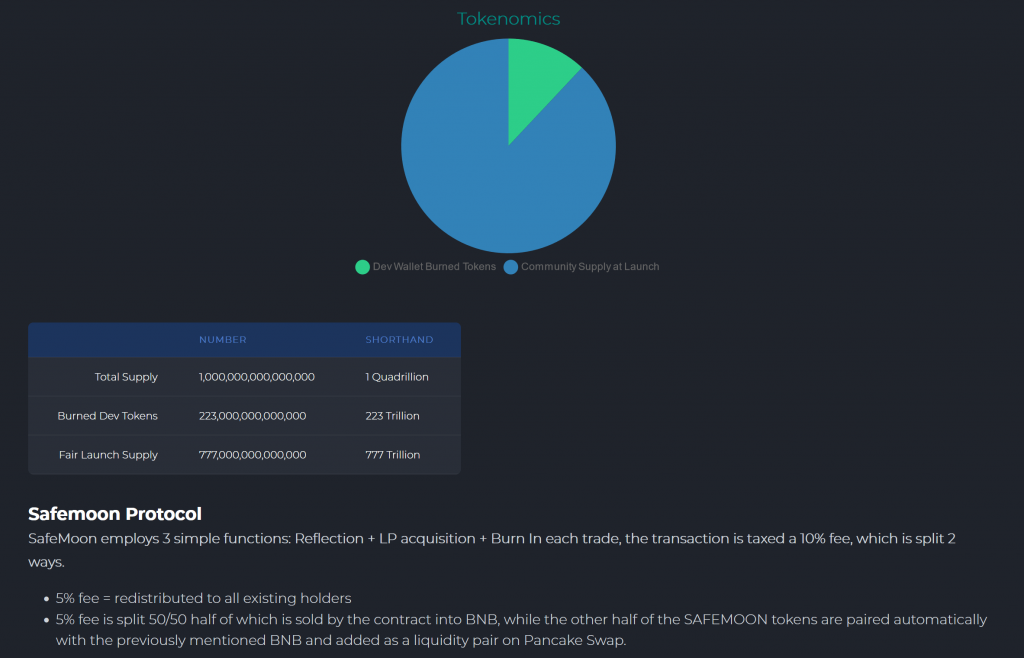 Current Price – $0.000002648 (-5.32% 24 HRS)
Available Supply – 585,536.370,000,000 (ish) SAFEMOON
Market Cap – $1,550,417,479
Daily Volume – $14,000,000
Rank – #207
Watchlists on CMC – 1,564,480
SAFEMOON is yet another token with a vanishingly small price and an incomprehensibly large supply. That's not always a deal-breaker, and here's why.
Bitcoin, the granddaddy of them all, has a supply capped at 21 million. But when was the last time you transferred multiple BTC? Sooner or later we will quote prices in Satoshis, of which there are 100 million per BTC. So, 21 million BTC x 100 million Satoshis is 2.1 quadrillion units, twice that of the initial total supply of SAFEMOON.
Yes, I know each SafeMoon can be split into trillions of smaller parts, but the principle still holds – Never be fooled by very large or very small numbers.
Much of the SAFEMOON tokenomics centers around burning tokens to create deflation. From each transaction, 10% is set aside. 5% is sent to the liquidity pool, 2.5% is automatically burned, and 2.5% is awarded to the holders.
Yes, the simple rules of supply and demand tell us that the fewer SafeMoon tokens there are, the more they'll be worth. But this is the messy, chaotic universe, not some idealized undergraduate economics primer. For SAFEMOON to grow in value long term, it's not enough simply to destroy itself gradually. Unless handled correctly, it's akin to a snake eating its own tail.
Social Media
---
SafeMoon has some great social media stats for a project that's only existed a few months. It obviously has the world's attention as It's currently trending at number three on Coin Market Cap. The other trending coins are BabyDogeCoin, Shiba Inu, and DogeCoin, so perhaps that's not a great recommendation.
SafeMoon has nearly one million Twitter followers, 260K following on Reddit, 160K on Telegram, and 74K on Twitch. Again, for a nascent project, it's impressive marketing. The content mainly promotes the SafeMoon brand but there are updates to the road map and technical releases. As you might expect, there's a lot of jingoism about how SafeMoon will storm the crypto castle and be number one.
There's a SafeMoon GitHub page that deals with their third-party integration code, but I don't see the bulk of the SafeMoon code on there.
Overall, the marketing is slick and clearly aimed at the young. There's nothing I find that endears me towards SafeMoon, apart from the sheer scale of their social media presence. Again, that's worth as much as a great idea and a team of geniuses, for a meme coin.
Team
---

Jack Korony has been the SafeMoon CEO since March but worked as an analyst at the US Department of Defense for the previous 6 years. Yikes! Isn't that similar to what Edward Snowden did? Maybe this position is just cover for a top-secret USDOD operation to discredit and destroy crypto from within? Hopefully not.
SafeMoon Chief Business Officer (or Chief Technical Officer according to LinkedIn), Thomas Smith, looks like an interesting character judging by his LinkedIn profile. He has lots of IT experience, some of it practical. Loving the profile pictures, by the way.
The actual SafeMoon CTO appears to be Henry (Hank) Wyatt, a long-time software developer. He founded his own video game backend infrastructure company, HLWGroup, which had one of the largest RuneScape servers ever. He's also a volunteer firefighter – Thank you for your service, Hank. Firefighting is a skill-set that might come in handy in the crypto business one day.
Jack Haynes is a fellow Brit and, like me, has a degree in music. Not the most practical degree for someone who works in technology? Well, it turns out… Software houses were targeting language and music graduates over math graduates, back in the day. It's surprising how many struggling musicians became very successful tech-heads. He's a young guy with not much business experience, but that hasn't held him back.
The team certainly isn't crypto-royalty. There are no tech-superstar names associated with SafeMoon, but they have achieved impressive things in a very short time. I notice they all signed up for duty in March 2021, hinting that this team didn't grow organically. It seems to have been manufactured for a purpose – to send SafeMoon to the moon. That could be its strength.
Exchanges & Wallet Support
---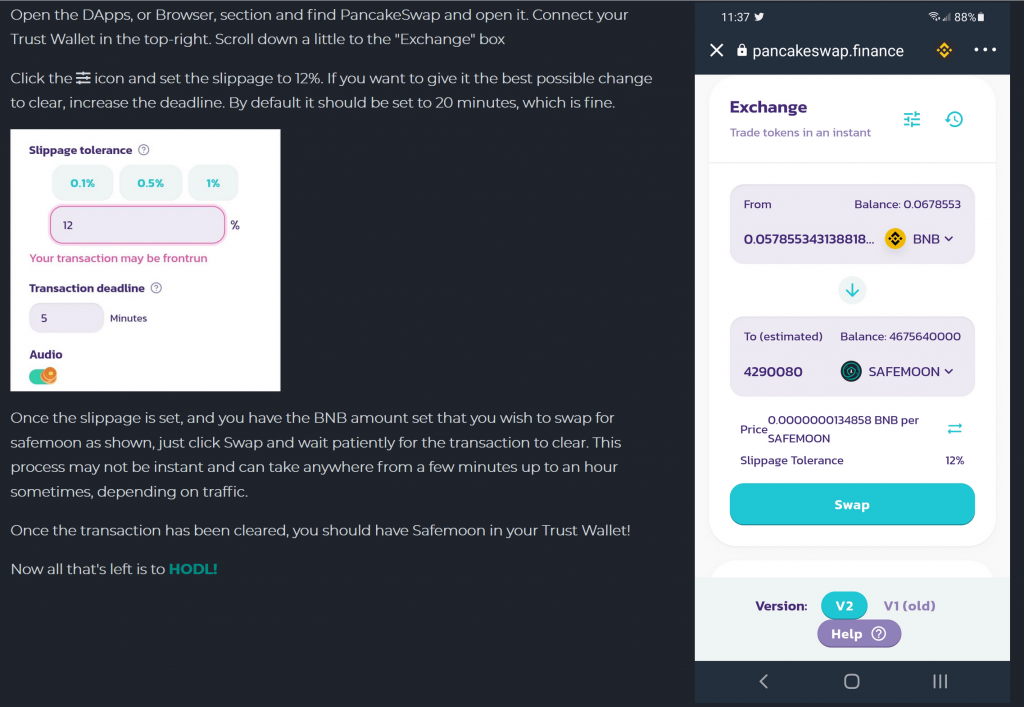 You can acquire your SafeMoon at lots of different DeFi exchanges. 75% of the volume is captured by DeCoin and LBank, both of which have low reporting confidence status on Coin Market Cap. I'd stick to PancakeSwap and UniSwap to be sure. SafeMoon's recommended markets can be found here.
Coming soon, there's a SafeMoon exchange bringing "Cryptonomics to all crypto." Cool story bro', but I've no clue what that involves. I wait with bated breath.
SafeMoon can theoretically be held in all the popular DeFi wallets, such as Metamask, Trust Wallet, and Binance Chain Wallet. You'll need to activate the Binance Smart Chain on Metamask and Trust Wallet. SafeMoon has its own hardware wallet on the way, but it's impossible to know how it will compare to the Trezor and Ledger hardware wallets, until it hits the market.
There's also mention of the SafeMoon wallet app, but that's also in Beta version development. Watch this space for an update as soon as we get our hands on the finished product.
Safemoon price prediction 2025
Based on the data and arguments laid out above, a price of SAFEMOON token in 2025 could be in the $00-$000 range. A long term reasonable estimate: ~$00.00
Safemoon price prediction 2030
There are a couple of laws of human progress that prevent us from thinking that Safemoon will be what its holders expect and hope it to be. Those are first mover advantage and consolidation and subsequent monopoly.
A first-mover advantage can be simply defined as a firm's ability to be better off than its competitors as a result of being first to market in a new product category.
Monopoly is a situation in which a single company or group owns all or nearly all of the market for a given type of product or service.
Both of the phenomena we mention above speak in favor of Dogecoin (that is also a worthless piece of code) and we don't think that will change in the mid- and long-term future.
Is Safemoon worth investing in?
Safemoon is a good investment for the short-term when the market is in the BULL run. Usually these types of newer projects do extraordinary well when the overall crypto market is in the green and they outperform other better known projects by a lot. However, make sure to exit them in time as they tend to do get a beating during ranging and bear market cycles.
Why will Safemoon succeed?
Because people are crazy and invest in things they don't understand by blindly following trend-setters and hype Twitteratis.
Why will Safemoon fail?
Shiba Inu might fail because people will get a grip of themselves and see that this project has no utility or value whatsoever. It is just a meme coin made by smart marketing people to fill up their pockets with loads of money.
Will Safemoon reach 1 penny?
That is NOT within the real of possibility, even in the long term period.
Can Safemoon reach $1?
Safemoon will almost certainly NOT reach $1 in this universe, perhaps in some parallel dimension it can get to that level.
Price Prediction – What the Experts Say
---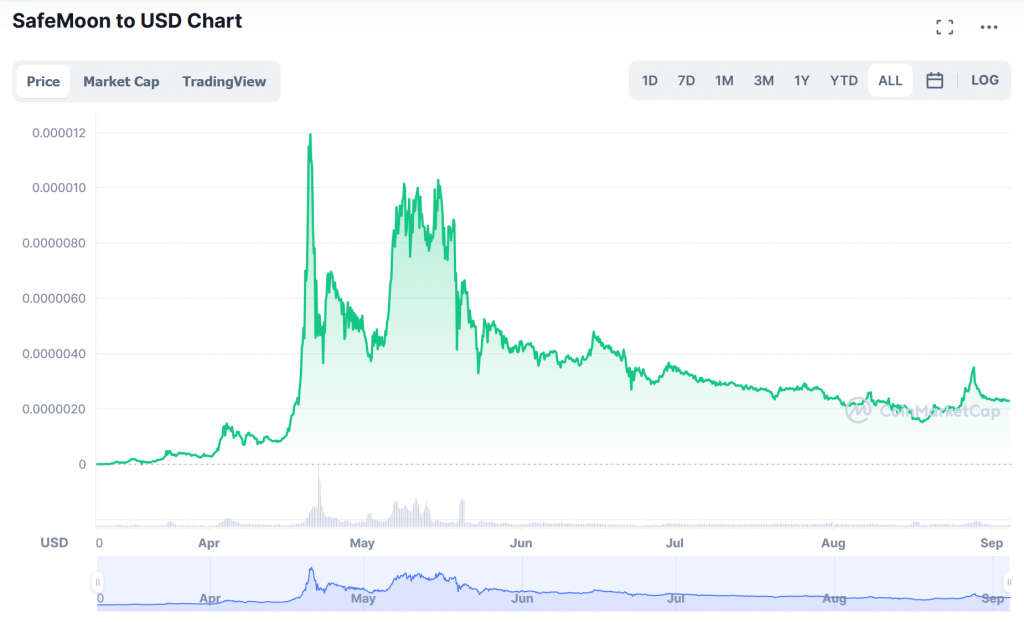 ●     Wallet Investor
---
The AI at Wallet Investor has SafeMoon falling for the rest of the month then starting its recovery in line with the rest of the crypto market. They are completely bearish in the short term but predict a 500% rise over the next five years.
●     Digital Coin Price
---
DCP is predicting a 50% increase by the end of 2021. 5 years out, they're equally bullish and the route there is entirely uphill. This follows their prediction for the wilder crypto market, so I wouldn't pay too much attention to the details.
●     Trading Beasts
---
There's no disagreement from Trading Beast who also has SafeMoon increasing steadily once the market recovery starts. Not much effort or investigation has been put into this prediction. It looks like the experts have been copying each other's homework. The short term is bearish, but the medium to long term is bullish.
Summing it All Up
---
It's lazy to dismiss SafeMoon out of hand as a gimmicky meme coin. It had a fair launch so there's no vesting schedule to trash the value of SafeMoon tokens. The tokenomics attempt to reduce volatility and stabilize the price by guaranteeing liquidity. There are wallets, exchanges, and NFT marketplaces on the way. It all looks promising on paper – but still, it's a 4-month-old meme coin called SafeMoon.
Conclusion 1
---
With its fair launch and innovative protection mechanisms baked into the tokenomics, maybe SafeMoon is worth our consideration. Who knows? Better make sure we hold a couple of billion SafeMoon – just in case.
Conclusion 2
---
Roll up! Roll up! It's the great crypto lottery! You pays your money and you takes your choice. It could be you! Yay! We got flying Lambos on the moon, baby!
The Jury is still out. Maybe SafeMoon is not as ludicrous as it first appears.
SafeMoon V2 countdown begins with prices ready to explode
John Karony, SafeMoon CEO shared an update on new developments in the project, announcing the transition to a new team.
Thomas Smith, SafeMoon's Chief Blockchain Officer has been replaced with a new team as part of the company's restructure and preparation for V2 launch.
The former Chief Blockchain Officer told David Gokhstein in a recent interview that he will make products that support SafeMoon from the outside.
SafeMoon is going through restructuring ahead of the V2 launch. CEO John Karony shared details of the team's progress and addition of new members to replace Thomas Smith. 
SafeMoon makes progress on V2 launch
SafeMoon's V2 upgrade will improve the security on the network. The upgraded contract brings utility features like reducing tax by 80% for ecommerce and wallet transfers. For SafeMoon users, the net value of their holdings will remain the same.
John Karony, CEO of SafeMoon explained that the net holdings of users will be divided by a factor of 1000, and the overall value remains the same. 
Transferring SafeMoon between two wallets is currently taxed at 10%, a drop by 80% makes it 2%. Users can migrate from V1 to V2 in two clicks, and a small amount of BNB to cover the transition fees.
Interestingly, SafeMoon recently announced that Chief Blockchain Officer Thomas Smith is now being replaced by a team. Karony shared details of the transition and revealed that the V2 upgrade is imminent, the handover process has started. There is no news of delay due to the transition.
The team has started a countdown and the upgrade is currently going through the final checks.
Thomas Smith told David Gokhstein of Gokhstein Media that he will support SafeMoon externally. 
Still here though, what if I create uses for it externally 🤷‍♀️ now is a great time to be excited— Thomas (@papacthulu) November 24, 2021
Earlier this month SafeMoon was recognized as the crypto community of the year. Analysts are bullish on SafeMoon based on the recent price trend.
SafeMoon ranks in one of the highest price gainers over the past 24 hours.
Adam Bergman, a cryptocurrency analyst at "The Adam Bergman Show" on YouTube is bullish on SafeMoon. Berg stresses on the role of centralized and regulated exchanges and SafeMoon's roadmap and community in pushing the asset's price higher.
Bergman expects SafeMoon price to explode, similar to Binance Coin, Shiba Inu token and Crypto.com (CRO). 
SafeMoon bulls return to the scene, preparing a bullish breakout to $0.000004
SafeMoon price is still stuck in a bearish triangle for over a month now.
The altcoin has seens a bullish uptick in the RSI, revealing bulls back on the buy-side.
Expect a breakout of the triangle, targeting $0.00000400 as the first profit target.
SafeMoon (SAFEMOON) price has been stuck in a downtrend for over a month now after peaking at $0.00000700. With the formation of a base at $0.00000271, buyers are now showing an interest in SafeMoon coins again. An uptick in the Relative Strength Index (RSI) has provided further support for a rebound. Expect a bullish breakout when some tailwinds flare-up in cryptocurrencies, that could lift SafeMoon price towards $0.00000400.
SafeMoon price sees bulls building momentum for a breakout
SafeMoon price has been falling in a sequence of  lower highs and lower lows for most of November. Bears got an unpleasant surprise, however, when Safemoon price hit the base level at $0.00000271, and bounced. Upside price action today has already witnessed two tests of the red descending trend line.
SafeMoon price could now start rising rapidly as a short squeeze sees bears closing their positions en masse and booking profits. This could temporarily increase demand for SafeMoon,  leading to a bullish breakout above the red descending trend line that has been capping reactions during the November descent, which, in turn, could see even further buying in from bulls.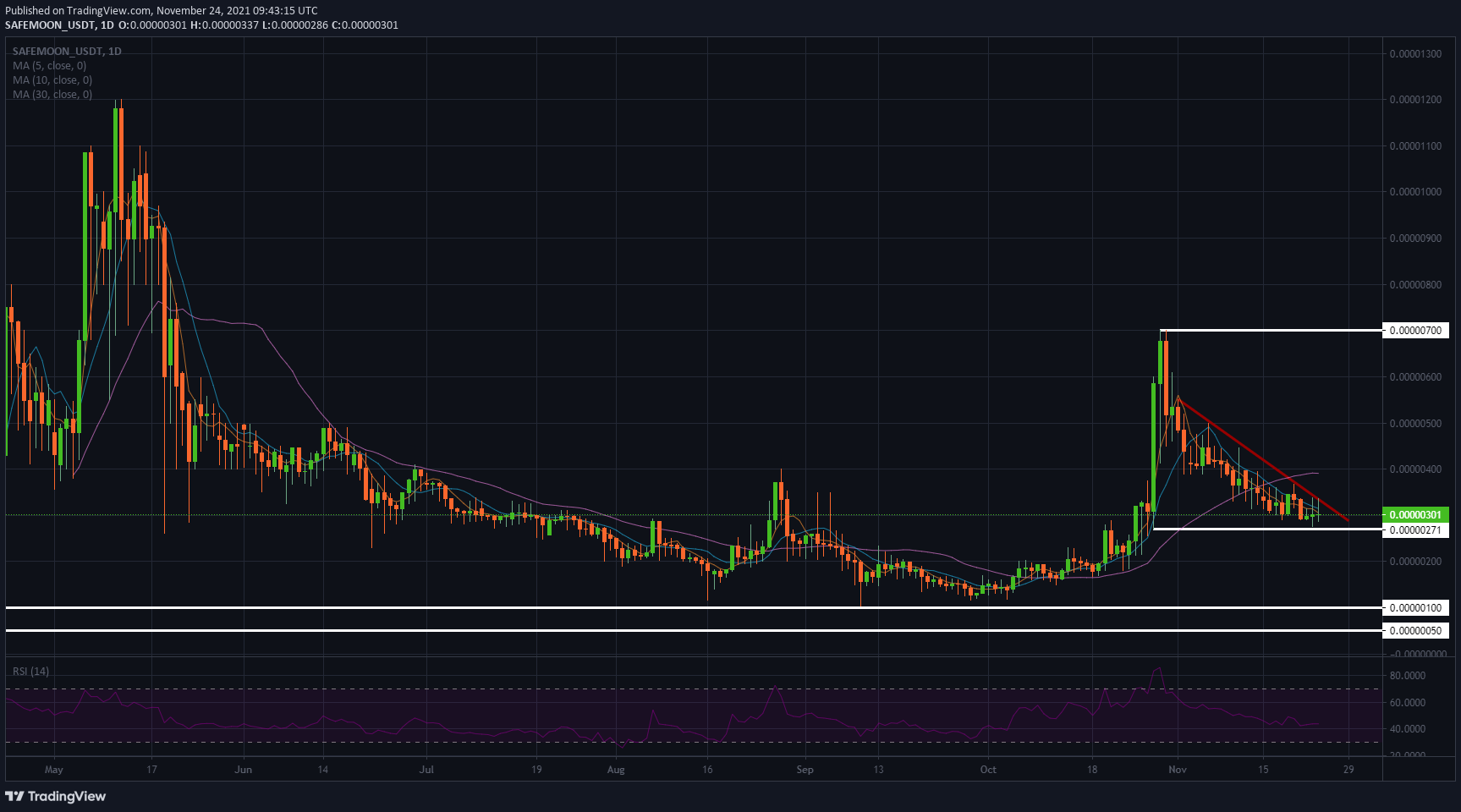 SAFEMOON/USD daily chart
Dreams of revisiting the $0.00000700 October high may be unrealistic in the short term  (such a move would also result in a double top reversal pattern, which might then be followed by a retracement to the downside). Rather expect SafeMoon price to find an initial limit at $0.00000400 where the  30-day Simple Moving Average (SMA) will provide resistance. Should bulls be able to push through this level, however – possibly helped by some additional tailwinds – a rally could go as far as $$0.00000500..
SafeMoon finds support floor, poised for a move to $0.000040
SafeMoon price stabilizes and finds support at the $0.000030 level.
Daily Ichimoku support could buoy SafeMoon higher.
A 34% move could occur over a very short period.
SafeMoon price is currently down by more than 57% from the all-time high it made back on October 29th. Some hints of price stabilization against Senkou Span B could trigger intense buying pressure. If not, an extensive dive south is likely.
SafeMoon finds support at Senkou Span B, could spike 34% to test previous resistance
SafeMoon price is currently at a make or breakpoint. Senkou Span B is the most substantial level of support and resistance within the Ichimoku Kinko Hyo system, and that is precisely where SafeMoon now finds itself. To maintain Senkou Span B as support, SafeMoon will need to spike higher over the next two days.
Senkou Span B is currently at $0.0000030. Tomorrow, November 24th, Senkou Span B shifts to $0.0000040. Because this is the first time SafeMoon price has tested Senkou Span B as support, there is an extremely high probability that it holds as support – but that means a massive 34% drive higher is necessary. Failure to do so could trigger disaster.
SafeMoon price is just one day from triggering an Ideal Bearish Ichimoku Breakout on the daily chart. The necessary conditions for SafeMoon price to enter into that bearish breakout pattern are present save one: the current daily close below the Cloud.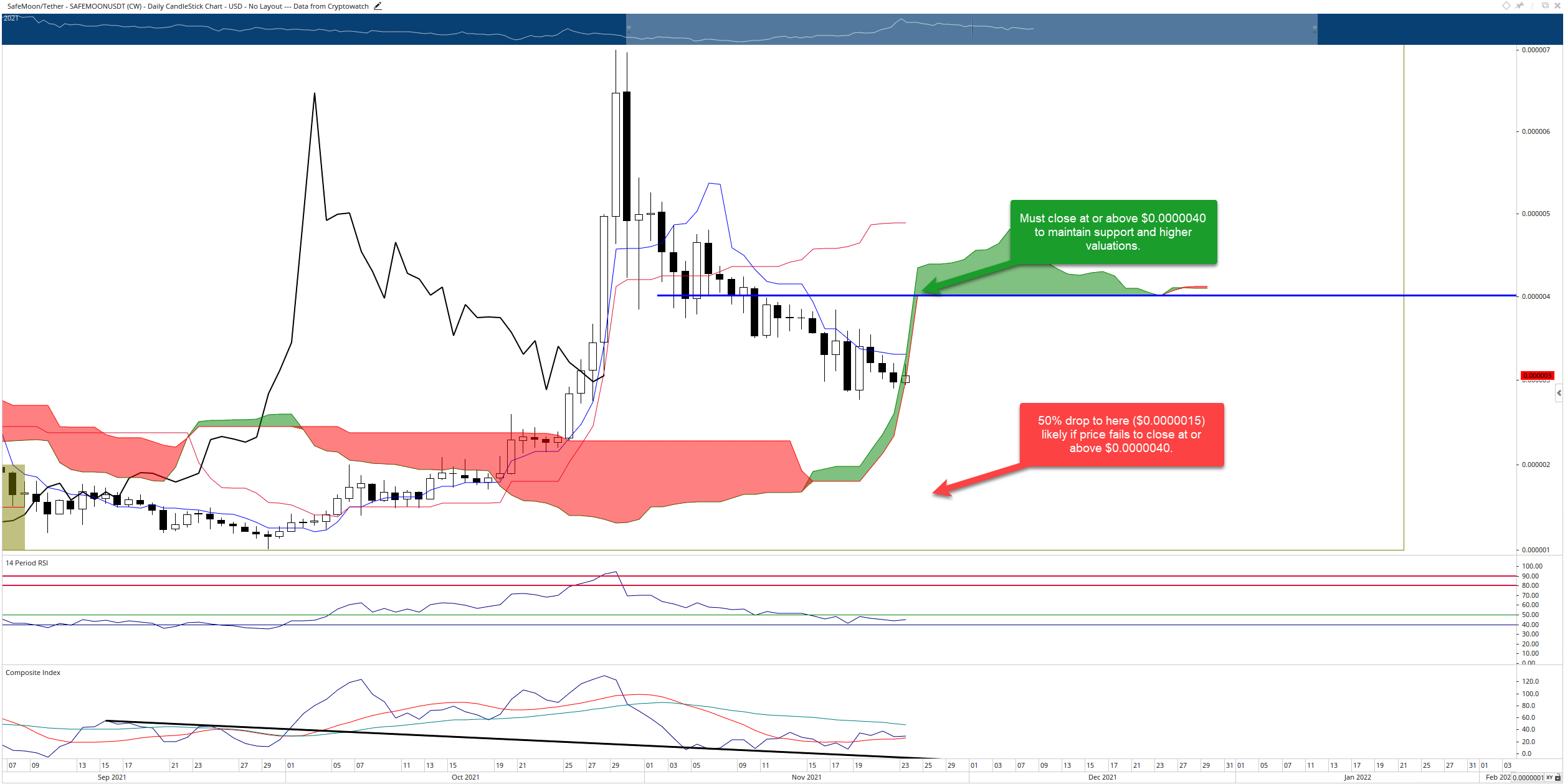 SafeMoon/USDT Daily Ichimoku Chart
If by tomorrow's trading day, SafeMoon price is not trading at or above $0.0000040, a 50% drop to the 2021 Volume Point Of Control at $0.0000015 is likely to occur.