SkyBridge Capital Founder: Bitcoin, Ethereum, and Algorand Will Outperform Gold
In a recent interview, former White House Director of Communications Anthony Scaramucci, who is the founder and managing partner of global alternative investment firm SkyBridge Capital ("SkyBridge"), said that crypto is a better inflation hedge than gold.
SkyBridge is "a global alternative investments firm specializing in multi-strategy commingled fund of hedge funds products, custom separate account portfolios and hedge fund advisory solutions to address the needs of a wide range of market participants ranging from individual accredited investors to large institutions."
On January 4, Skybridge announced "the launch of the SkyBridge Bitcoin Fund LP, which provides mass-affluent investors with an institutional-grade vehicle to gain exposure to Bitcoin."
The press release went on to say:
"Additionally, on behalf of its flagship funds, SkyBridge initiated a position, valued at approximately $310 million at the time of this release, in funds investing in Bitcoin during November and December 2020."
On October 24, Scaramucci told CNBC's "Capital Connection":
"Do the homework on bitcoin, understand what it is… Anybody that does the homework … ends up investing into it. Look at Ray Dalio, a bitcoin skeptic, now a bitcoin investor... These are brilliant guys [who] did the homework and drew a conclusion that they needed to own a piece of bitcoin."
Scaramucci mentioned that so far he has invested $1 billion into BTC:
"For me, I have over a billion dollars in Bitcoin now. I started accumulating that position last year. I think that this manifests itself into a gigantic asset class. This is equivalent, to me, to digital gold."
However, he does not consider himself a Bitcoin evangelist :
"Guys like Michael Saylor of MicroStrategy think it's better than that, could be 10 times gold. I'm not that optimistic about it. I am not a Bitcoin evangelist. I don't think that Jesus and Moses got together and made a baby and named it Bitcoin; that's not me. But I am an investor in this because I see the technical properties associated with it.
"Ultimately, this is a de-layering mechanism for society… It's a ledger defined by math. And when you think about the history of money, a ledger defined by math that has a scarcity to it, where no politician or policymaker can corrupt it or add supply to it, I think is a fascinating thing. I think it will have a big position in the global economy over the next decade."
On November 10, the U.S. Bureau of Labor Statistics, which is a unit of the U.S. Department of Labor, issued a press release to announce that for the 12 months ending October the Consumer Price Index (CPI) increased 6.2% before seasonal adjustment. which was "the largest 12-month increase since the period ending November 1990."
Two days later (i.e. on November 12), Scaramucci joined CNBC's "Squawk", where he was asked by Scott Wapner if gold could be competition for crypto as an inflation hedge.
According to a report by The Daily Hodl, Scaramucci replied:
"Listen, I'm never gonna sell short gold; it's got a 5,500-year history of offering a store of value, but like everything in our society, when you get a technical property where there's a massive improvement, that has a tendency to eclipse things.
"We had DVDs, and we moved to Netflix and streaming. The Satoshi Nakamoto white paper basically put us into a new era, and the technical properties associated with Bitcoin are infinitely better than gold: you can move it costlessly, you can store it – virtually costlessly – and it has this ledger that is completely missile-locked. You can't hack it.
"So, with 21 million coins and its scarcity – remember we only have 65% of the gold mined right now – the shortage of supply, the technical properties, I think it's probably gonna be 10 times better than gold over a long period of time.
"But for right now, Bitcoin is pacing what people like Michael Saylor and Cathie Wood are predicting that it will do, it will eventually eclipse gold. It's about a $1.2 trillion market cap today, gold's roughly $11 [trillion]. But I think Bitcoin gets there, the same way we're using our smartphone today and not using a rotary phone."
Wapner then asked if it is the case that for crypto to win gold has to lose. Scaramucci said:
"Well, I think gold will be okay, but it's sort of a flatline situation. Can it go up modestly? Yes, but I think Bitcoin and properties like Ethereum and Algorand are gonna go up exponentially just because of the scalability [and] security issues around them.
"Can gold go up? Certainly. If you're gonna have 6% inflation, will gold go up? Sure. But I would put my money, and I'm encouraging clients to put their money, in Bitcoin… And I think we're just getting started in Bitcoin. So for me, it can go up, but I'm not gonna be surprised if Bitcoin goes up at an exponential rate and gold is going up at a linear one."
Miami Mayor, Strike's Jack Mallers discuss their take on Bitcoin as inflationary hedge
In early November, investment expert and business show host Anthony Pompliano asked which American politician would be the first to take their salary in Bitcoin.
In response, the Mayor of Miami city, Francis Suarez, expressed his willingness and asked for help. Several industry stakeholders, such as Coinbase's Brian Armstrong and the Strike company offered their expertise.
I'm going to take my next paycheck 100% in bitcoin…problem solved! @Sarasti can you help? https://t.co/v4YdPZ0tYc— Mayor Francis Suarez (@FrancisSuarez) November 2, 2021
During an episode of Pompliano's show, the investment exec interviewed both Suarez and Strike CEO Jack Mallers to learn more about getting paid in Bitcoin.
Rising prices, rising worries
Inflation was the word of the day for both interviewees, as Mallers and Suarez spoke about how they believed Bitcoin would serve as a hedge, or a new way of saving money. Mallers said he preferred to look at rising real estate prices and explained,
"If you, watching this, are not getting a 25% raise every single year, housing is getting more expensive than your earning income. So you are not making progress towards owning a home."
Mallers also spoke about Strike's feature that allowed users to be paid fully or partially in Bitcoin. In response, Suarez said,
"…particularly people that don't like Bitcoin, for whatever reason, they like to talk about the volatility, but they don't talk about the year over year gains, which is crazy. I don't understand how they can talk about one thing without the other, which is really the more relevant statistic, right?"
Suarez also suggested plans for residents to pay taxes in Bitcoin and for the government to hold BTC on its balance sheet. But regarding the link between Bitcoin adoption and inflation, he claimed,
"And with inflation certainly being under-reported – as we all know – you know, it's [Bitcoin] an important hedge, and it's becoming the base currency for many, many people."
'Tip' of the iceberg
The Twitter-Strike API integration in September caused a buzz as crypto watchers worldwide wanted to know when the app would reach them. However, as of press time, the Strike website stated that only the United States (minus New York and Hawaii) and El Salvador could support the app.
Speaking about the Twitter tips feature, Mallers said,
"And so we're working with Twitter on how to make sure that can be outside of just our service – we don't want to be the only ones supporting [it] – and how they can make it extensible to everyone in the world."
Bitcoin Traders Should Pay Close Attention to This Price Level Amid Crypto Market Pullback, Says On-Chain Analyst Will Clemente
Popular on-chain analyst Will Clemente says he's identified the new support level for Bitcoin (BTC) after the crypto market's latest Covid-induced price drop.
Clemente tells his 430,000 Twitter followers that $53,000 is the price level to keep an eye on, and it wouldn't surprise him to see the largest crypto asset by market cap tested at this support as he has yet to see any sizable flushes.
"Covid variant news isn't ideal. Yet to see any sizable amount of [liquidations] or [open interest] flush, so a wick lower is very possible.
However, STH (short-term holder) cost basis, or what I've been calling the 'on-chain bull market support band,' sits at $53,000."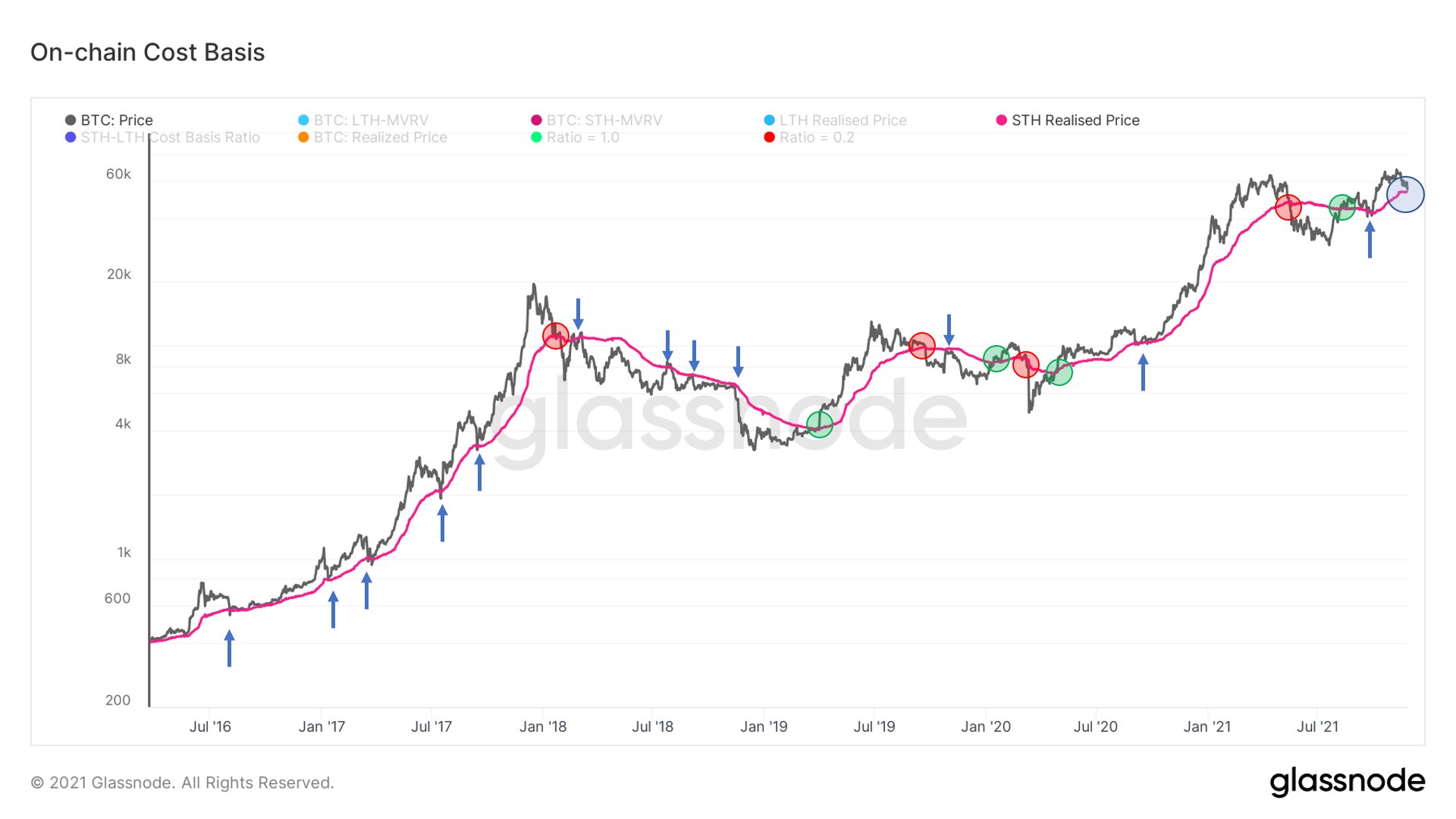 Bitcoin is exchanging hands at $54,350 at time of writing, an 8.6% decrease from its 24-hour high of $59,445.
In a new Blockware Solutions Market Intelligence Newsletter blog post, Clemente says spent output profit ratio (SOPR) data shows BTC investors are not yet ready to start selling their tokens at a loss, a signal that the support band could hold. The SOPR is an on-chain metric the indicates whether BTC holders are selling at a profit or a loss.
Clemente also says that there he's seeing a pattern where strong Bitcoin holders are absorbing selling pressure from short-term holders.
"There's a clear bullish divergence between illiquid supply shock ratio and price right now. Illiquid supply shock compares liquid entities (sell 50% of the BTC they take in) and highly liquid entities (sell 75% of the coins they take in) to illiquid entities (hold 75% of the coins they take in). This means supply is moving to entities with little history of selling. If this does start to decline I will become bearish, but for now, it is continuing a steady incline."
Clemente concludes that he's still bullish on BTC despite the recent correction, but he's ready to change his stance once he sees key on-chain metrics print clear bearish signals.
"In conclusion, if we are indeed in a bull market, the asymmetry is very skewed to the upside right now. Invalidation would be starting to close below $53,000 for several days, seeing SOPR breaking below and failing to retake 1 from the underside, as well as starting to see illiquid supply shock rolling over."
Bitcoin to Boost $98k in 4 Days, Analyst So Bullish
Analyst bullish about Bitcoin.
Bitcoin remains the favorite crypto in the space.
The crypto world is back on its feet once again and is showing no sign of slowing down. In fact, the whole crypto space market cap amounts to over $2.5 trillion. Furthermore, Bitcoin, the king of crypto assets also continues to perform aggressively in the space. As a result, traders and crypto analysts in the crypto market cannot stop thinking about the future of Bitcoin.
This made Mr. Whale, CEO of DigiWhales, react in a tweet post:
PlanB says $98K in 4 days.

Thoughts? #Bitcoin— Mr. Whale (@CryptoWhale) November 26, 2021
The post created by Mr. Whale asked the reaction of the Twitter community about the tweet made by PlanB in Bitcoin hitting the skyrocketing price of $98k in 4 days. This tweet gathered different reactions from the crypto community, with some being bullish while others say it might take some time. But of course, in the end, the market will still decide the fate of all virtual assets in the space including Bitcoin.
On the other hand, Bitcoin remains to be the favorite cryptocurrency of investors around the world. Interestingly, El Salvador President Nayib Bukele announced that it would build a Bitcoin city where investors can experience zero tax. Indeed, this news brings joy to all Bitcoin fans and investors around the world.
At the time of writing, Bitcoin trades a bullish price of over $55k with a growth rate of over +200% in the past 12 months. In addition, BTC has a huge market capitalization of over $1 trillion and a 24-hour trading volume of almost $40 billion. This market position of the crypto enables Bitcoin to be the number one crypto asset in the market.