Cardano price eyes 22% upswing as ADA bulls make a comeback
Cardano price retraced roughly 20% after it tested the $2.30 resistance barrier.
The pullback allowed the overheated market to cool down, suggesting a 20% run-up is likely.
If ADA produces a lower low below $1.72, it will invalidate the bullish thesis.
Cardano price is sticking to the rounded bottom formation as it continues to slowly scale higher. The recent run-up seems to have come undone, but the bullish thesis remains intact and investors can expect ADA to continue its uptrend.
Cardano price prepares for a bullish onslaught
Cardano price reversed its nine-week downtrend after setting up a bottom on October 27. This move indicated the start of an uptrend and a potential rounded bottom formation in play.  Cardano price rose 22% between November 6 and November 9, then after tagging the $2.30 resistance barrier ADA fell back to retest the demand zone, ranging from $1.72 to $1.81. 
Going forward, investors can expect Cardano price to continue its ascent. This time, however, ADA is likely to breach the $2.30 barrier and make a run for the $2.53 hurdle, roughly 22% away from the current price.
This minor upswing is likely to face a pullback after revisiting the $2.53 barrier. However, if Cardano price flips it into a support floor, investors can expect the so-called "Ethereum-killer" to make way for $2.82.
Beyond this ceiling, ADA could even retest the all-time high at $3.10, constituting a 50% ascent.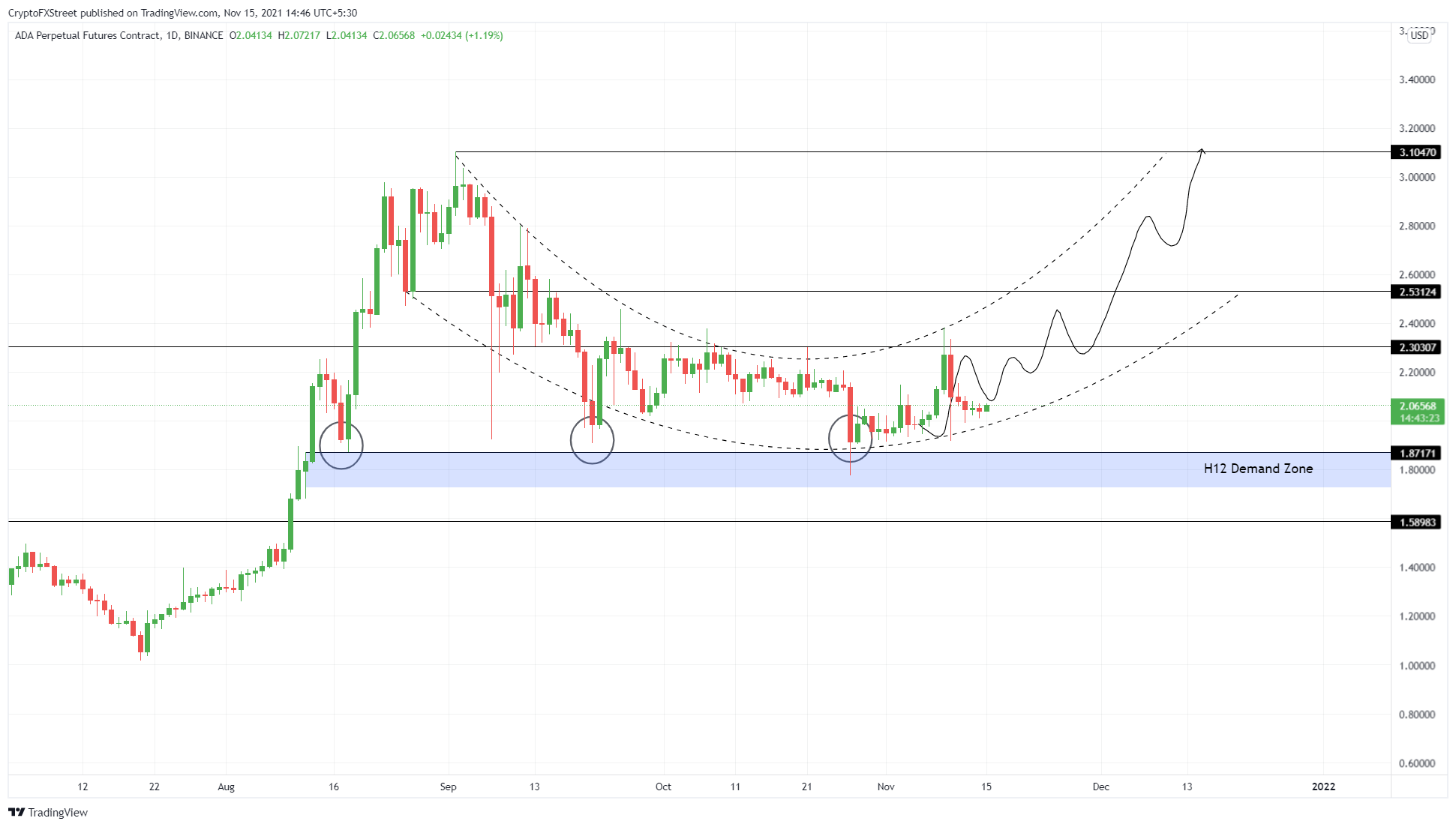 ADA/USD 1-day chart
While things are looking up for Cardano price, a retest of the $1.72 to $1.81 demand barrier will weaken it. If ADA pierces through this barrier and produces a daily close below $1.72, it will invalidate the bullish thesis by producing a lower low.
In this situation, Cardano price could explore lower and retest the $1.58 support level.
Cardano's over 20% dip can be attributed to this factor
Given the condition of the market on 4 December, it makes absolute sense for what is happening with Cardano. Well, interestingly Cardano is up with a lot of things on its network.
Are Cardano investors done for good?
Yes, the broader market is dipping. However, Cardano cannot hold this one instance alone as the reason why it is currently under $1.5.
Now, the development on the network has been consistently good, both on GitHub and in terms of DeFi. In fact, Cardano's smart contract capability is being explored more and is looking good too. Some of the major Cardano protocols such as SundaeSwap, Genesis House, among others have been growing.
But on the spot front, ADA has been an eyesore for more than three months now. Most of the market observed some sort of rally either in October or November but Cardano has not been able to breach the $2.28 resistance since August, let alone mark a rally.
Since its last ATH, the altcoin has declined by over 53%.
Cardano To Rise, Trader Encourages 2022 Cardano Investments
A crypto trader expects Cardano to be parabolic in 2022.
He explains why Cardano will likely rise up in 2022.
He also shares his investment plans for 2022.
Trader Lukas Moore shares his piece on why Cardano (ADA) will be parabolic in 2022. He begins by explaining Cardano's journey so far and goes on to explain why now is a great opportunity to invest in the asset.
To start off, he says that Cardano's ecosystem has massive potential for 2022. Thus, he encourages traders to prepare themselves for an advantageous future. In fact, he highlights many opportunities that will present itself in the Cardano ecosystem for the coming year.
The article goes on to highlight the many highs of 2021. Indeed, there have been many new developments this year. To name a few, Solana's layer 2 project, the rise of meme coins, and the emergence of metaverse projects.
However, one of the most important developments is the fact that Cardano released smart contracts. With this, users on the ecosystem could finally do more on the platform. Still, the network's momentum is going much slower than investors expected.
This is why some projects and investors are switching track to Solana and other ecosystems. In contrast, true Cardano believers are staying put and eagerly awaiting for Cardano to explode. This is because Cardano has taken a more academic approach.
In order to not rush the project and deal with missteps, the project is slowly and steadily working its way up to meeting set milestones. So far, the team has delivered on every milestone it set and hasn't faltered a single time.
Hence, while the build up to the final stage is slow, it is still on time, strong, and secure. Not to mention, the community is also steadily growing and more and more projects are making their way onto the platform.
Since the Alonzo mainnet launch, smart contracts can now be deployed on Cardano. Therefore, those with technical development skills are starting to build projects on Cardano. With more mainnet upgrades, this process will become even simpler, and more users will deploy their projects as well.        
Thereby, this analyst in particular is hedging his bets. He concludes the article with his plan to take risks on small-cap projects on Cardano. He believes that there are many short-term gains to be made and so Cardano will become a bull market in 2022.
Cardano Price Analysis: ADA drops 30 percent from the previous high, swift reversal to follow?
Cardano price analysis is bullish today.
ADA/USD continued to move lower yesterday.
Support was found at $1.20 this morning.
Cardano price analysis is bullish today as we expect swift recovery after further downside was rejected at $1.20. Considering that bulls have pushed ADA/USD above $1.30 over the past hours, we expect a swift retest of upside later today.
The cryptocurrency market traded in the red over the last 24 hours. Bitcoin and Ethereum saw a strong decline of 17.62 and 15.76 percent, respectively. Cardano (ADA) saw an even bigger drop as it currently has lost 19 percent for the day.
Cardano price movement in the last 24 hours: Cardano spikes to $1.20, sets strong lower low
ADA/USD traded in a range of $1.21 – $1.67, indicating extreme volatility in the market over the last 24 hours. Trading volume has increased by 13.19 percent, totaling $4.28 billion, while the total market cap trades around $45 billion, ranking the coin in 6th place overall.
ADA/USD 4-hour chart: ADA looking to recover
On the 4-hour chart, we can see the Cardano price quickly pushing higher this morning as bears have finally given up.
Cardano price action has seen strong bearish momentum over the past weeks. After ending November with a new low set around $1.416, ADA/USD saw a recovery at the beginning of the week.
After a quick spike to $1.60, a several-day consolidation followed until further upside was tested on the 2nd of December. A new swing high was set at $1.76, potentially indicating an upcoming major trend reversal forming.
However, Yesterday, the Cardano price saw bearish momentum take over, leading to previous low tested by the end of the day. Overnight, the selloff continued, leading ADA/USD to a lot more downside until the $1.20 mark offered to support this morning.
Cardano Price Analysis: Conclusion
Cardano price analysis is bullish today as we expect further recovery after further downside was rejected at $1.20. Therefore, ADA/USD will likely move to retest the previous support area as a resistance next.
While waiting for Cardano to move further, see our articles on the Best Crypto Wallet 2021, Decred Wallet, and Ripple vs SEC.