Kraken Exec drops Shiba Inu [SHIB] listing hint; Deletes tweet later
Shiba Inu [SHIB] saw some high-profile listing announcements this month. But whether Kraken is seriously considering adding support for the meme-coin, is still up for speculation.
Brian Hoffman, who happens to be the Product Lead of Kraken today hinted that it may finally list the Shiba Inu [SHIB]. While the exec did not outrightly say that, Hoffman did tweet that he was "feeling good about this upcoming week." It also had a GIF featuring a Shiba Inu dog. The now-deleted tweet looks something like this-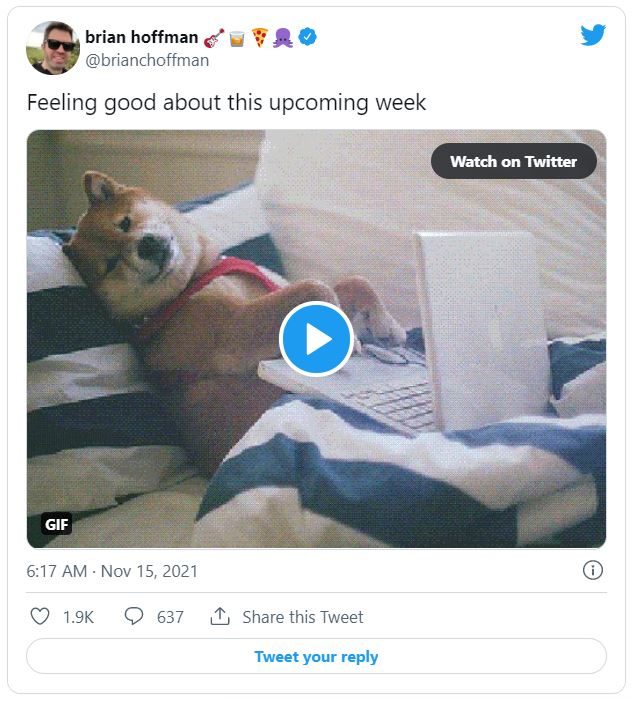 This isn't the first time Kraken had teased about listing SHIB. Kraken had said that it would list the token if its tweet gets 2K likes. Despite 20k likes, the exchange is yet to deliver its promise.
Following the backlash, the exchange revealed that it had started the review process required to list SHIB. Its tweet to the SHIB Army two days later read,
"SHIB Army we've heard you loud & clear! Community is an important part of our considerations for all listings, and you have clearly shown your support. There's more work for us to do as we move through our listing review process."
Where is Shiba Inu's [SHIB] price headed?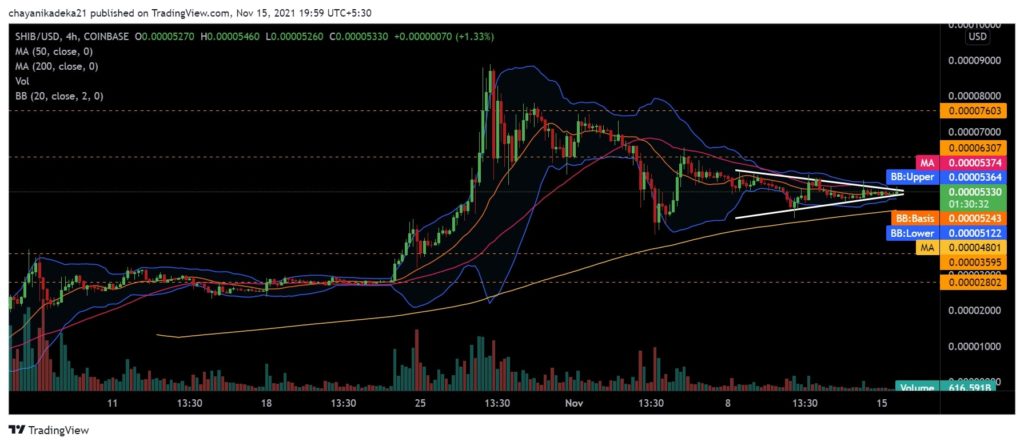 The volatility in the market has taken a dip as depicted by the converging Bollinger Bands [BB]. The above 4-hour SHIB chart also revealed that price movement has been constricted to the symmetrical triangle pattern for the past week. The low volume has been one of the major factors that have caused hindrance to the uptrend.
The looming death cross as the 50 moving average [Pink] neared the 200 moving average [Yellow] further validated the bearish thesis.

The technicals do not look optimistic. For one, the dotted markers of Parabolic SAR aligned themselves below SHIB's candlesticks arrangements. The closing bars of Awesome Oscillator [AO] pointed towards bullish momentum which appeared to be fading. On the other hand, the Relative Strength Index [RSI] is projecting a mild buy signal as it struggled to hold its ground above the 50-median line.
At the time of writing, SHIB was trading at $0.00005330. The above analysis indicated that the imminent death cross may flip the buy signal into a period of sell-off. A bearish breakout from the symmetrical triangle pattern could drag the asset to its immediate support area of $0.00004801. A breach of this level can be damaging and bring $0.00003595 and even to a low of $0.00002802 into play especially in case of a market meltdown.
FTX USA surpasses Kraken and Coinbase and becomes the most liquid broker in the country
FTX.US, the American affiliate of FTX, Sam Bankman-Fried's global cryptocurrency brokerage, is matching its rivals.
This Thursday (11), West Realm Shires Services Inc, operator of FTX.US, announced the broker's financial results for the third quarter of 2021, with an increase of 512% in average daily trading volume (about US$ 360 million) among the key metrics.
The platform has had US$768 million traded in the last 24 hours, according to the website CoinGecko, a number that is not far from the record value of US$807 million registered on September 7th.
Currently, FTX.US is the fourth largest crypto broker in the US in terms of volume, behind only Coinbase, Kraken and Binance.US.
However, there is one crucial metric on which FTX.US already outperforms Coinbase and Kraken: liquidity.
The term "liquidity" is used in financial markets to describe the ease with which an asset can be converted into cash or exchanged for another asset. The greater the liquidity, the lower the risk that a brokerage firm will not be able to complete a trade at the indicated price.
According to the CryptoWatch website, FTX.US holds the first place in terms of liquidity among all crypto brokers in the US, as the company points out that it has held that position since the beginning of the year.
FTX.US is also reported to have accounted for about 4.5% of all trading volume on the US spot market through the end of September (a 2% increase from the start of the third quarter).
The number of users in the period between July and September increased 52%, said the broker.
"The trust and support of our user base has allowed FTX.US to become the fastest growing and most in demand crypto brokerage in the US, but we have barely started," said Brett Harrison, president of FTX.US.
According to him, the broker will continue to increase its current offerings and "quickly expand into new areas, including derivatives, NFTs and payment services".
FTX and its regulatory ambitions
During the third quarter, FTX.US also announced the launch of its own market for non-fungible tokens (or NFTs). Still, the main focus remains on the company's derivatives plans.
In August, the company announced the acquisition of LedgerX, a crypto derivatives trading platform regulated by the Commodity Futures Trading Commission (or CFTC).
The deal was finalized in October and LedgerX was renamed FTX US Derivatives.
According to Harrison, this acquisition puts FTX.US "in a unique position to reshape the US derivatives market" as it allows the company to provide licensed crypto futures and options to both retail and institutional customers.
FTX.US also hopes to play a central role in defining regulatory policy for crypto, according to Harrison.
To further strengthen its position in this sector, the broker has hired Mark Wetjen, a former CFTC representative, as its policy and regulatory strategy leader.
Kraken predicts $96K BTC price top as analyst says $1T Bitcoin market cap is 'now cemented'
Bitcoin (BTC) could nail the now-popular $98,000 price target — but it could end up being the cycle top, new research argues.
In its "October 2021 Market Recap & Outlook," major United States exchange Kraken said that Bitcoin should reach around $96,000 if this quarter copies the last bull run.
Copycat Bitcoin may top out below $100,000
With BTC price predictions reaching $300,000, the new analysis from Kraken suggests that if BTC/USD were to copy its 2017 performance, this cycle's top could end up still being under $100,000.
While facing calls for a "worst-case scenario" November closing price of $98,000, it could be that Bitcoin ends up peaking at around that level instead.
"At the current pace, 4Q is trending most similarly to 4Q2017 with a correlation of 0.88. It should be noted that 4Q2017 went on to become Bitcoin's third best 4Q on record with a return of +220%," Kraken wrote.
"Assuming BTC continues to follow in the footsteps of 4Q2017, we could expect BTC to rally even higher into month end. For some context, a +220% in 4Q2021 would imply a price of $96,355 for BTC."
The report also noted that November historically tends to be more volatile, as well as deliver the largest monthly returns.
A separate prediction involved Bollinger Bands and Bitcoin's relative strength index (RSI).
"Historically, BTC's cycle tops have coincided with BTC hitting both its upper Bollinger band AND the 1-month relative strength index (RSI) hitting a reading of 96," it added.
Currently at 71.7, the RSI thus has room to grow in line with spot price action. As Cointelegraph reported, the metric is responsible for some of the loftier BTC price predictions for this cycle.
The upper Bollinger Band, meanwhile, currently gives a reading of around $112,000.
$1-trillion asset class is here to stay
Should Bitcoin's current run stall at significant resistance near $70,000, a dip may not cost bulls more than around 20%.
Looking at the cost at which every Bitcoin changed hands, analyst Willy Woo concluded that the $50,000–$60,000 zone is more than solid enough as support.
"Bitcoin as a $1T asset class IMO is now cemented; hard to see it dropping below this zone," part of his comments on Monday read, alongside data from on-chain analytics firm Glassnode.
Contour map of every bitcoin at the price they last changed hands between investors. Huge price validation between $50k-$60k.#Bitcoin as a $1T asset class IMO is now cemented; hard to see it dropping below this zone.

This data is @glassnode's URPD visualised. pic.twitter.com/pHBlXrk1hs— Willy Woo (@woonomic) November 8, 2021
When will Kraken list Shiba Inu? SHIB community furious over false promise
Kraken didn't list Shiba Inu on their platform on Tuesday, as promised by their earlier tweet. 
The SHIB community has expressed outrage against the exchange platform on social media. 
The Kraken support team has indicated that they're working hard on listing SHIB soon. 
Shiba Inu has been the most talked-about cryptocurrency on social media for the past week. Popular crypto exchange Kraken tried to join the hype on Monday by tweeting that they would list SHIB if the tweet received 2,000 likes. 
Unsurprisingly, the tweet received over 7K likes in less than 24 hours, and over 18K retweets. However, since then, Kraken seems to have turned its backs on the Shiba Inu community, saying that there's more work to be done for its listing review process.
Why is the Kraken listing important for Shiba Inu?
Historically, altcoin prices have always shown an upward trend whenever they're listed on popular exchanges. Kraken is the 4th largest cryptocurrency exchange in the world by trading volumes. This global exchange platform has more than 6 million traders.
So, being listed on Kraken means more customers worldwide will have access to SHIB trading, which will significantly impact its trading volume and market cap. That's why Shiba Inu holders were eagerly waiting for the Kraken listing on Tuesday, with hopes that it'll push the trending meme coin towards that $0.0001 milestone.
Previously the SHIB community was pushing for the coin to be listed on Robinhood. The popular US exchange launched a survey in mid-October asking investors about which coins they were holding. To everyone's surprise, Shiba Inu was one of the listed options. Since then, there has been growing speculation that Robinhood might list SHIB. 
But it's safe to say that the Robinhood hype was quickly sidelined by Kraken's 'false' promise. Holders were anticipating that the listing will take place on Tuesday UTC at 22:00, as Kraken was scheduled for a website maintenance update at that time. However, when the dust settled and the new upgrade went live, there was no Shiba Inu on the Kraken exchange platform. 
The popular meme coins jaw-dropping growth of 670% in the last 30 days, has attracted thousands of new investors in the crypto market. The SHIB community is growing by the minute. The popular Shiba Inu active investors group on Facebook currently has almost 200K members. 
So, when Kraken didn't live up to its promise, this growing community turned into a raging mob and blasted Kraken on social media.
When will Kraken list SHIB?
Although Kraken didn't go live with the Shiba Inu listing on Tuesday, the company did give some hope that it's working towards listing the popular meme coin on its platform soon.
To get a better insight into the issue, Cryptopolitan Journalists contacted Kraken support via live chat. We received rather 'diverse' responses from their support team.
Some of the support team members just sent us the exact same text from Kraken's official Twitter statement. However, other support members replied that they're working hard on listing SHIB soon.
Also, a lot of other community members received different responses from the Kraken support team, none of them however had a specific date or timeframe. So, it's highly likely that we're going to see Kraken list Shiba Inu, maybe even before other exchanges like Robinhood. But we still can't predict how soon that might be.
With all the hype and craze around Shiba Inu, a lot of rumors and fake news is circulating around social media. We advise investors to only make investment decisions based on verified news and official statements. As with all crypto investments, experts advise not to invest more than 5% of your entire portfolio on a single coin.