XLM bulls defend uptrend to push Stellar into a 20% breakout
Stellar price sees bulls stepping in as XRP price sees an uptick.
XLM price back towards retest of $0.40 resistance level.
With bulls targeting $0.44, XLM price rally holds 20% of gains.
Stellar (XLM) price is experiencing a solid bounce off the purple ascending trend line that started the uptrend at the end of October. Bulls picked up XLM coins as some tailwinds are re-emerging in cryptocurrencies this Monday. Expect bulls to sit on their hands and ramp price up towards $0.40 in the first phase and follow for a retest at $0.44.
XLM price sees bulls re-embracing Stellar, gearing up for new all-time highs
Stellar price saw buy-side volume spiking higher this Monday as risk puts investors back to work. Bulls will want to first target the intermediary resistance level at $0.40, which saw the last time a clear rejection for the bulls on November 11. Expect to see the massive inflow, a quick pop above that level with a possible support test, before the next leg higher. 
XLM price will, once beyond $0.40, see bulls going for a retest of $0.44. Around that level, bears started to flock in and made price action fade by almost 20%. If bulls play this right and refrain from taking too much profit, expect even a quick blip towards new all-time highs at $0.46.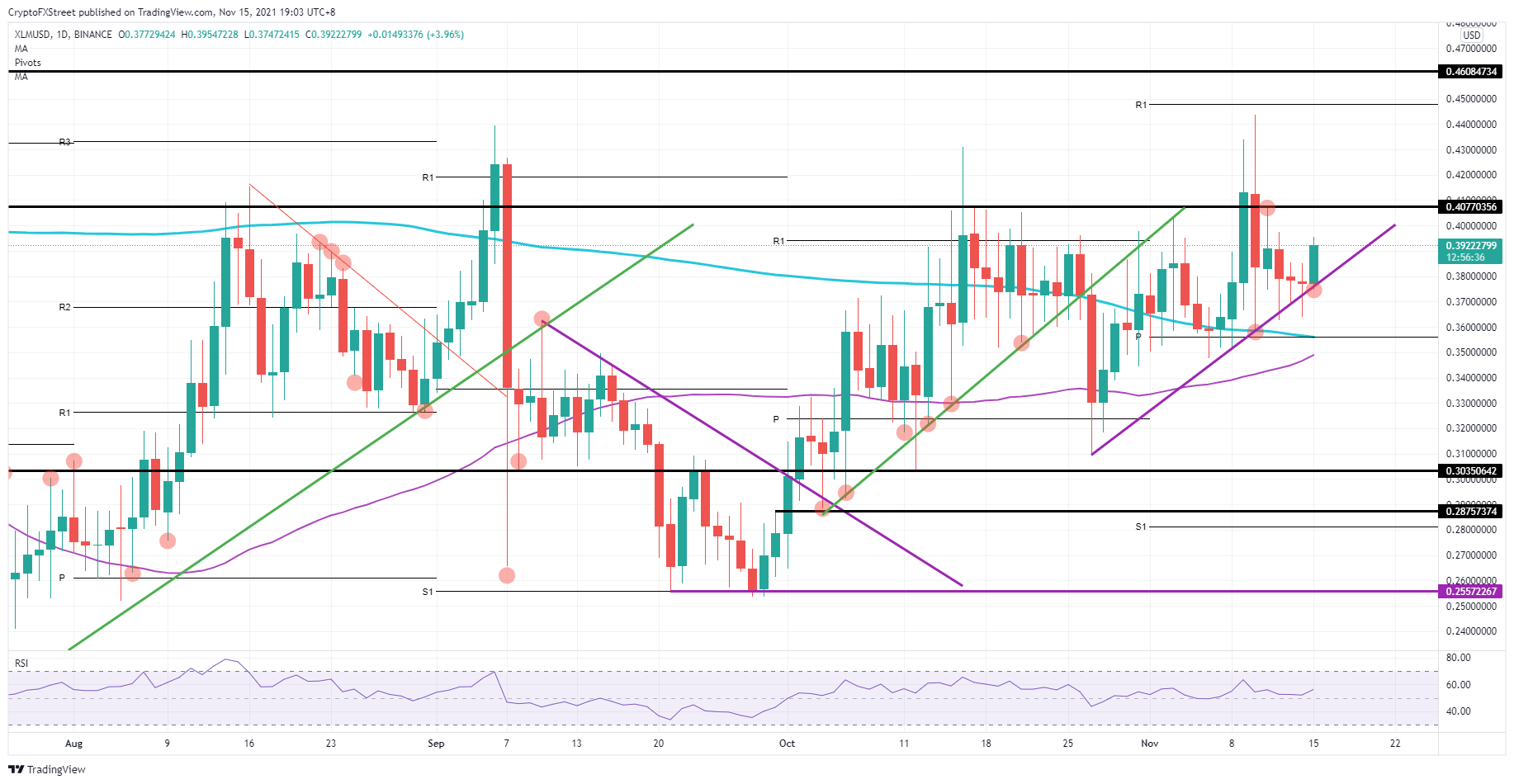 XLM/USD daily chart
XLM price could see some pressure if the Relative Strength Index comes under pressure and gets into the overbought area. That would see some weaker inflow on the buy-side and see the equilibrium shift towards more sell-side volume. In that case, expect a short break of the purple trend line that will see bears eagerly getting in and running XLM price down towards $0.36 with the 200-day Simple Moving Average (SMA) and the monthly pivot for November as support.
Stellar price analysis: Price takes upturn to $0.342 after bullish drift
XLM value has improved up to $0.342.
Stellar price analysis confirms bullish trend.
Support is fixed at $0.307 level.
The bulls have successfully made a comeback in the last 24-hours because of the sudden rise in buying activity. The bulls have been maintaining their leading position for the past few days as a constant rise in XLM/USD value can be determined. Today, the price showed a bullish inclination once again due to buyers pressure. The uptrend has enhanced the coin value up to $0.342 high.
XLM/USD 1-day price chart: Price gains stability above $0.342 after bullish trend
The one-day Stellar price analysis shows increasing chances of recovery for the bulls as a rise in XLM/USD value is observed. The price covered an upward movement today; as a result, the coin value has heightened up to $0.342. This is a promising sign for the buyers, as earlier, the situation was quite critical because of the downswing. The price is now standing higher than its moving average (MA) value which is $0.333.
The volatility is decreasing because of the constriction between the Bollinger bands, which is a positive sign regarding the upcoming trends. If we talk about the upper Bollinger band, its value is $0.389, whereas the lower Bollinger band shows $0.307 of value. The Relative Strength Index (RSI) score is at 47.92 now after the recent upturn.
Stellar price analysis: Bullish rally elevates coin value up to $0.342 peak
The four hours Stellar price analysis confirms a strong bullish trend as the price has undergone an extraordinary improvement in the last few hours. The overall recovery has been phenomenal as the price has surpassed the $0.342 hurdle in the last four hours. It can be highly expected that the price will soon cross the $0.346 resistance in the next few hours. The moving average value in the four hours price chart is standing at $0.333.
The volatility is increasing, which is alarming as more downtrends might come ahead. The upper Bollinger band value has thus changed to $0.346, whereas the lower Bollinger band value has now shifted to $0.306. The RSI score jumped high to 61.58 as the bulls have been leading the market for a while.
A strong rise in selling activity has been observed over the span of the past few months. Hence the technical indicators chart supports the bears. There is a selling indication with 11 indicators on the selling mark, ten indicators on the neutral, and five on the buying mark.
The Moving Averages Indicator is also dictating loss for the cryptocurrency by giving a bearish signal. There are ten indicators on the selling position, four on the buying, and only one in the neutral position. The oscillators show a neutral trend for the day as nine oscillators are on the neutral level, while one oscillator each is on the selling and buying levels.
Stellar price analysis conclusion
The hourly and daily price predictions for XLM/USD are going in the bullish direction for the day because of the sudden recovery. The uptrend is at its peak as the price has reached $0.342 height in the last 24-hours. Further upside is to follow in the next few days if the buyers put in efforts to achieve their next target.
Stellar Lumens (XLM) Meridian 2021 Tech Talks Available on Demand
Stellar Expressed: Meridian 2021 tech talks are available on-demand for your viewing pleasure.
Caroline Young points to how users can hear directly from SDF's Engineering team on what they've been building and how users can leverage these advancements for work. The good thing is users need not be technical to enjoy these talks. Those who ask questions will be able to learn something new.
They address three main questions: Why is Layer 2 technology like Starlight relevant to Stellar? What are payment channels in general? How does a Starlight payment channel work on Stellar?
By hearing to what the Engineering team have to say users will have to preview SPEEDEX, which is a new type of decentralized exchange. Users will be able to go behind the scenes on Horizon: Past and Future. Breaking down the KYC Journey with Vibrant. Unlocking DeFi with Stellar Turrets and more.
For those who are beginners, there is an essential crash course on Stellar Core. With some further focus users can understand the real-world use cases with Stellar Ecosystem Protocols.
Those who have inclination towards building on Stellar do not want to miss on this tech talk. Also, they point to SEPs, which are especially advantageous for new entrants to the ecosystem, since once they employ SEPs. Thus, they are able to immediately integrate with all the existing services on Stellar already compatible with these protocols.
Community Reaction: Worrisome Concerns of the Stellar Investor Community: How long do we have to wait? Is 5 years a short time? Why do you only sell when you don't want to raise the value? Don't you feel anything when you see the evaluation in the market?
3 Guarantees in this life 1) Death 2) Taxes 3) Stellar makes an announcement/tweet/ update they dump their bag and price tumbles.
Pretty sure a lemonade stands down the block could generate more hype than Stellar at this point. This is getting sad. Stellar dumps their bag then scared to market and grow why? Are you afraid of the SEC labelling you a security? So, you guys are inside cashing out now?
How long do we have to wait? Is 5 years a short time? Why do you only sell when you don't want to raise the value? Don't you feel anything when you see the evaluation in the market?
Stellar is the most centralized chain, and SDF is the most greedy and hypocritical team in the crypto world, dumping every day.
News Source
Stellar price analysis: XLM aims for $0.443 high after 6 percent rise
Stellar price up 6 percent on intra-day, rising as high as $0.3476
Price targeting 90-day high of $0.443 if $0.385 resistance is crossed
Trading volume also up more than 4 percent
Stellar price analysis for the day confirms beginning of an uptrend for the token. Price went up more than 6 percent on the day with trading volume also rising over 4 percent. Price showed a high of $0.3476 which was the first time at this level since November 17. Since then, XLM has been facing a turbulent period with price struggling to consolidate. Now, after crossing the crucial 20-day Exponential Moving Average, Stellar price could be up to go as high as $0.443 once the $0.385 resistance is crossed.
The larger cryptocurrency market showed gains during the day's trade, with Bitcoin rising 4 percent to sit just under $59,000. Ethereum crossed the $4,500 mark with a 7 percent rise with major Altcoins showing positive results as well. Cardano upped 5 percent to sit at $1.69, Ripple 4 percent to $1.05, and Solana 5 percent to $210.91.
XLM/USD 24-hour chart: Price looking to go up after moving past EMA
On the 24-hour chart for Stellar price analysis, price looks to be making significant inroads towards the resistance point at $0.387 after crossing the crucial 20-day EMA at $0.3429. The 24-hour Relative Strength Index (RSI) sits at 46.60 and looks to be gaining value to present an ideal valuation for traders to invest in XLM. Price currently sits just above the EMA at $0.3469 at the time of writing, with the Moving Average Convergence Divergence (MACD) curve also showing a favourable picture for the token.
XLM/USD 4-hour chart: Price closes as high as $0.3481
The 4-hour chart further validates the emerging positive trend for XLM, with price rising as high as $0.3481 on the closing trading session. The RSI presents an ideally poised value of 55.97 which represents a strong market valuation for XLM. The MACD curve also indicates bullish momentum as it heads towards the 0.00 mark after clearing the neutral zone. From this stage, price will look to close above $0.35 over the coming trading sessions with the RSI continuing to add value along with the larger cryptocurrency market.
Stellar price analysis: Conclusion
From majority technical indicators and candlestick charts, it can be confirmed that XLM is undergoing an uptrend that is poised to take price as high as $0.443. With price boosting up over 7 percent on the day, the current trend is well in touch of the $0.387 resistance point. Once this region is ticked off, price will open doors to settling above $0.4. However, any movement below $0.321 over the next few trading sessions may invalidate the bullish thesis.