AMC Theatres CEO announces Bitpay will support SHIB 'specifically because he asked'
What does a crypto trader do when they want to catch a movie and buy a tub of buttery popcorn, but don't have any dollars on them? Well, in as little as two months, your local theatre could soon be accepting Shiba Inu [SHIB].
Here's how this happened.
With dogged determination
On 16 November, AMC Theatres CEO Adam Aron tweeted that "specifically because" he asked, the crypto payment company Bitpay would be supporting SHIB. Adding to that, Aron explained that in 60 to 120 days, AMC would be able to accept Shiba Inu for movie tickets and concessions purchased online.
He concluded,
"This is a WOW!"
Attention #SHIBArmy: Our friends @Bitpay decided to support Shiba Inu specifically because I asked, so AMC can take Shiba Inu for online payments of movie tickets and concessions. @AMCTheatres to be the first @bitpay client to accept Shiba Inu. Timing 60-120 days. This is a WOW! pic.twitter.com/F54i22hHDv— Adam Aron (@CEOAdam) November 15, 2021
In October, Bitpay reported that AMC was using its platform to accept crypto payments in the form of gift cards. However, at press time, there was no official announcement about Bitpay accepting SHIB.
However, one self-identified ShibaSwap developer made their gratitude clear.
Thanks pic.twitter.com/nF0haE9V4i— Kaal (@kaaldhairya) November 16, 2021
A tail-wagging update
How did the saga begin? Aron announced AMC would be accepting Bitcoin and several altcoins as payment methods. Aron also promised to bring Dogecoin onboard.
Big newsflash! As promised, many new ways NOW to pay online at AMC.  We proudly now accept: drumroll, please… Bitcoin, Ethereum, Bitcoin Cash, Litecoin. Also Apple Pay, Google Pay, PayPal. Incredibly, they already account for 14% of our total online transactions! Dogecoin next. pic.twitter.com/a7pqYBm7HB— Adam Aron (@CEOAdam) November 12, 2021
Next up, Aron sent the Shib Army into a tizzy when he released a poll to ask if SHIB should be added to the list of cryptocurrencies. There were 153,100 votes, and the answer was a resounding bark of approval.
TWITTER POLL #2: As you know, you can now purchase AMC gift cards using cryptocurrency, and our IT group is writing code so that soon we can accept online payments in Bitcoin, Ethereum, Litecoin and Dogecoin among others. Should we strive to take Shiba Inu too?— Adam Aron (@CEOAdam) October 29, 2021
Naturally, one would expect Shiba Inu to be jumping with joy. Yet, at press time, the eleventh largest coin by market cap was trading at $0.00005077. What's more, the price dropped by 3.43% in a day and has been in the red for most of the past week, according to Coin Market Cap.
Worth noting, however, that it wasn't restricted to Shiba Inu alone. The market was seeing some bearish momentum and a number of other coins also saw price drops.
Could SHIB ever 'rob the rich'?
Investors may have a love-hate relationship with the dog-themed meme coin. Even so, Aron's announcement is a sign that more mainstream companies are taking SHIB seriously – or at least, are compelled to.
For his part, crypto researcher Max Maher predicted that the trading company Robinhood would soon add SHIB to its platform.
Maher said,
"So if I were to guess, Shiba will calm down a little bit for a period, and then Robinhood will make their big announcement, and that will shoot up the price 10 to 18% in a single day, from wherever it's sitting at that point."
SHIB Price Triumphs Toward New Milestones! Will Shiba Inu Flip Dormant ADA and XRP?
Shiba Inu (SHIB) has achieved a new breakthrough by excelling beyond a 1 million user base although its price has been trading 50% below its ATH. The meme coin has managed to drag the attention of a larger user base amid raising FUDs over the new Covid strain and US inflation. However, an update of the breakthrough and generation of subsequent higher lows in the recent past stimulated community growth. 
SHIB Adoption Peaks!
Moreover, the SHIB token was recently listed on the Kraken exchange on high user demand, followed by which the token enjoyed significant gains. A surge in the excitement towards the asset has been prompting other popular exchanges to list the meme token. Interestingly, a popular Brazilian cryptocurrency exchange Mercado Bitcoin is all set to list SHIB on December 2nd, 2021. So, the meme coin now gets exposure to a larger user base. 
Owing to the recent developments, investors pile up their portfolios with a huge chunk of SHIB tokens. A reputed healthcare service provider Ask the Doctor has recently purchased approximately 31 billion SHIB worth $1.5 million USD. In addition, the institute would soon enable SHIB payments with their healthcare partners. 
SHIB to Challenge Cardano and Ripple?
SHIB price has seen exponential growth since the start of the quarter with record-high gains. However, prime coins under the top 10 such as Cardano and Ripple have been depreciating in their market cap with nil volatility. In the recent rally, SHIB's trading volume on the Binance exchange has surpassed Bitcoin's trading volume. Hence, it would be no surprise, if ADA and XRP fail to find any momentum in the short term, then the meme coin would easily outstrip them.
However, SHIB's price has managed to break $0.00003849 followed by its listing on the Kraken exchange. Along with fundamentals, the altcoin holds a bullish technical perspective to chug up toward new highs. RSI is at 45.65 favoring a bull run to commence soon, hence it would again breach the resistance around $0.00004258.
Collectively, traders are pleading SHIB to be listed on Robinhood. If speculations come into reality and altcoin manages to keep up the price momentum, then Shib would soon skyrocket to break old records. 
Shiba Inu price edges closer to another 50% upswing
Shiba Inu price has dropped 18% into a high probability reversal zone, hinting at a new leg-up.
Investors can expect SHIB to shatter intermediate resistance levels and tag the $0.0000625 resistance level.
A breakdown of the $0.0000362 support will invalidate the bullish thesis.
Shiba Inu price looks ready for a reversal as it enters a crucial support area that is likely to trigger a massive uptrend. This move has a high chance of occurrence as it allows sidelined buyers who missed the initial run-up to get in on the next leg-up.
Shiba Inu price prepares for liftoff
Shiba Inu price rose 50% in under two days as it triggered an upswing on November 28. This rally set up a swing high at $0.0000543 and has dropped 23% to where it currently trades – $0.0000422.
Interestingly, SHIB has entered the high probability reversal zone, extending from $0.0000400 to $0.0000431. This is an oversold area that is likely to trigger an inflow of buying pressure from investors that missed the initial spike in price.
Therefore, market participants can expect Shiba Inu price to reverse its downtrend soon. The resulting uptrend will take a jab at the range high at $0.0000543 and attempt to move higher. In this case, SHIB will revisit the $0.0000579 and $0.0000625 resistance barriers.
In total, this run-up from $0.0000415 would indicate a 50% gain for Shiba Inu price.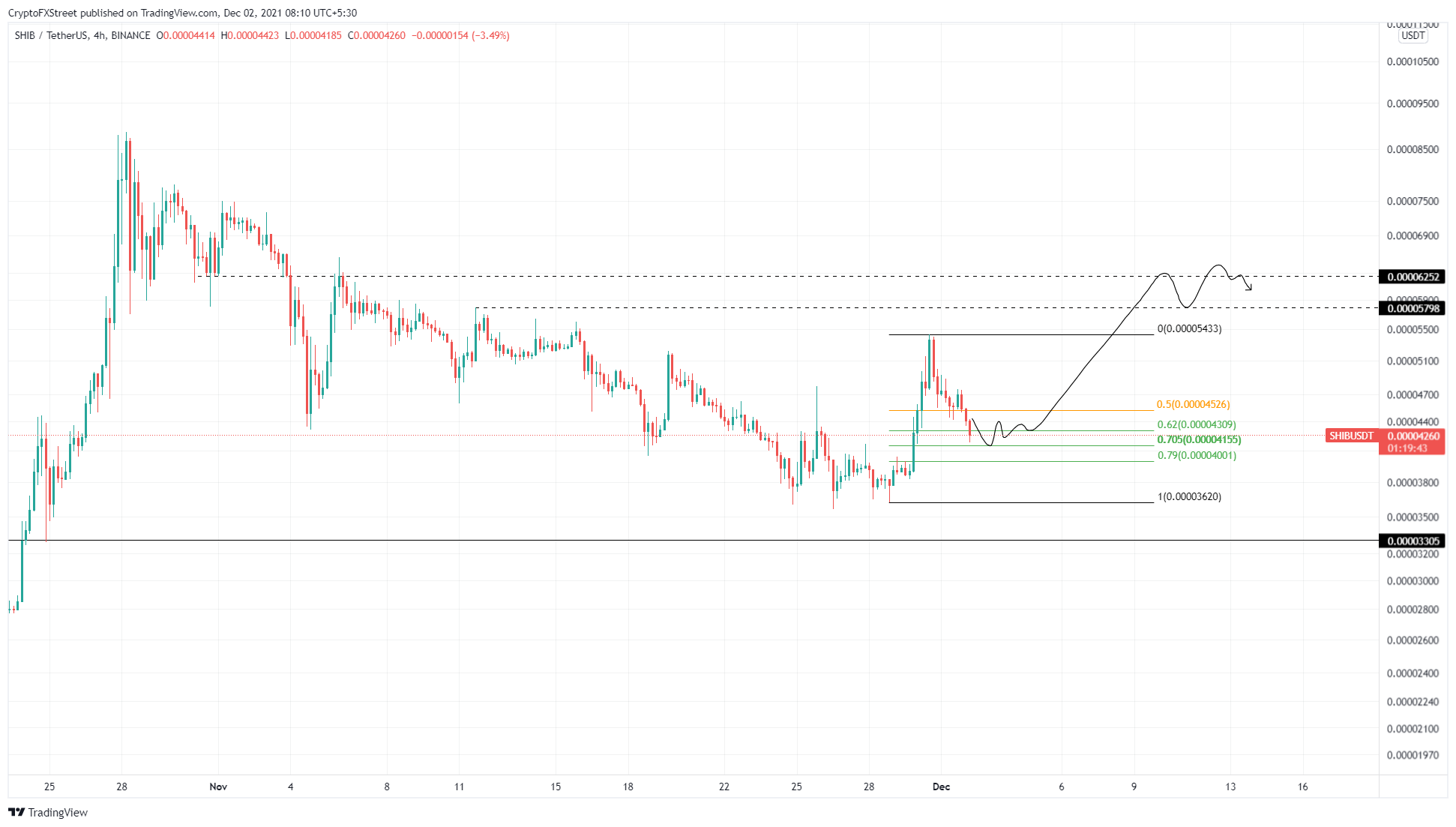 SHIB/USDT 4-hour chart
While things are looking gloomy at the moment, investors can expect a decent bounce from Shiba Inu price soon. A failure to do so could result in a breakdown of the 79% Fibonacci retracement level at $0.0000400 and a revisit of the range low at $0.0000362.
A daily close below this level will create a lower low and invalidate the bullish thesis. In such a case, Shiba Inu price could tag the $0.0000330 support level.
Healthcare Company Adds Shiba Inu to Its Balance Sheet
A Toronto-based healthcare company now holds Shiba Inu on its balance sheet.
Ask The Doctor, a Canadian online healthcare company, has added $1.5 million worth of Shiba Inu to its balance sheet, according to an announcement posted on its Twitter account.
Kraken facilitated the seven-figure buy. As reported by U.Today, Shiba Inu started trading on the San Francisco-based cryptocurrency exchange on Tuesday.
Ask The Doctor has added ~$1.5M USD (approx 31B $shib) to our balance sheet via Kraken.

We are 72 hours away from accepting #SHIB with our healthcare partners. pic.twitter.com/NHG17druCh— Ask The Doctor ® 🇺🇸🇨🇦 (@askthedr) December 1, 2021
The medical information website will also begin accepting the meme cryptocurrency with its healthcare partners within the next three days.

It already allows clients to pay with Dogecoin for certain services in the U.S. and Canada.   

The Toronto-based company was launched in 2010, allowing its clients to connect with medical professionals via text messages or video streaming. Notably, its list of co-founders includes former NBA player Israel Idonije and former NBA star Dikembe Mutombo.
In 2016, Ask The Doctor started accepting Bitcoin payments, becoming the first healthcare company around the globe to embrace crypto.
The reason for adding the new payment option was to offer customers who share sensitive medical data more privacy.