Crypto Analyst Michaël van de Poppe Updates Price Predictions for Shiba Inu, Terra and Three Additional Altcoins
Closely followed crypto strategist and trader Michaël van de Poppe is unveiling his latest price predictions for Shiba Inu (SHIB), Terra (LUNA) and three other altcoins.
Van de Poppe tells his 486,300 Twitter followers that dog-theme meme coin Shiba Inu remains on a downtrend as it continues to print lower highs and lower lows.
"If Bitcoin isn't going to show strength, I won't be surprised to see some retests at $0.000043 taking place or even $0.000035."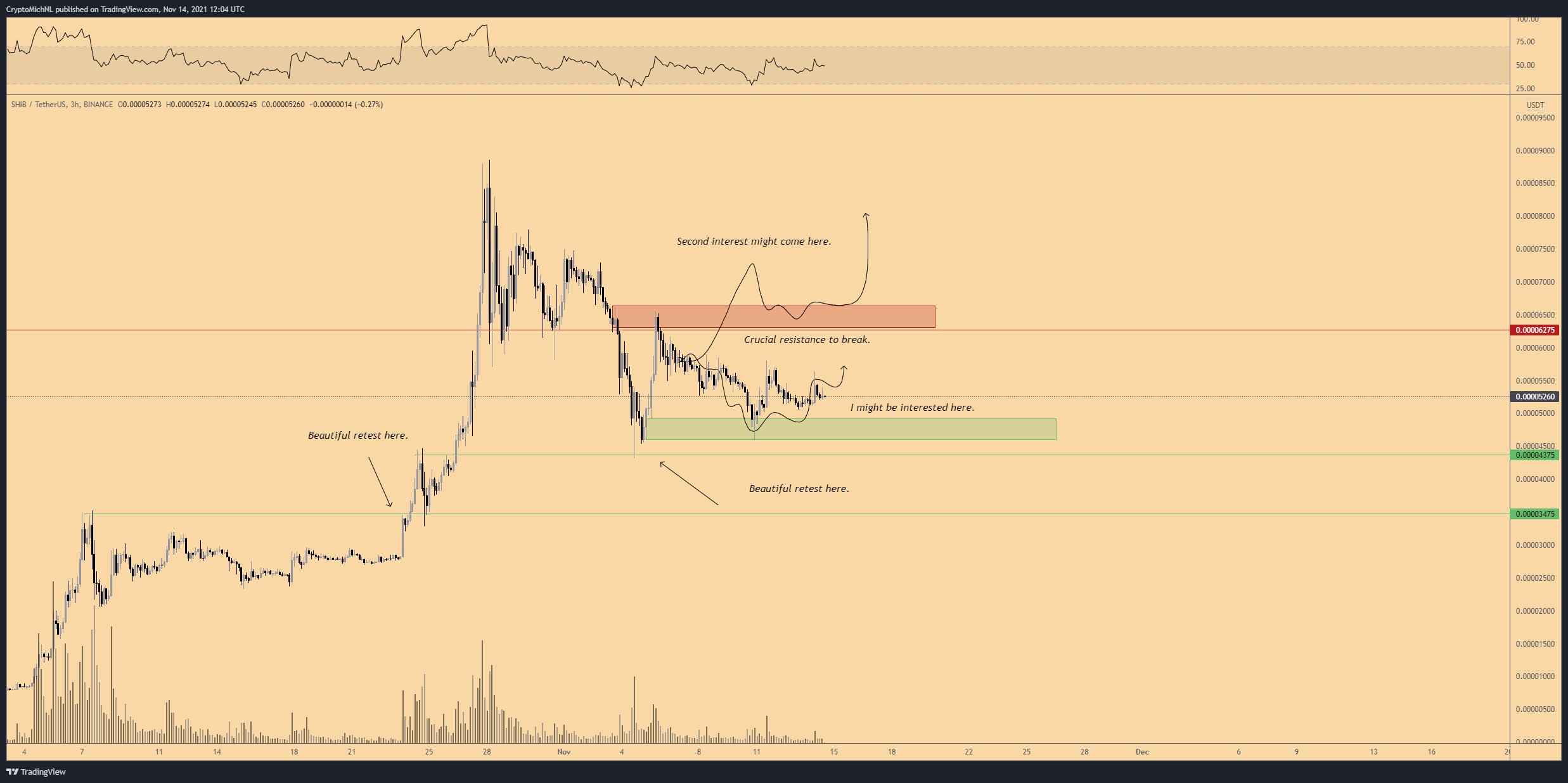 Next up is decentralized finance (DeFi) payment network Terra, which Van de Poppe says is forming a bearish rising wedge structure on decreasing volume.
"The crucial level to hold is $43-$44 and otherwise, we'll drop towards $26-$28 on this one, depending on Bitcoin. If it breaks upwards, the next target is $60-$63 based on Fibonacci [extension]."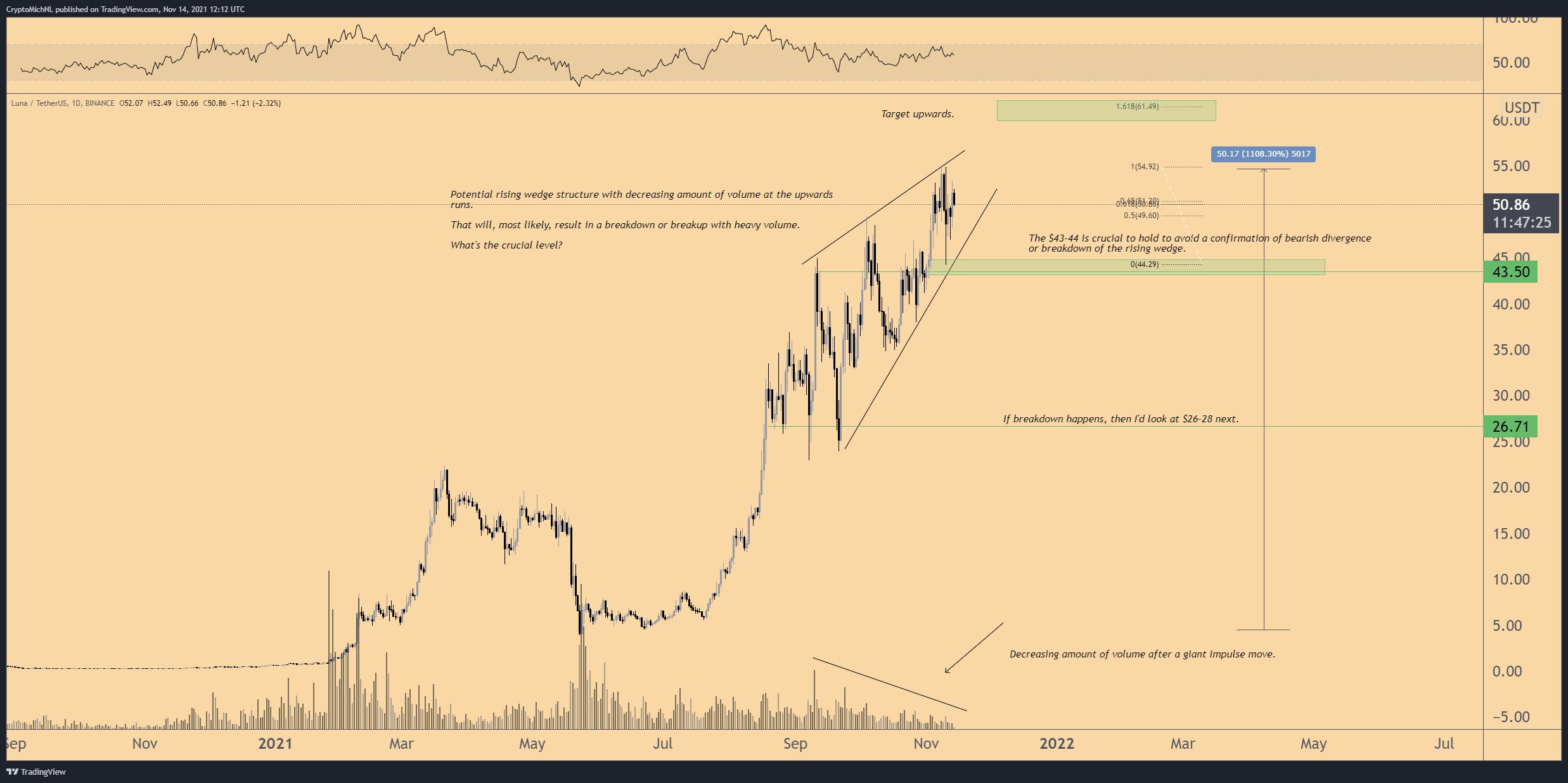 Another coin on the trader's list is blockchain gaming platform Enjin Coin (ENJ). According to Van de Poppe, he's looking at $2.67 and $2.05 as potential levels of interest.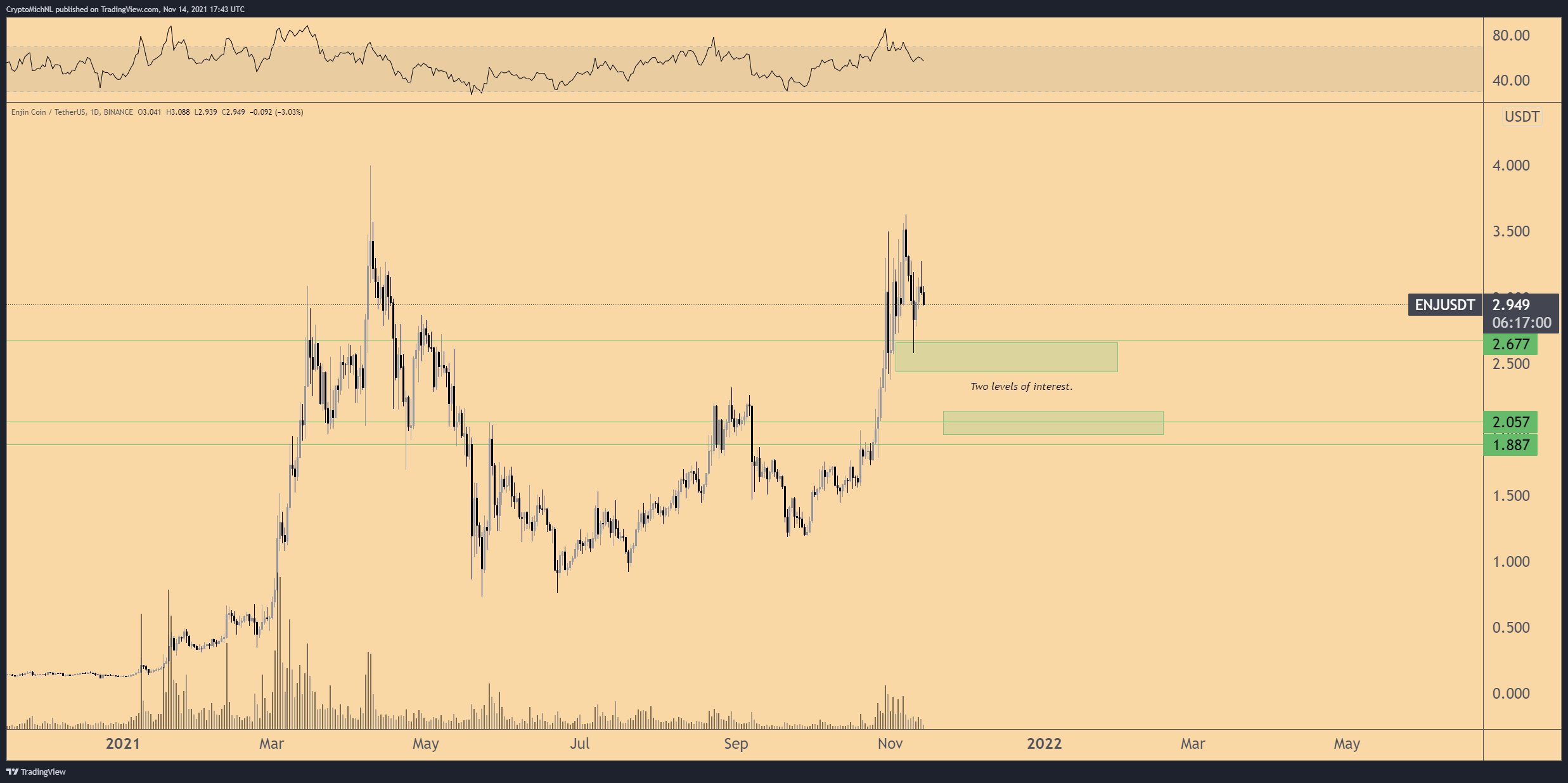 Van de Poppe is also keeping a close watch on hybrid blockchain Kadena (KDA), which he says has made a "giant move." According to the crypto strategist, he's waiting for KDA to carve a bottom at $21.22 or $15.72.
"Giving some points of interest in the chart here where I'd personally be seeking for entries."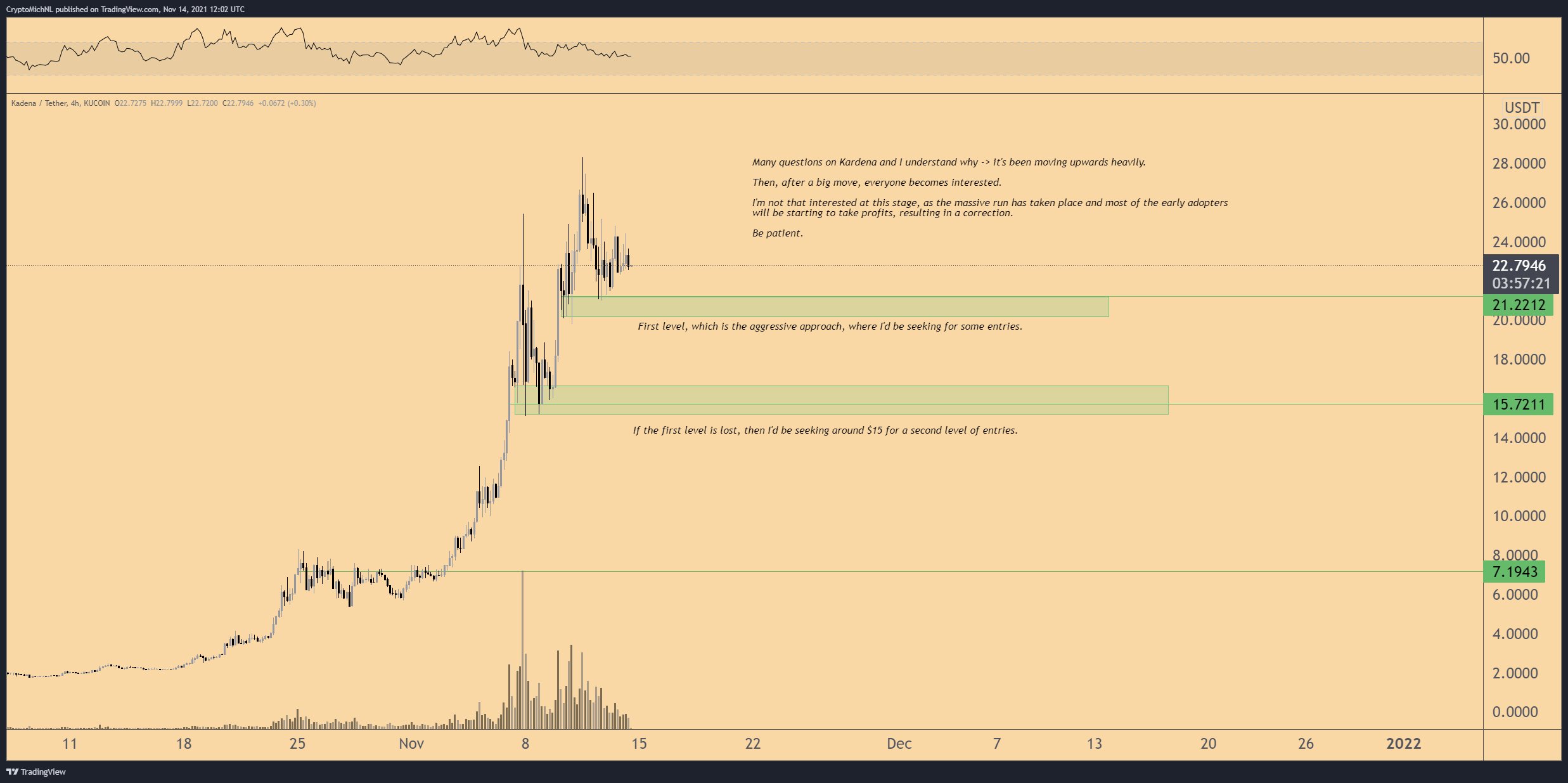 The last coin on the trader's list is high-throughput blockchain Zilliqa. According to Van de Poppe, Zilliqa must take out its immediate resistance against Bitcoin (ZIL/BTC) around 0.000002 BTC ($0.12) to ignite an epic rally.
"I'm heavily interested in the green zone here as I think that could give 300-700% returns in the next impulse move."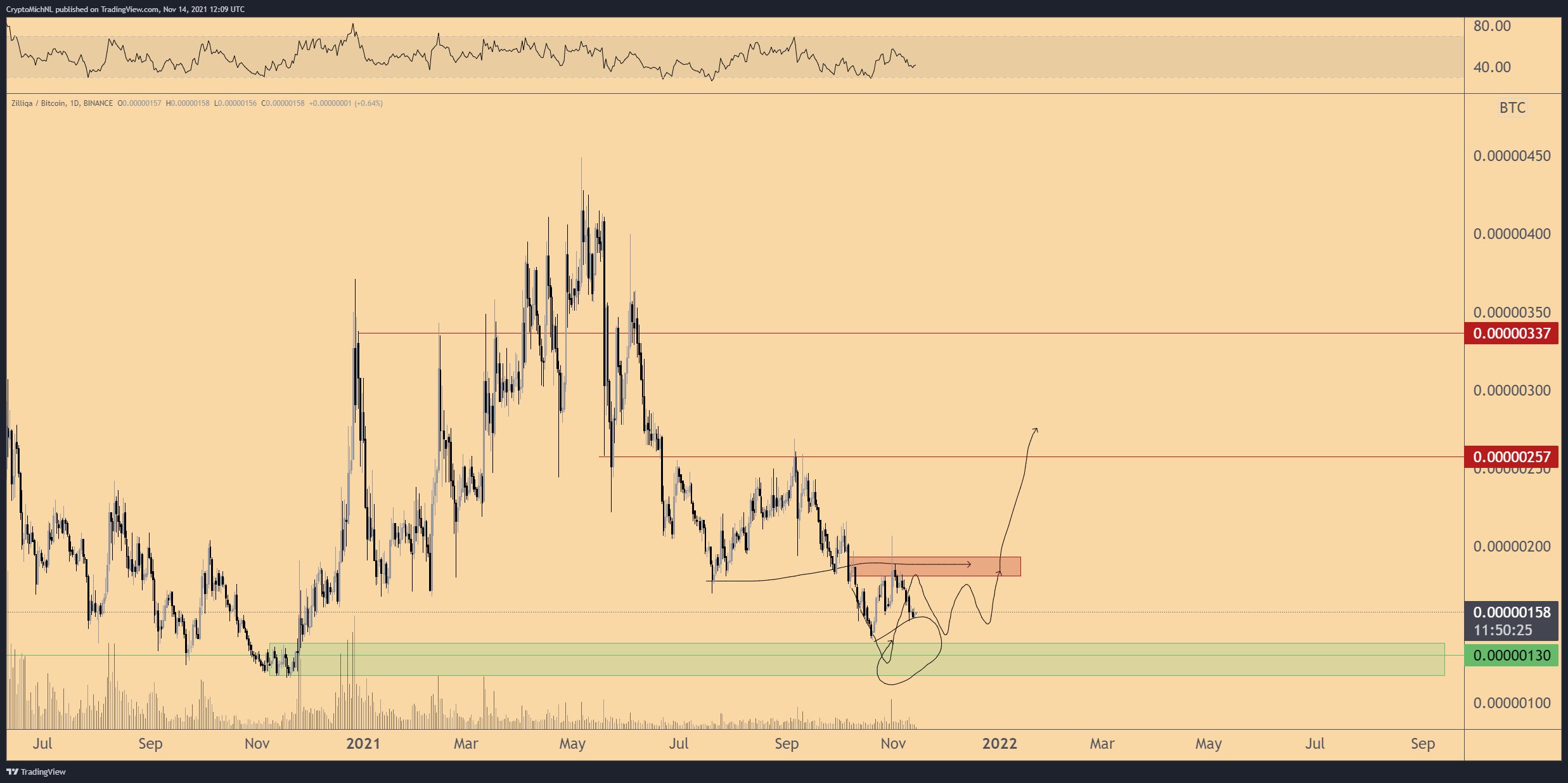 The new German government takes a pro-crypto stand in the coalition agreement
The European Financial Sector aims for holistic and risk-adequate supervision of the crypto business models.
The newly elected German government said that innovation doesn't come at the cost of affecting the stability of the traditional financial market.
---
The new German government has decided to take a pro-crypto stand in its coalition, a move that seeks to create a level playing field between "innovative business models" and traditional finance. The three German parties, who are looking to take the reins from December this year, have agreed to the coalition deal this week.
These three parties include left-leaning Social Democrats (SDP), the right-friendly Free Democrats (FDP), and the Green Party. The 177-page agreement published earlier this week on Wednesday, November 24, notes that the coalition seeks a new "dynamic in relation to the opportunities and risks from new financial innovations". This includes blockchain businesses and crypto-assets. The agreement further adds:
We are making European financial market supervisory law fit for digitization and for complex group structures in order to ensure holistic and risk-adequate supervision of new business models, We need joint European supervision for the crypto sector. We oblige crypto asset service providers to consistently identify the beneficial owners.
The document also adds that the EU supervisory authority should take care of the traditional financial sector and simultaneously assure that there's no misuse of cryptocurrencies for illicit activities like money laundering and terror financing.
An accommodative stand to crypto
As we are seeing, political parties and governments institutions are developing an accommodative stand for cryptocurrencies. Crypto has also turned into a new battleground for politicians to sway voters.
Apart from Germany, the European Council has initiated pro-crypto measures. It has added two more proposals namely the 'Regulation on Markets in Crypto Assets (MiCA) framework and the 'Digital Operational Resilience Act' (DORA).     
The European Commission had initially drafted MICA for the first time last September 2020. It also seeks to create a regulatory framework for cryptocurrencies. The framework takes into account the potential of crypto-assets and supports innovation in the space.
If the framework gets approval from the European Parliament, then crypto assets issuers will have to face more stringent regulatory norms. However, utility tokens and non-fungible tokens (NFTs) will still fall outside the scope of regulation.
A Reddit post from "BelgianPolictics" referred to this progressive regulatory proposal as the "most important one to date for the entire crypto industry". The handle further added:
These rules will have to be followed by every entity operating in the European Union. However, because of the 'Brussels Effect,' there is a very good chance these rules will become international standards in the end. While everyone is focused on the US and China, the EU is casually leading the way.
It will be interesting to see how the EU approaches crypto regulations going ahead. For now, the wind seems to be turning in favor of crypto investors.
Crypto Market Down $200B as Wall Street Futures Tumble on Renewed COVID-19 Concerns
Bitcoin saw a six-week low beneath $55,000, most altcoins plummeted even more, and Wall Street futures contracts are down as well on new COVID-19 fears.
The new COVID-19 variant coming from South Africa has brought more pain to all financial markets. As the futures contracts of the world's most prominent stock indexes have slumped, the cryptocurrency space experienced a massive correction. Bitcoin dumped to a six-week low, while some altcoins saw double-digit price drops.
Bitcoin and Global Markets Tumble
The primary cryptocurrency was on its way towards $60,000 yesterday after recovering from the previous drop below $56,000. It came roughly $500 away from challenging that coveted level, but it failed, and the landscape changed vigorously hours later.
Bitcoin dumped by $5,000 in a few hours to an intraday low of $54,300, which became the lowest price point since October 13th. As reported earlier, this enhanced volatility caused mass pain for leveraged traders as the liquidations skyrocketed to over $700 million on a daily scale.
This price crash coincides with similar developments in the global stock markets. Prompted by fears of a new COVID-19 variant coming from some African nations, the futures contracts of Dow Jones, the S&P 500, Nasdaq, and other popular indexes plummeted.
The Dow's futures are down by more than 2%, those for the S&P 500 by nearly 1.7%, while oil prices dropped even harder. US crude oil futures declined by over 5.5%.
There Are Now 1 Million Shiba Inu Holders, Despite SHIB's 50% Monthly Drop
The popular memecoin project Shiba Inu has reached a massive milestone of over one million token holders.
Despite the recent turbulence and decline in demand in comparison to just a few months ago, Shiba Inu's user base has grown to one million wallets. Shortly after the team outlined the news, the native token surged by double digits, but it has retraced once more.
Aside from NFTs and DeFi, 2021 will go down in history as the year of the memecoin with the massive popularity and price surge of Dogecoin and the subsequent emergence of countless copycats.
One of those copycats, which actually saw the light of day last year, actually managed to steal the spotlight in Q3 – Shiba Inu.
The self-proclaimed DOGE killer skyrocketed in price and charted an all-time high of $0.000086, which made it the most successful investment of the year with an ROI of 100,000,000%.
At one point, it even surpassed Dogecoin in terms of market capitalization, and all of this undoubtedly attracted new users coming with the promise of quick gains.
The adoption curve intensified in the following few months and the project updated yesterday of reaching a massive milestone – one million SHIB holders.
While this is a long way away from arguably the most adopted and popular cryptocurrency – Bitcoin – with its nearly 39 million active addresses, it's still a substantial achievement, given the fact that very few people had heard of Shiba Inu (not the dog) a year ago today.
Shortly after the team announced the news on Twitter, the price of SHIB surged from a daily low of $0.000039 to a high of $0.000048. Nevertheless, the token, similarly to most of the market now, has retraced and currently sits around $0.00004.
This one million milestone comes at an intriguing time, in which the demand for the memecoin seems to be fading. As reported earlier this week, the number of Google searches has slumped as the price is more than 50% down from the ATH charted last month.