NFTs – How They Work And Important Things To Know
The non-fungible tokens are present on the blockchain, which is a public ledger where transactions are recorded. You have probably heard of blockchain as a process where cryptocurrencies are brought into life. Typically, NFTs are present on the Ethereum blockchain, but other blockchains support NFTs as well.
NFTs are created from a digital object representing all kinds of items, including art, sports highlights, other videos, GIFs, collectibles, video game avatars, music, and others. Even tweets count as NFTs, and the Twitter co-founder has made a fortune off selling his first-ever tweet as an NFT for almost three million dollars.
In general, NFTs are considered collector's items, coming in a digital form. So, for example, instead of buying an art painting to hang physically on a wall, the buyer gets a digital file to keep on his computer. By purchasing an NFT, you are getting exclusive ownership rights on the item you bought. The creator or owner of NFT can also store valuable information inside them. For example, artists can include their signatures in them. To learn more about NFTs and how to buy them, please check out buynft.com for valuable information and guidance. 
What can you use NFTs for?
The NFTs and blockchain technology help artists and creators of content to monetize their work. Artists do not have to rely just on galleries and auction houses to sell their creations. They have the opportunity to sell an NFT to the consumer directly.
Art is not the only thing that people can sell and make money with NFTs. Many popular food chains and brands have auctioned themed NFT art to raise funds for charity donations. That has proved to be a very efficient way of raising funds, and more and more brands are doing it. There are examples of GIFs, clips, and short videos selling for hundreds of thousands of dollars. Some celebrities like LeBron James, Snoop Dogg, Lindsey Lohan, and others have also entered the world of NFTs, selling unique videos, artwork, and other stuff as securitized NFTs.
Buying NFTs
If you want to start your NFT collection, you will need to get a few items first. The first step is getting a digital wallet where you will store your crypto money and NFTs. You will likely be required to purchase some digital currency first, like Ether, depending on which cryptocurrencies your NFT provider accepts.
Buying cryptocurrencies on popular platforms like Coinbase or Kraken is very easy, and then you can move it from the exchange platform to your e-wallet in a matter of seconds. Also, keep in mind that buying NFTs comes with fees, as many exchanges charge different percentages. Explore the market a bit, and you are likely to find the best option for you.
Hopefully, this information made clear some things regarding NFTs. There are many other details and interesting facts, so keep an eye on updates and the latest news coming out. NFTs can be profitable, so you should think about investing in them and reaping their benefits. 
WonderHero Announces Mystery Box Sale on Binance NFT
Novel GameFi ecosystem teases Mystery Box sale on Binance to celebrate alpha testnet conclusion
To highlight the latest crucial accomplishments, WonderHero RPG announces a Mystery Box sale on the non-fungible token marketplace by the world's largest centralized exchange, Binance.
Mystery Box sale by WonderHero launches ahead of beta testing
According to the official announcement shared by the WonderHero team, starting from Nov. 30, 2021, GameFi enthusiasts will be able to purchase one of 40 "Mystery Box" variations.
🔥WonderHero is proud to be collaborating with @TheBinanceNFT & @polkastarter for our Mystery Box Giveaway!

⏰Ends on Dec 10, 2021
🎁25 x WonderHero Mystery Boxes

Follow actions & gain an extra chance!
👉Join here: https://t.co/mKAeMc91wa

Details: https://t.co/ypQgG71LU8 pic.twitter.com/o4UjtsFq2q— WonderHero (@Wonderhero_io) November 27, 2021
In total, 5,000 boxes will be available for purchase. Out of this quantity, 120 Mystery Boxes will have a five-star rating. As such, a participant has a 2.4% chance to obtain top-ranked super-rare boxes.
Every box includes five NFTs: one hero, his/her weapon and three in-game equipment assets. The net price of these assets totals 500 Binance USD (BUSD) while, during the Mystery Box Sale, it will be available for 150 BUSD only.
To start playing the game, players need one hero and one weapon. Therefore, "Mystery Box" is an optimal starter pack for newbie GameFi enthusiasts.
Staking NFTs for WND rewards
In December, the WonderHero team is going to enter an open beta testing phase and launch an NFT staking module, NFT marketplace and its core gameplay mechanisms.
WonderHero is available on mobile for both Android and iOS devices. Right now, the application allows its users to trade, exchange and earn NFTs.
WonderHero is among the first GameFi products that allow it to stake its NFTs for periodic WND rewards. In turn, WND tokens can be used for governance and purchasing in-game assets in WonderHero.
NFT News: UAE launches its First-ever NFT Stamps

This year, UAE will be celebrating its 50th National Day, with the launch of its first-ever NFT stamps in collaboration with Emirates Post Group (EPG). The EPG is set to launch four distinct NFT stamps on December 2, 2021,  commemorating the Nation's Golden Jubilee.
According to the TradeArabia News Service, these four dynamic NFT stamps will posses a digital twin on the blockchain, and are set to be sold as digital collectibles linked to its physical stamp counterpart. While the first crypto stamp, "the Golden Jubilee 2021" is said to be a premium edition, containing 1 gram of fine gold, the second stamp is called the "Spirit of the Union – 1971", symbolizing the establishment of the nation by the founding fathers. Furthermore, the third stamp is "Year of the 50th – 2021", and the fourth one is "Projects of the 50th 2071" representing the UAE's futuristic vision.
"In line with EPG's goal of transforming into a more digital-centered company, we are proud to announce the launch of the first NFT stamp in the region, which utilises blockchain technology. By introducing tradable NFT stamps, we are bridging the gap between traditional stamps and the world of digital cryptocurrency.", said Abdulla Mohammed Alashram, the Group CEO of Emirates Post Group.
UAE's NFT Stamps Ascertain Protection from Leaks
EPG considers this collaboration of traditional stamps and futuristic crypto as the company's first step towards proving its truly "digitally-centered" approach.
The crypto stamps portray the nation's history and milestones, and will be eligible for all three, trade, exchange, and holding. A Buyer will be required to scan the QR code printed on the card to see the digital design linked with it.
The stamp contains a locked cryptographic NFC-chip for verification, using a NFC reader. Furthermore, to ensure safety from any unprecedented leaks, every stamp posses a dynamic code hidden behind the card which can be unlocked by scanning the QR code to activate the counterpart on the block chain.
NFT and Crypto Communities Facing Malware Campaign on Discord
Threat actors are targeting crypto and NFT Discord communities
A malware campaign that specifically focuses on cryptocurrency- and NFT-related Discord communities has been uncovered, according to a report by Bleeping Computer.

Malicious actors are abusing the popular chart service with the help of a crypter called Babadeda, which means "Grandma-Grandpa" in the Russian language.
Cybersecurity firm Morphisec was the first to discover the new malware distribution campaign earlier this week.
Criminals typically attempt to cajole users into downloading fake software, copying popular blockchain games such as "Mines of Dalarna."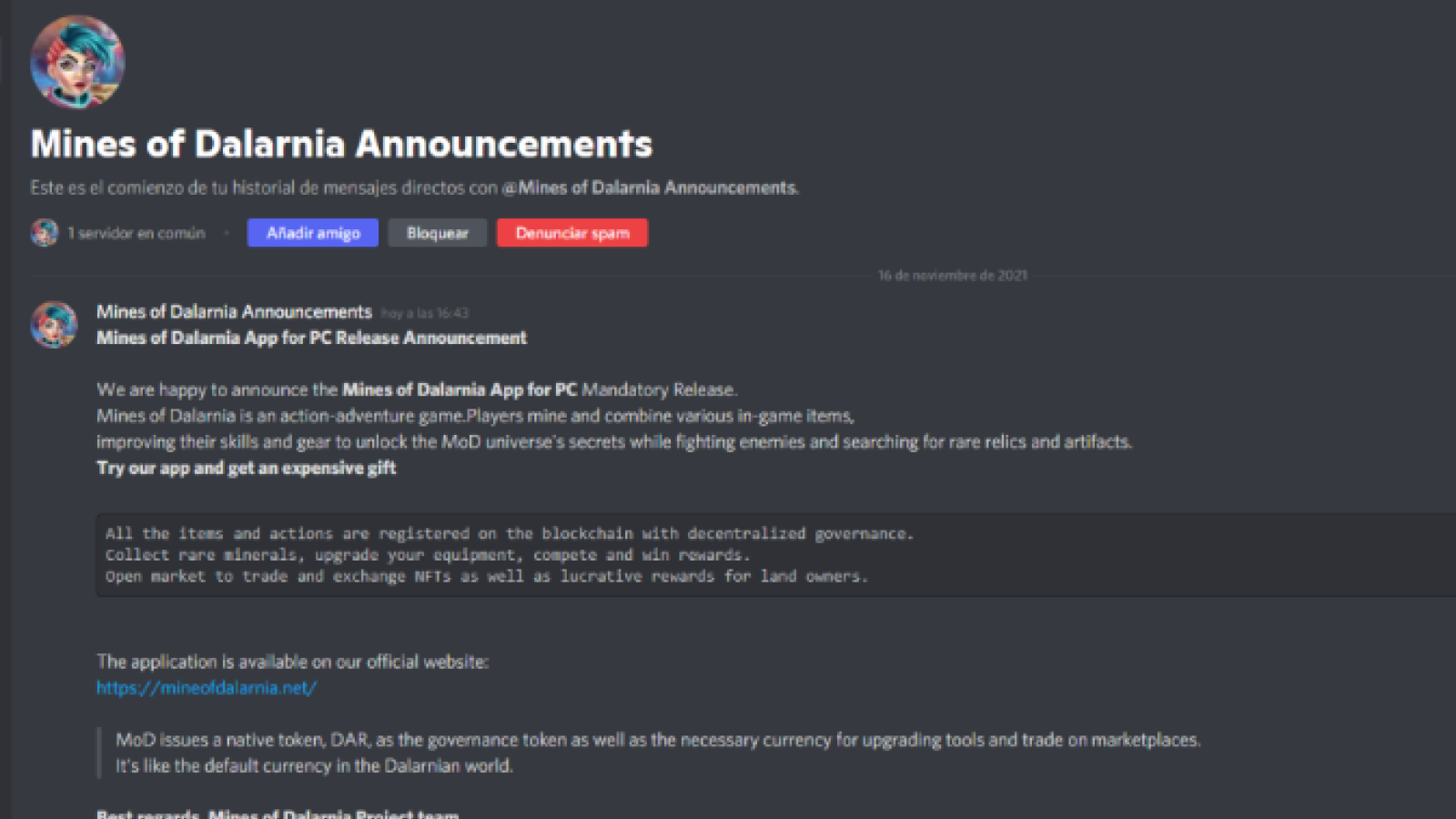 Based on an HTML object of one of the decoy sites, Morphisec determined that the malware campaign is operated by people from a Russian-speaking country.
Threat actors are impersonating the websites of some of the most prominent companies within the NFT industry, including OpenSea and Larva Labs.
Those who started installing the malware typically see a fake error, which is used as a deception technique, while the installer does its job in the background.
Cybercriminals are likely to go after victims' crypto wallets and NFTs.
Discord's malware problem
It is not surprising that Discord has become the target of threat actors since it has become home to plenty of cryptocurrency users where they can communicate via publicly accessible channels or private messages.
It is not just crypto: Sophos revealed that Discord accounted for 4% of all malware downloads as of July.
Earlier this month, Discord shelved its plan to integrate the Ethereum network after facing severe backlash from the anti-crypto segment of its customer base.