Ripple (XRP) on a 'A Real Approach to Cryptocurrency Regulation'
'A Real Approach to Cryptocurrency Regulation', is a proposal which reflects Ripple's hopes for a regulatory framework that taps into the unleashed potential of cryptocurrency and blockchain technologies.
Brad Garlinghouse, CEO of Ripple expressed: "Cryptocurrency and blockchain technology need clear regulatory and licensing frameworks designed to address and remedy the specific challenges to our industry. All of the proposed measures discussed in this framework aim to provide legal clarity to industry, markets, and consumers in a way that a regulation-by-enforcement approach simply cannot."
Ripple expressed: Today, we were proud to release our vision for 'A Real Approach to Cryptocurrency Regulation', a framework designed to offer an immediate and pragmatic approach to cryptocurrency and digital asset regulation in the United States.
We believe the best public policy outcomes can be achieved by public-private collaboration, adapting existing regulatory frameworks and fostering crypto innovation sandboxes.
Ripple believes that our proposal will ensure the U.S. succeeds in nurturing crypto innovation within its borders while also maintaining the strong consumer and investor protections it's known for.
Susan Friedman, Head of Public Policy at Ripple, expressed, "Developing an effective policy framework for cryptocurrencies will only be possible if there is clear communication and collaboration between private and public actors. That is the reason why we have proactively discussed the issue on a bipartisan basis with regulators and members of Congress. These conversations have helped shape our perspective on the type of regulatory clarity the industry and broader ecosystem need from regulators, as well as the type of requirements regulators should demand from the industry."
The proposal opined that public-private collaboration will be at the core of any legislative proposals. Any legislation or policy framework which focuses on regulating cryptocurrencies should be promoting an active dialogue between regulators and market participants.
Public-private collaboration will eventually lead to more tailored and effective policy outcome for the industry and consumers alike.
Ripple points to how: The bill — which requires the establishment of a collaborative working group consisting of appointees from the Securities and Exchange Commission (SEC) and the Commodity Futures Trading Commission (CFTC) as well as representatives from fintech companies, financial firms, and small businesses — passed the House and remains pending in the Senate.
To eliminate barriers in innovation, it is important to foster open dialog between innovators and regulators. To incentivize innovation Ripple feels that sandboxes should be fostered and encouraged.
Those who want to know more should read the proposal from the Ripple website.
News Source
Top 3 Price Prediction Bitcoin, Ethereum, Ripple: ETH outperforming its peers, BTC struggles and XRP bearish
Bitcoin refrains from making new highs as Tuesday's gap-fill kills uptrend continuation.
Ethereum outpaces its peers by barely hitting new all-time highs.
XRP price again looking for direction as investors interest wanes.
The Bitcoin bull rally got stopped in its tracks this week after BTC price came under more pressure from the Omicron story, and the resulting market turmoil. Ethereum price, however, came just $16 away from making a new record high, making gains in contrast to the other two majors. XRP saw investors buying the dip, but the uptrend hit a wall and got stopped in its tracks.
Bitcoin price on the backfoot after a slowdown that made it lose bullish momentum
Bitcoin (BTC) price popped higher at the beginning of the week, shrugging off investors' concerns about the new Covid variant.On Monday, BTC price opened up much higher than where it closed on Sunday, forming a gap in the chart. As a general rule, gaps get filled sooner rather than later, and this was the case on Monday, when bulls saw their early gains lost as BTC price retraced to fill the gap. 
Bears have seized the opportunity to defend the new monthly pivot for December at $59,586, which coincides with the start of a Fibonacci retracement.. Evidence of this weakening can be found in the Relative Strength Index (RSI), dipping back below 50, showing that bullish demand is starting to wane.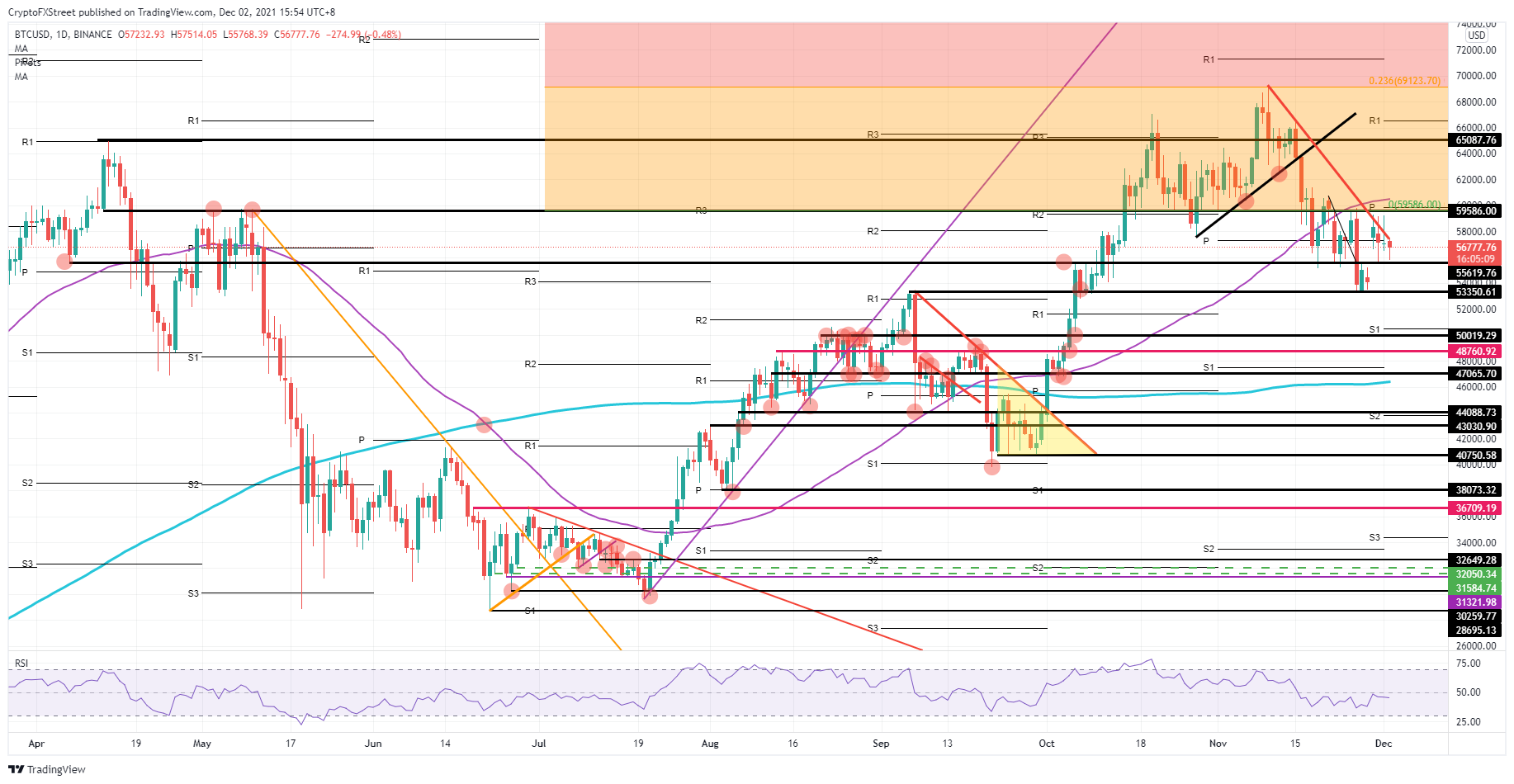 BTC/USD daily chart
As a result of current market uncertainty, expect potential investors to stay on the sidelines. Although the red descending trend line has been broken a little, it still holds importance and investors will probably only step in following a break back above it,  helped, perhaps, by breaking news about vaccine effectiveness  against the new strain. Either that or investors will sit on their hands and wait for another bounce off $53.350. Should that level fail to hold, however, and there is more bad news,, expect a quick 6% drop towards the $50,000 psychological level and previous historical support. At that level bulls will likely mount a defence against a further downturn.
Ethereum price outpaces its peers and could make new highs by the end of this week
Ethereum (ETH) price, unlike Bitcoin and XRP, saw bulls run a tight and steep rally from $4,000 towards $4,936 in just five days. That was in a troubled market facing considerable headwinds. That said, bulls now need to keep a tight stop on current ETH price action in order for a bull trap not to form, after the pull-back on profit-taking that occurred in the wake of price barely hitting an all-time high. 
ETH quickly reversed from its highs on Wednesday and tested the December pivot at $4,481. That is just $16 above the historical technical level marked up on the chart from November 12. This is a level of great importance and it will be very interesting to see if bulls can maintain price action above it, perhaps, helped by a possible bounce off the red top line that has so far been  successfully capping price action to the upside.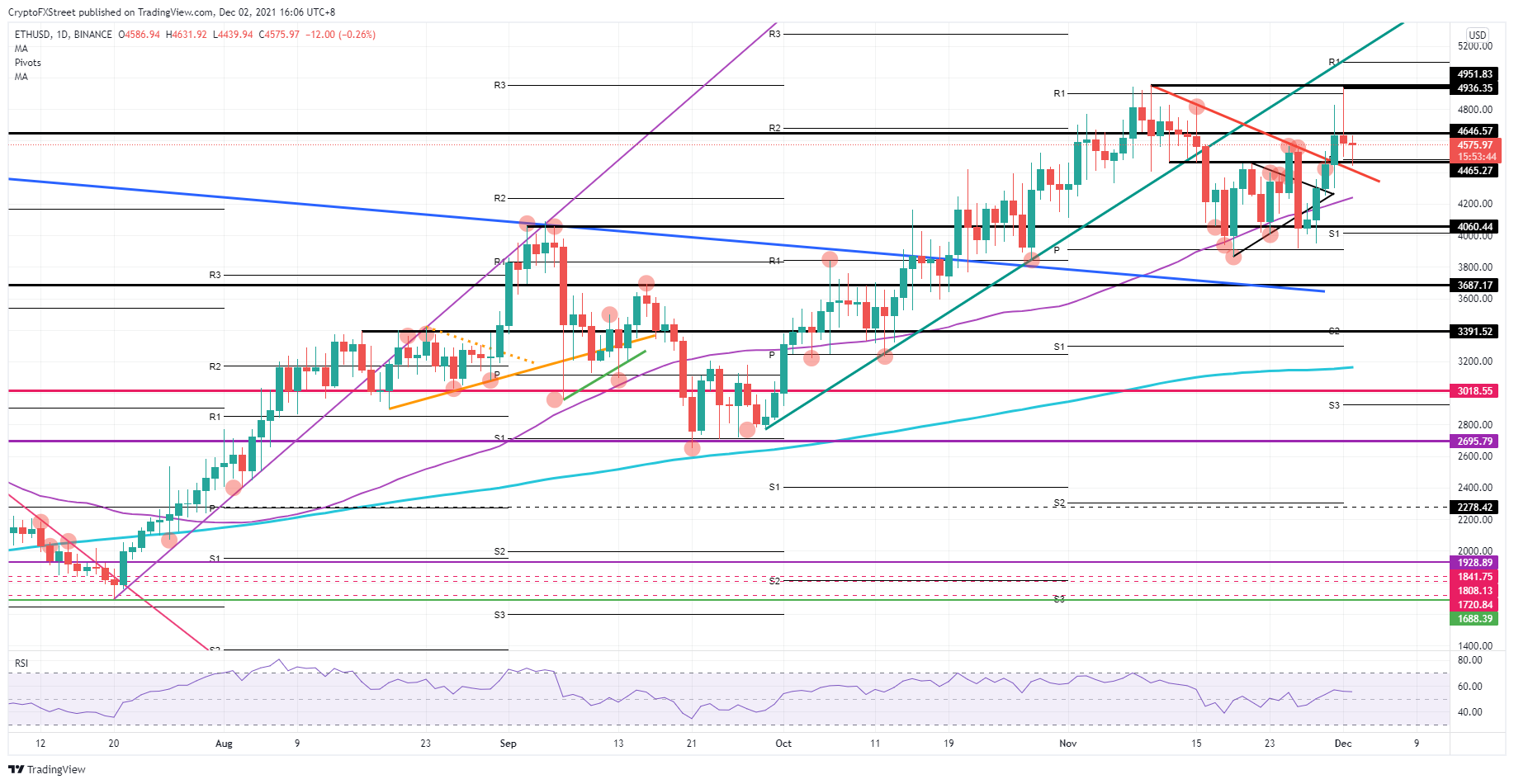 ETH/USD daily chart
That red descending trend line, on the other hand, should support a break below $4,465, but if bulls flee the scene, expect a bull trap to form and price to run down lower. The first support tested in that decline is the historical double top at $4,060, with the monthly S1 support level at $4,000 just below there. The correction could already hold 18% of accrued losses from the highs of Wednesday, which would attract investors interested in the buying opportunity at those levels.
XRP price sees bulls rejected at $1.05, pushing price back towards $0.88
Ripple (XRP) price saw sparks fly in a nice uptrend on Wednesday, but then hit a bump in the road after the $1.05 level held firmly, following two failed tests to the upside. The rejection that squeezed prices to the downside on Tuesday, probably washed out quite a lot of investors and technical traders, and caused the lack of momentum and drive in XRP price action to tackle that $1.05 resistance. As the price fades further to the downside today, expect current market uncertainty to weigh further on XRP and see a possible retest of the short-term double bottom at $0.88.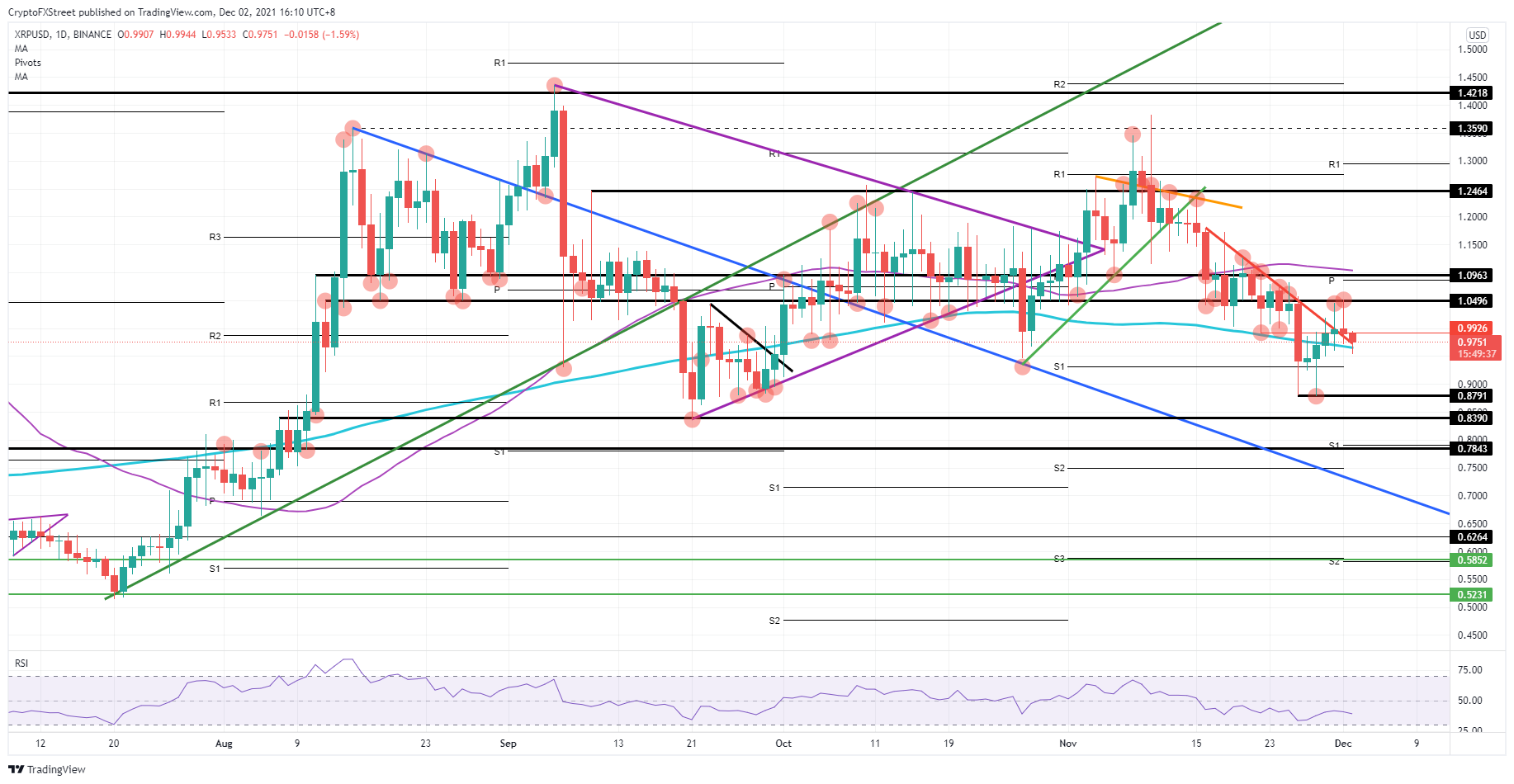 XRP/USD daily chart
On a retest of that double bottom, a break looks more than likely, as the level holds no historical or other significance. That would hand bears the opportunity to push XRP price down towards either $0.84, for the third test of support at that level, or breakthrough and run down to $0.80, which is a prominent figure and the level of the monthly S1 pivot support level, combined with a historical significant support level at $0.78, originating from June 8. This  would provide the perfect zone for a fade-in trade for XRP traders.
XRP Whale Withdraws 150 Million Coins from Binance
Another XRP whale moves his or her funds from the exchange, now storing $150 million in a private wallet
The transaction made only a few hours ago was one of the largest non-exchange transactions made on the XRP blockchain in the last few months, according to Whale Alert.
The $150 million transaction
According to the transaction page, an anonymous whale has moved 150 million XRP coins worth approximately $150 million from Binance exchange to an unknown wallet that is currently holding 150 million coins.
Previously, the same wallet has been making small, insignificant transactions to various exchanges worth approximately $20-$30. The first large transaction has been made.
After receiving significant funds, the wallet spent approximately 100,000 coins by transferring them to UpBit exchange. The purpose behind such unusual funds redistribution remains undisclosed.
Ripple's price action
Ripple's price does not seem to consider major funds moving in a market with the price continuously moving in the same trend. The asset has broken the four-day uptrend by dropping below $0.98.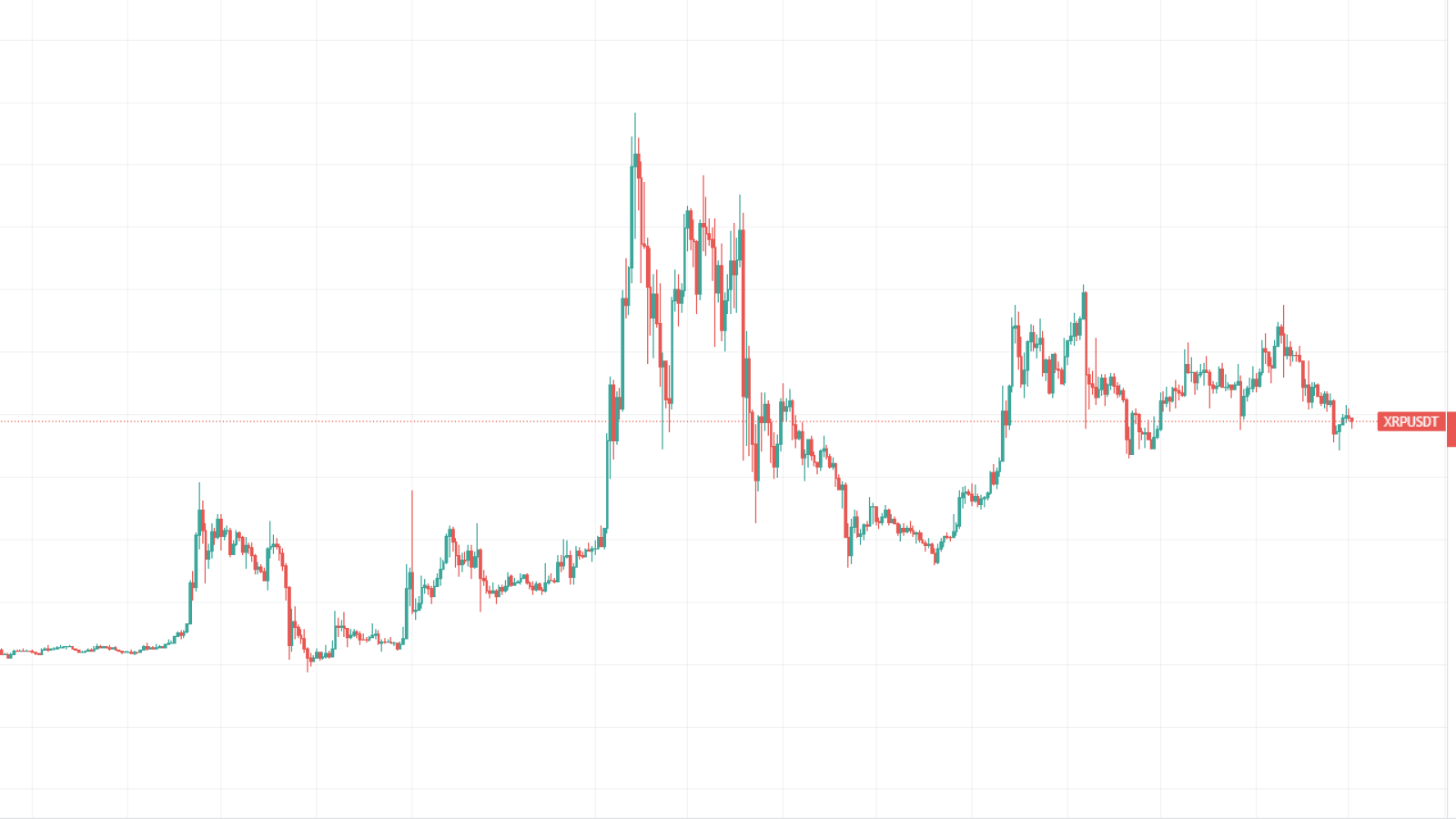 XRP was one of many victims of the global cryptocurrency market correction that took place on the market due to a rise of risk-off tendencies after the aggravation of the pandemic all over the world.
Previously, U.Today reported that numerous whales have made large transactions from various centralized exchanges back to their wallets. Such a trend is tied to overall outflows tendencies on the cryptocurrency market.
At press time, XRP is trading at $0.97 while losing 1.2% of its value. The price of the asset gained 6.2% in the previous local uptrend.
XRP and Other Top Cryptocurrencies Now Accepted by Croatia's Largest Supermarket Chain
Crypto is becoming mainstream in Croatia because of Konzum
Konzum, the largest supermarket chain in Croatia, which was founded all the way back in 1957, has begun accepting cryptocurrencies in its online store, according to a Dec. 1 report by Zagreb-based newspaper 24sata.

The lineup of supported digital currencies includes Ether (ETH), Bitcoin (BTC), XRP, Stellar Lumen (XLM) and Bitcoin Cash (BCH), as well two stablecoins (Tether [USDT] and DAI).

Shoppers are now able to buy groceries, hygiene items, household supplies and other items with the aforementioned cryptocurrencies.

Konzum partnered with Croatian fintech company Electrocoin to use its PayCek system to facilitate crypto payments.

They spent several weeks testing the service before the official rollout in the run-up to Christmas.
Crypto is coming to Konzum's physical stores
Crypto payments will also gradually become available in Konzum's physical stores throughout the country.

The company will begin with 60 locations that have self-checkouts. After that, new payment options will be introduced in 630 stores of all sizes throughout Croatia.