Secretum Unites Trading and Messaging On Solana Blockchain
The combination of blockchain and modern data transmission creates Secretum, quite possibly the best messaging app on Solana.
Data transmission and blockchain technologies are two industries that saw rapid growth over the last 5 years. Unfortunately, active development creates numerous problems tied to privacy and safety. The Spectrum messenger unites technologies to solve both issues simultaneously.
Traditional mobile service providers like T-Mobile and Vodafone revealed that hackers had illegally accessed data of millions of users and text messages since 2016. Secretum developed the world's first decentralized application for encrypted and secure messaging that was built on the industry-leading Solana blockchain.
In addition to messaging, Secretum dApp (decentralized application) exposes users to cryptocurrency trading, the process of which has been transformed into something as simple as sending a message.
The main advantages of the application first come in its way of processing and storing messages. Secretum utilizes verified node technology that is superior to traditional cloud-based messaging services.
Safe and private messaging applications that utilize traditional cloud-based storage are more likely to become victims of hackers due to the centralized storage mechanism that is inferior to decentralized data storage available via utilization of blockchain technology.
The sign-up process is another vulnerable point of the traditional messaging application. While most of them use your phone number, which is tied to your private data, hackers can easily access your messages via SIM card emulation only by knowing your first and second names.
Secretum uses a fully anonymous sign-up procedure that will only ask you for your crypto wallet address which can be stored wherever you wish. Your data is safe as long as your private address is not compromised, which hasn't been the case throughout the history of blockchain existence.
If you want to utilize your decentralized application at 100 percent capacity and start trading or storing funds directly inside of it, you will become eligible for receiving staking rewards with the native SER token. Secretum's P2P trading interface will allow you to receive cryptocurrencies and non-fungible tokens right away.
If you consider yourself a whale-tier trader, the Solana blockchain can handle it with the ability to process more than 50,000 transactions per second with record-low transaction costs. The app uses a modern blockchain that will work perfectly under a heavy load without harassing its users with fees that reach up to $100 per transaction. The average transaction fee on the Solana network stays at $0.00025.
Solana price eyes $300 as Grayscale launches SOL-backed trust
Solana (SOL) held onto its intraday gains on Nov. 30 as Grayscale Investments, the largest cryptocurrency fund in the world, announced that it would add SOL to its product line.
The digital asset class is growing, and we're expanding our offerings along with it! Gain exposure to $SOL, the native token of the @Solana network, through new Grayscale #Solana Trust. Learn more: https://t.co/QiT6u0xI7h pic.twitter.com/KAxRZAriRl— Grayscale (@Grayscale) November 30, 2021
A $300 SOL ahead?
SOL rallied to nearly $217.50 after rising by over 6.50% intraday. The Solana token's gains primarily came as a part of a recovery move that started Nov. 28, wherein it rebounded over 20% upon testing a dependable multi-month ascending trendline as support (near $190), as shown in the chart below.
The latest bout of buying near the trendline support also helped push SOL over the 23.6 Fib line (~$204) of its Fibonacci retracement graph, drawn from the $23.22-swing low to the $260.69-swing high. As a result, the $260-price level appears like the last line of defense between SOL and a new record high.
"SOL, although, looks like exhaustion, still $300-something is possible (this season)," noted @fomocapdao, an independent market analyst, adding:
"It depends on the whole [ecosystem though], meaning TVL, NFTs, Tabasco, announcements of announcements."
"Continued appetite" for Solana
Grayscale's decision to add Solana into its service portfolio promised to make SOL visible across more high-net-worth and institutional investors.
That is primarily because of Solana's incredible growth as a blockchain project in 2021. The layer-one protocol emerged as a rival to fellow smart contracts platform Ethereum after providing users with one of the lowest-costing and fastest public ledgers.
Solana's ecosystem attracted over 500 projects spread across decentralized finance (DeFi), nonfungible tokens (NFT), Web3, and other sectors, with 1.2 million active users on the network. Among them is Serum, a decentralized derivatives exchange backed by billionaire Sam Bankman-Fried's FTX and Alamada Research.
As a result, the price of SOL, which works as a fee and staking token inside the Solana ecosystem, surged by more than 10,700% year-over-year, with its circulating market capitalization peaking near $77.93 billion in November.
Now valued at over $70 billion, Solana is still the fourth-largest blockchain by market capitalization, with Grayscale CEO Michael Sonnenshein noting that there is already a "continued appetite" among investors to gain exposure in the blockchain project.
The statements came after Coinshares, a London-based asset management firm, reported net capital inflows worth over $250 million into the SOL-based exchange-traded products (ETP). This month alone, the Solana ETPs attracted around $42.2 million, Coinshares underscored in its Nov. 29 report.
Despite the calls for SOL to hit $300 next, the token still faces downside risks due to a few general issues, including excessive valuations on longer-timeframe charts and possibilities of network outages.
Grayscale Debuts New Trust for Solana
Grayscale Solana Trust has become the asset manager's 16th investment product
Leading cryptocurrency money manager Grayscale Investments announced Tuesday that it had introduced a cryptocurrency trust for Solana, the fifth-largest cryptocurrency by market capitalization.

The newly launched investment vehicle makes it possible for accredited investors to gain exposure to the top "Ethereum killer" without actually holding the underlying asset, thus mitigating risks linked to custody.

CEO Michael Sonnenshein said that the company's suite of offerings continues to expand together with the broader crypt ecosystem:
 
We have had a front-row seat to the mainstream acceptance and adoption of crypto, and increasingly find that investors are diversifying their exposure beyond digital assets like Bitcoin and Ethereum.

With the most recent addition, the Grayscale family is now comprised of 16 trusts. With $35.7 billion under management, the Bitcoin trust remains the company's crown jewel.
Solana, a high-throughput blockchain, has managed to chip away at Ethereum's share of the crypto market, taking advantage of the competitor's exorbitant gas fees that make the second-largest blockchain too expensive for the average Joe. Its native SOL token is up over 1,000% since the start of April, becoming one of the top-performing cryptocurrencies of the year.
As reported by U.Today, FTX cofounder Sam Bankman-Fried recently said that Solana could possibly overtake Ethereum.
For now, such a scenario appears to be far-fetched since the former accounts only for 11% of the latter's massive $553 billion market cap.
Solana price to trigger a 15% upswing as SOL retests crucial support level
Solana price has rallied roughly 17% over the past day, recovering losses from the COVID-induced crash.
A minor pullback is likely before SOL heads on a 15% upswing to $226.
A daily candlestick close below $185 will invalidate the bullish thesis.
Solana price appears to be making a comeback after it slipped into a steep correction since its all-time high on November 7. This downswing has stopped after retesting a crucial support level and is on a journey to head higher.
Solana price looks to make higher highs
Solana price dropped roughly 30% from November 7 to November 28 as the crypto markets experienced a shift in momentum. The correction, while brutal, allowed market makers to collect liquidity resting below the $185 support level. As a result, SOL bounced back quickly and rallied 10%.
Currently, Solana price is contemplating a downswing to the 50% retracement level at $197. In some cases, the downswing could extend to the 62% or 70.5% Fibonacci retracement levels at $194 or $193. A retest of either of these levels will trigger SOL to move 10% and retest $216. If the buying pressure persists, the "Ethereum-killer" could extend this run-up to 15% at $226.
Depending on the bullish momentum, market makers could also push Solana price to collect the liquidity resting above the $245 level. Due to double top formation, SOL could quickly revisit this area if the market structure flips bullish.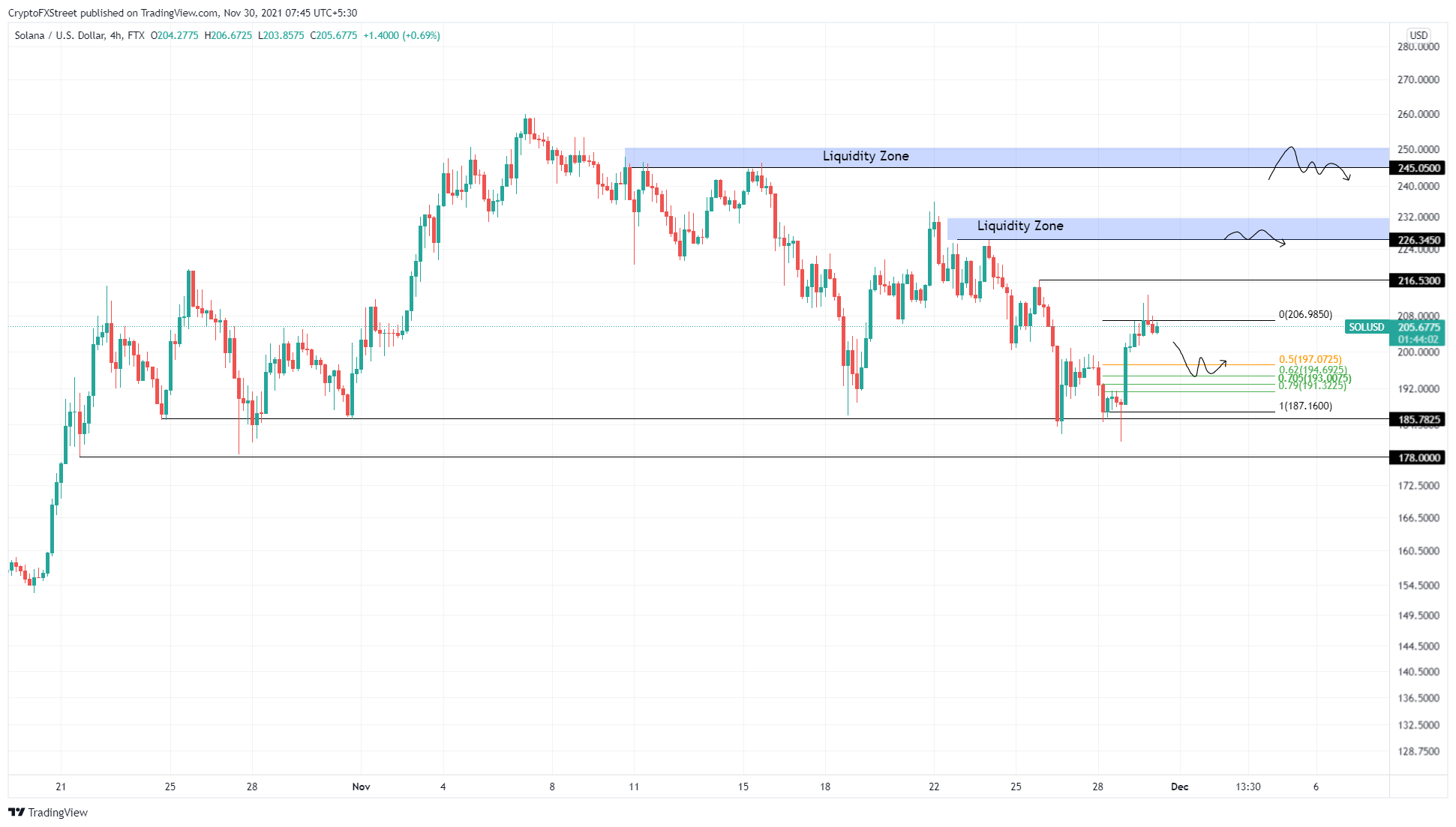 SOL/USD 4-hour chart
While things are looking up for Solana price, a breakdown of the 79% Fibonacci retracement level at $191 will lead SOL toward the range low at $187 that nearly coincides with the critical support level at $185. A daily candlestick close below $185 will create a lower low and invalidate the bullish thesis. In this situation, Solana price could revisit the $178 level.