Algorand Price Analysis: ALGO drops 30 percent, finally finds support at $1.55?
Algorand price analysis is bullish today.
ALGO/USD moved lower again overnight.
Resistance found around $1.75
Algorand price analysis is bullish today as we expect a lower high to be set above $1.55 over the next hours. Therefore, ALGO/USD should head higher again as bulls look to regain some of the loss seen over the past week.
The cryptocurrency market saw a continuation of bearish momentum over the last 24 hours. The market leader, Bitcoin, dropped 1.14 percent, while Ethereum lost 1.99 percent. Meanwhile, Avalanche (AVAX) is among the top performers from the majors, with a gain of almost 10 percent.
Algorand price movement in the last 24 hours: Algorand moved lower again after consolidation below $1.75
ALGO/USD traded in a range of $1.63 – $1.76, indicating substantial volatility over the last 24 hours. Trading volume has declined by 5.96 percent, totaling %97 million, while the total market cap trades around $10.22 billion, ranking the coin in 22nd place overall.
ALGO/USD 4-hour chart: moving to retest the previous low
On the 4-hour chart, we can see selling pressure returning overnight, likely leading to a retest of the previous low above $1.55.
Algorand price action has seen strong selling over the past week. After a very volatile movement to the $2.30 high and a drop lower over the following hours, a new higher high was finally set at $2.35 on the 12th of November.
However, from there, a strong rejection for further upside was seen, quickly leading to a strong drop lower towards the $2 mark. Over the following days, bearish pressure slowed down, eventually leading to the $1.90 mark.
Once the $1.90 mark was broken, a massive spike lower followed yesterday, with support found at $1.55. Since then, the Algorand price action has consolidated below $1.75 before moving lower again overnight. Therefore, we expect ALGO/USD to continue to the downside later today.
Algorand Price Analysis: Conclusion
Algorand price analysis is bearish today as we expect further drop later today. Likely, ALGO/USD will retest the previous low at $1.55, with further downside a good probability.
While waiting for Algorand to move further, read our guides on eToro vs Coinbase, How to mine Algorand Classic, and Algorand vs Cardano.
Why Algorand can hit $3 over the next few weeks
Algorand price has spent nearly sixty days in a consolidation pattern.
Bulls have been positioning Algorand for a bullish breakout within the Ichimoku Kinko System.
The $3.00 price level is the next major high and target.
Algorand price action has been mostly constrained between the $1.62 and $2.14 value areas over the past two months. Multiple attempts by bulls to break out higher have not met with success;at the same time bears have been prevented from moving Algorand lower. A pattern now appears to be forming which may end this impasse.
Algorand price eyes a breakout to hit a new all-time high at the $3.00 value area
Algorand price has formed a very textbook example of what a bull flag looks like. Bull flags are consolidation channels that show up after an uptrend. In technical analysis, consolidation after a strong uptrend is considered a sign of strength and trend continuation. The Ichimoku Kinko Hyo system can assist with identifying appropriate price levels that would indicate a new uptrend is likely to occur. 
Algorand price buyers would only want to go long when the daily close is above the Cloud, Tenkan-Sen, and Kijun-Sen. Additionally, buyers will want to ensure the Chikou Span is above the candlesticks and in open space. The Algorand price daily close needs to be at or above $2.30 to confirm buyers' positive and robust breakout. However, the same is true for the downside. Bears have been equally interested in creating strong shorting conditions for Algorand. It is more difficult for Algorand to move lower than it is to move higher. Sellers have to contend with pushing a daily close below the 50% Fibonacci retracement at $1.62 to create any shorting opportunities.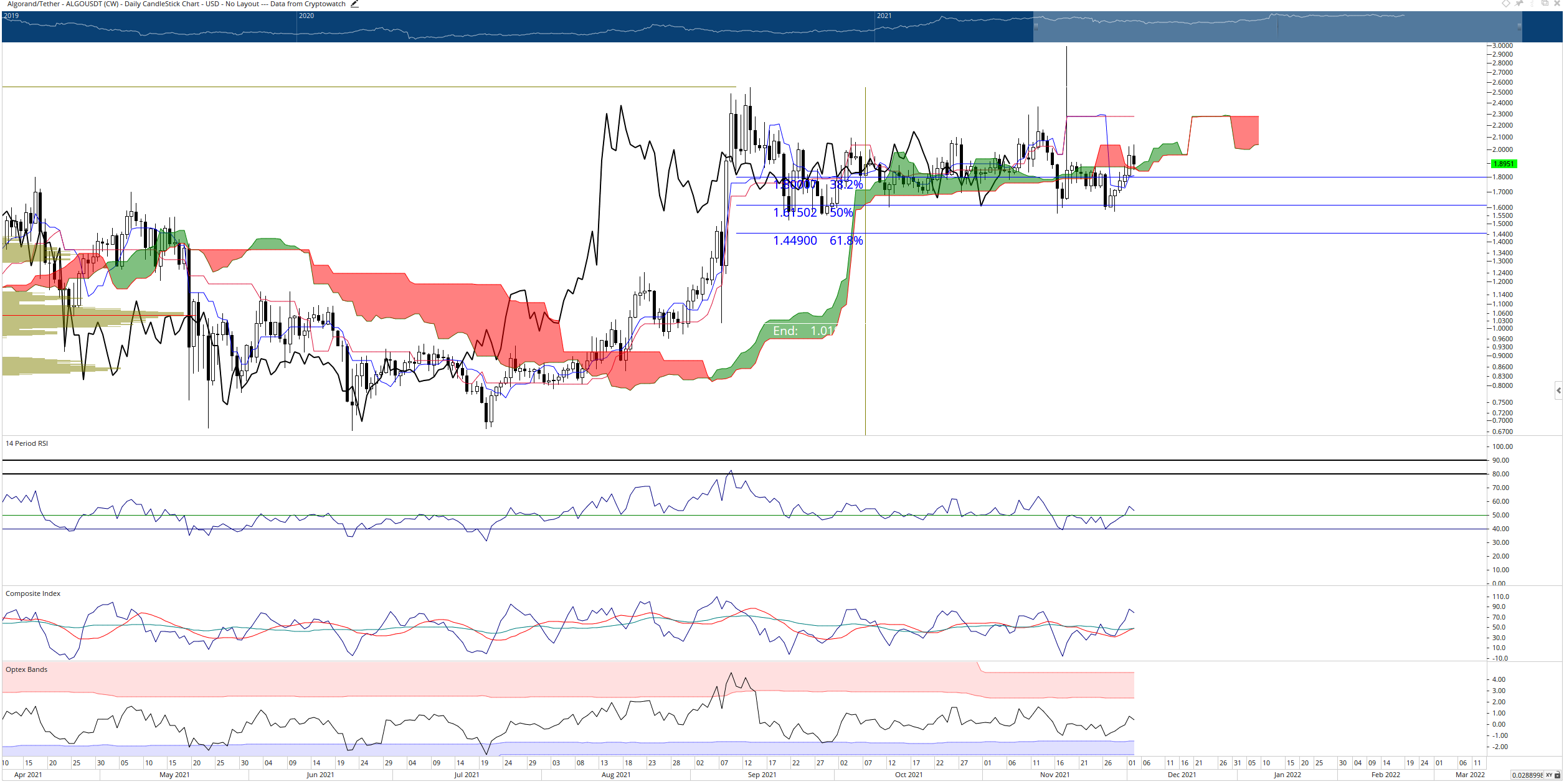 ALGO/USDT Daily Ichimoku Chart Even if sellers can even push Algorand price below the 50% Fibonacci retracement, downside risks are, however, minimal. In addition, a high volume node in the 2021 Volume Profile and the 61.8% Fibonacci retracement share the $1.45 value area, limiting any potential swings south.  
Algorand Price Analysis: Can ALGO Price Initiate A New Rally With This Bullish Pattern?

The ALGO coin maintains an overall bullish trend in its technical chart. The coin price has recently bounced back from crucial support of $1.56, and now with a double bottom pattern, it suggests a possible rally in the upcoming trading session. Watch out for these resistance levels in a long position.
Key technical points:
The ALGO price bounced back from the $1.56 support level
The ALGO price reclaims the 50-day EMA line
The intraday trading volume in the ALGO coin is $737.6 Million, indicating a 68.18% hike.
Source- ALGO/USD chart by Tradingview
The ALGO/USD chart displayed the price resonated in a rising channel pattern in the daily time frame. On November 16th, the coin price provided a decisive breakdown from its support trendline, indicating a great short opportunity for crypto traders.
Though the ALGO price provided a decent retest to the new resistance trendline, the coin couldn't pass an important support level of $1.56, providing significant demand pressure below this level.
The Relative Strength Index(56) indicated an impressive recovery concerning the recent bullish reversal from the bottom support.
ALGO/USD 4-hour Time Frame Chart
Source- ALGO/USD chart by Tradingview
The ALGO coin showed a double bottom pattern in the 4-hour time frame chart. However, in addition to the neckline of the $1.56 mark, this coin will also be facing resistance from the ascending trendline, which was earlier providing good support in a parallel channel.
Furthermore, the price has already provided a breakout from these resistance levels, and if the price shows good sustainability above them, the crypto traders should get a good entry opportunity to go long.
Moreover, the crypto trader can expect the next resistance level for the price at $2.1, followed by 2.28
Hivemind Launches $1.5 Billion Venture Fund, Partners With Algorand

Renowned Wall Street veteran Matt Zhang has reportedly launched a $1.5 billion venture capital (VC) firm named Hivemind Capital Partners, per Bloomberg reports. The VC was launched to help crypto-based startups, as well as blockchain projects who are invested in building the infrastructure of the crypto industry.
Hivemind Focused On Building Crypto Infrastructure
While announcing Hivemind earlier today, former Citi executive Matt Zhang discloses that the underlying strategy will be to use part of the funds to encourage crypto-based startups. Not only that, but it will also prioritize projects whose focus is on improving crypto infrastructure and building virtual worlds. Lastly, Zhang says the remaining part of the fund will also be used in trading digital assets.
Meanwhile, as part of the efforts towards achieving the primary aims and objectives of Hivemind, the VC has collaborated with Algorand — a proof-of-stake (PoS) protocol. Algorand is a big deal of a blockchain project. Ranking in number 21, its native ALGO token is valued at over $11.3 billion in total market capitalization, per Coinmarketcap data.
Venture Capital on The Rise
Meanwhile, something noteworthy in the crypto industry this year, is that venture capital has been high on the rise, with promising startups seeing funds to the tune of billions of dollars.
And with this $1.5 billion raised, Zhang's Hivemind joins the league of dozens of other unicorns — a term used to describe startups with a valuation of over a billion dollars. Recall that Coingape earlier reported about Silicon Valley venture firm Andreessen Horowitz launching a $2.2 billion crypto fund in June, which was the largest ever as at that time. However, investment firm Paradigm, surpassed the June funding when it announced its own $2.5 billion funds in November.
One thing is for sure, and as Zhang claims, blockchain technology gained with its collaboration with Algorand, will go a long way in providing entrepreneurs in the crypto business, with infrastructure support that is not presently available.