Bitcoin Bulls Are Betting on $100,000-$200,000 According to Options Open Interest
While Bitcoin drops to $59,000, some traders believe that it still has more room to grow until the end of the year
Bitcoin options open interest spikes as volatility on the cryptocurrency market rapidly increases. More traders are betting on $100,000 Bitcoin calls, but it does not necessarily mean that they believe in the currency reaching that price.
Rise in open interest
Options expiring on Dec. 31 have faced a strong spike in open interest after Bitcoin swiftly dropped to $59,000. The options open interest is mostly distributed to call options rather than puts.
Call options are an alternative way of betting on the specified price of the asset. According to the provided data, traders are mostly betting on call (buy) options with large dominance.
For options expiring 31-December-2021, we can see a huge dominance of call options.

The #Bitcoin bulls are betting big, with large open interest clusters at strike prices of:
– $100k (OI = $500M)
– $120k (OI = $420M)
– $200k (OI = $380M)

Live Chart: https://t.co/MLtKOFBHSv pic.twitter.com/vGjn2WoZND— glassnode (@glassnode) November 17, 2021
Current open interest for $100,000 calls stays at $500 million, in addition to $200,000 calls having $380 million of open interest. In total, traders bet more than $1.3 billion on Bitcoin, moving through $100,000 by the end of the year.
Do traders actually believe in Bitcoin reaching $100,000?
While options were initially designed as contracts that allow you to receive the right but not have the obligation to purchase an asset for a price determined in advance, experienced traders tend to avoid such risks and use options differently.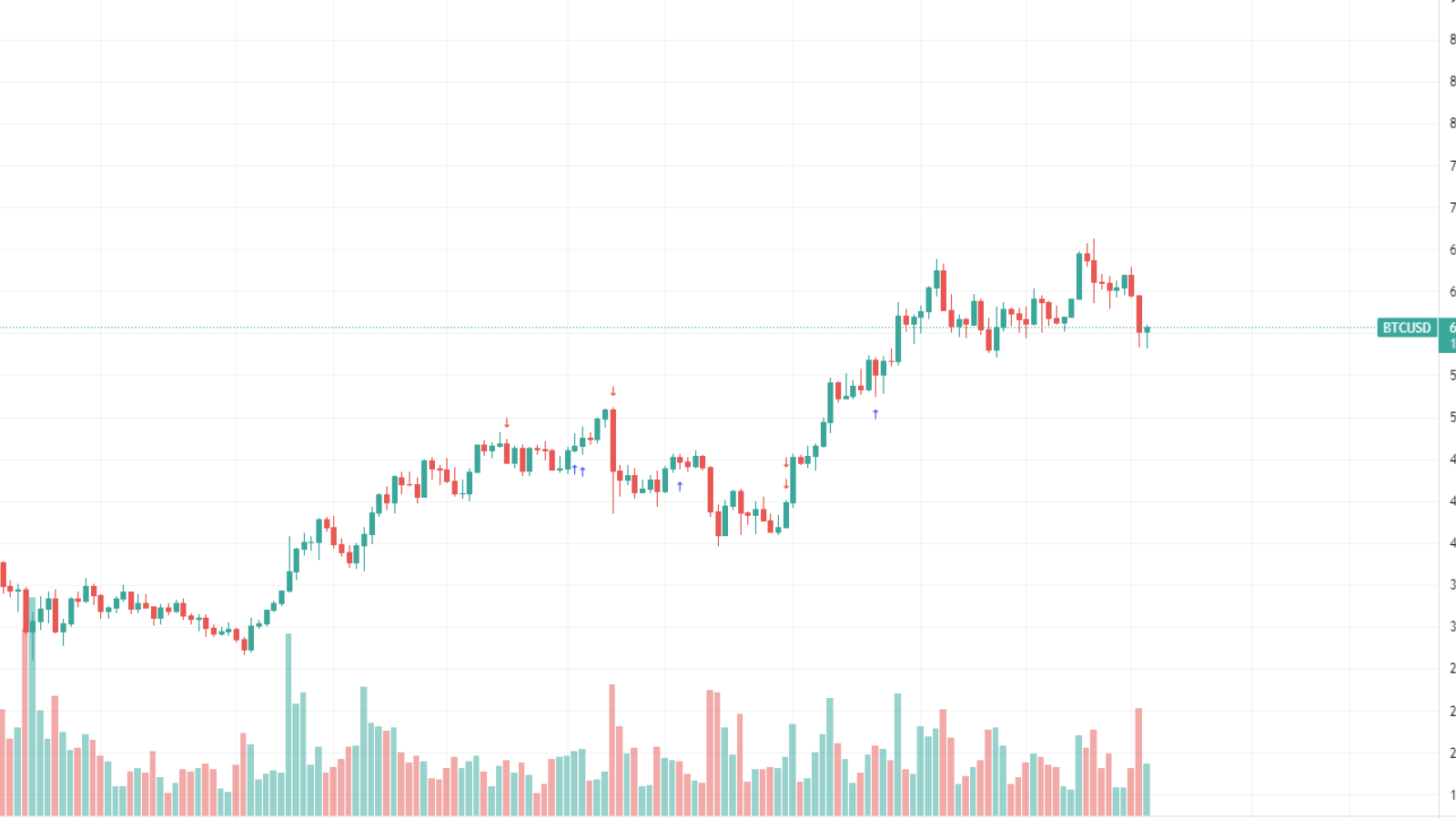 Among professional traders, options are being used to hedge positions on the spot or derivatives markets. When traders have large short positions open, analysts might open options contracts by paying relatively small fees, which they will lose if the price of the underlying asset does not reach the strike price.
In this specific case, traders could have opened short positions on the market and hedged them with call option contracts. But according to futures open interest and market funding data, there is no trackable amount of short positions open on the market currently, which means that traders are, in fact, betting on the growth of Bitcoin in the future.
Peter Schiff Names Real Reason Behind Bitcoin Drop
Popular digital assets critic believes that measures against inflation are the real reason behind the most recent market correction
The famous Bitcoin and crypto critic, Peter Schiff, provided his Twitter subscribers with a potential reason behind one of the largest corrections on the cryptocurrency market this year.
According to Schiff, Bitcoin's correction was tied directly to the Fed's action toward risk assets like cryptocurrencies and some stocks. Previously, Jerome Powell hinted that tapering might happen sooner than the market expects.
Risk assets like stocks & #Bitcoin are tanking simply because Powell hinted the #Fed might wrap up the taper a couple of months early and the first 1/4 point rate hike may also come a bit sooner. Imagine what would happen if the Fed was actually serious about fighting #inflation!— Peter Schiff (@PeterSchiff) December 3, 2021
In addition to the end of the quantitative easing monetary policy, Powell has stated that the point rate may be increased sooner than was expected due to the inflation's change of nature, which has become a real threat to the country's economic safety and stability.
All of the actions that the Fed is currently taking are designed to control inflation, which is currently hitting highs previously observed back in the Depression era.
High-risk assets like Bitcoin and other digital assets were allegedly considered a store of value for those who wished to protect their funds from increased inflation. Schiff is a widely known critic of cryptocurrencies, and he believes they should not be considered an inflation hedge.
Whales Suddenly Move $320,000,000 in Bitcoin to a Single Destination – Here's Where the Crypto Is Headed
Crypto whales just moved over 5,800 Bitcoin (BTC) worth more than $327 million into a single destination, according to a whale-surveilling platform.
Whale Alert tells its 1.8 million followers in a series of tweets that in the last 24 hours crypto whales are relocating thousands of BTC amid a correction that saw Bitcoin tumble to a new 30-day low of $52,416.
Five of the transactions involved shifted BTC from wallets of unknown origins to popular US-based crypto exchange Coinbase. Meanwhile, one transaction moved a large sum of Bitcoin from global crypto exchange Binance to Coinbase.
Here's a summary of the BTC transactions:
While crypto investors tend to be concerned that a massive influx of Bitcoin into the crypto exchanges might indicate downward selling pressure, insights firm Into the Block reports that centralized exchanges recorded more outflows than inflows during the past week.
The crypto intelligence platform says,
"Bitcoin recorded nearly $2 billion in net outflows from centralized exchanges, the highest level in five weeks."
At time of writing, BTC is down nearly 7.14% on the day to $52,557.
Ethereum Price Analysis: ETH drops 25 percent from previous swing high, ready to recover?
Ethereum price analysis is bullish today.
ETH/USD rejected further downside at $3,600.
Previous support at $3,950 is currently tested as resistance.
Ethereum price analysis is bullish today as we expect further recovery to follow after a strong reaction higher from the $3,600 was seen this morning. Likely ETH/USD is set to break above the current resistance, moving to regain even more over the weekend.
The market has seen strong bearish momentum over the last 24 hours. The market leader, Bitcoin, has lost 17.23 percent, while Ethereum 14.83 percent. Meanwhile, the rest of the market has seen even more substantial losses.
Ethereum price movement in the last 24 hours: Ethereum breaks below $3,950 previous support, rejects more downside at $3,600
ETH/USD traded in a range of $3,739.39 – $4,647.29, indicating extreme volatility in the market. Trading volume has spiked by 113 percent, totaling $41.2 billion, while the total market cap trades around $465 billion, resulting in the market dominance of 21.16 percent.
ETH/USD 4-hour chart: ETH reacts back to previous lows
On the 4-hour chart, we can see the Ethereum price swiftly rejecting further downside after touching the $3,600 mark this morning.
Ethereum price action saw strong bullish momentum during the first half of the week. After establishing and retesting the new low at $3,950 last weekend, ETH/USD started to move higher on Monday quickly.
Ethereum reached $4,750 resistance by Wednesday, as bulls were eager to move towards the previous all-time high. However, more upside did not follow, leading to a reversal over the next days.
Another attempt to test upside was seen Yesterday, with the following rejection leading to a strong spike lower. Overnight, the Ethereum price broke past the previous swing low at $3,950, leading to more downside this morning. Strong reaction, preventing further downside, was seen at $3,600, with ETH/USD since moving back towards the previous low.
Ethereum Price Analysis: Conclusion
Ethereum price analysis is bullish today as we saw a swift drop to $3,600 met with a strong reaction higher this morning. Therefore, we assume ETH/USD has set a new swing low, and further recovery should follow over the weekend.
While waiting for Ethereum to move further, see our articles on the Best Crypto Wallet 2021, Decred Wallet, and Ripple vs SEC.