Ripple advocates limiting SEC's role in regulating crypto amid ongoing legal battle
Ripple has put forward a proposal on its recommendations of how cryptocurrencies should be regulated in the United States.
The cross-border remittances firm highlighted that the SEC's approach was hostile and only aims to double down on regulation by enforcement.
Ripple argues that existing legal frameworks could be tailored better to adjust to the cryptocurrency sector.
While the United States Securities & Exchange Commission (SEC) v. Ripple Labs' case continues to battle out, the blockchain firm has released a paper that calls on regulators and lawmakers to create a framework that oversees that cryptocurrency market. 
Ripple proposes three-pronged strategy for crypto sector
Ripple Labs has laid out its vision for a regulatory framework for cryptocurrencies in the United States. The proposed guidelines come amid the cross-border remittances company's ongoing legal battle with the SEC.
The firm behind cryptocurrency XRP has published a set of guidelines that aims to regulate the blockchain and digital asset industry. Its proposal, "a real approach to cryptocurrency regulation" has been created following discussions with regulators and members of Congress.
According to Ripple CEO Brad Garlinghouse, the guidelines put forward by the firm offer advantages compared to a "regulation-by-enforcement approach." Stuart Alderoty, the firm's legal counsel added that the SEC's approach has been hostile and that they have been "doubling down on regulation by enforcement."
Ripple's proposal advocates for a three-pronged approach, including the encouragement of public-private collaboration, adapting existing regulatory frameworks and the creation of digital asset innovation sandboxes.
The cross-border remittances firm highlighted the Eliminate Barriers to Innovation Act of 2021, passed in the House of Representatives in Q2 which encouraged regulators to work with digital asset-based entities and market participants when creating a new policy.
Ripple further argues that existing regulatory frameworks could be tailored better to the cryptocurrency industry. Adapting these existing guidelines could provide greater clarity that innovators are looking for and increase consumer protection.
The blockchain firm further supports SEC Commissioner Hester Peirce's "safe harbor" proposal, as it would allow developers to launch new products without needing to comply with federal securities laws.
Garlinghouse further stated that Ripple's proposal is designed to address and remedy the specific challenges that exist in the cryptocurrency industry.
While the company's headquarters currently remain in San Francisco, the firm has previously hinted that it could be moving from the US to a "more crypto-friendly jurisdiction."
XRP price consolidates but discovers essential foothold
XRP price continues to consolidate within a symmetrical triangle pattern on the daily chart, with little clues to reveal directional intentions. Ripple is approaching the lower boundary of the prevailing chart pattern, an area that seems to hold as steady support amid the token's retracement.
The first line of defense for XRP price is at $1.07, where the ascending trend line and support line given by the Momentum Reversal Indicator (MRI) meet. Lower targets are not expected as Ripple would be slicing below a multi-month trend line support that formed since Q3 this year. 
However, if selling pressure increases, Ripple could drop further toward the 200-day Simple Moving Average (SMA) at $1.00.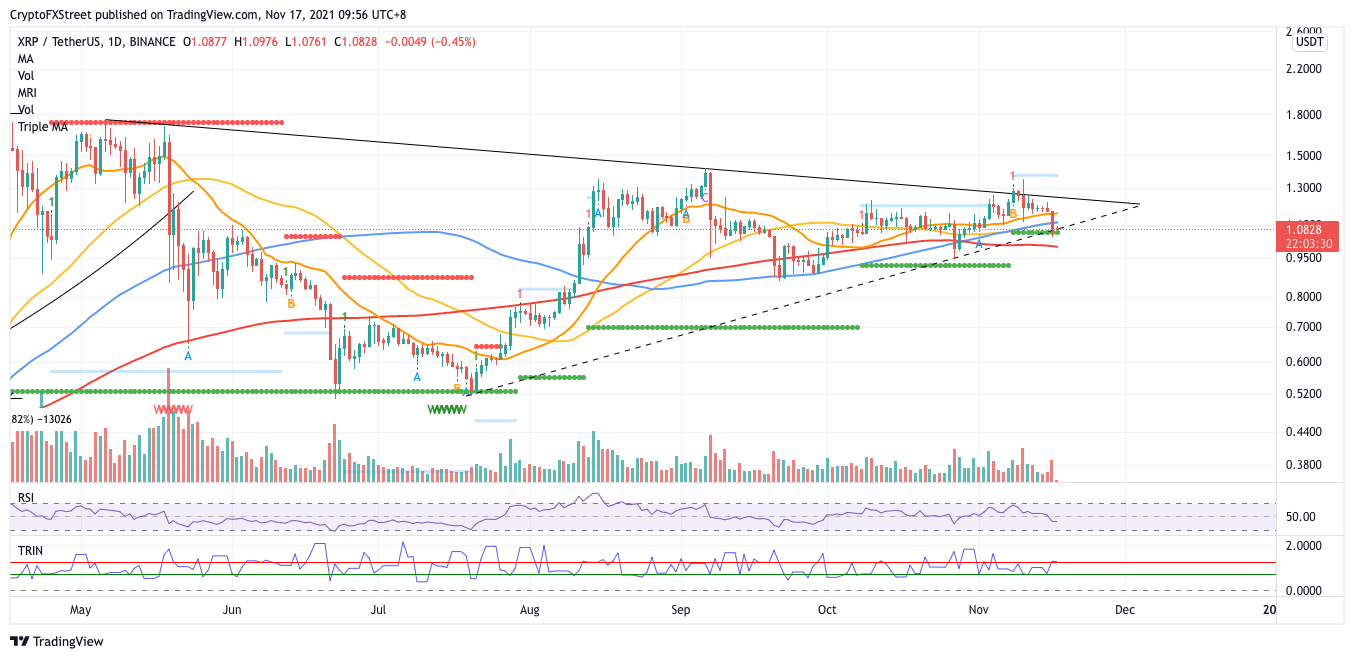 XRP/USDT daily chart
Should the bulls gather strength to reverse the period of sluggish performance, XRP price would be confronted with its first obstacle at the 50- and 100-day SMA at $1.11, then at the 21-day SMA at $1.15. Until Ripple is able to break above the topside trend line of the governing technical pattern at $1.23, the token could continue to trend sideways. 
Ripple Price Analysis: XRP spikes to $0.91, support found?
Ripple price analysis is bullish for the rest of the day.
XRP/USD saw heavy selling earlier today.
Support found around $0.91. 
Ripple price analysis is bullish today as a strong lower low has been set at $0.91, with buying pressure returning right now. Therefore, we expect bears to be exhausted, leading XRP/USD higher later today.
The market has seen strong selling pressure over the last 24 hours. The market leaders, Bitcoin and Ethereum, are down by 6.07 and 7.1 percent, while Ripple (XRP) has lost almost 9 percent.
Ripple price movement in the last 24 hours: Ripple breaks $1.02 support, finds support at $0.91
XRP/USD traded in a range of $0.9367 – $1.06, indicating strong volatility over the last 24 hours. Trading volume has increased by 35.61 percent, totaling $4.27 billion, while the total market cap trades around $44.745 billion, ranking the coin in 7th place overall.
XRP/USD 4-hour chart: XRP looks to reverse from $0.91
On the 4-hour chart, we can see slight rejection for further downside for the Ripple price as bears are exhausted after a strong selloff earlier today.
Ripple price has seen consolidation in an increasingly tighter range above $0.102 support over the past week. The $1.02 mark was initially reached on the 18th of November after a strong decline from the $1.35 previous major swing high.
Despite the $1.02 support holding, further lower lows were set over the week, slowly building up pressure in the market. Yesterday, another lower high was set at $1.06, leading to more downside overnight.
Ripple price continued lower to $1.02 when a sharp break lower was finally seen over the past hours. Currently, XRP/USD has found low around $0.91, likely leading to recovery over the next 24 hours.
Ripple Price Analysis: Conclusion
Ripple price analysis is bullish today as further downside currently gets rejected after a spike to $0.91 earlier today. Therefore, XRP/USD has likely found a new low, leading to a retracement over the next 24 hours.
While waiting for Ripple to move further, see our articles on the Best Crypto Wallet 2021, Decred Wallet, and Ripple vs SEC.
XRP holds key support while indicators point to short-term recovery
Ripple started a recovery wave above a key support level of $1.024.
XRP price started an upside correction as indicators suggest a short-term recovery.
The coin may initiate a fresh downtrend upon a breakout of the $1.024 support level.
XRP is in the process of forming a triple bottom price pattern boding more upside, for the pair priced against the US dollar., XRP price recently found support at the pattern's base during the formation of the third bottom. Now, Ripple is at a crossroads – a spike in selling pressure may drive a bearish breakout, whilst technical indicators signal a bullish reversal. It all depends on whether or not a critical support level holds.
XRP rejected above the triple bottom at $1
XRP has found support above $1.024 and started a bullish recovery similar to peer altcoins. The XRP price has found footing at the $1.024 level for the third time making it a triple bottom pattern.
If there is increased demand at the current price level it will push the XRP price towards its double top level at $1.108. However, the 20 and 50-period exponential moving averages may act as minor hurdles at $1.076 and $1.108.
The MACD has closed the first histogram above the 0 mark, indicating a bullish reversal. While the RSI is still holding at 44, a crossover above 50 may encourage investors to go long. In that case, the XRP price might spike towards $1.165. Additional gains could lift the price towards the next key hurdles at $1.218 or $1.284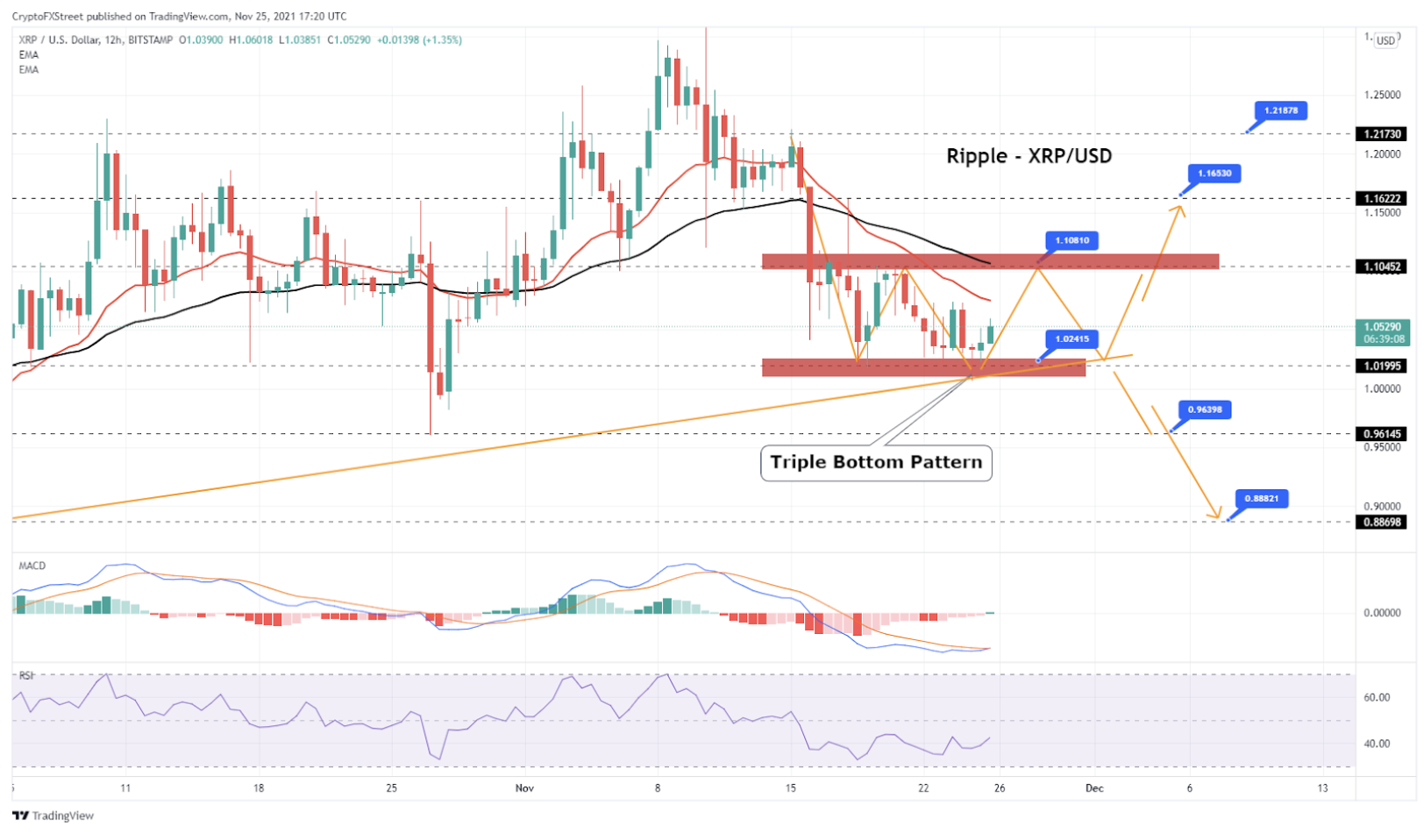 XRP 12-hourly chart – Triple bottom to drive uptrend
If XRP disappoints to start a new spike above the $1.081 level, it could extend losses. Initial support on the downside is near the $1.024 level.
The upward trend that started on September 21 also extends to significant support at the $1.024 mark. Therefore, a break below the $1.024 support level might push the price further down. The next critical support level is near $0.963, below which the price may fall to the $0.888 level.
XRP price consolidates as Ripple bulls eye a 15% run-up
XRP price is hovering above the $1.01 support level, anticipating a potential retest before an upswing originates.
A breakdown of this level could lead to a buy opportunity at $0.98 before Ripple rallies to $1.17.
A daily close below the $0.92 foothold will invalidate the bullish thesis.
XRP price has been on a downtrend for roughly two weeks and shows that a short-term reversal could be near. Market participants need to watch for two immediate support levels that are likely to facilitate this bullish outlook.
XRP price to pull a 180
XRP price has dropped roughly 23% since November 10 to where it currently trades – $1.04. The downswing is likely to retest the $1.01 support floor formed by the November 18 swing low. This will create a triple tap setup, suggesting that a short-term reversal in momentum is likely. 
In this scenario, the XRP price could attempt to retest the 50% retracement level at $1.17. This run-up would constitute a 15% ascent from $1.01.
While this scenario makes sense, a breakdown of the $1.01 support floor will suggest that a further downswing is possible. However, this move does not invalidate the bullish thesis but provides investors with a buy opportunity at $0.98. Investors can expect a bounce off this level to propel XRP price to the same level as before at $1.17. This move would constitute a 19% climb.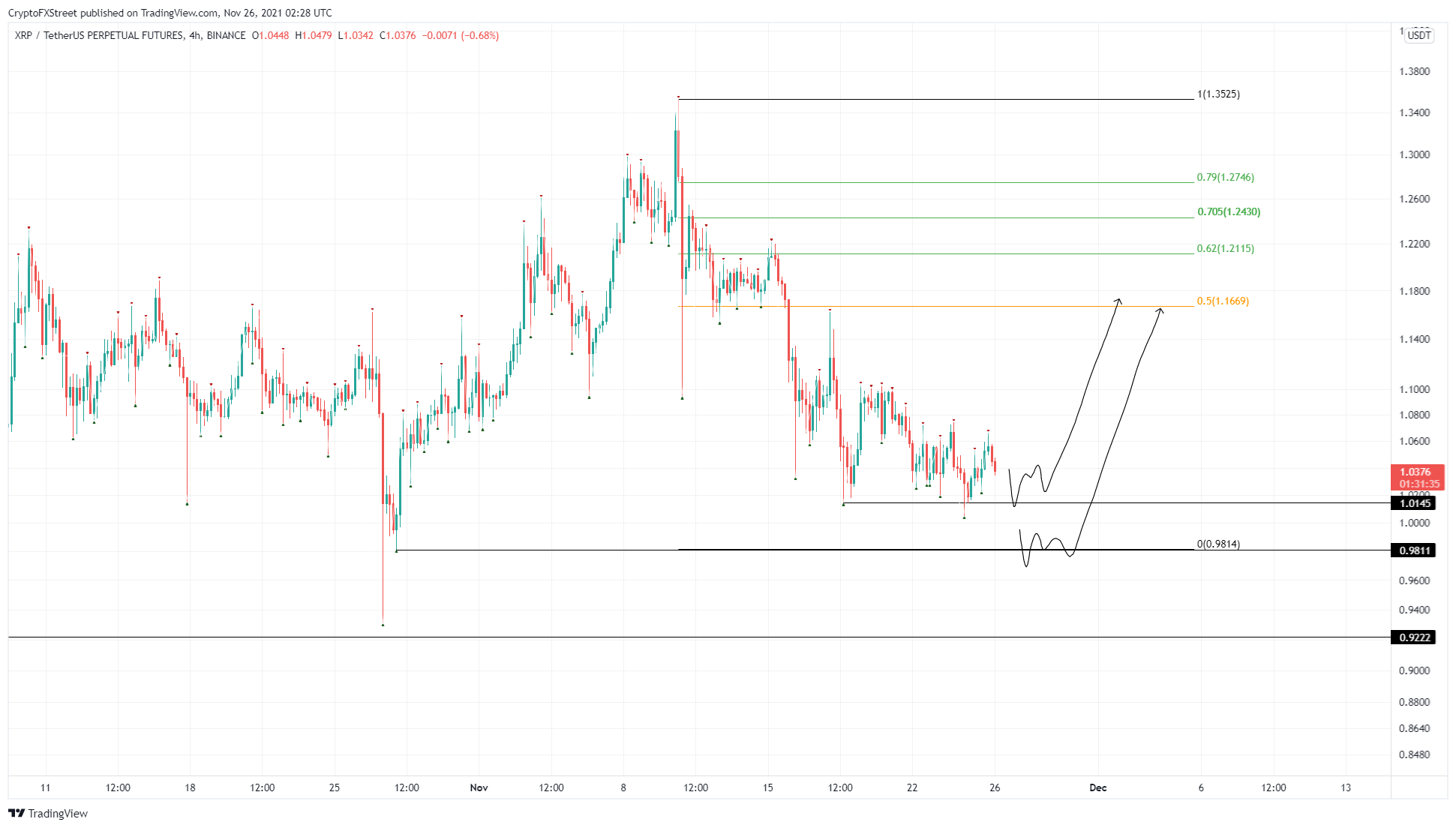 XRP/USDT 4-hour chart
While things are looking up for the remittance token, a breakdown of the $0.98 support level will create a lower low and invalidate the bullish thesis. This move would also suggest a weakness in buying pressure and set the stage for further losses. In this situation, market participants can expect XRP price to drop by about 6% to $0.92.