Royal House NFTs drop on Italy's unification 150th anniversary
A recent royal NFTs project based on Italy's House of Savoy is waiting to make a market debut on the 150th Italy's Unification anniversary.
The NFTs will tell a story of the royal house's heroic efforts in helping many globally.
Recently, the artistic film director Yi Zhou talked about her upcoming royal NFTs featuring Italy's last reigning royal family, the House of Savoy. These NFT cards will be the first royal NFTs in the market featuring the last queen of Italy, Marie-José. 
During the interview, she expressed her dedication to the Italian royal family that contributed to the unified Italian republic. She worked with the non-reigning Prince of Venice Emanuele de Silvio to make the project a success. 
The House of Savoy played a significant role 150 years ago in unifying Italy, with the help of three other notable names, including the well-known activist Giuseppe Mazzini. Queen Marie-Jose is also known for her increased contribution to the global community during the second world war. Additionally, she helped with the Libyan Red Cross and played a card in helping against Mussolini, the Italian dictator. 
Shortly after taking power, the queen had to abolish the monarchy, introducing the Italian Republic. The royal NFTs will roll out during the 150th anniversary of Italy's unification on March 17.
The royal NFTs to feature in Zhou's metaverse
Ms, Yi Zhou is a known name in the film industry, including her involvement in significant financial and philanthropic works. She is a model, an artist, a director, to mention but a few. Her step to create the royal NFTs and a metaverse based on the same concept is her way of paying homage to known royals in the past.
She has been in Italy for a long while, getting well-acquainted with the country's history. She mentioned that her long friendship with the Prince of Venice is a vital inspiration to her art. Furthermore, she believes that non-fungible tokens are the coming future of the art industry.
Her mission is to provide exclusive NFT cards while recreating notable spaces associated with the characters. However, this project will not be the end of her venture into NFTs as she plans to incorporate her future works in her metaverse. Moreover, she added that her metaverse would be a growing universe encouraging extensive exploration into the art world.
NFTs contribution to the art industry
While Yi Zhou's royal NFTs are pretty different, they are not the first NFTs to enter the art industry. These tokens are reshaping the art industry as a more lucrative commodity, offering security and scarcity. Additionally, they are the next step of introducing real-world situations into the digital assets space.
So far, more blockchain platforms are easing into the idea of non-fungible tokens to revamp user experience. Known blockchain games like Axie Infinity are offering the ERC-721 tokens as tradable assets from in-game loot. 
As it stands, NFTs are the closest approach towards achieving tokenization of traditional markets. They also stand to be a strong future for the world economy, employing blockchain features and limited supply; hence, introducing value to many assets worldwide.
NFT and Crypto Communities Facing Malware Campaign on Discord
Threat actors are targeting crypto and NFT Discord communities
A malware campaign that specifically focuses on cryptocurrency- and NFT-related Discord communities has been uncovered, according to a report by Bleeping Computer.

Malicious actors are abusing the popular chart service with the help of a crypter called Babadeda, which means "Grandma-Grandpa" in the Russian language.
Cybersecurity firm Morphisec was the first to discover the new malware distribution campaign earlier this week.
Criminals typically attempt to cajole users into downloading fake software, copying popular blockchain games such as "Mines of Dalarna."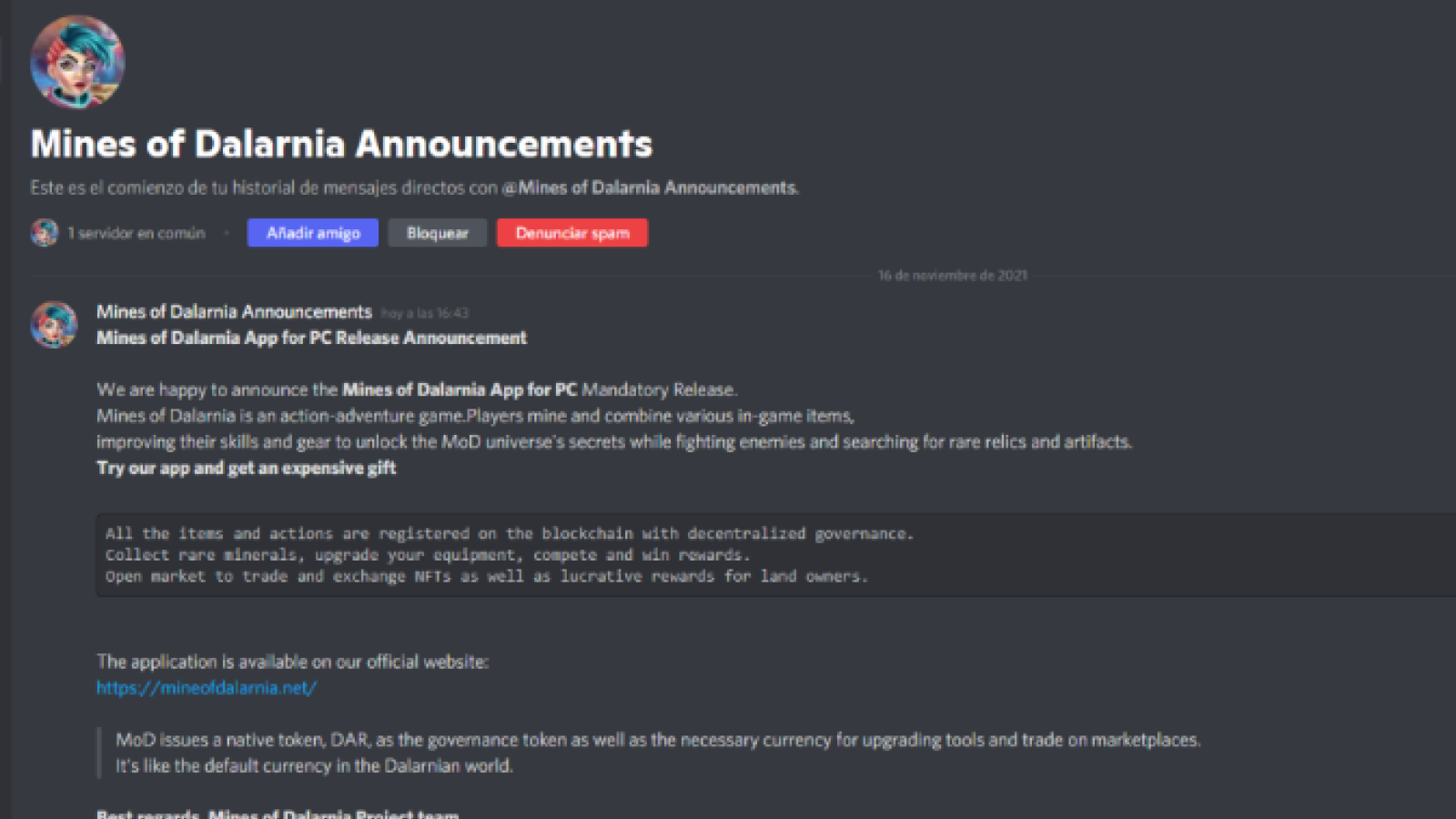 Based on an HTML object of one of the decoy sites, Morphisec determined that the malware campaign is operated by people from a Russian-speaking country.
Threat actors are impersonating the websites of some of the most prominent companies within the NFT industry, including OpenSea and Larva Labs.
Those who started installing the malware typically see a fake error, which is used as a deception technique, while the installer does its job in the background.
Cybercriminals are likely to go after victims' crypto wallets and NFTs.
Discord's malware problem
It is not surprising that Discord has become the target of threat actors since it has become home to plenty of cryptocurrency users where they can communicate via publicly accessible channels or private messages.
It is not just crypto: Sophos revealed that Discord accounted for 4% of all malware downloads as of July.
Earlier this month, Discord shelved its plan to integrate the Ethereum network after facing severe backlash from the anti-crypto segment of its customer base.
South Korea may be the first nation in the world to tax NFTs
The FSC regulator in South Korea is planning on imposing taxes on NFTs after classifying them as virtual assets.
Differing opinions have arisen with most analysts saying that this could threaten the country's NFT industry.
---
Regulatory bodies worldwide, including those in South Korea, have been inching closer into matters of cryptocurrency. Certain nations have imposed capital gain taxes based on existing rules, while others have framed completely new taxation rules for the relatively nascent industry. The US is one such region where digital assets are identified as property, and therefore liable to taxes.
In a new move, South Korea is now looking at being the first nation in the world to tax non-fungible tokens (NFTs). Already, the nation has imposed a 30 percent tax on crypto transactions – a rule that comes into effect starting 2022.
As the Korea Herald reports, the mushrooming NFT sector has now come under the interest of the Financial Services Commission (FSC). The regulator, according to its Vice-Chairman Doh Kyu-sang, plans to bring gains from NFT sales under the current Act on the Specified Financial Transaction Information. Per the Act, any gains made from buying and selling virtual assets qualify as "other income," and are therefore taxable.
South Korea and NFTs
An excerpt of the report reads;
Owners of virtual assets, such as NFT artworks by a famous artist, are required by law to pay a 20% tax on any income that exceeds 2.5 million won ($2,102) from selling the assets,
And like most new taxation rules, South Korea's latest has not come without resistance. The country's Finance Ministery is at odds with the FSA's evaluation of NFTs as virtual assets. Finance Minister Hong Nam-ki said;
[I think] NFTs do not belong to virtual assets yet.
These controversial opinions have the potential to generate great confusion in the nation's NFT market, to its detriment.
Notably, South Korea is one of the Asian countries that has been making headlines in matters of crypto regulation, other than China. The nation has, however, not completely banned digital assets and their related endeavors like its northwestern neighbor. Its regulatory effects have also not been as stifling and as strongly market moving as China's crypto announcements.
Regulation and crypto havens
Back in September, the nation required all crypto exchanges to register with the FSC as part of the anti-money laundering efforts. Towards the end of that month, many exchanges – mostly small and medium-sized, were forced to shut down due to non-compliance.
Amidst all these, certain nations in the world take pride in being crypto-friendly tax jurisdictions that support digital economies and technological innovation. They include Belarus, El Salvador, Malaysia, Malta, Portugal, and Bermuda. The latter is famous for being the first government in the world to accept fees and taxes in cryptocurrency.
NFTs – How They Work And Important Things To Know
The non-fungible tokens are present on the blockchain, which is a public ledger where transactions are recorded. You have probably heard of blockchain as a process where cryptocurrencies are brought into life. Typically, NFTs are present on the Ethereum blockchain, but other blockchains support NFTs as well.
NFTs are created from a digital object representing all kinds of items, including art, sports highlights, other videos, GIFs, collectibles, video game avatars, music, and others. Even tweets count as NFTs, and the Twitter co-founder has made a fortune off selling his first-ever tweet as an NFT for almost three million dollars.
In general, NFTs are considered collector's items, coming in a digital form. So, for example, instead of buying an art painting to hang physically on a wall, the buyer gets a digital file to keep on his computer. By purchasing an NFT, you are getting exclusive ownership rights on the item you bought. The creator or owner of NFT can also store valuable information inside them. For example, artists can include their signatures in them. To learn more about NFTs and how to buy them, please check out buynft.com for valuable information and guidance. 
What can you use NFTs for?
The NFTs and blockchain technology help artists and creators of content to monetize their work. Artists do not have to rely just on galleries and auction houses to sell their creations. They have the opportunity to sell an NFT to the consumer directly.
Art is not the only thing that people can sell and make money with NFTs. Many popular food chains and brands have auctioned themed NFT art to raise funds for charity donations. That has proved to be a very efficient way of raising funds, and more and more brands are doing it. There are examples of GIFs, clips, and short videos selling for hundreds of thousands of dollars. Some celebrities like LeBron James, Snoop Dogg, Lindsey Lohan, and others have also entered the world of NFTs, selling unique videos, artwork, and other stuff as securitized NFTs.
Buying NFTs
If you want to start your NFT collection, you will need to get a few items first. The first step is getting a digital wallet where you will store your crypto money and NFTs. You will likely be required to purchase some digital currency first, like Ether, depending on which cryptocurrencies your NFT provider accepts.
Buying cryptocurrencies on popular platforms like Coinbase or Kraken is very easy, and then you can move it from the exchange platform to your e-wallet in a matter of seconds. Also, keep in mind that buying NFTs comes with fees, as many exchanges charge different percentages. Explore the market a bit, and you are likely to find the best option for you.
Hopefully, this information made clear some things regarding NFTs. There are many other details and interesting facts, so keep an eye on updates and the latest news coming out. NFTs can be profitable, so you should think about investing in them and reaping their benefits.