Shiba Inu price eyes 40% upswing as SHIB downtrend faces exhaustion
Shiba Inu price has produced five lower highs over the past 20 days, suggesting a bearish regime.
A breakout from this downtrend will see SHIB tag $0.0000565 and $0.0000625 barriers.
A breakdown of the $0.0000360 support floor will invalidate the bullish thesis.
Shiba Inu price action is getting congested with each lower high, suggesting consolidation. If this development continues, SHIB will likely break out from the downtrend and result in an explosive upswing.
Shiba Inu price gathers steam
Shiba Inu price set up its all-time high at $0.0000885 on October 28, and since this point, it has created five lower highs, suggesting a full-fledged downtrend. A trend line connecting these swing points can be drawn, indicating a sloping resistance barrier.
The demand zone, extending from $0.0000328 to $0.0000446, will support the incoming selling pressure and provide Shiba Inu price with a base it needs. Market participants can expect buyers to accumulate SHIB at a discount and trigger an upswing.
A confirmation of this trend change will arrive after SHIB rallies at least 26% and shatters the declining trend line to produce a higher high above $0.0000565. Beyond this, Shiba Inu price will make a run for the crucial barrier at $0.0000625, constituting a 40% ascent from the said demand zone.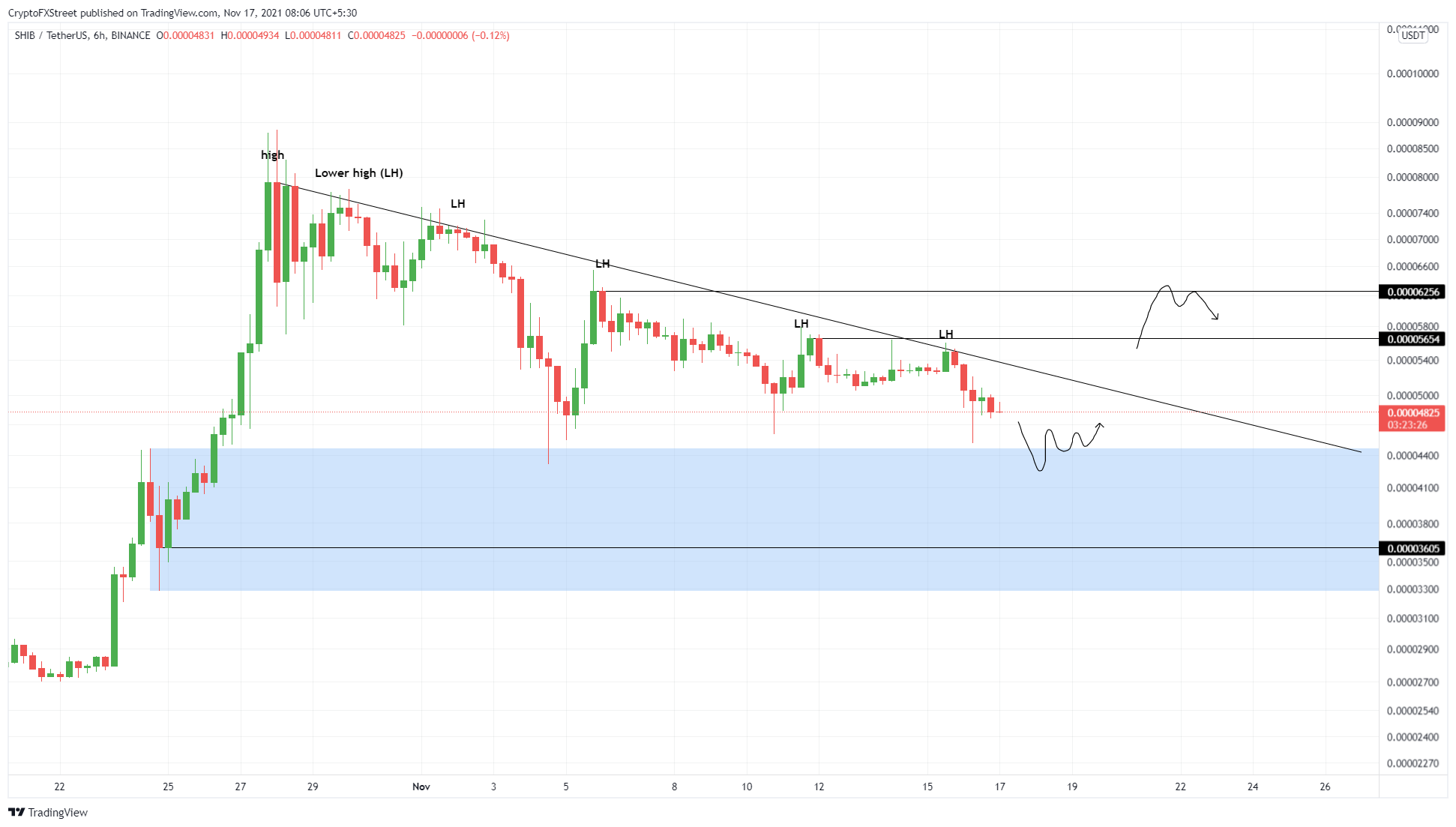 SHIB/USDT 1-day chart
While things are looking grim for Shiba Inu price, a breakdown of the $0.0000360 support floor will suggest that the buyers are not in control and that a deeper correction is likely. This move will also invalidate the bullish thesis and trigger a potential 20% crash to $0.00000285.
SHIB, RGT and AMPL shake off Fed taper comments by notching double-digit gains
Volatility reared its ugly head for a second day after growing fear of the new Omicron COVID-19 variant and the Federal Reserve's admission that an earlier-than-expected adjustment to its bond-buying program continues to impact global stock markets. The impact of these concerns appears to have impacted Bitcoin price and this morning, the digital asset retreated from its intraday high at $59,175, falling to as low as $55,875.
It's not all bad news for crypto holders, however, as several altcoins have racked up notable gains over the past 24 hours.
Data from Cointelegraph Markets Pro and TradingView shows that the biggest gainers over the past 24 hours were Shiba Inu (SHIB), Rari Governance Token (RGT) and Ampleforth (AMPL).
Shiba Inu reveals gaming and Metaverse plan
Shiba Inu is a meme coin that operates on the Ethereum (ETH) network and has risen in popularity over the course of 2021 by embracing emerging trends like nonfungible tokens (NFTs) and decentralized finance (DeFi).
VORTECS™ data from Cointelegraph Markets Pro began to detect a bullish outlook for SHIB on Nov. 29, prior to the recent price rise.
The VORTECS™ Score, exclusive to Cointelegraph, is an algorithmic comparison of historical and current market conditions derived from a combination of data points including market sentiment, trading volume, recent price movements and Twitter activity.
As seen in the chart above, while the VORTECS™ Score for SHIB has remained relatively flat over the past week, the NewsQuakes™ alert system from Cointelegraph Markets Pro posted three updates around 15 hours before the price increased by 42% over the next day.
SHIB's price spike comes after the token listed on the Kraken exchange and the news that Shiba Inu partnering with William Volk, the former vice preside of technolog at Activision, to create games for the project's ecosystem and foray into the Metaverse.
Rari Capital holds $1.5 billion in value
The Rari governance token is the native token of Rari Capital, a non-custodial DeFi robo-advisor that enables users to autonomously earn a yield with their crypto holdings.
VORTECS™ data from Cointelegraph Markets Pro began to detect a bullish outlook for RGT on Nov. 25, prior to the recent price rise.
As seen in the chart above, the VORTECS™ Score for RGT spiked into the green zone and reached a high of 77 on Nov. 25, around 78 hours before the price increased 51.5% over the next two days.
The rally in RGT comes as the protocol surpassed $1.5 billion in total value locked and launched a new shield mining campaign with Nexus Mutual (NXM) where NXM stakers can earn RGT for their staking activities.
Ampleforth adds a wrapper
Ampleforth is a rebase project hosted on the Ethereum network that uses an algorithmically adjusted circulating supply that aims to be the base money for a decentralized economy that can remain decoupled from the price action of other cryptocurrencies.
Data from Cointelegraph Markets Pro and TradingView shows that after hitting a low of $0.75 on Nov. 22, the price of AMPL has rallied 87.5% to a daily high at $1.41 on Nov. 30.
The rally appears to be connected to the release of wAMPL, a wrapped version of AMPL that does not rebase and can be more easily used throughout the DeFi ecosystem.
The overall cryptocurrency market cap now stands at $2.613 trillion and Bitcoin's dominance rate is 41.1%.
Shiba Inu Breaks New Record by Reaching $2.3 Billion Held on Whale Addresses
Shiba Inu whales are now holding even more coins after accumulating new funds amid the correction.
Following a 35% rally on the market, Shiba Inu whales have decided to support private traders by purchasing more than $300 million worth of coins in total in a relatively short period of time, according to WhaleStats.
Currently, Shiba Inu whales are holding more than $2.3 billion worth of tokens. Previously, the same value was at approximately $1.8 billion. The strong buying activity coming from whale addresses appeared a couple of days ago when the cryptocurrency market started to recover from a 15% correction.
📰 BREAKING: Top 1K ETH richlist now hodl 48,004,861,881,545 $SHIB ($2,376,356,727 USD)

🥳 #ShibArmy #friendshib The King is coming back stronger than ever!

Source: https://t.co/28TDZ70IkD pic.twitter.com/U6ubAXV5eg— WhaleStats – the top 1000 Ethereum richlist (@WhaleStats) November 30, 2021
Before the aforementioned events, whale-tier addresses got rid of more than $300 million worth of tokens, which was a smart move since Shiba Inu lost more than 10% of its value right after.
As usually happens after a correction, buying power slides into the market, which then leads to a swift recovery like the one that we witnessed on Shiba Inu today.
Previously, U.Today reported that the average position of SHIB whales has increased by more than 40%, which may have been the first signal of accumulation started on the largest addresses.
The current rally on the Shiba Inu market is slowly accelerating. At the beginning of the trading day, Shib was trading with a 5% premium and, for now, the token trades with more than 10% of daily growth.
In addition to strong market performance, retail traders are slowly entering SHIB, with its volume having drastically increasing to $3.6 billion, which is almost a 100% increase compared to previous trading days, when the average volume on SHIB pairs was at 12-13 trillion tokens.
Here's When and How Newegg Is Going to Accept Shiba Inu
Newegg is among the first major companies to add support for Shiba Inu
California-headquartered electronics seller Newegg is going to integrate Shiba Inu in early December through a partnership with payment processing service BitPay.
As reported by U.Today, the company confirmed rumors about Shiba Inu acceptance on Twitter last Friday.
It then made its official announcement with grandeur by displaying it on The Reef, the largest outdoor billboard on the planet located in the heart of Downtown Los Angeles. The massive 736-foot screen attracts 173 million impressions per week.
The online retailer also added Dogecoin in late April, but the news was announced with much less fanfare.

In July, Newegg also became the first big-name electronics retailer to accept Shiba Inu as a payment option.
The company allowed its customers to pay with Bitcoin all the way back in 2014, becoming a pioneer in terms of crypto acceptance.
Newegg's director of brand marketing, Andrew Choi, says that crypto payments provide the company's customers with greater flexibility:
We are always looking for ways to innovate the shopping experience on Newegg.com, and something our customers want is greater flexibility and options, including the ability to pay with a wide range of cryptocurrencies.
AMC, the number one movie theater chain in the world, became the first BitPay customer to decide to accept Shiba Inu. In mid-November, CEO Adam Aron confirmed that the new payment option would be added in early 2022.