Australian Man Just "Pirated" All NFTs on Ethereum and Solana
All NFT images that were minted on Ethereum and Solana are now available on PirateBay.
A 17.96 terabyte archive containing the screenshots of every single non-fungible token (NFT) minted on top of Ethereum and Solana has appeared on torrent site PirateBay.
Good morning, there's a torrent of ALL of the NFTs on Ethereum + Solana. pic.twitter.com/F4BLdRNza6— grublés (@notgrubles) November 18, 2021
Geoffrey Huntley, the software developer from South Australia behind the prank, says that he had to rent a bare-metal server to pull this off, adding that it was "worth it."
Rented a bare metal server at $200/AUD a month to pull this off. Got 4 x 10TB sata disks in RAID0. Worth it.— geoff 👋 🇵🇹 (@GeoffreyHuntley) November 18, 2021
The final boss of "right-clickers" says that the gigantic collection of NFT screenshots is meant for others to study "this generation's tulip mania."
The user's tweet instantly went viral, accumulating over 2,000 likes in an hour.
Expectedly, performing the ultimate rick-click save attracted tons of praise from fellow NFT skeptics. Some even praised the user for actually making NFTs decentralized by means of peer-to-peer torrenting.
People who spend hundreds of thousands of dollars on JPEGs are frequently subject to mockery on social media. Last week, as reported by U.Today, someone made a massive mosaic of a right-clicker from 10,000 NFTs.
In spite of heavy criticism, NFTs keep attracting big celebrity endorsements and big money. OpenSea, the leading NFT marketplace, is reportedly worth $10 billion.
NFT Euphoria Remains Male-Dominated: Bloomberg
A new study reveals how underrepresented female digital artists are amidst digital collectibles craze
One of the most overhyped attempts to bring equality into the digital collectibles segment ended in a dramatic scandal. Here's why it is crucial for the future of the NFT segment.
Men are responsible for at least 79% of all NFT art sales
According to the Art Tactic NFT Art Market Report 2021 shared by Bloomberg Equality, women are behind only 1 out of 20 NFT sales in the ongoing digital collectibles craze.
Democratizing art? Not so much https://t.co/TuabgAugVu— Bloomberg Crypto (@crypto) November 27, 2021
Fame Lady Squad, a label of NFT creators that promotes itself as a first-ever female digital art collective, was actually run by men. Despite this fact, the legend allowed it to raise $1.5 million from VCs and angel investors.
After an uproar, the fraudsters agreed to transfer all governance in the project to a group of women. But the fact is: the entire NFT segment remains male-dominated.
The mentioned report also indicated that in 16% of cases, the gender of the creator remained unknown. Another aspect of the weak position of female digital artists is that they earn less than men.
"In another five years, it will get better"
Grimes, the musician, remains the only artist in the top 10 of NFT sellers by revenue. Bloomberg calculated that the net amount of secondary NFT sales amassed $3.5 billion in the first nine months of 2021.
This inequality in digital art has been inherited from its "classic" form: 87% of artists showcased in the top museums are men.
Kelly LeValley Hunt, one of the first female CEOs in the NFT segment, shared that often she is the only female speaker at conferences about digital arts and tokenization. At one conference, male attendees asked her if she knew what NFT was:
I still get asked silly questions. Hopefully in another five years, it will get a bit better.
As covered by U.Today previously, socialite and businesswoman Paris Hilton is one of the most active promoters in the NFT segment.
Ethereum (ETH) Receives First NFT from Cosmos-Based Blockchain: Details
In an unmatched experiment, non-fungible tokens were activated on four blockchains before landing on Ethereum's OpenSea.
IRISnet has facilitated the transfer of a non-fungible token from permissioned distributed network WenChang Chain that was built using the Cosmos software development kit on Ethereum's largest NFT marketplace.
NFT bridge is established between Cosmos-based WenChang Chain and Ethereum
According to the official announcement shared in Cosmos' main blog, its software development kit was utilized for the first-ever NFT travel between four blockchain networks.
🚨Breaking News🚨

📢#NFTs Travel from Cosmos-SDK-based WenChang Chain to #Ethereum for the First Time through #IBCGang Member @irisnetwork!

Read more about the 1st NFT #IBC transaction between 4 chains & the cutting-edge technology that made it possible:https://t.co/dC66PYDHYQ pic.twitter.com/YKvQXF1cjc— Cosmos – Internet of Blockchains ⚛️ (@cosmos) November 26, 2021
Transferred tokens were minted as digital avatars to fine art Chinese paintings. They represent famous traditional Chinese artwork by Rongbaozhai (Studio of Glorious Treasures), well-known since the 17th century.
First, the NFTs were minted at WenChang Chain, one of the decentralized platforms that belong to BSN Open Permissioned Blockchains, an ecosystem of hybrid distributed networks. The tokens were registered through IP.PUB, which is a Digital Artwork Registration Platform supported by China Promoting Minority Culture & Art Association.
Then, the tokens were sent to IRITA Hub and IRIS Hub, two networks operated by IRISNet, Cosmos-based cross-platform interoperability protocol.
Why is this transfer crucial for IBC instruments?
The transfer became possible thanks to the Terse Inter-Blockchain Communication protocol (TIBC). IRIS Hub seamlessly connects TIBC to Ethereum.
Right now, all NFTs from the experiment are available for sale on OpenSea, the largest Ethereum-based marketplace for non-fungible tokens.
This experiment is unique due to various features. First of all, it demonstrates Cosmos' role in connecting permissioned and permissionless blockchains, e.g., Ethereum and BSN. Then, it shows that Chinese state-backed bodies are still interested in blockchain usage despite a severe crack-down on crypto.
NFT and Crypto Communities Facing Malware Campaign on Discord
Threat actors are targeting crypto and NFT Discord communities
A malware campaign that specifically focuses on cryptocurrency- and NFT-related Discord communities has been uncovered, according to a report by Bleeping Computer.

Malicious actors are abusing the popular chart service with the help of a crypter called Babadeda, which means "Grandma-Grandpa" in the Russian language.
Cybersecurity firm Morphisec was the first to discover the new malware distribution campaign earlier this week.
Criminals typically attempt to cajole users into downloading fake software, copying popular blockchain games such as "Mines of Dalarna."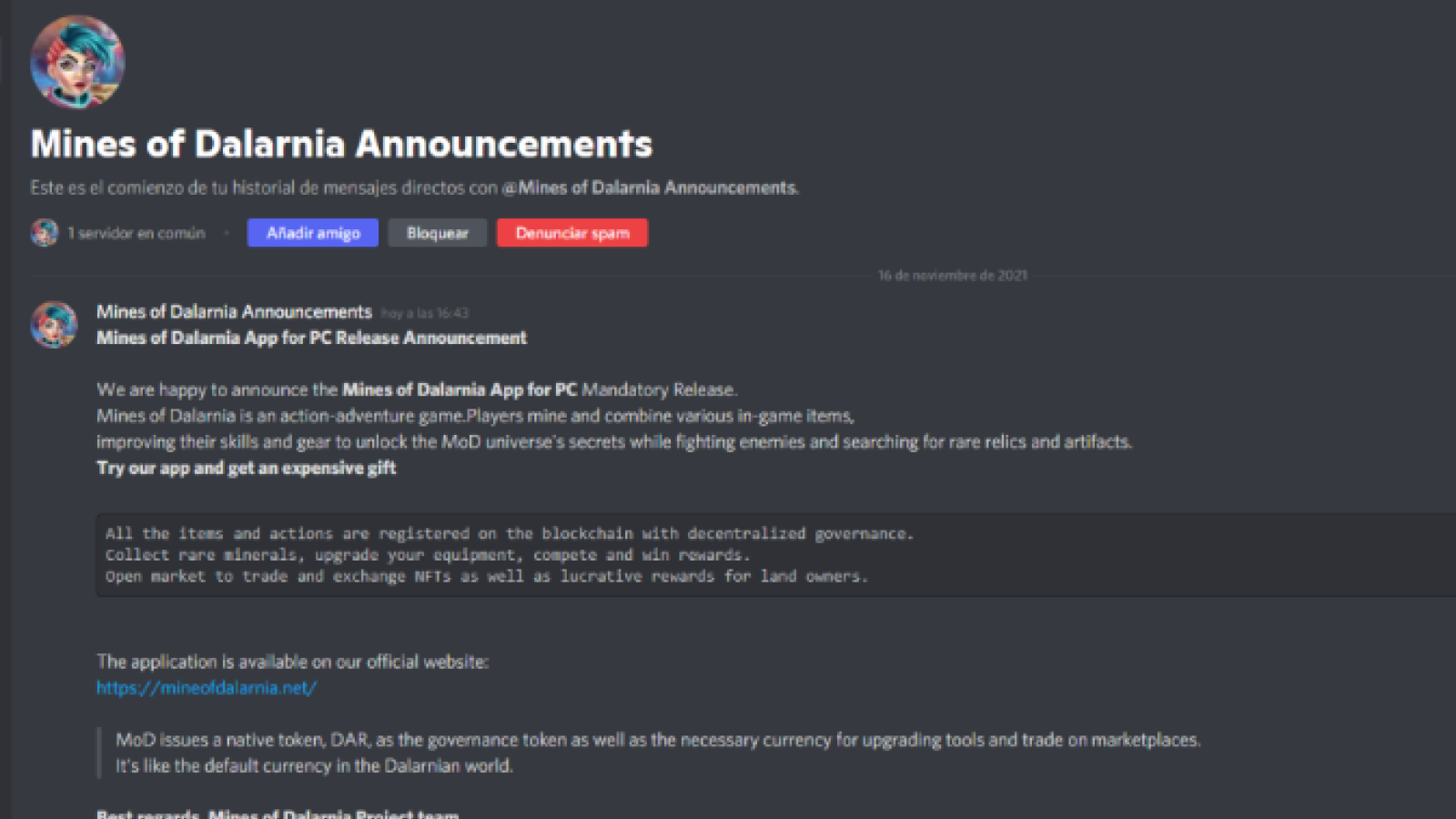 Based on an HTML object of one of the decoy sites, Morphisec determined that the malware campaign is operated by people from a Russian-speaking country.
Threat actors are impersonating the websites of some of the most prominent companies within the NFT industry, including OpenSea and Larva Labs.
Those who started installing the malware typically see a fake error, which is used as a deception technique, while the installer does its job in the background.
Cybercriminals are likely to go after victims' crypto wallets and NFTs.
Discord's malware problem
It is not surprising that Discord has become the target of threat actors since it has become home to plenty of cryptocurrency users where they can communicate via publicly accessible channels or private messages.
It is not just crypto: Sophos revealed that Discord accounted for 4% of all malware downloads as of July.
Earlier this month, Discord shelved its plan to integrate the Ethereum network after facing severe backlash from the anti-crypto segment of its customer base.