Can LUNA 'burn' its way to greater highs in the long term
LUNA was the talk of the town in early November after it managed to breach the $50-mark and hit a new ATH. However, just like other altcoins, even LUNA couldn't shield itself from the broader bearish sentiment. Since 14 November, the crypto has shed more than 20% of its value. At the time of writing, it was trading within the $40-bracket.
The 'deflationary' tag
Keeping aside its of-late performance, it should be borne in mind that LUNA's macro-uptrend still remains intact. In fact, post-Terra's Columbus-5 upgrade, LUNA has seen smooth sailing.
TerraUSD, Terra's native stablecoin, is backed by LUNA. So, in order to increase the supply of TerraUSD, LUNA tokens need to be burned. Conversely, more LUNA is minted when UST's demand dips.
Here, it is to be noted that the burning strategy, isn't new. Ethereum has had luck destroying its own coins post the EIP-1559 upgrade. In fact, after doing so, ETH too hit new highs before corrections set in.
Now, while the aforementioned mechanism is fundamentally great for cryptos, it's worth remembering that LUNA wouldn't become deflationary straight off the bat.
As per the latest data, 10% of LUNA's supply is 'officially gone' forever. Now, this comes as no surprise, especially since the community had voted and agreed to burn almost 89 million LUNA tokens.
1/ The on-chain votes for proposals 133 and 134 to burn the 88.675 million Pre-Col-5 $LUNA in the Community Pool (~$4.5 billion), swapping for $UST using the on-chain swap, and reducing the oracle_rewards_pool distribution window from 3 to 2 years have now passed!— Terra (UST) 🌍 Powered by LUNA 🌕 (@terra_money) November 10, 2021
The supply of LUNA is further set to decrease with time. But, that's only half of the equation. Only if the demand parallelly increases would the whole 'scarce asset' narrative make sense.
Can decreasing supply spark LT demand?
Theoretically, yes. But, other key factors like the inflation rate and stock to flow ratio need to be considered before coming to a conclusion.
Consider this – In the month of September, LUNA's S2F was seen hovering around the 18-mark. In October, the same inched up to 20. Interestingly, the same projected a value of 24, at the time of analysis. The improving state of this metric clearly highlights the shielded future of this altcoin.
The stock-to-flow model essentially quantifies scarcity by considering parameters like total supply and annual production. The higher the value, the better, and vice versa.
Similarly, the inflation rate has also slipped from 5.52% to 4.1% over the same timeframe. What this means is that LUNA's long-term retention value has only been getting stronger with time.
Further, as per Messari's data, in ten years' time, the projected supply is set to remain 996 million while the issuance percentage would also revolve around 96%. If these projections indeed materialize, the token would be lauded for its deflationary nature.
Now, as per data, LUNA's staking yields currently revolve around 5%, which is decent enough to attract investors to buy more coins. Thus, the potential increase in demand is set to pull up the alt's LT price even further.
Another set of positives
Terra network's state of development activity has been pretty impressive, of late. The same was seen revolving around its yearly high, at the time of writing. This essentially means that developers are constantly working towards keeping the project relevant. Not only for sustenance, but for competition too.
Parallelly, it can also be observed that the total value of all the assets staked on the Terra protocol was close to its ATH, at the time of writing.
Thus, keeping in mind all the aforementioned factors, especially the whole burning mechanism, it wouldn't be wrong to claim that LUNA's future prospects seem to be quite bright.
It's just a matter of time that the alt commands even more dominance in the market and inches even higher on the rankings and price chart.
Terra (LUNA) Price Reaches New Record High Despite Brutal Market Correction
Even the Bitcoin crash couldn't stop Luna from hitting new record highs.
The price of LUNA, the native cryptocurrency of payment-focused blockchain network Terra, has reached a new all-time high of $77.16 earlier today.

The cryptocurrency has climbed to 9th spot on CoinMarketCap, surpassing Polkadot.

It is up 35% over the past 24 hours alone, extending its bullish streak.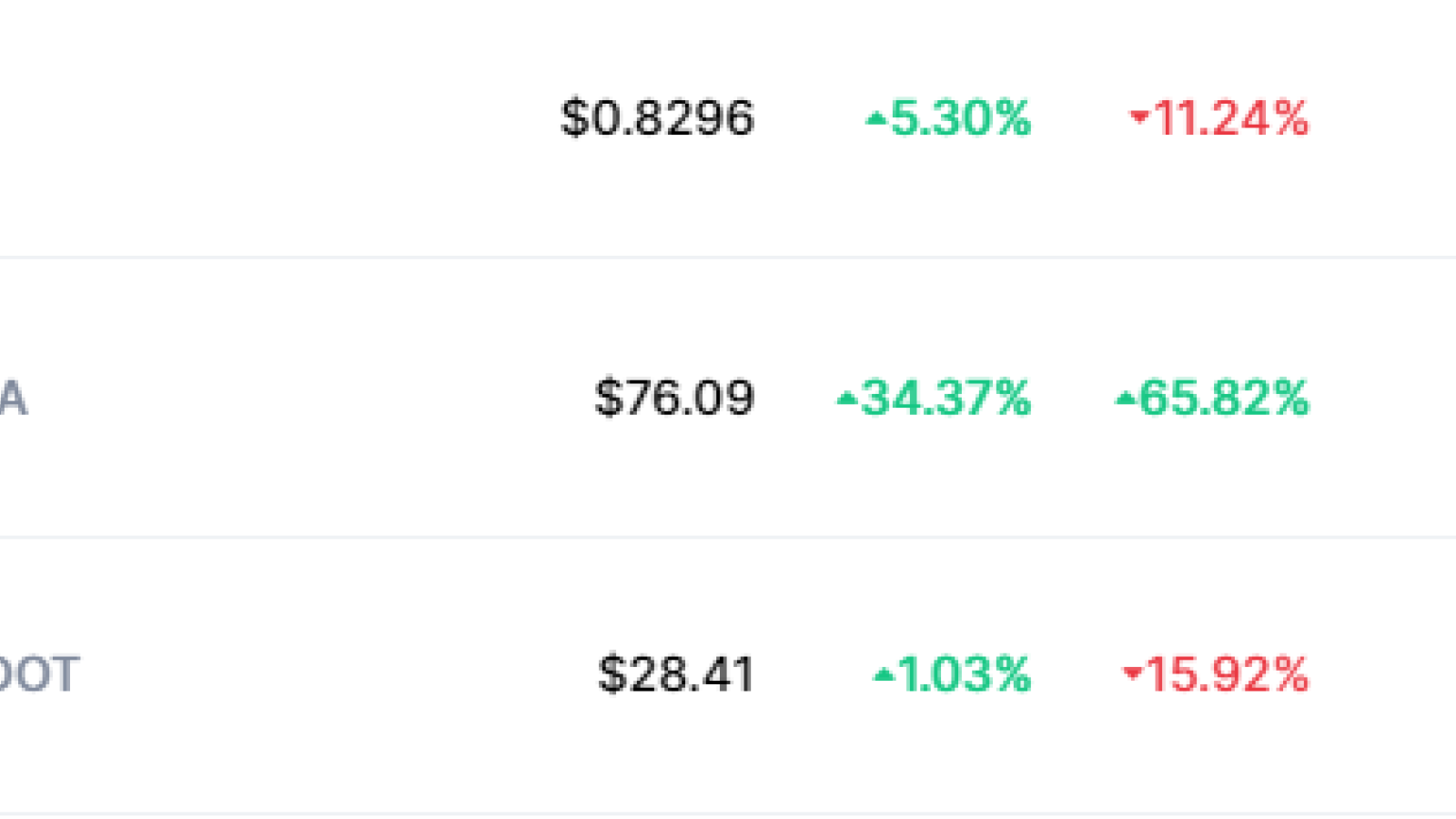 The token's market capitalization has now swelled to $30 billion, which puts it right below Ripple-affiliated XRP.   

LUNA's record price peak came amid a massive market crash that sent shockwaves through the industry.

On Dec. 4, Bitcoin, the largest cryptocurrency by market cap, crashed by an eye-popping 21%, sending the vast majority of major altcoins sharply lower.

However, Ether significantly outperformed Bitcoin, with the ETH/BTC pair spiking to 0.855 BTC, its highest level since May 2018.

Bitcoin's market share has now slipped below the psychologically important 40% level.
Terra's LUNA is Among the Top Ten Cryptocurrencies With a Sharp 32% Bounce Back

After a massive correction and bloodbath on late Friday, December 3, the crypto market is showing signs of recovery. However, the fastest to recover has been Terraform Labs' native cryptocurrency LUNA.
As of press time, LUNA is trading 32% higher at a price of $72.71 with a market cap of $27.8 billion. This has helped LUNA to enter the list of top ten cryptocurrencies by market cap toppling the meme cryptocurrency Dogecoin (DOGE) for the #10 spot.
The LUNA cryptocurrency has been outperforming Bitcoin over the last few weeks. It has gained more than 64% against Bitcoin on the weekly charts.
As CoinGape reported, the LUNA price rally comes amid the growing use of LUNA coins in decentralized finance (DeFi) applications. Furthermore, there's a sharp surge in the development activity taking place on the Terra blockchain.
Terra's Growth In the DeFi Space
The Terra blockchain is slowly emerging as one of the most sought-after platforms in the decentralized finance (DeFi) space. The Terra protocol works on an algorithm of deploying fiat-pegged stablecoins useful in a decentralized finance (DeFi) ecosystem. Terraform's DeFi ecosystem includes popular apps like Pylon, Mirror, and Anchor.
Furthermore, as explained by DeFi Llama, Terra is the third-largest blockchain in total-value-locked (TVL). Along with the Terra (LUNA) price, the total value locked on the platform has reached a new all-time high at $13.86 billion. In terms of TVL, Terra is currently third after Ethereum and Solana. As popular crypto-journalist WuBlockchain explains:
According to DeFi Llama, TVL on the Terra continues to hit new highs, surpassing Avalanche and Solana to rank third. In the past 7d, Terra-TVL has grown 42.9%. Terra Token Luna also quickly recovered the decline and set a new high.
These are clear signs that Terra is emerging as a dominating force in the DeFi space. It will be interesting to see if Terra can make further gains and surge past Solana in terms of market cap.
Terra (LUNA) Pushes Dogecoin (DOGE) Out of Top 10
Dogecoin has left CoinMarketCap's top 10, with the native token of the Terra blockchain taking its place
Terra (LUNA) has kicked Dogecoin (DOGE) out of the top 10 on CoinMarketCap, the leading cryptocurrency ranking site.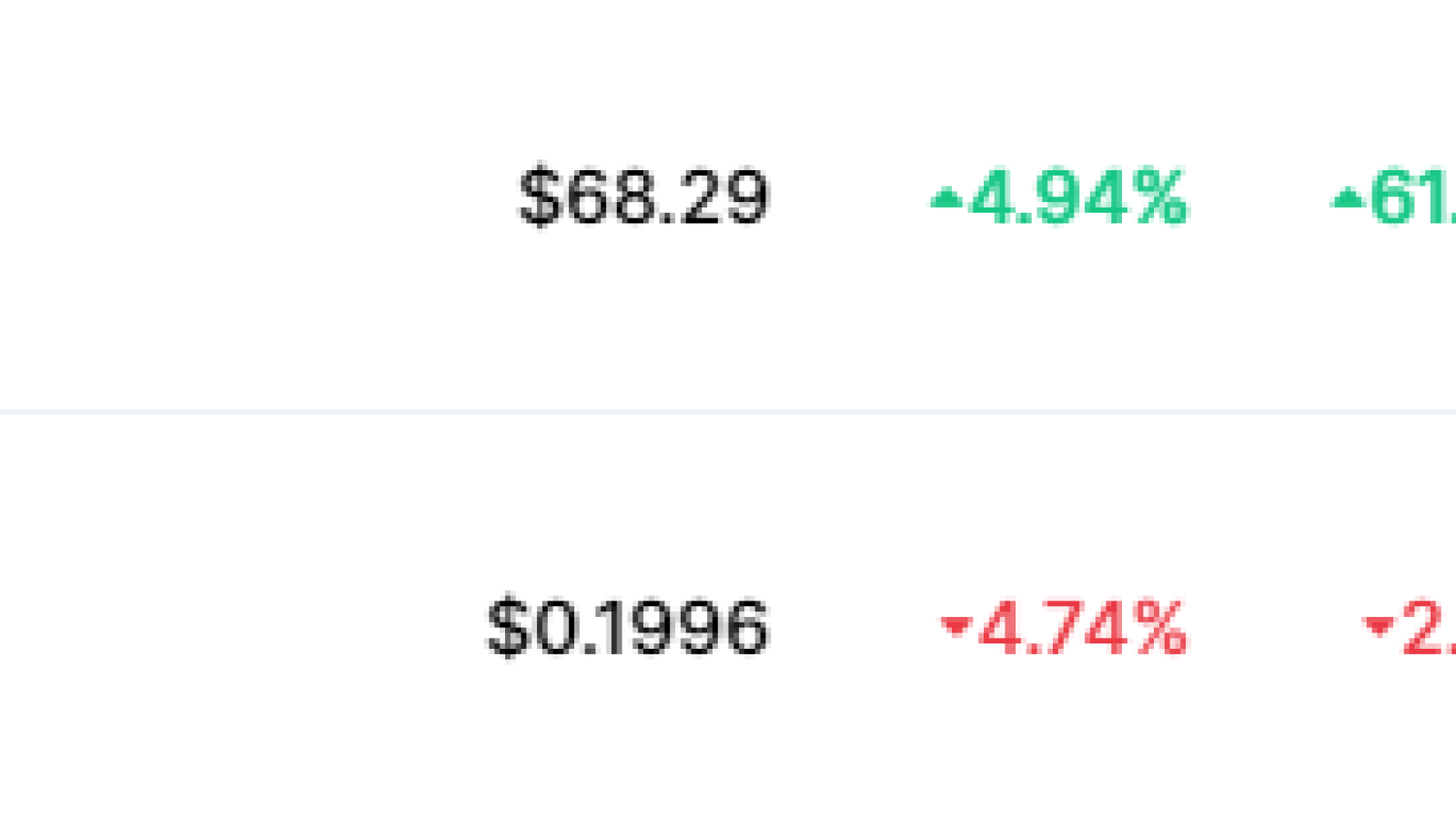 This comes just a day after it had trumped Shiba Inu, another meme coin sensation.  

The staking and governance token of the Terra protocol has been a massive outperformer over the past week, soaring by more than 60%.

This Friday, it is up by yet another 5% despite virtually all major coins being in the red. The LUNA token has set a record high of $69.56.

Bitcoin is down 1% today, continuing its streak of lethargic price action.
The largest cryptocurrency is trading in tandem with the U.S. stock market, which is currently under pressure after a November jobs report suggested that the Federal Reserve would be emboldened to act more aggressively on tapering.
After its show-stopping rally in early 2021, Dogecoin managed to break into CMC's top 5 in mid-August, surpassing the Tether stablecoin. In early May, it peaked at number 4, with its market cap surpassing a staggering $90 billion dollars.
However, the cryptocurrency infamously crashed during Elon Musk's hosting debut on "Saturday Night Live." It is now down 72.53% from the lifetime peak of $0.731578.