Polygon (MATIC) Price Bracing Up To Surge 2X This Bull Run Aiming $5 Target!
The protocol aiming at transforming Ethereum into a multichain ecosystem is rising at a steady pace. And is walking into the limelight, as the platform trends on public platforms. Polygon is witnessing several integrations, adoptions, and partnerships taking place. Which are fueling the growth of the network. The network is also experiencing a rising trend in the gaming sphere.
Rise In Institutional Interests!
 The network is growing at a rapid pace and is garnering interest from institutions. FunFair Technologies integrates with Polygon, as part of which FunFair wallet creates a fully integrated solution that is interoperable with all the major ecosystems, providing fast speeds and lower transaction costs.
Polygon partners with Portal, a De-Fi layer on Bitcoin, that will enable WBTC/BTC and POS-WBTC to BTC SWAP. In addition, Polygon will be contributing a facilitation node to boost overall liquidity for atomic swaps. Between Bitcoin and POS-WBTC, WBTC, and other assets.
According to some sources, 21Shares the world's first crypto index ETP will be listing Polygon alongside two other crypto ETP on SIX Swiss Exchange.
Polygon launches a zk-STARK scaling solution for the deployment of dApps. The move aims to improve the validation process for dApps on the polygon network. zk-STARK stands for zero-knowledge Scalable Transport Argument of Knowledge. Will allow one party to prove to another that they hold private information without revealing the information. Polygon will be committing over $1 Billion for the technology.
Polygon (MATIC) Price Analysis
The digital asset at press time is trading at $1.574, with the market cap hovering around $10,901,366,953. The trading volume for around the clock is around $881,639,926. The digital coin has been moving across the price range of $1.55 and $1.67 for the past 24-hours. The ATH remains distant from current levels at $2.62.
The asset after smashing the monthly highs is trending within the falling wedge. A breakthrough from the wedge will help the price propel towards its target of $2. A bullish momentum ahead could further lead the coin to levels around $2.15. Strengthening the trade volumes will ease MATIC's trek to higher highs. On the flip side, the digital coin could fall to lower levels of $1.5.
Collectively, the growing fundamentals and adoptions of the network will fuel Polygon's bullish momentum. Helping the MATIC price could reclaim its ATH in near future. We can expect Polygon to rise up on the charts in terms of market cap ranking, considering the growth of the protocol.
MATIC continues to march higher with $3 in sight
MATIC price defies broader market concerns and weaknesses by moving higher and higher.
Bulls slap away any bears attempting to take control.
Early evidence of a short-term market top beginning to appear.
MATIC price action has certainly been some of the most dramatic post flash crash. Multiple vigorous attempts by short-sellers to push MATIC lower have all failed and have led to MATIC pushing towards new all-time highs.
MATIC price may have one final push before correcting
MATIC price action, in case you missed it, has gained over 66% from its flash-crash lows. This is a fantastic gain by any standard and one that could continue higher or face a solid but temporary pullback. Options and trade setups exist for bulls and bears.
On the long side of the market, a hypothetical entry would be a buy stop at $2.55, a stop loss at $2.51, and a profit target at $2.69. The entry is based on the breakout above a triple top. A trailing two-box stop would help protect any implied profits.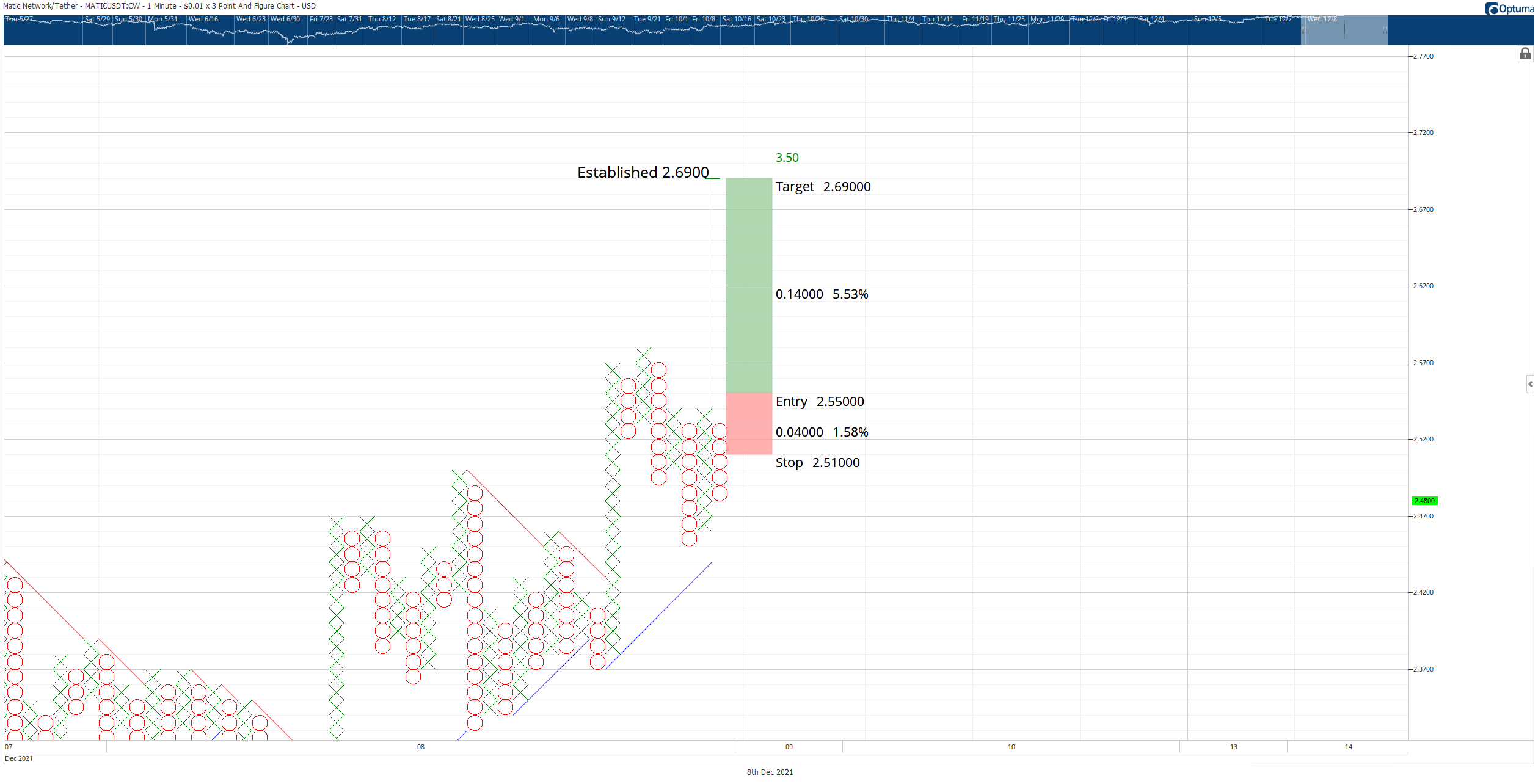 MATIC/USDT $0.01/3-box Reversal Point and Figure chart
The hypothetical long trade is invalidated if MATIC moves below $2.44.
The short trade idea is a theoretical sell stop order at $2.44, a stop loss at $2.52, and a profit target at $2.12. The entry is based on a sell entry from a Pole Pattern retracement. Additionally, the entry would convert the $0.02/3-box reversal Point and Figure chart into a bear market.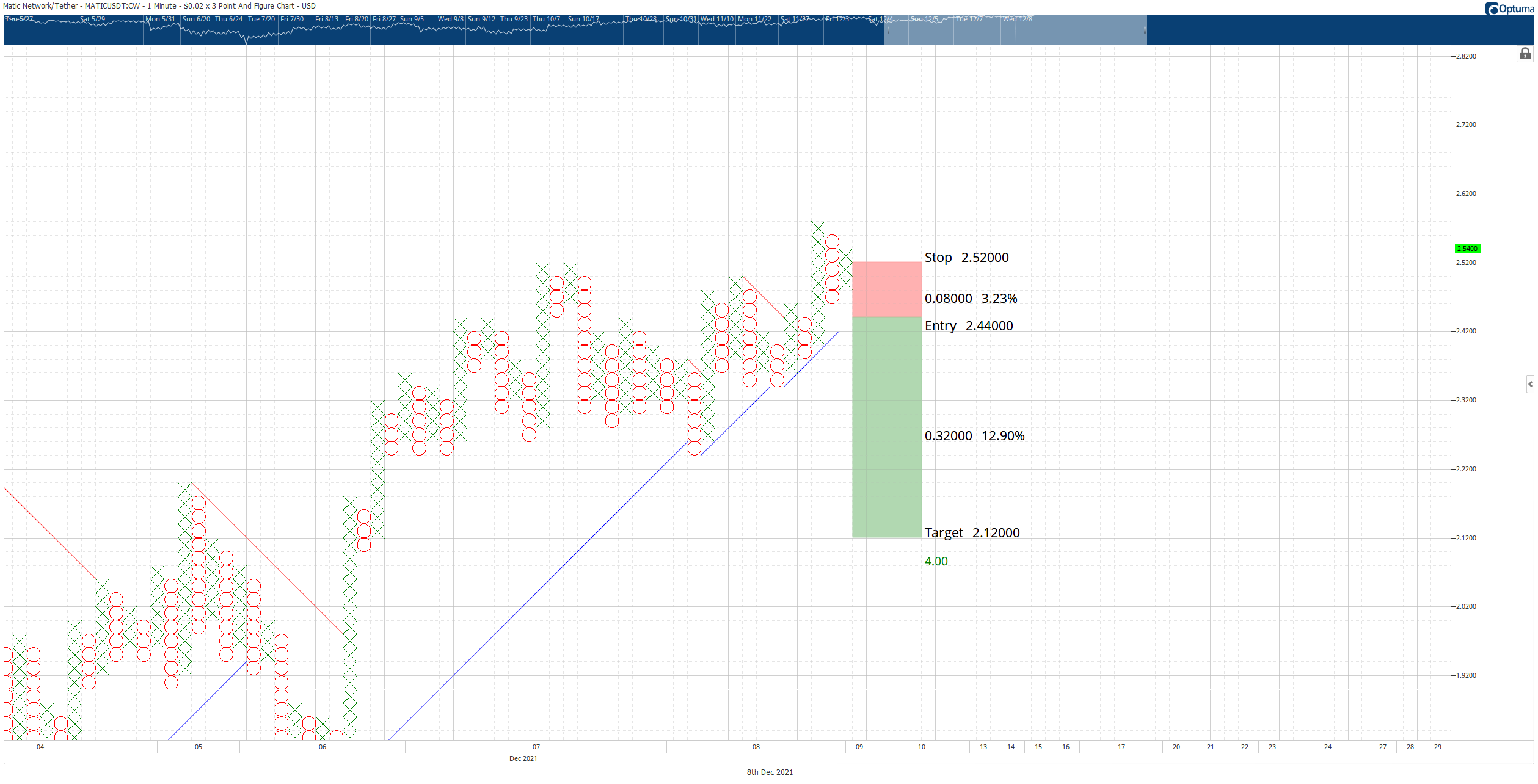 MATIC/USDT $0.02/3-box Reversal Point and Figure chart
This trade is invalidated if the long entry identified above is triggered.
Traders on the short side are more at risk here than the longs. This is due to the proximity of MATIC price to new all-time highs and the persistent, sustained momentum higher in the short-term.
Whales Added 1,899,990 MATIC to Their Holdings in Last 24 Hours
Two of WhaleStats' top 1,000 Ethereum wallets just bought 900,000 and 999,990 MATIC tokens, respectively.
Two Ethereum whales have added the amount of 1,899,990 MATIC ($4,417,976) in the last 24 hours, according to crypto whale tracker WhaleStats. Two of the largest 1,000 Ethereum wallets tracked by WhaleStats just purchased 900,000 and 999,990 MATIC tokens, or $2,087,999 and $2,329,977 worth, respectively, as Polygon continues to be a top choice among large investors.
🐳 An ETH whale just bought 999,990 $matic ($2,329,977 USD).

Ranked #360 on WhaleStats: https://t.co/62Q8q8a3ZI

Transaction: https://t.co/JOXx2Li4XR#MATIC #ERC20 #DEFI #ETH #whalestats— WhaleStats – the top 1000 Ethereum richlist (@WhaleStats) December 8, 2021
MATIC, the native token of the Polygon blockchain, has risen from Dec. 4 sell-off lows of $1.62 to highs of $2.52 on Dec. 7, a nearly 55% gain.
🐋 An ETH whale just bought 900,000 $matic ($2,087,999 USD).

Ranked #207 on WhaleStats: https://t.co/2do7yJzgy7

Transaction: https://t.co/iVbOjdzivv#MATIC #ERC20 #DEFI #ETH #whalestats— WhaleStats – the top 1000 Ethereum richlist (@WhaleStats) December 8, 2021
MATIC was slightly higher at $2.35 at press time. Aside from the whale buy, the price increase is the result of more users becoming aware of Polygon's cheaper prices, increased efficiency and scalability. The anticipation for Polygon's virtual "zk day," which is set for Dec. 9, is growing. The focus of the event will be on the applications of zk-STARKs and zero-knowledge (ZK) proofs, with Ethereum co-founder Vitalik Buterin expected to speak on the panel.
Polygon is a Layer 2 product that speeds up transactions by working on top of primary blockchains. It focuses on solving the Ethereum network's scalability issues, which have resulted in congestion and high fees.
Polygon's MATIC token is currently the 14th largest cryptocurrency with a market cap of $16.6 billion, according to data from CoinMarketCap.
Polygon(MATIC) Price Primed for a Bullish Breakout With 25% Upswing in Couple of Days
The mammoth rally of Polygon in early 2021 is still unprocessed, while the asset is set to create yet another one. The MATIC price rose slowly until it reached $2, coiled up heavily, and was on the verge to hit the important levels at $2.5. These levels could certify the uptrend that would range beyond $3 slicing through the current ATH around $2.8.
The MATIC price rally approaching the ATH within a small stipulated time may reignite the bull run of numerous altcoins. Today, BitTorrent price ranged high breaking the huge downtrend line and heading towards its local resistance. The immense buying pressure raised the price breaking the 'W-shaped' pattern in the early trading hours. 
One of the popular analyst believes the $3 mark is around the corner and the MATIC price may achieve it very soon. 
As per the chart posted by the analyst, the MACD previously made its bullish cross formation at a lower frame each time before. However, currently, the bullish cross formation on every higher low contact on the channel is up with the most recent being in the last week of November. And interestingly, this type of cross signifies the beginning of a new rally.
The uptrend diverging line is based on higher highs and has an upside limit currently between $2.6 to $2.7. And if these levels are tested and cleared successfully, then $3 levels could be imminent which is slightly below the 2.5 FIB retracement levels. Moreover, the MATIC price has been above the support levels along with the 100-day MA in the daily chart since November 16 and 200-day MA since July 20. And based on these MACD levels, a strong 1-month rally may begin very soon.