Remarkably Accurate Ethereum Chart Suggests 300% Rally Incoming, Says Macro Guru Raoul Pal
Real Vision chief executive Raoul Pal says a "spooky" Ethereum (ETH) chart suggests that the second-biggest crypto asset by market cap could have a huge rally by year's end.
Pal overlaid a current chart depicting ETH's price movement over the past three months onto a chart showing the price movement of Bitcoin (BTC) in 2017.
The former Goldman Sachs executive argues to his 774,700 Twitter followers that the shape of the two different graphs looks remarkably similar.
"I have been showing this spooky chart of ETH now vs BTC in 2017 in various forms. This is my live CIX (Crypto Index) on Bloomberg…. even nailed this sell-off….to the day and price. What happened next? A 300% rally. From tomorrow (ish)."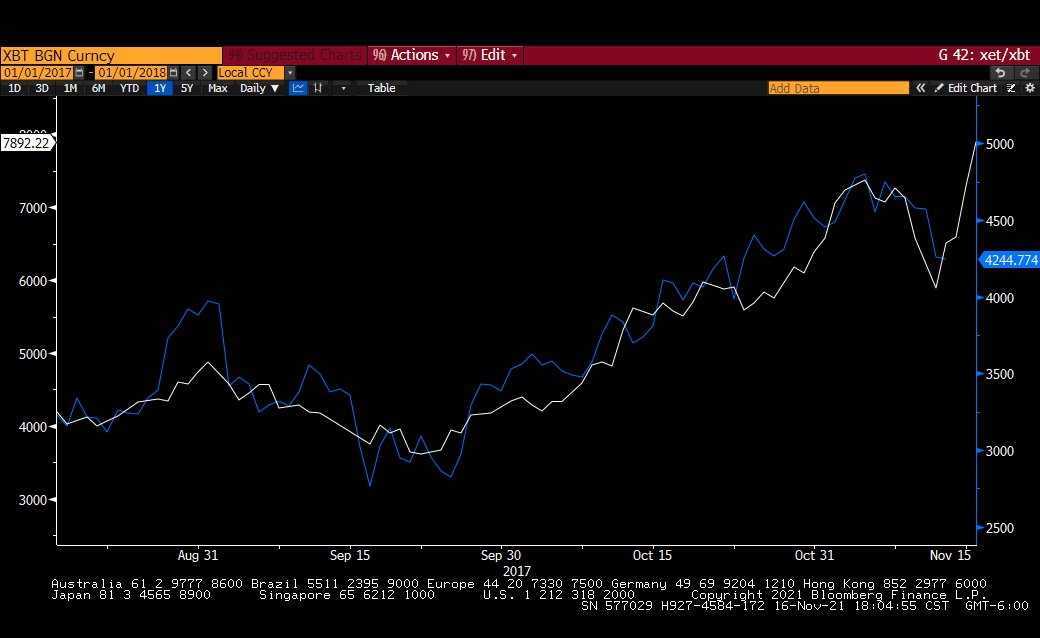 Pal says he doesn't expect ETH to match BTC's 2017 price action perfectly, though he predicts a 100% to 300% rally for the crypto asset by year's end.
"Nothing is a [certainty]. After that, it's a tougher call, but I think it possibly elongates and sees significantly higher prices."
Ethereum is trading $4,335.22 at time of writing and is up nearly 4% on the day.
Pal also notes that ETH is up 100x against Bitcoin over the past six years.
ETH and BTC aren't the same thing and that is fine.

Some other token will outperform ETH probably over time too. That is cool too.

The entire space is going up 100x from here. You can choose where you want to be on the risk curve but it's not even clear ETH is more risky now.— Raoul Pal (@RaoulGMI) November 14, 2021
Bitcoin and Ethereum Test Key Support, Altcoins Consolidate
Bitcoin price is consolidating above the USD 55,500 support.
Ethereum spiked below USD 4,500 before recovering losses, XRP faces a hurdle near USD 1.0.
SOL is showing positive signs above USD 220.
Bitcoin price extended decline below the USD 56,500 support. However, BTC stayed above the USD 55,500 support. It is slowly recovering and is currently (11:30 UTC) facing resistance near 57,200. The main hurdle is still near USD 58,000.
Besides, most major altcoins are trading above key supports. ETH spiked below USD 4,500, but it stayed above USD 4,450. XRP is slowly moving higher towards the USD 1.00 resistance. ADA found support near USD 1.52 and recovered above USD 1.55.

Total market capitalization

Bitcoin price
After a break below USD 56,500, bitcoin price even spiked below USD 56,000. However, the bulls defended the key USD 55,500 support zone. It is now rising and trading above USD 56,000. To continue higher, it must surpass the USD 57,200 resistance. The main resistance for a larger rally is now near the USD 58,000 level.
An initial support on the downside is near the USD 56,000 level. The key breakdown support sits at USD 55,000, below which there could be a sharp decline.
Ethereum price
Ethereum price failed to stay above the main USD 4,550 support level. ETH even dived below USD 4,500 before it found support near USD 4,450. It is now recovering losses and trading above USD 4,500. To start a fresh increase, the price must clear the USD 4,620 level.
If not, there is a risk of a fresh decline towards the USD 4,450 level. The next major support is near the USD 4,350 level.
ADA, BNB, SOL, SHIB, and XRP price
Cardano (ADA) found support near USD 1.52 and remained stable above USD 1.50. It is slowly rising and trading above the USD 1.55 level. The main resistance is still near USD 1.60 and USD 1.62, above which the price could start a steady increase.
Binance Coin (BNB) retested the USD 600 support zone. It is forming a base for the next move, with an immediate resistance at USD 625. A clear move above USD 625 could send the price towards the USD 635 and USD 640 levels.
Solana (SOL) is still trading in a positive zone above the USD 220 level. There was also a break above the USD 225 level. An immediate resistance is near USD 232, above which the price could rise towards the USD 240 level or even USD 250.
SHIB declined towards the USD 0.000040 level. It is currently recovering losses and trading above the USD 0.000042 level. If there is a break above USD 0.0000432, the price may perhaps gain bullish momentum in the near term.
XRP price tested the USD 0.950 support level and is currently correcting losses. It is approaching USD 0.985, but the main hurdle is still USD 1.0. A close above USD 1.0 might set the tone for a move towards the USD 1.05 level.
Other altcoins market today
Many altcoins are still down over 6%, including STX, IMX, BAT, AUDIO, KCS, ZEN, AAVE, VGX, QNT, CAKE, WAXP, and LEO. Conversely, MATIC, OKB, LUNA, and UNI are up over 5%.
To sum bitcoin price is recovering losses above USD 56,000. However, BTC must clear hurdles near USD 57,200 and USD 58,000 to continue higher in the near term.
New Ethereum Prediction Is Out – Here's The Latest Forecast On ETH's Price
The crypto market has been seeing some recent corrections, but now things are looking good with most of the important coins trading in the green.
There have been all kinds of bullish predictions out there and the latest one involves the price of Ethereum.
Nicholas Merten drops new ETH price prediction
It's been just revealed that Nicholas Merten says that Ethereum (ETH) may grow another 325% before the current bull cycle comes to an end.
In a new strategy session, he said that he thinks it will take for Ethereum to eventually smash the $20,000 level.
"If everything goes perfect for Ethereum, if we get that opportunity to be able to get ETH to launch properly, people using roll-ups, whether it be zero-knowledge roll-ups or optimistic roll-ups, generally 'layer-2 solutions,' we could see a $20,000 Ethereum this cycle."
He continued and said the following:
"I know it sounds crazy but when you look at the logarithmic chart we've seen these kinds of percentage returns before."
At the moment of writing this article, ETH is trading in the red and the coin is priced at $4,518.
The analyst made sure to explain the fact that if Ethereum maintains solid fundamentals, a rally to the $20,000 may not be too bold.
He notes that such a gain would only be about half of what ETH achieved in the first five months of 2021.
"I think it's very reasonable we could see this kind of price level. Somewhere between our neutral and optimistic target. To play it safe, I would say that we've got a really solid steady stream of price action for Ethereum ahead of us."
He also pointed out the following fact:
"The key thing to understand is that there are periods of this cycle where Ethereum outpaces Bitcoin, which makes these higher targets reasonable."
Ethereum Competitor Becomes Focus of Crypto Firm's New $500,000,000 Investment Fund
A Miami-based venture capital (VC) firm is investing $500 million into an Ethereum (ETH) competitor's ecosystem.
Blockchain VC firm Borderless Capital says the investment will go towards digital assets powering decentralized applications (DApps) built on Algorand (ALGO), a payments and decentralized finance (DeFi)-focused blockchain network.
Borderless Capital previously launched a separate ALGO fund in 2019 that raised $200 million, according to an announcement from the Algorand Foundation.
Says Arul Murugan, founding managing partner at Borderless Capital,
"Algorand is the most efficient next-generation blockchain software in the market right now, and it is the next frontier for investment opportunities and disruption.
Our Borderless ALGO Fund II will continue to be at the forefront of the ecosystem and further ignite the growth by enabling the new innovation that is coming to blockchain."
The Ethereum competitor's native asset ALGO is trading at $1.93 at time of writing, up more than 8% on the day.
The decentralized blockchain network recently partnered with Hivemind Capital Partners, an investment firm founded by Matt Zhang, a 14-year Citigroup Inc veteran.
In October, Algorand also received an endorsement from American financier Anthony Scaramucci, who said the project could breathe new life into the consumer goods sector.