Top 3 Price Prediction Bitcoin, Ethereum, Ripple: Cryptos look bearish but one might rebound
Bitcoin prices are in the process of breaking below $59,586, fading further away from $60,000.
Ethereum price sees bulls defending $4,060 and shows signs of further bullish action.
XRP price sees bulls recovering ground against the bulls, overtaking strategic support levels to the upside.
Bitcoin price remains under pressure and looks depressed as BTC price action is fading away from the $60,000 marker even further. When bears can consolidate below $59,586, expect another 10% devaluation of BTC price. Ethereum price has undergone a similar correction as Bitcoin but saw bulls stepping in at $4,060 and already shows further recovery to the upside. Finally, XRP price looked to break and spiral into an extensive price correction. But XRP saw its buy-side volume pickup, and bulls are regaining control of two key-support levels and could see a 13% uptick in the coming days if bulls keep the momentum going.
Bitcoin price still rattled as bears try to reverse a large portion of the uptrend
Bitcoin (BTC) price is under siege by bears that are squeezing price action against $59,586. That level has held importance since April 13 and has seen price respecting it in both upside and downside moves. Bitcoin bears have already broken down below this level twice before, but bulls rushed in each time to defend. With the Relative Strength Index (RSI) pushing further downwards, expect bulls to quickly forfeit any attempts of defending the level again, which opens the doors for bears to further downside moves.
BTC price could see some intermediary support from the 55-day Simple Moving Average (SMA) at $58,000 and the monthly pivot at $57,300. These levels will instead slow down the nosedive but will not be strong enough to halt the devaluation. This is simply because no actual historical levels could help strengthen the conviction that one of these levels could hold some importance.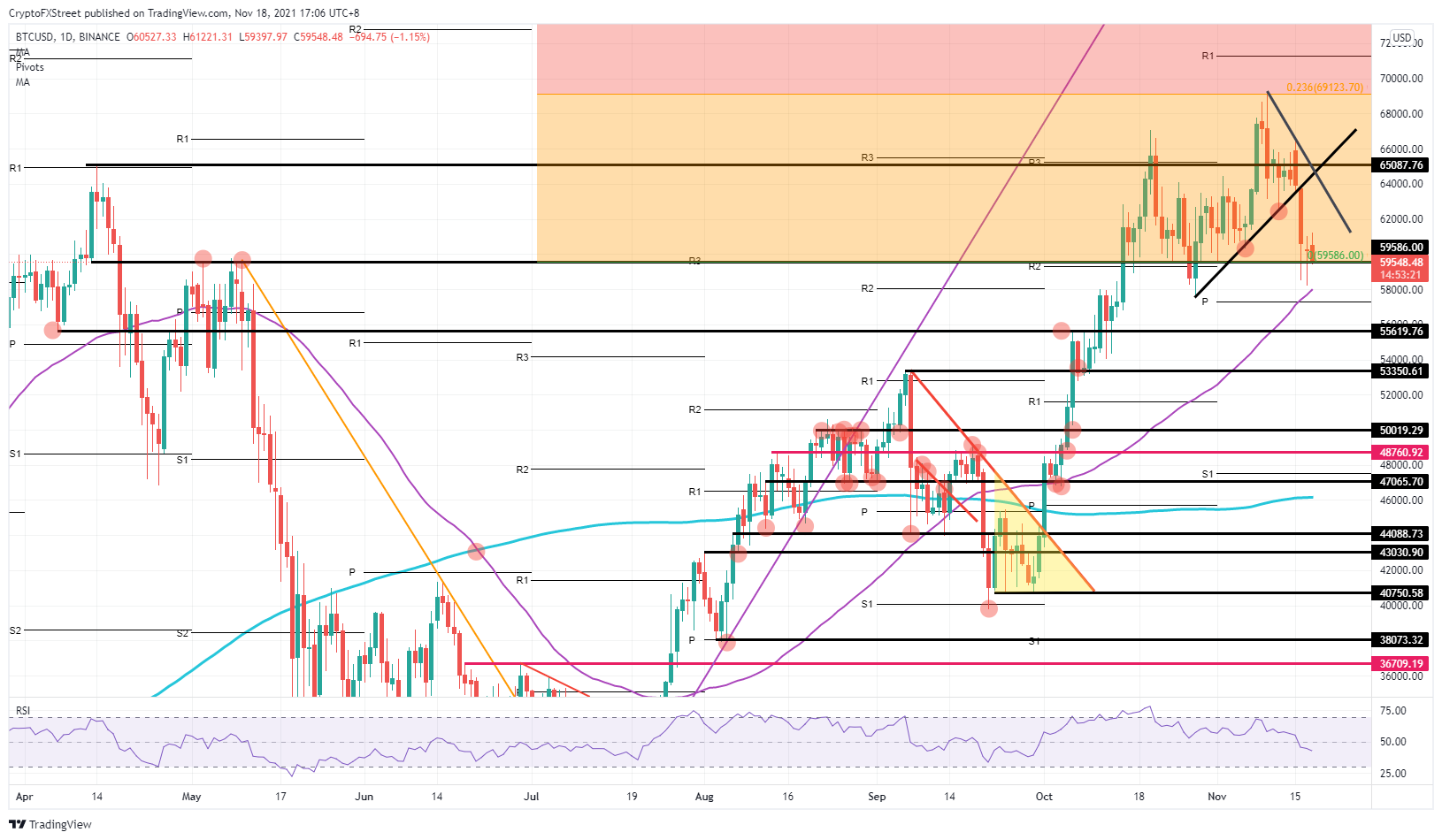 Expect the break of $59,586 to lead to an acceleration lower as bulls  step out of the way and accept defeat.. BTC price will then probably see another 6% devaluation towards historical support at $55,619 and slow down at the 55-day SMA and the monthly pivot, triggering some profit-taking among bears along the way. Expect bulls to stand pat at $53,350 which has proven to be more solid in the past from tests, breaks and rebounds during BTC price's uptrend.
Ethereum price sees bullish bounce and could see ETH price pare back losses
Ethereum (ETH) price saw bulls stepping in and delivering a strong signal that they would not go down without a fight at $4,060. The break of the green ascending trend line saw a downward spiraling  correction quickly unwind towards $4,060, but bulls rapidly moved back in to pick up the correction and buy ETH coins at a discount. With that rebound, buyers formed bullish hammer candle formations on Wednesday. 
ETH price saw the bullish signal reflected in the Relative Strength Index (RSI) that showed a nudge to the upside in what looked to be a steep decline towards the oversold zone. Do not expect price action to quickly return to $4,646 today, but rather see bears fretting about breaking below $4,060. They may end up getting matched by bulls each time, which would make them fatigued from trying to break lower. The knee-jerk reaction on Wednesday will have washed quite a lot of bearish volume out of the downward correction.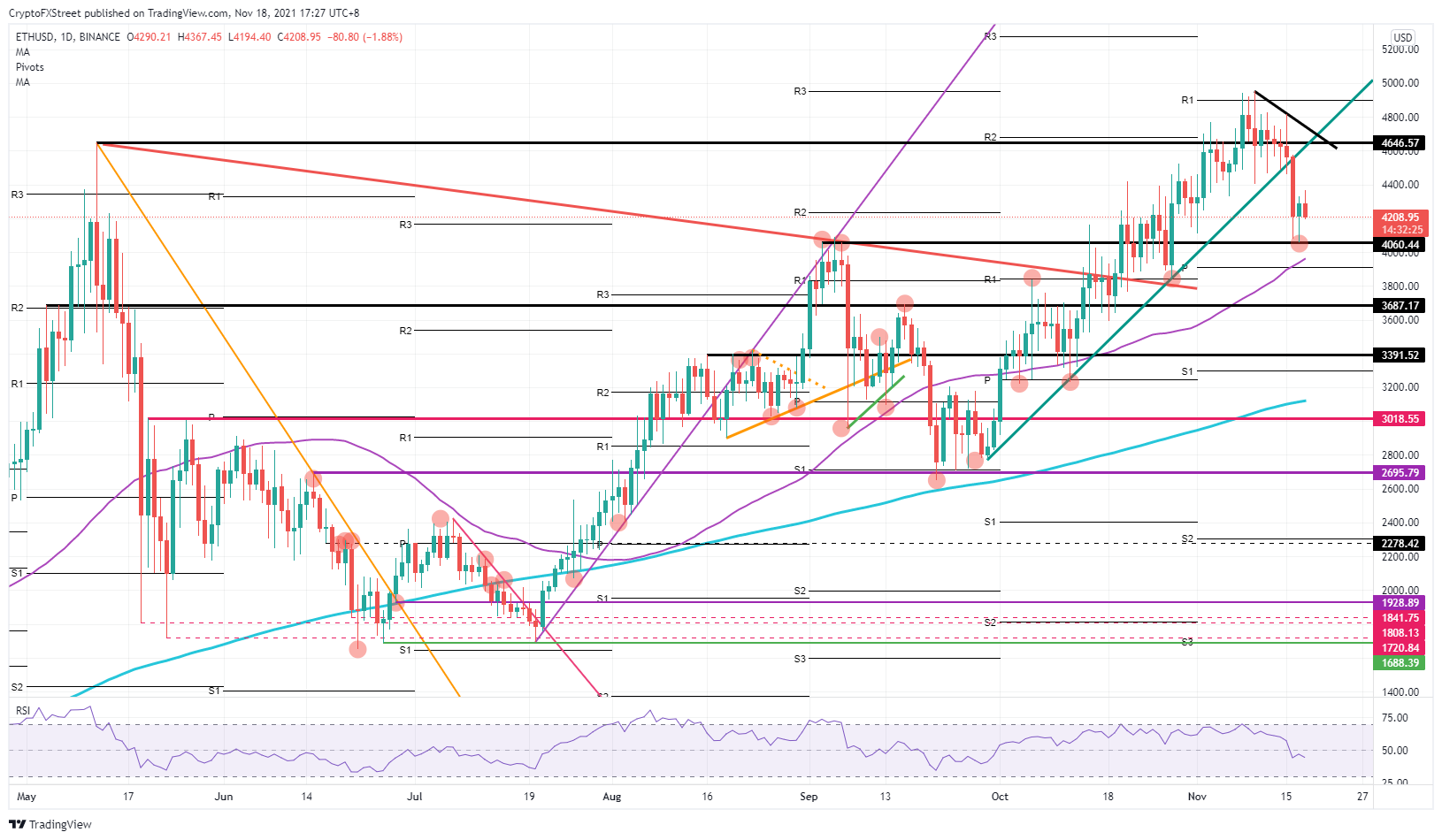 Expect bulls to be under pressure from the current headwinds overall present in cryptocurrencies at the moment. As long as bulls can withstand, expect a quicker uptick back towards $4,646 and a possible pop back above the black and green trend lines to the upside, that would reinstate the dormant uptrend. On the downside, the monthly pivot and the 55-day SMA are important levels to consider just below $4,000.
XRP price saw bulls almost paring back incurred losses, bears remain persistent for now
Ripple (XRP) price has seen bulls entering positions at $1.04 and quickly consolidating back above that level the following day. With that move, bears that entered on the break below got stuck in a bear trap. Expect the further uptick from today to have hurt quite some bears and see some loss taking occurring throughout the day, as long as the current headwinds do not start to weigh any further as they are already doing.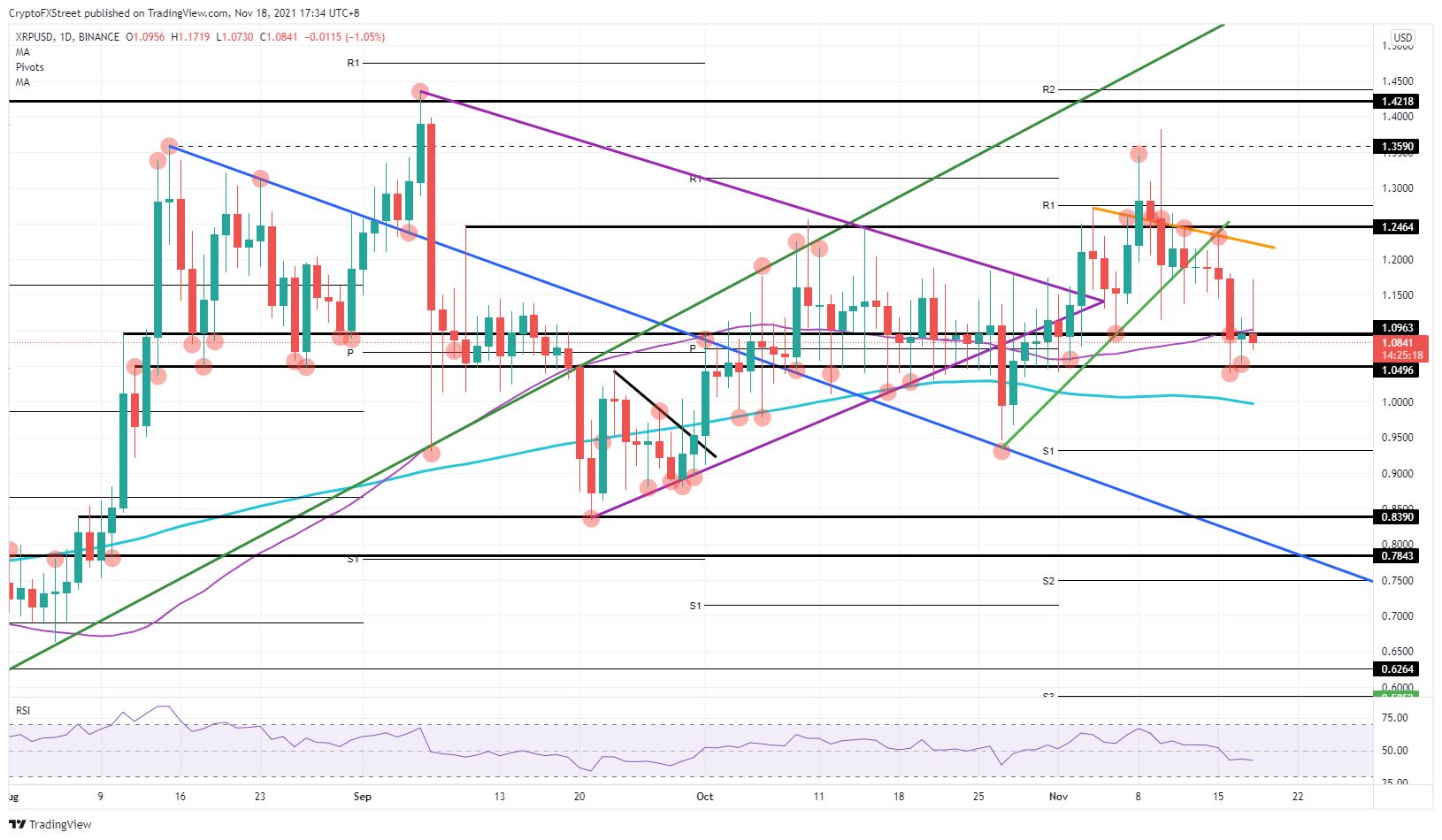 XRP/USD daily chart
XRP price will need to see bulls close above $1.09 today to keep the momentum and buy-side pickup going. The flat Relative Strength Index (RSI) proves that both buyers and sellers are going against each other, and both want to have it their own way. Should bulls fail to close above $1.09, expect a retest of $1.04 and see price drift lower towards $1.0, which will act as a psychological level. The 200-day SMA is a very supporting element that could quickly see a similar reversal to the upside like we saw earlier today.
Ripple Price Analysis: XRP spikes to $0.91, support found?
Ripple price analysis is bullish for the rest of the day.
XRP/USD saw heavy selling earlier today.
Support found around $0.91. 
Ripple price analysis is bullish today as a strong lower low has been set at $0.91, with buying pressure returning right now. Therefore, we expect bears to be exhausted, leading XRP/USD higher later today.
The market has seen strong selling pressure over the last 24 hours. The market leaders, Bitcoin and Ethereum, are down by 6.07 and 7.1 percent, while Ripple (XRP) has lost almost 9 percent.
Ripple price movement in the last 24 hours: Ripple breaks $1.02 support, finds support at $0.91
XRP/USD traded in a range of $0.9367 – $1.06, indicating strong volatility over the last 24 hours. Trading volume has increased by 35.61 percent, totaling $4.27 billion, while the total market cap trades around $44.745 billion, ranking the coin in 7th place overall.
XRP/USD 4-hour chart: XRP looks to reverse from $0.91
On the 4-hour chart, we can see slight rejection for further downside for the Ripple price as bears are exhausted after a strong selloff earlier today.
Ripple price has seen consolidation in an increasingly tighter range above $0.102 support over the past week. The $1.02 mark was initially reached on the 18th of November after a strong decline from the $1.35 previous major swing high.
Despite the $1.02 support holding, further lower lows were set over the week, slowly building up pressure in the market. Yesterday, another lower high was set at $1.06, leading to more downside overnight.
Ripple price continued lower to $1.02 when a sharp break lower was finally seen over the past hours. Currently, XRP/USD has found low around $0.91, likely leading to recovery over the next 24 hours.
Ripple Price Analysis: Conclusion
Ripple price analysis is bullish today as further downside currently gets rejected after a spike to $0.91 earlier today. Therefore, XRP/USD has likely found a new low, leading to a retracement over the next 24 hours.
While waiting for Ripple to move further, see our articles on the Best Crypto Wallet 2021, Decred Wallet, and Ripple vs SEC.
XRP holds key support while indicators point to short-term recovery
Ripple started a recovery wave above a key support level of $1.024.
XRP price started an upside correction as indicators suggest a short-term recovery.
The coin may initiate a fresh downtrend upon a breakout of the $1.024 support level.
XRP is in the process of forming a triple bottom price pattern boding more upside, for the pair priced against the US dollar., XRP price recently found support at the pattern's base during the formation of the third bottom. Now, Ripple is at a crossroads – a spike in selling pressure may drive a bearish breakout, whilst technical indicators signal a bullish reversal. It all depends on whether or not a critical support level holds.
XRP rejected above the triple bottom at $1
XRP has found support above $1.024 and started a bullish recovery similar to peer altcoins. The XRP price has found footing at the $1.024 level for the third time making it a triple bottom pattern.
If there is increased demand at the current price level it will push the XRP price towards its double top level at $1.108. However, the 20 and 50-period exponential moving averages may act as minor hurdles at $1.076 and $1.108.
The MACD has closed the first histogram above the 0 mark, indicating a bullish reversal. While the RSI is still holding at 44, a crossover above 50 may encourage investors to go long. In that case, the XRP price might spike towards $1.165. Additional gains could lift the price towards the next key hurdles at $1.218 or $1.284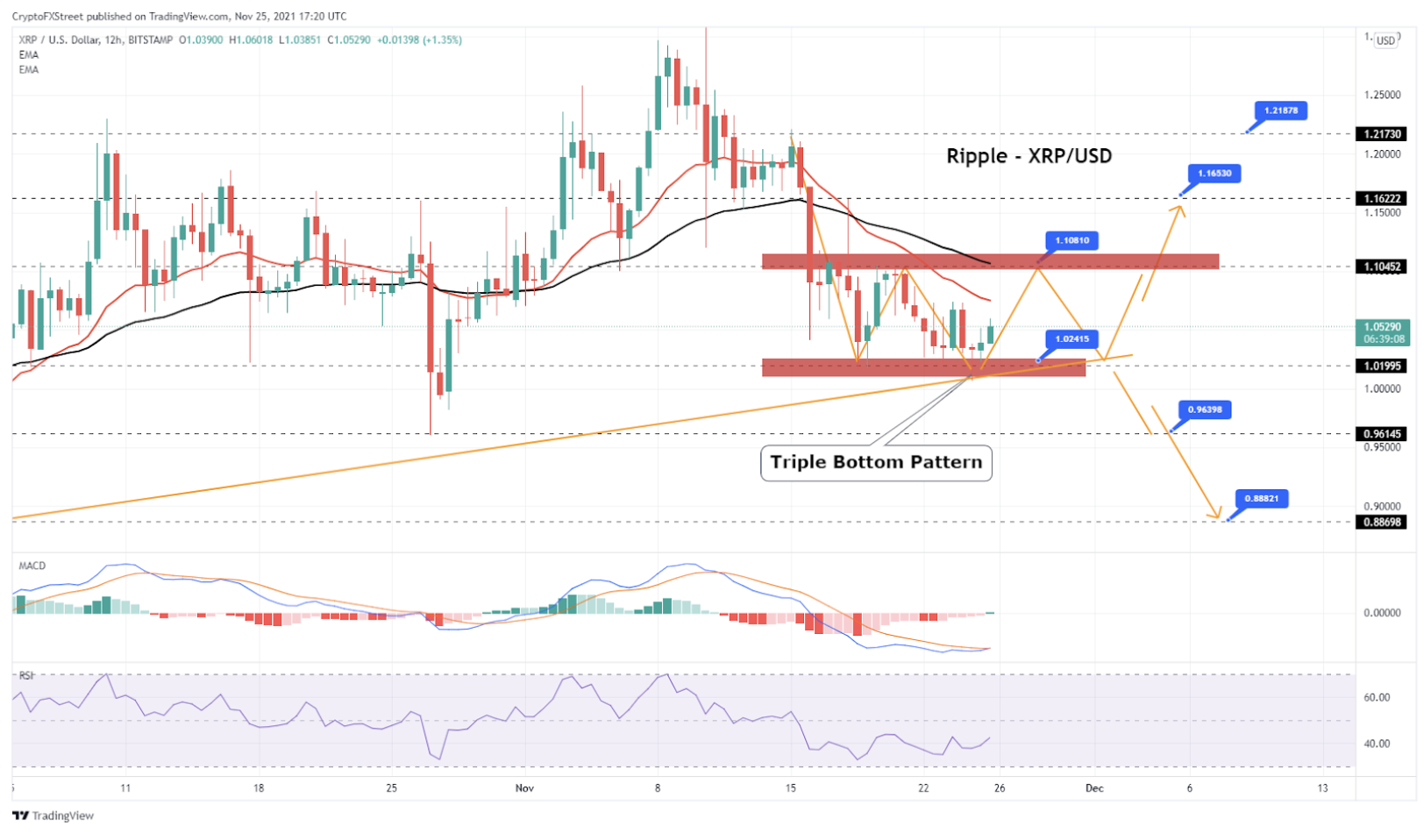 XRP 12-hourly chart – Triple bottom to drive uptrend
If XRP disappoints to start a new spike above the $1.081 level, it could extend losses. Initial support on the downside is near the $1.024 level.
The upward trend that started on September 21 also extends to significant support at the $1.024 mark. Therefore, a break below the $1.024 support level might push the price further down. The next critical support level is near $0.963, below which the price may fall to the $0.888 level.
XRP price consolidates as Ripple bulls eye a 15% run-up
XRP price is hovering above the $1.01 support level, anticipating a potential retest before an upswing originates.
A breakdown of this level could lead to a buy opportunity at $0.98 before Ripple rallies to $1.17.
A daily close below the $0.92 foothold will invalidate the bullish thesis.
XRP price has been on a downtrend for roughly two weeks and shows that a short-term reversal could be near. Market participants need to watch for two immediate support levels that are likely to facilitate this bullish outlook.
XRP price to pull a 180
XRP price has dropped roughly 23% since November 10 to where it currently trades – $1.04. The downswing is likely to retest the $1.01 support floor formed by the November 18 swing low. This will create a triple tap setup, suggesting that a short-term reversal in momentum is likely. 
In this scenario, the XRP price could attempt to retest the 50% retracement level at $1.17. This run-up would constitute a 15% ascent from $1.01.
While this scenario makes sense, a breakdown of the $1.01 support floor will suggest that a further downswing is possible. However, this move does not invalidate the bullish thesis but provides investors with a buy opportunity at $0.98. Investors can expect a bounce off this level to propel XRP price to the same level as before at $1.17. This move would constitute a 19% climb.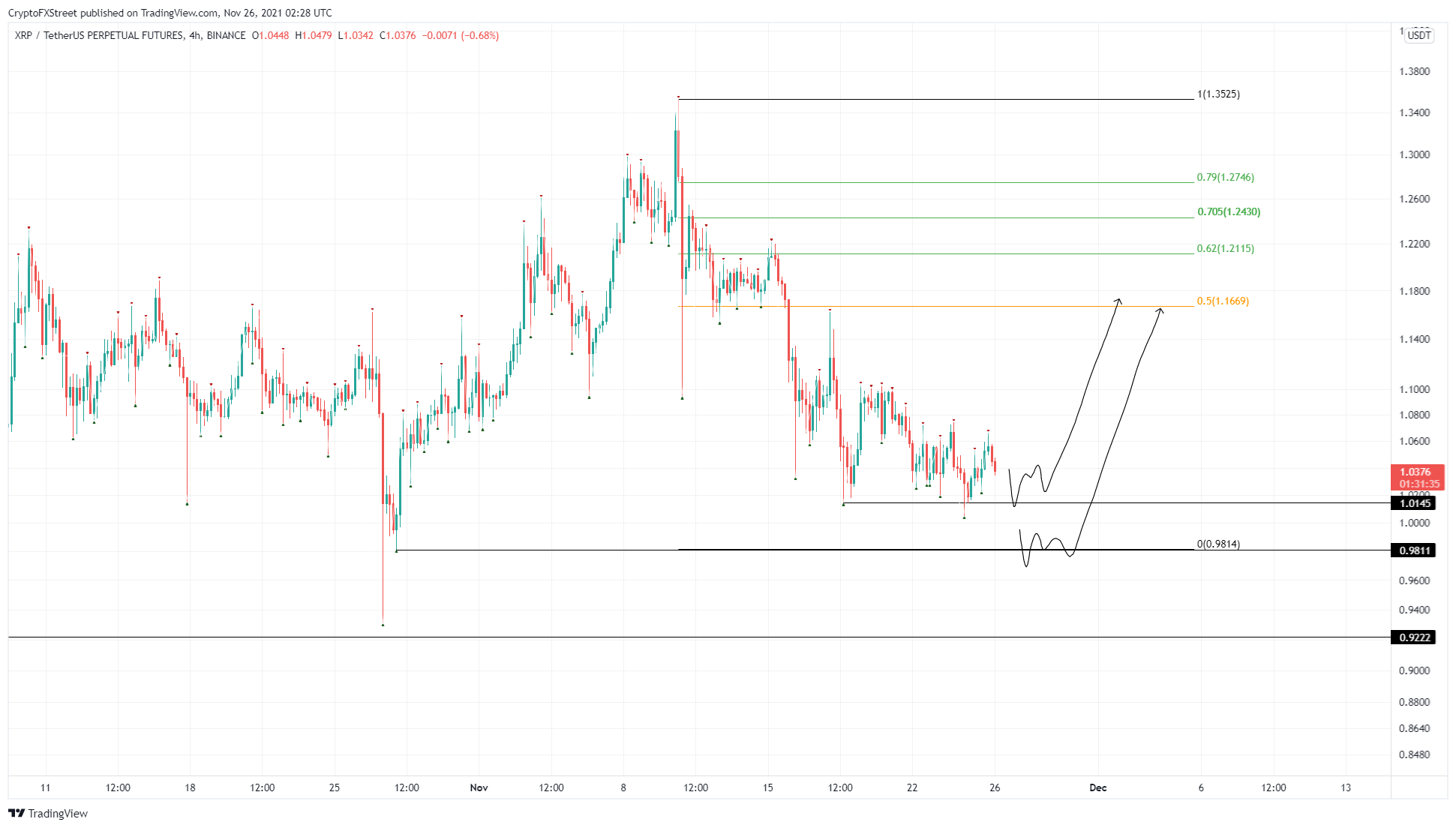 XRP/USDT 4-hour chart
While things are looking up for the remittance token, a breakdown of the $0.98 support level will create a lower low and invalidate the bullish thesis. This move would also suggest a weakness in buying pressure and set the stage for further losses. In this situation, market participants can expect XRP price to drop by about 6% to $0.92.