Why Stellar Lumens is Doing More to Promote USDC than XLM?
MoneyGram and SDF have hit the first major milestone in the partnership by launching a live cash-in and cash-out pilot in the U.S.
Early during October, MoneyGram International announced their partnership with the Stellar Development Foundation to integrate the Stellar blockchain into MoneyGram's network to enable cash funding and payout in local currency with Stellar USDC, which can be completed with near-instant backend settlement capabilities.
MoneyGram and SDF have launched a live cash-in and cash-out pilot in the U.S. The pilot participants will now be able to deposit cash into their digital wallets by participating in MoneyGram locations to send payments internationally via Stellar USDC.
This pilot will make it possible for participants to exchange Stellar USDC for any cash currency, which will be supported on the MoneyGram platform.
Notably, MoneyGram, payments company was the first money transfer company to use blockchain technology at scale as part of its FX trading.
Denelle Dixon expressed: "You can walk into any MoneyGram agent, give them your cash, and within 5 seconds see it within your wallet as Stellar USDC." Everysince, the company has been investing in blockchain technology making innovative partnerships while focusing on leading the evolution of P2P payments and money transfers.
Community Response: I don't understand why you keep talking about USDC. Your token is XLM not USDC. Do you do something to increase the value of XLM. You are doing more to promote USDC than XLM.
The reason is USDC is issued on the stellar blockchain. It literally requires XLM in several aspects to be used.
Just went in to a local MoneyGram and asked them about this and they looked at me like I'm crazy.
Thanks, and I understand that and just needed clarity on whether you're purchasing Stellar the token or USDC stable coin when you walk into any MoneyGram.
It means you are purchasing USDC coin in the form of stellar token named USDC, you can't send Stellar USDC to Ethereum USDC directly it is different network but same value.
Stellar USDC? What does that even mean? Is it Stellar or is it USDC? USDC on the Stellar network. Like USDC on Ethereum but transferred in seconds for fractions of a penny. This is not new.
A sad attempt to create a pump for XLM.
What about the fees to send that to another country? Stellar's fees are very low. It can be sent internationally already.
Will this partnership increase the use case of XLM or its price?
News Source
XLM Spikes 10% as Stellar CEO Is Set to Testify at Full Committee Hearing
The CEO of Stellar Foundation, Denelle Dixon, will testify as a witness at a hybrid hearing on Dec. 8
Denelle Dixon, CEO of Stellar Development Foundation, is set to testify at a full committee hearing. The price of XLM, Stellar's native crypto asset, is up 10% in the last 24 hours.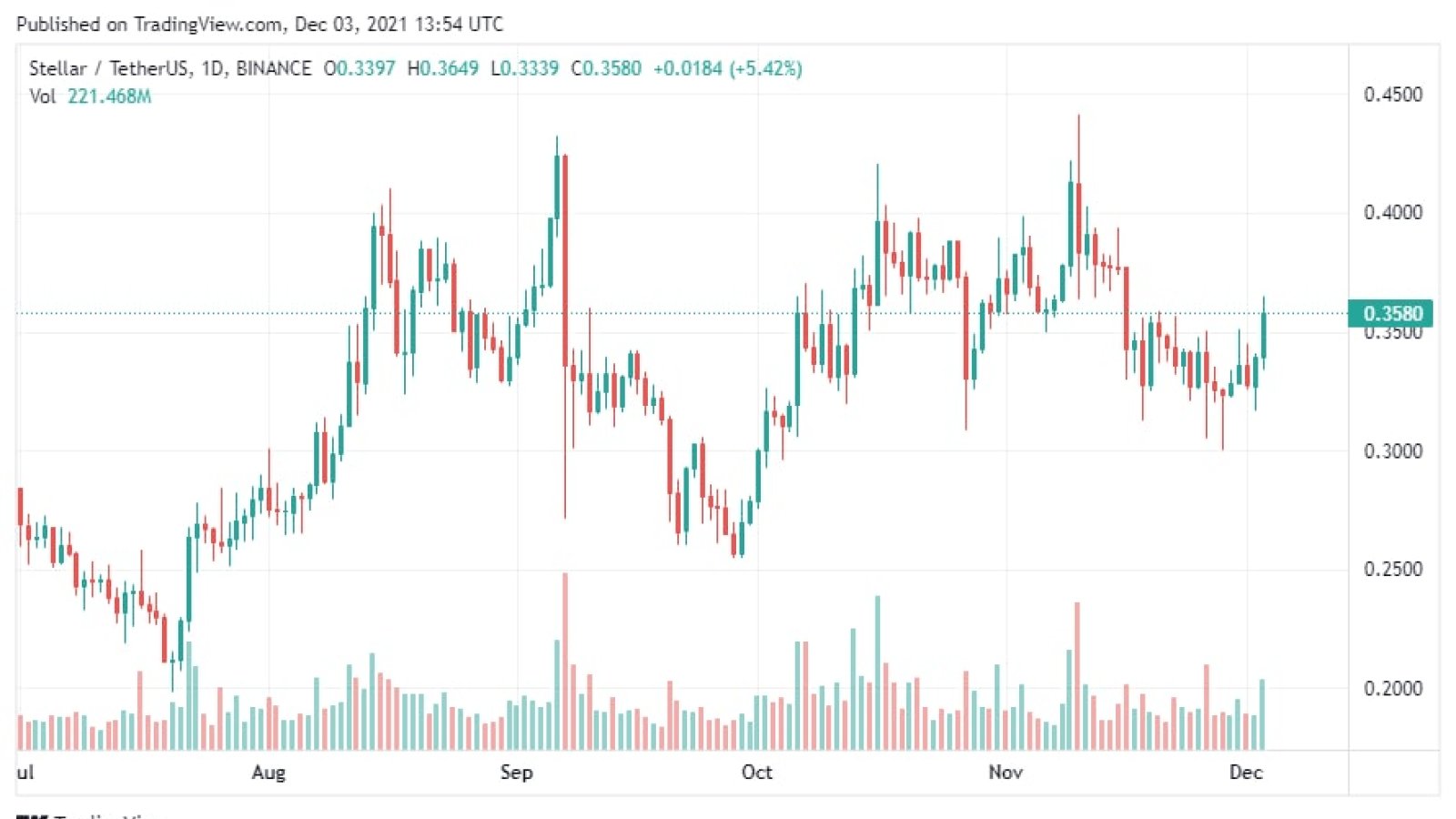 XLM/USD Daily Chart, Courtesy: TradingView
The Stellar CEO, in her words, "feels honored to testify at next week's full committee hearing on digital assets and the future of finance." Representative Maxine Waters, Chairwoman of the House Committee on Financial Services, made the announcement. On Dec. 8, the full committee will have a hybrid hearing.
In a recent release, Representative Maxine Waters, chairwoman of the U.S. House Committee on Financial Services, has invited cryptocurrency CEOs to testify at a scheduled hearing on "Digital Assets and the Future of Finance." Jeremy Allaire, CEO of Circle Pay, Sam Bankman-Fried, CEO of US FTX Exchange, Brian Brooks, CEO of Bitfury Group, Chad Cascarilla, CEO of Paxos Global, and Denelle Dixon, CEO of Stellar Foundation, will testify as witnesses in the Dec. 8 hybrid hearing.
Stellar (XLM) traded in an indecisive trend for most of November. However, bulls suddenly reemerged, leading to a retest of the $0.36 high on Dec. 3. Litemint, a longtime ecosystem participant, launched its non-fungible token (NFT) marketplace, enabling users to mint NFTs on Stellar.
XLM was trading at $0.358 as of press time.
XLM price stuck in pennant, with bullish breakout holding 40% gains
Stellar price action is getting squeezed from both sides, forming a pennant.
As the RSI dips to the lower end of the index, expect bulls to stand ready for a pop higher.
Seeing momentum build, $40 will not stop the rally which could overshoot towards $0.46.
Stellar (XLM) price has been stuck in a downward trajectory for most of November. It has only been since November 27 that bulls have advertised their presence by posting higher lows. Now a pennant has formed, and as it unravels expect a bullish breakout that could see a violent move, followed by an acceleration higher between $0.41 and $0.46.
XLM has bulls gearing up for the rally
XLM price has not been able to provide any solid numbers for November. After hitting a cap at $0.44, on November 11, price has been on the back foot ever since.It is only since November 26 that bulls seem to have reemerged with a blue ascending trend line where lows are getting progressively higher. 
The late entry of the bulls in XLM price action makes sense, as bears were grinding down the price action very slowly, which resulted in a very slow drip in the Relative Strength Index, keeping the incentive alive for bears that there was still more downside to come. In recent moves, however, the RSI started to bottom,  offering more limited gains for bears wishing to short Stellar price. With bears starting to doubt if XLM will ever correct towards $0.25 or $0.25, for that matter, bulls have a chance to strike quickly and squeeze bears out of their positions.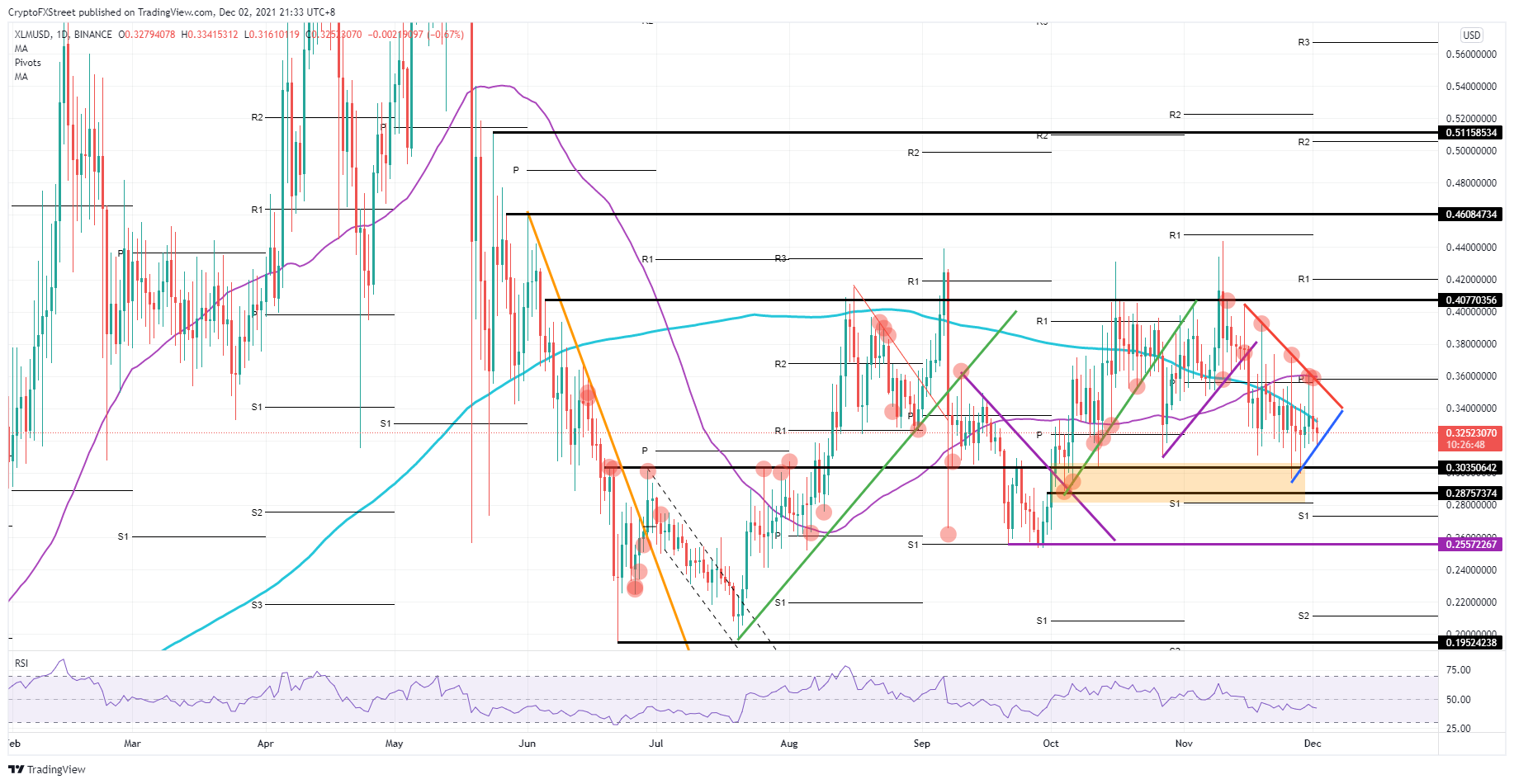 XLM/USD daily chart
A self-fulfilling prophecy is in the making then, as bears will want to close their positions and book profits, increasing demand for XLM. This will likely lead to an explosion in buy-side volume and see price run up rapidly, taking out the monthly pivot at $0.36 and the historical resistance at $0.40. The next level to watch will be $0.46, which may be where bulls first pause, otherwise, the RSI would be at risk of swinging towards overbought too rapidly. 
The only element that could disturb the strategy currently unfolding, is if more headwinds arise from concerns surrounding covid variants. XLM would then see its pennant breaking to the downside and testing $0.28, possibly even with an attempt towards $0.26, which was held successfully at the beginning of October. Should that break, however, expect bulls to step in and defend $0.20, a key psychological level at the June as well as the July lows.
Stellar price analysis: Price takes upturn to $0.342 after bullish drift
XLM value has improved up to $0.342.
Stellar price analysis confirms bullish trend.
Support is fixed at $0.307 level.
The bulls have successfully made a comeback in the last 24-hours because of the sudden rise in buying activity. The bulls have been maintaining their leading position for the past few days as a constant rise in XLM/USD value can be determined. Today, the price showed a bullish inclination once again due to buyers pressure. The uptrend has enhanced the coin value up to $0.342 high.
XLM/USD 1-day price chart: Price gains stability above $0.342 after bullish trend
The one-day Stellar price analysis shows increasing chances of recovery for the bulls as a rise in XLM/USD value is observed. The price covered an upward movement today; as a result, the coin value has heightened up to $0.342. This is a promising sign for the buyers, as earlier, the situation was quite critical because of the downswing. The price is now standing higher than its moving average (MA) value which is $0.333.
The volatility is decreasing because of the constriction between the Bollinger bands, which is a positive sign regarding the upcoming trends. If we talk about the upper Bollinger band, its value is $0.389, whereas the lower Bollinger band shows $0.307 of value. The Relative Strength Index (RSI) score is at 47.92 now after the recent upturn.
Stellar price analysis: Bullish rally elevates coin value up to $0.342 peak
The four hours Stellar price analysis confirms a strong bullish trend as the price has undergone an extraordinary improvement in the last few hours. The overall recovery has been phenomenal as the price has surpassed the $0.342 hurdle in the last four hours. It can be highly expected that the price will soon cross the $0.346 resistance in the next few hours. The moving average value in the four hours price chart is standing at $0.333.
The volatility is increasing, which is alarming as more downtrends might come ahead. The upper Bollinger band value has thus changed to $0.346, whereas the lower Bollinger band value has now shifted to $0.306. The RSI score jumped high to 61.58 as the bulls have been leading the market for a while.
A strong rise in selling activity has been observed over the span of the past few months. Hence the technical indicators chart supports the bears. There is a selling indication with 11 indicators on the selling mark, ten indicators on the neutral, and five on the buying mark.
The Moving Averages Indicator is also dictating loss for the cryptocurrency by giving a bearish signal. There are ten indicators on the selling position, four on the buying, and only one in the neutral position. The oscillators show a neutral trend for the day as nine oscillators are on the neutral level, while one oscillator each is on the selling and buying levels.
Stellar price analysis conclusion
The hourly and daily price predictions for XLM/USD are going in the bullish direction for the day because of the sudden recovery. The uptrend is at its peak as the price has reached $0.342 height in the last 24-hours. Further upside is to follow in the next few days if the buyers put in efforts to achieve their next target.