Dogecoin Creator Addresses "Harassing" and "Insulting" Shiba Inu Community
Dogecoin and Shiba Inu rivalry continues, with the creator of the former addressing toxicity and scammers inside the Shiba Inu community
Dogecoin founder and current project advisor has addressed harassment and insults incoming from the Shiba Inu community after the developer criticized the large number of scam accounts existing inside the community.
Previously, the Dogecoin developer posted a tweet that mentioned Jack Dorsey and contained a phone screen capture of a comment thread, including hundreds of links related to scammy "Shiba" projects that have nothing to do with the real SHIB currency.
hey @jack can we do something about this it's kind of a nightmare pic.twitter.com/GN2NKcWGUt— Shibetoshi Nakamoto (@BillyM2k) November 19, 2021
After posting the tweet, members of the Shiba Inu community reacted to Billy Markus by insulting him in the comments for showing the "Shiba Army" in a bad light, which led to a small thread of Markus describing his thoughts and feelings toward the SHIB token and the community around it.
"Shibetoshi Nakamoto" stated that he does not care which cryptocurrency a person buys or sells because it means nothing to him. The only thing the Dogecoin creator cares about is people's attitude toward him.
It's not rocket science. Don't be an [nasty piece of work], and I won't care. Be an [unpleasant person], I won't like you or your community.
Then later he added that the same attitude goes for the Dogecoin community or any coin or token community that decides to harass influencers calling out blatant scams and toxicity inside crypto society.
Billy has also reminded the crypto community that he has no responsibility for Dogecoin anymore since he is not an active part of the development team. But at the same time, the founder cares about the community and hopes that it can be "mildly okay."
Ethereum and Dogecoin Primed for Breakouts As Crypto Markets Gear Up for Bullish December, According to Analyst Justin Bennett
Crypto analyst Justin Bennett says that December could bring rallies to the digital asset markets, with Ethereum (ETH) and Dogecoin (DOGE) potentially at the forefront.
The analyst tells his 91,000 Twitter followers that the dollar index (DXY), which compares the USD to a basket of other fiat currencies, is flashing a bullish signal for the crypto markets.
A weaker DXY often signals higher prices for many assets. Bennett notes that DXY may have just had a failed breakout, and could now be facing downward momentum.
"DXY looks good for a crypto rally heading into December.
Friday's close back inside this channel indicates weakness. Now for a close below 95.80.
Let's see."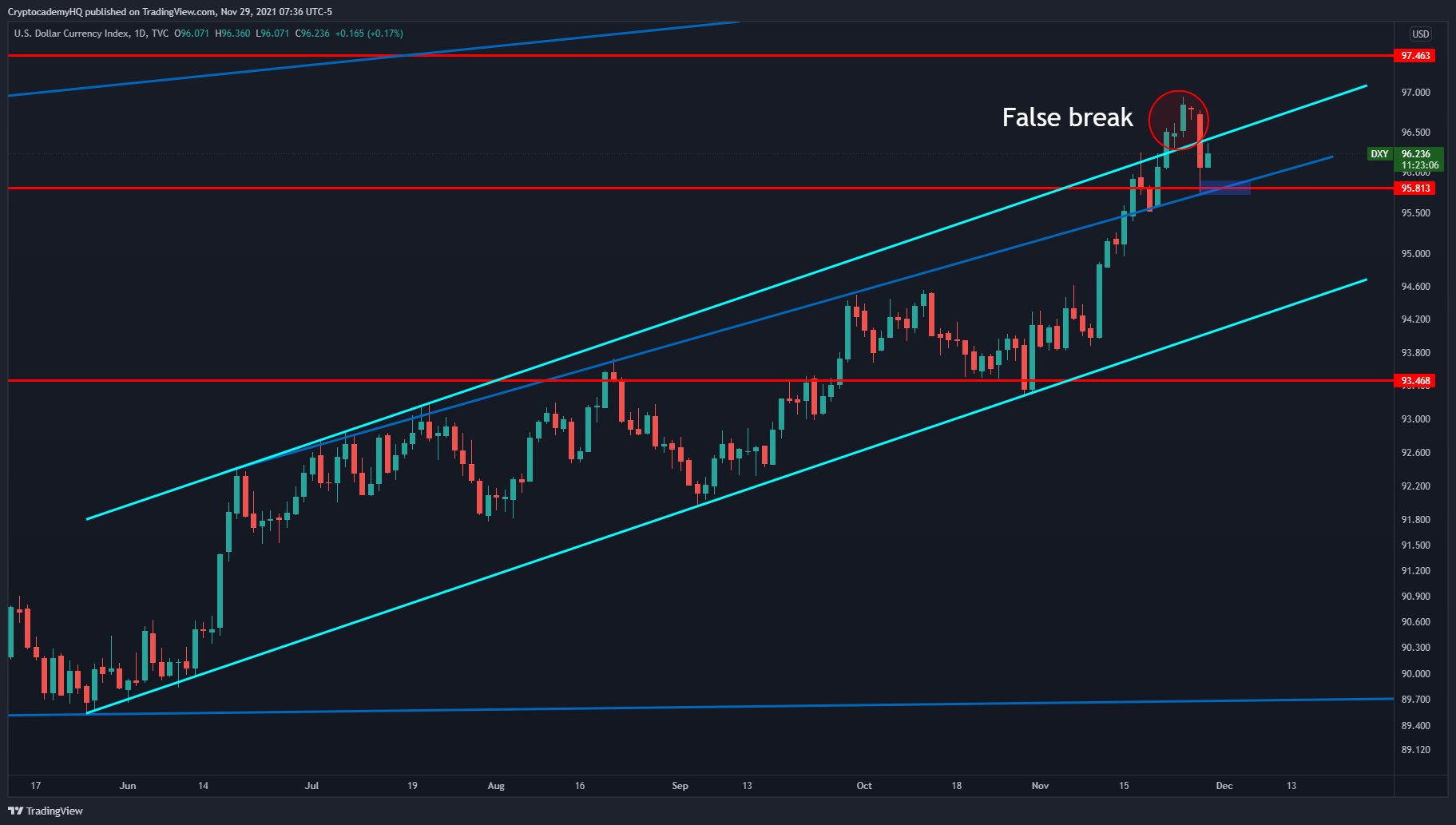 Bennett also has his eye on the chart for the total market cap of crypto (TOTAL). According to him, TOTAL is nearing the end of a large bullish descending wedge. He also notes a divergence between the rising relative strength index (RSI) and the downward price movement. A rising RSI during a downtrend is often interpreted as a hint of a bullish reversal.
"TOTAL falling wedge and bullish divergence developing on the intraday charts.
Something to keep an eye on."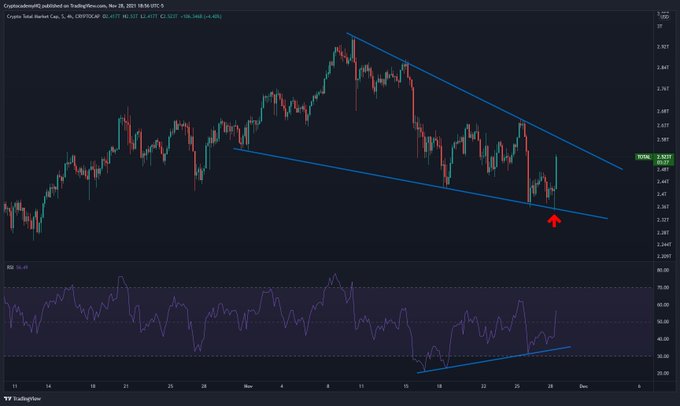 Looking at Ethereum, the analyst says that next month looks good for the world's second-largest crypto. Bennett says ETH is "poised to do well in December," and could already be jostling for a breakout, as long as it sees more volume.
"ETH approaching a breakout level.
Just add volume."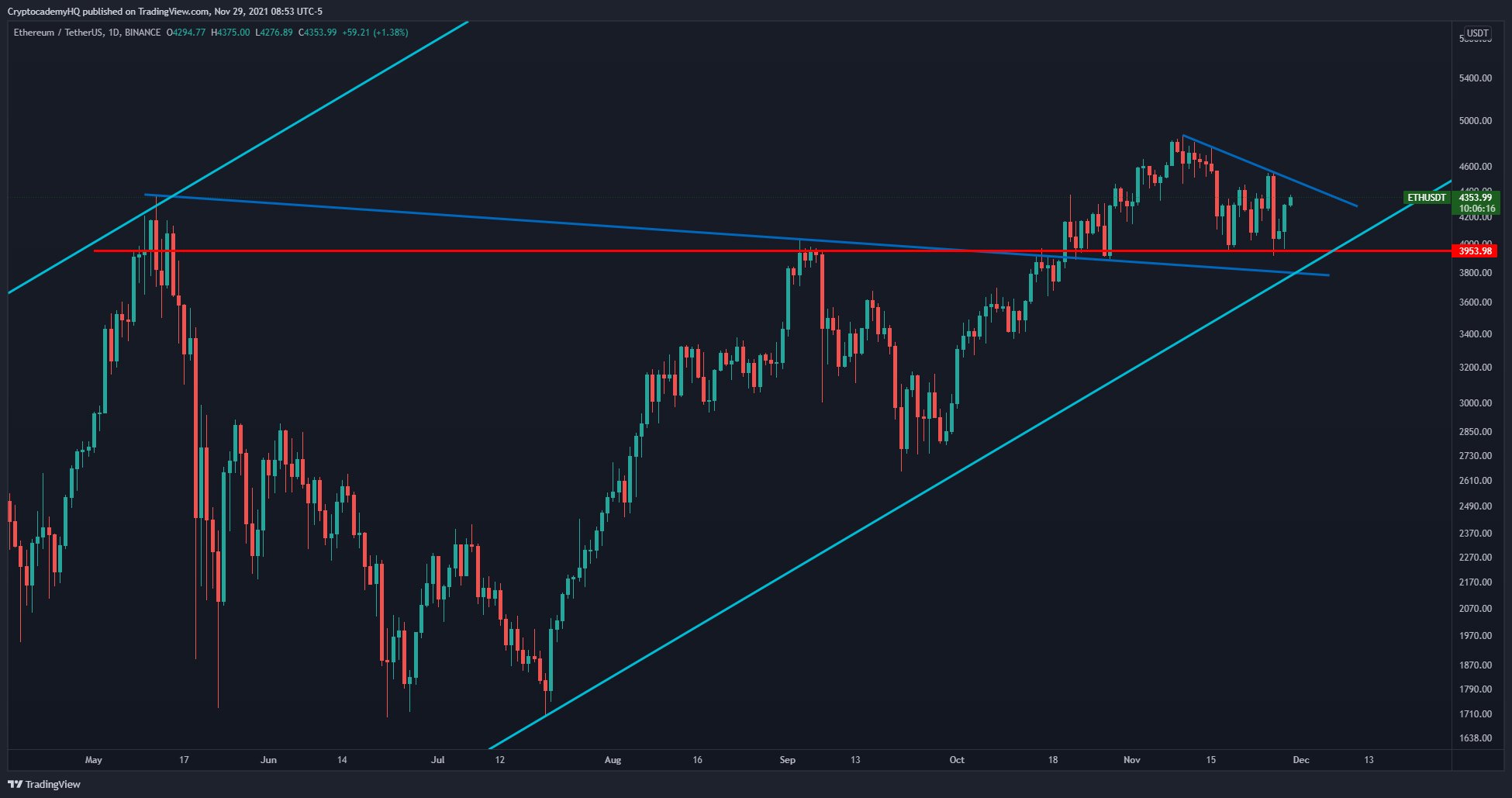 Also joining the rallies, according to Bennett, is leading memecoin Dogecoin (DOGE). He says DOGE is in the middle of a breakout, with its first key resistance at $0.25, and a final resistance level at all-time highs above $0.75.
"DOGE is breaking out."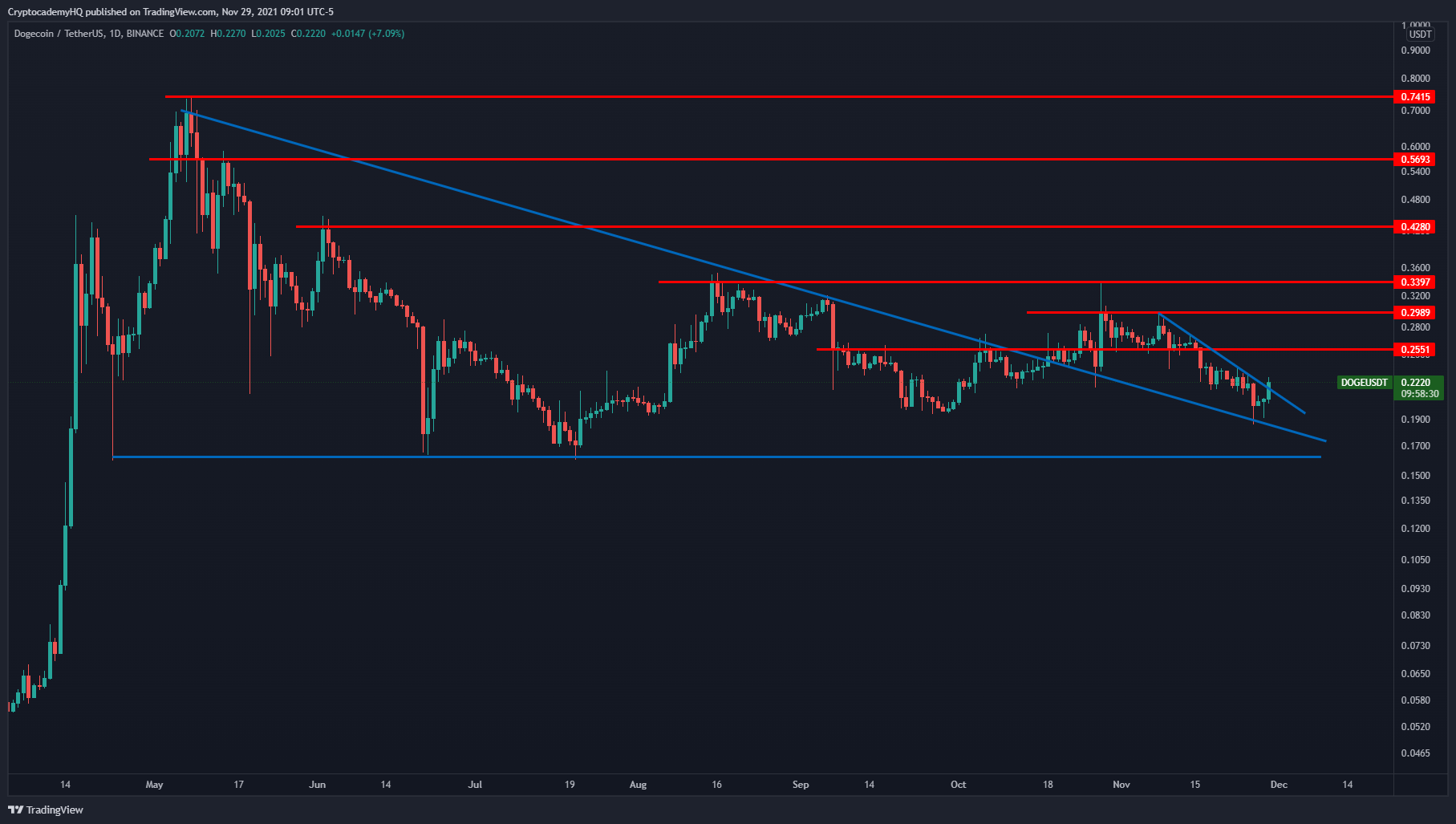 Binance Exchange Resumes Dogecoin (DOGE) Deposit and Withdrawal
Dogecoin deposit and withdrawals and now opened on Binance exchange.
All the deposits and withdrawal crises have been resolved on Binance.
Binance team just announced that they have now resumed all Dogecoin deposits and withdrawals services on their exchange. According to them, they have resolved all the disheartening network problems that occurred during their DOGE wallet upgrade with Dogecoin Core maintainers. This means that DOGE holders can now experience a new level of Dogecoin-related services from today.
After the quarrel between musk and cz, Binance announced today that all the problems have been resolved, and DOGE has resumed deposits and withdrawals. 1634 users have received duplicate transactions. https://t.co/kF73YT75Mi— Wu Blockchain (@WuBlockchain) November 29, 2021
Citing from the report, as soon as Binance exchange and Dogecoin Core maintainers resolved the problem, more than 1634 users received a duplicate DOGE transaction in their wallets.
In a separate announcement, the Binance team explained that the issue wasn't from their side and moreover, they never intended for such an unforeseen issue to occur. Additionally, the team even gave quick scenarios on some factors that could lead to this kind of issue.
Your platform had listed DOGE all the way back in 2019, at v1.14.0 2) had transactions stuck in the wallet 3) had upgraded the wallet to v1.14.2 4) and then updated to v1.14.5 — you can have an issue.
The announcement further assured users that Binance and the Dogecoin Core team will work together to diagnose, solve, and prevent similar issues from occurring in the future. Furthermore, this Dogecoin withdrawal issue caused a slight clash between Elon Musk and Binance CZ.
Dogecoin price analysis: DOGE rejected at $0.207. What's next?
The Dogecoin price analysis is bearish.
Resistance is found at $0.209.
Support is present at $0.203.
The Dogecoin price analysis is bearish today. After the 26th November flash crash and hitting November's low, DOGE recovered slowly for two days and again faced rejection at $0.207 today, which is already a quite lower price level for DOGE/USD. Overall, DOGE is on the decline from 29th October and has not been able to break out of the bearish cycle.
The broader cryptocurrency market has been bullish for the last 24 hours, along with Bitcoin and many altcoin's turning green reporting handsome profits. However, many coins are observing a reversal today, and even Bitcoin, after swinging high, has reverted back to some degree which may also turn negative in the coming hours.
DOGE/USD 1-day price chart: DOGE needs to consolidate to stop further downside
The 1-day Dogecoin price analysis shows the coin has covered a downwards range today again after recovering a little for the last two days, but the recovery was not sufficient enough to change the trend, and the coin continued downside today again. Doge has not been able to enter consolidation as the market sentiment continues to be negative. DOGE/USD is trading hands at $0.205 at the time of writing.
However, due to the positive price function for the last two days, the coin reports a 2.89 percent increase in value over the last 24 hours, the only reason being the last spike in price just four hours ago. The real picture is that the coin has lost 7.86 percent over the last week. The trading volume has also turned down by a little more than four percent.
The volatility is high for DOGE, with the Bollinger bands covering more area, the upper band is present at the $0.273 mark, and the lower band is at the $0.191 mark representing a support zone for DOGE. The mean average of the indicator at $0.232 represents the resistance zone for DOGE.
The moving average (MA) continues to trade above the price level at the $0.214 level complementing the bearish trend. The relative strength index (RSI) is also at a lower level of index 35, trading on a downwards slope indicating more selling activity in a low momentum market.
Dogecoin price analysis: Recent developments and further technical indications
The 4-hour Dogecoin price analysis shows a countable decrease in price as well. The overall trend on the 4-hour chart is also downwards, with a clear pattern of smaller steps upside followed by steep plunges on the downside; however, a high spike was observed during the last four hours of yesterday's session, which helped in marking a green candlestick on the 1-day chart as well, indicated by a longer second last green candlestick on the 4-hour chart.
The MA here is below the price level at the $0.202 mark, and the RSI is also at a better score of 45 due to the price spike observed recently but still in the lower half of the neutral zone and again trading on a downwards slope.
Dogecoin price analysis: Conclusion
The Dogecoin price analysis concludes the DOGE has followed Bitcoin's pattern pretty basically. If Bitcoin tanks which is already on a decline since 9th November, then all crypto follows. DOGE has spiked high whenever Bitcoin breakouts to ATH, as is obvious from May, June, and then from October bull run of DOGE, so if Bitcoin continues downside towards $48k range, then we see DOGE test $0.170 range. For intraday trading, the coin is expected to continue downside for the next 20 hours.