Solana Price Analysis: SOL spikes higher after a retest of $190 support
Solana price analysis is bullish today.
SOL/USD retested $190 overnight.
Closest resistance at $210.
Solana price analysis is bullish today as we expect further recovery after the $190 support prevented further downside overnight. Likely SOL/USD will test the $10 resistance next.
The cryptocurrency market saw bearish momentum return over the last 24 hours, with Bitcoin down by 3.51 percent. Ethereum lost 0.82 percent, while Solana (SOL) declined by 2.02 percent.
Solana price movement in the last 24 hours: Solana retests $190, spikes above previous high
SOL/USD traded in a range of $187.67 – $211.16, indicating substantial volatility over the last 24 hours. Trading volume has increased by 61.53 percent, totaling $4.4 billion, while the total market capitalization trades around $62.3 billion, ranking the coin in 3rd place overall.
SOL/USD 4-hour chart: SOL to test $210 resistance next?
On the 4-hour chart, we can see the Solana price action pushing higher this morning, likely leading to a test of $210 resistance.
Solana price action has seen heavy selling return over the past weeks. After a strong rally at the beginning of November, a new all-time high was set at $260.
From there, SOL/USD saw steady retracement for a week until the $220 mark. After a slight upsurge on the 13th of November, the selloff continued to the $210 mark. Support was initially preventing further downside, leading to a slight consolidation formed.
However, a strong break lower followed Yesterday, leading the Solana price to the $190 mark. A slight reaction higher followed, with the swing low retested again overnight. Since further downside could not be reached, SOL/USD should see a reaction higher, with the closest support at $210.
Solana Price Analysis: Conclusion
Solana price analysis is bullish today as we expect further upside after the $190 support stopped further selling. Therefore, SOL/USD should test the closest resistance at $210 next.
While waiting for Solana to move further, see our guides on the Best crypto exchange, how to mine Solana Classic, and Cardano vs Solana.
Solana bulls return to the market wanting to push SOL price to new all-time highs
Solana price sees a bullish reversal over the weekend after a risk-off Friday.
SOL price sees bulls recovering ground against bears and reclaiming the 55-day SMA.
The altcoin only needs to break one hurdle that is preventing new all-time highs.
On Friday, Solana (SOL) price saw a 16% swing to the downside as markets got rattled by concerns over a new Covid variant. Investors, however, used the weekend to reassess the situation and quickly bought into SOL price action on Monday as bulls pushed price up to close above the monthly pivot at $185. Intraday, the uptick has caused a recapture of the 55-day Simple Moving Average (SMA) at $200, which is  acting as a launch pad to new all-time highs at $268.
Solana price could hold 30% in renewed uptrend
Solana price was under siege Friday with global markets on the back foot due to worries about the new Covid variant. But investors were quick to brush those concerns aside and began buying eagerly into the dip during the weekend. The Relative Strength Index (RSI) is back up to pre-Friday levels and is seeing buy-side demand at healthy and more significant volumes. 
SOL price reclaimed the 55-day SMA at $200 and is using it as a launch platform to attack the $219.75  level. This historical pivot shows excellent signs of both support and resistance in the past, making it a force to be reckoned with. Once SOL bulls can break above, expect a massive influx of buyers who will want to jump on the 'bandwagon' as prices rally to new-all-time highs, now looking inevitable at $267.52.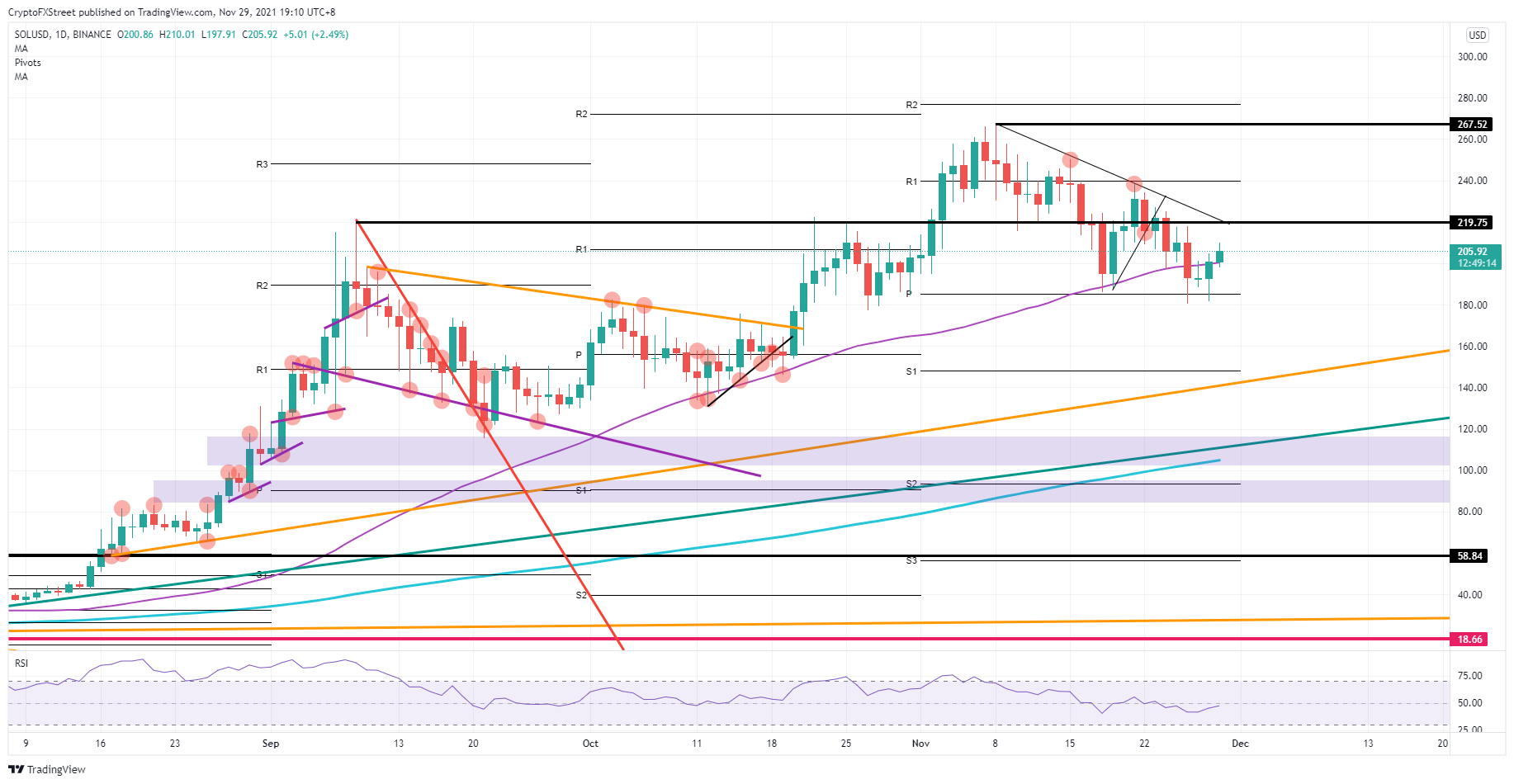 SOL/USD daily chart
With market sentiment shifting back to risk-on, this will add to the tailwinds that could lift SOL price back up towards those new highs by the end of this week, Bullish momentum could propel traders into a buying frenzy. In the event of buyers not being able to break above $219.75, they might get squeezed out of their positions with bears pushing price back towards the monthly pivot at $185.12. That would trigger a massive sell-off with SOL price nosediving  towards $147, where  the monthly S1 support level is situated and the orange ascending trend line, which is likely to act as a buffer.
Solana Price Creates Bear Trap Before SOL Ascends Toward $325
Solana price plans slowly recover after a bear trap.
$209 will be a key level to watch as SOL must rise above 54%.
Solana's (SOL) price has been firmly trending upwards since mid-September, presenting a bullish outlook. However, the Ethereum killer recently created a bear trap as it sliced below the governing technical pattern's lower boundary, confusing predictions. In fact, once SOL achieves to reclaim $209, the token could skyrocket 54%.
Solana price has printed an ascending parallel channel on the daily chart, hinting at a positive outlook. On November 26, SOL sliced below the current chart pattern trend line, indicating the uptrend is at risk. However, technical indicators recommend that this recent low only formed a bear trap.
Meanwhile, Solana's price fell to $182, the Relative Strength Index (RSI) declined to reach a new low – indicating a bullish change. This trading signal indicates that the bears are losing control over the market. At the same time, the bulls are ready to take over, marking the end of a temporary downtrend.
Therefore, the current chart pattern suggests that the Solana price could tag the upper boundary and 127.2% Fibonacci retracement level as its next bullish target at $325, marking a 54% climb.
To execute the bull recovery, Solana price should reclaim the lower boundary of the parallel channel at the 78.6% Fibonacci retracement level at $209, coinciding with the 21-day Simple Moving Average (SMA). At the same time, Solana's price will encounter additional barriers at the 50-day SMA at $225, compared to the resistance line given by the Momentum Reversal Indicator (MRI).
The final hurdle shows to be at $259, the altcoin's all-time high, which sits near the middle boundary of the governing technical pattern before SOL aims for the optimistic target at $325.
Analyzing how Solana can possibly give ETH and BTC a run for their money
Ethereum (ETH) is second only to Bitcoin (BTC) by market cap, and its smart chain technology was a game-changer. Now, with the fast pace in the industry and some of the ETH-related complications such as scalability, fees etc, new contenders are challenging ETH for its throne. The interviewee here even considers one of them to be the next Bitcoin.
Hunt for the next top altcoin
Sam Bankman-Fried, the founder of the crypto exchange FTX added support to two cryptocurrencies when competing against the largest token. The billionaire while speaking at the Kitco News, expressed an optimistic narrative about Solana (SOL). He believes that Solana had the potential to scale to Bitcoin's (BTC) mass adoption level. Further, he discussed Avalanche's (AVAX) potential as well.
Will #Solana overtake #Ethereum in market cap? Here's what @SBF_FTX of @FTX_Official thinks

*FULL #interview: https://t.co/3AXuGX8bNc👈 @Solana @davidlin_TV #crypto #FTX #Bitcoin #kitconews #cryptocurrency #SolanaNFT

Subscribe to @KitcoNewsNow: https://t.co/moxBsBIusP— Kitco NEWS (@KitcoNewsNOW) November 25, 2021
In order to compete with ETH, a token needs different aspects. One needs to look at what it would take to have 1 billion people use cryptocurrency and blockchain infrastructure. Meanwhile, people end up using blockchain infrastructure at the same level they use social media or finance today. Needless to say, it'll create millions of transactions per second. The young entrepreneur sees SOL's and AVAX's blockchains scaling to that level.
He added:
I think Solana has a shot at doing so, which is really exciting. I think that there are other tokens out there as well that are aiming to scale a bit, and Avalanche is one of them."
Let's segregate this a bit. Talking first about the #5th largest token. When asked if he thought Solana could exceed Ethereum's market cap, Bankman-Fried leaves it up in the air, saying, "It could happen. It could never happen." But, the sheer potential provides a wealth of opportunities.
"[Solana] has the potential to host DeFi (decentralized finance) applications for hundreds of millions to billions of people on top of it with a giant composable ecosystem. Again, that's not saying it necessarily will happen, but it could happen, and I think that's really exciting."
Not only ETH, but Solana also challenged the largest crypto coin, BTC as well. Just recently, SOL's returns outperformed that of BTC's.
Another project he spoke about in Avalance. The #11th ranked token has recorded some impressive statistics to back its stance. Consider the tweet below:
Avalanche is doing 55% of the No. of Tx as Ethereum after just 14 months🤯, yet $AVAX is less than 5% Market Cap of $ETH 🧐

Avalanche C-Chain Daily Tx: 707,134
Ethereum Daily Tx: 1,297,534

Avalanche: 14 Months
Ethereum: 6 Years, 6 Months$AVAX $24.2 Billion$ETH $490.5 Billion pic.twitter.com/3UaL05MKPm— Seq 🔺 (@CryptoSeq) November 27, 2021
The flagship token was up around 1% in 24 hours, was trading above the $108 mark. Earlier, it pushed DOGE to mark its entry in the top 10 cryptocurrency list. Quite remarkable indeed.
Overall crypto outlook
The said interview also touched upon the contrast in bull and bear runs. It is a fact that there will always be more crashes as well as more bull runs. And in the next few years, he expects to see "see substantial institutional adoption of cryptocurrencies."
Nevertheless, projects with loyal followers and important use-cases remain undeterred from the correction.
"Projects that have real adoption, or potential for real adoption are the ones that loyalists will be backing, even during bear markets."
Quite a contrast for a certain "hype-furled" meme tokens. For instance, speculations around SQUID tokens. It was affiliated with the famous Netflix show 'Squid Games'. Allegedly, people lost their life's savings after the ecosystem pulled the rug from underneath them.
Bankman-Fried cautioned the users to invest as per their risk appetite and not get carried away with making gains. One needs to check an ecosystem's token's supply distribution. One of the reasons why this meme-coin failed.