Solana price to aim for new all-time high at $325 if bulls enter at critical support
Solana price is drawing near a critical foothold that could decide the token's fate in the near future.
The Ethereum-killer must hold above $189 for hopes of a recovery and to reach a new all-time high.
If SOL drops below the crucial support level, a 34% plunge could be on the radar.
Solana price is approaching a critical support level that could determine the near-term outlook for SOL. The Ethereum-killer continues to present a bullish outlook with its next optimistic target at $325, but if the crucial foothold fails to hold, the token could be at risk of a 34% decline.
Solana price prepares for steady recovery
Solana price has formed an ascending parallel channel on the 12-hour chart as SOL continues to print higher highs and higher lows. After dropping 25% from its all-time high, the Ethereum-killer is now drawing near a decisive support level at the lower boundary of the prevailing chart pattern at $189.
If Solana price manages to hold above this level, a recovery could be on the radar for the token. The governing technical pattern suggests that SOL could aim for the upper boundary of the chart pattern at $325, coinciding with the 127.2% Fibonacci retracement level. 
However, before SOL bulls make their way up to the bullish target, a few obstacles may emerge. Solana price will be confronted with the first hurdle at the 100 twelve-hour Simple Moving Average (SMA) at $193, then at the 78.6% Fibonacci retracement level.
Further headwinds may appear at the 50 twelve-hour SMA at $222, then at the 21 twelve-hour SMA at $228 before Solana price confronts the middle boundary of the parallel channel at $237. An increase in sell orders could see SOL seek support nearby before the token meets the following obstacle at the MRI's resistance line at $252.
The last hurdle for Solana price to overcome before approaching the bullish target is at its all-time high at $259.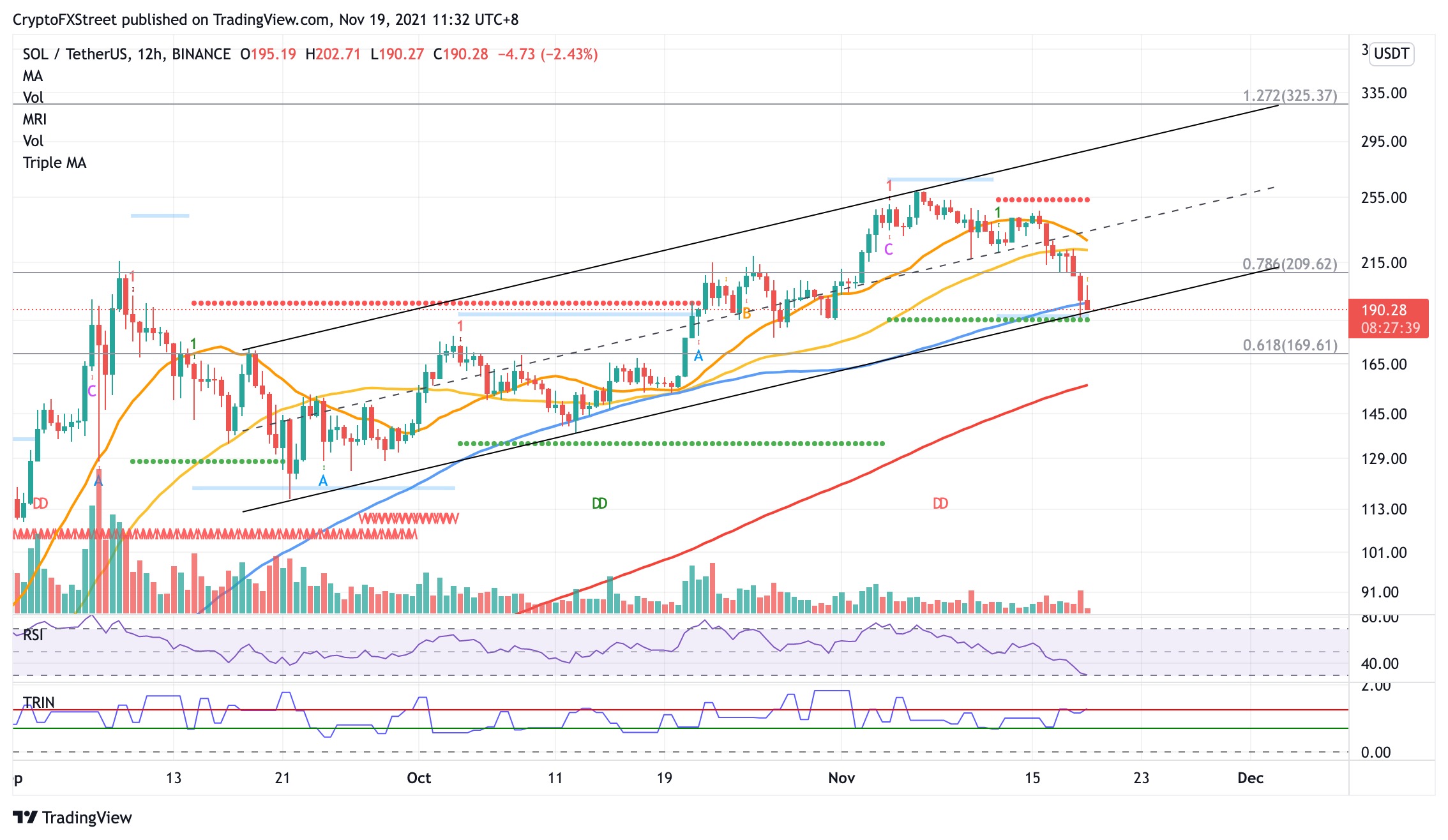 SOL/USDT 12-hour chart
If the bears manage to take control of the market, Solana price may drop further toward the support line given by the Momentum Reversal Indicator (MRI), suggesting that an additional foothold will emerge at $186 if SOL falls below the lower boundary of the parallel channel.
If Solana price plunges below $189- $186, the bullish outlook would be voided and SOL investors could expect further losses and even put a 34% decline on the radar given by the bearish target of the prevailing chart pattern at $140.
$2.6 Billion Bug in Solana Program Library Disclosed: Details
Researchers from Neodyme, a boutique team focused on security audits, noticed a critical vulnerability in Solana's codebase
In their latest blog post, crypto security researchers from Neodyme shared the design of an attack that may be profitable for "expensive" tokens integrated into Solana (SOL) ecosystem.
"One Lambo per hour"
As per the announcement shared in Neodyme's social network and blog, its members noticed a bug in the token-lending contract of the Solana Program Library. As such, it affected numerous Solana-based DeFi protocols.
We recently discovered a critical bug in the token-lending contract of the solana-program-library (SPL). This blog post details our journey from discovery, through exploitation and coordinated disclosure, and finally the fix.— Neodyme (@Neodyme) December 3, 2021
Aggregated total value locked (TVL) at risk was over $2,600,000,000. The design of the hypothetical attack was quite simple: while depositing n fractional tokens, a user is able to withdraw n+1 fractional tokens.
With Solana's native token, SOL, it will not be effective economically, as 1 Lamport (the smallest fraction of SOL, like Satoshi for Bitcoin, Wei for Ether and Drop for XRP) is only worth about $0.000000220.
However, for Ether and Bitcoin, this scenario can be very profitable. With some technical upgrades, the attack can be executed about 300 times per second. In this case, losses can be dramatic:
We can get this transaction included about 300 times per second, stealing $7500 per second or about $27 million an hour (that is one Lamborghini Huracan every minute).
Bug fixed
In automated mode, this attack becomes profitable even for FTT and RAY tokens.
On Dec. 2-4, Neodyme's representatives contacted a number of decentralized finance protocols (DeFis) on Solana, e.g., Larix, Solend, Tulip, Accumen, Soda and so on.
All teams fixed the bugs in their architecture. Yesterday, software engineer Jordan Audet-Sexton shared in GitHub that the issue is fixed in Solana's main codebase as well.
Here's What's Next for Ethereum Rivals Solana and Avalanche, According to Analyst Nicholas Merten
Prominent crypto analyst Nicholas Merten is taking a look at two layer-1 digital assets stacked up against the Ethereum (ETH) trading pair.
In a new strategy session, the host of DataDash tells his 486,000 YouTube subscribers where he thinks smart contract platforms Avalanche (AVAX) and Solana (SOL) are headed.
According to Merten, it is better to compare both coins to ETH rather than the US dollar or Bitcoin (BTC) as Ethereum's greater success in recent years makes it a better barometer than Bitcoin.
"If you're really looking to see if your play is outpacing others in the market, you want to take a look against Ethereum. It is the second-largest cryptocurrency in this space and it has been outpacing Bitcoin around 380% to 400% in this cycle alone since 2019.
So we want to be able to find plays that are outpacing Ethereum because Ethereum is a really solid bet. It's a really good medium-risk, medium-reward play."
Looking at Avalanche, Merten says that a local top might be in for the AVAX against ETH after the altcoin's massive rally in the last few months.
"Avalanche has done phenomenally well against Ethereum. If you take a look back here since August, it's up 422% against Ethereum. Great rally, even after the [recent] pullback here…
When I look at this chart I definitely like seeing an asset that performs well against Ethereum, but each time it's come up to this range [0.034 ETH or $139.21] historically, it's been dragged down…
I think that again we might see some kind of repetition, or at least a revisit down to the previous support range [0.014 ETH or $57.32], which means that's it probably going to go down a little over 35% to 40% against Ethereum. A pretty decent decline.
At time of writing, AVAX is down 1% on the day to $107.20.
As for Solana's price action against Ethereum, Merten notes that the pair is flashing a bearish pattern after printing massive rallies in the last 18 months.
"But to be completely frank as a trader, Solana's had many rallies in the past. It's had one back here [from July to August of 2020], 336% rally in price. Then back here [December of 2020], if you want to take from the lows, in this case, 1,000% move, massive multiples in price.
We take a look here as well, from the recent rally here [August 2021] into September, very similar to history, a little over 350% to 400%. Not a bad rally.
But to be completely frank, we've been stagnant since September generally. The trend is starting to fade here. We don't have that same momentum, and it's seeing if it can hold out against Ethereum.
If you break below this range here [0.046 ETH or $188], I think it's very favorable that Ethereum is going to start to outpace Solana as well as other major layer-1 plays."
Solana is currently down nearly 10% and trading at $203.79.
Solana Price Analysis: SOL spikes to $170, swift retracement to follow?
Solana price analysis is bullish today.
Rejection was seen at $170.
SOL/USD set to retrace previous loss next.
Solana price analysis is bullish today as further downside was rejected at $170 after a strong decline over the last 24 hours. Therefore, we can assume SOL/USD has set a new low, and recovery will be seen over the next 24 hours.
Overall, the cryptocurrency market has seen a strong decline over the last 24 hours. The market leaders, Bitcoin and Ethereum, have seen a strong decline of 16.94 and 14.65 percent, while Solana (SOL) has lost around 19 percent.
Solana price movement in the last 24 hours: Solana drops further, finds support at $170
SOL/USD traded in a range of $181.46 – $239.12, indicating extreme volatility over the last 24 hours. Trading volume has increased by 75 percent, totaling $6.48 billion, while the total market cap trades around $58.9 billion, ranking the coin in 5th place overall.
SOL/USD 4-hour chart: SOL looks to recover?
On the 4-hour chart, we can see bullish momentum returning for the Solana price action today as bears are finally exhausted.
Solana price saw strong bullish momentum push the price higher for most of the week after support was found around $185 last weekend. However, yesterday, SOL/USD peaked at $244, leading to a drop lower during the second half of the day.
Overnight, bearish momentum continued pushing lower, with the $185 previous low broken. Further downside followed in the morning as bears briefly touched the $170 mark.
However, from there, a quick reaction higher was seen this morning and is currently still in play. Likely we will see the Solana price action continue higher later in the day, as bulls are eager to regain some of the loss seen earlier.
Solana Price Analysis: Conclusion
Solana price analysis is bullish today as we saw quick rejection from the $170 mark this morning. Therefore, a new swing low has been set, likely leading to recovery over the next 24 hours.
While waiting for Solana to move further, see our articles on the Best Crypto Wallet 2021, Decred Wallet, and Ripple vs SEC.