The Bitcoin Whale Who Seems to Ace the Market Top and Bottom Has Accumulated 4K BTC

The cryptocurrency market is down nearly 20% from its top in October as the overall market cap slumped from $3 trillion to $2.53 trillion. Barring a few tokens, especially metaverse tokens and gaming tokens defied market trends. However, top cryptocurrencies be it Bitcoin (BTC) or Ether (ETH) all were trading in red.
The ongoing market correction has also instilled fear among Bitcoininvestors who were hopeful of a bullish final quarter after the May-June market crash. The fear and greed index which was at "Extreme Greed" level at the start of the month has sharply fallen in the "Fear" catogery.
The current market downturn is being attributed to the recent approval of the controversial Infrastucture bill and another wave of crypto crackdown in China. Amid growing fear in the crypto market, one Bitcoin whale has managed to attract a lot attraction over the past couple of weeks. The whale in question is believed to be have aced crypto market tops and bottoms in the past with their buying and selling pattern. The same BTC whale has accumulated over 4,000 BTC over the past week, which is a highly bullish sign.
Feeling bearish as we are on support before weekly close?

The single biggest non-exchange Bitcoin wallet added over 4k BTC during this dip.

And he has a good track record of nailing local tops & bottoms.

Whoever that is, they know what are they doing.

Do you? pic.twitter.com/Ug5DT5b10m— Bloodgood (@bloodgoodBTC) November 19, 2021
Bitcoin Whale in Possesion of Biggest Non-Exchange BTC Wallet
The Bitcoin whale is in possession of the biggest non-exchange Bitcoin wallet and has been on a buying spree during the current market correction. Tracking whale activity has been one of the biggest market tend indicator, and looking at the growing accumulation along with their past record many market pundits belive traders should be following on the same footsteps instead of panicking.
Bitcoin is currently trading just above $57K with a 3% loss over the past 24-hours and over 10% loss in the past week. The market volatility has come back to haunt the crypto market again, however, people need to realise that the same volatility often helped them to make 10X on their investment in just couple of months.
Whales Drop SHIB Holdings, Moving Their Funds into USDT
Whales are dropping Shib and other tokens to "tether out"
The correction on the cryptocurrency market concerns all types of investors, including whale-tier traders and holders that are also losing money when the market drops by another 5-10%. In cases like this, investors redistribute their funds and "tether out," leaving their tokens behind.
According to the WhaleStat service, Shiba Inu has now reached 18% of the total Erc-20 holdings of the 1,000 biggest Ethereum wallets on the network. Previously, more than 22% of all holdings on large wallets were Shiba Inu tokens. For now, that number has declined by approximately 4% and totaled 18%.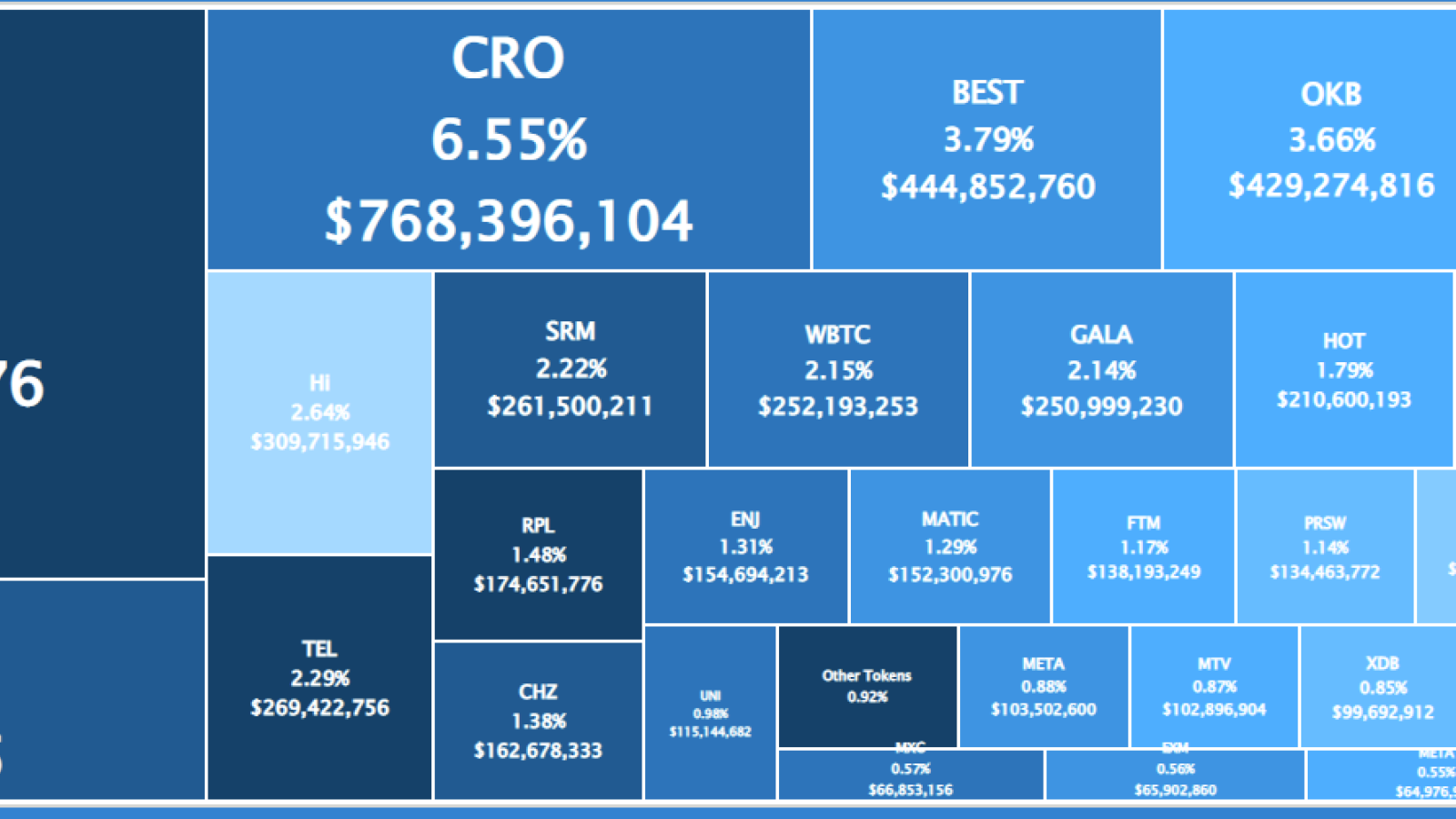 Whales have also gone through a trading direction shift and have now focused on trading different altcoins like Chainlink or BitPanda token. But at the same time, more than 7% of whales' funds went into "fiat" in order to hedge from the continuous correction happening on the cryptocurrency market.
The most popular token among whales is currently the Elon meme-currency, which received the most buying power in the last 24 hours. The biggest position in the USD value still remains the Shiba Inu token that has for now lost around 50% of its value from the ATH.
The closest non-fiat SHIB competitor is the CRO token, with 6.5% dominance among the largest Ethereum whales. But at the same time, the most-purchased token after USDT and Ethereum among whales was the GALA token, with $47,000 of the average purchase amount.
At press time, Shiba Inu is being traded at $0.00004497 while gaining 2% in the last 24 hours. Previously, the doge-based token lost 7.7% in the last two days after spiking for 22% on Nov. 19.
Whales might be key to XRP's intended breach of $1.5
A month ago, when XRP's price remained stagnant around the $1-mark, people from the space had started equating the crypto to a stablecoin. Post that episode, however, XRP registered a 42% spike on its chart over a 15-day period between 27 October and 10 November.
Micro-trends seldom remain consistent in the crypto-space. Keeping up with that tradition, XRP ended up dipping from its 2-month high level of $1.3, only to record a local low of $1.04 on 16 November.
XRP dancing to whales' tune
XRP whales, once deemed to be missing from action, have gradually started making their presence felt now. Just a day back, for instance, a particular whale transferred over 12.7 million XRP tokens worth around $14 million from the medium-tier CoinOne exchange to an unknown wallet.
At the time of this analysis, the tokens hadn't been further moved by the receiving wallet.
Well, XRP's price has always reacted to whale transfers and this time was no different. The past 28 hours have been quite phenomenal for XRP, with the altcoin appreciating by 10%.
At this point, some may argue that one transfer alone can't do much and the price pump is merely a passing cloud. Well, in that case, consider this – A whale transferred around $15 million worth of XRP tokens on 25 April this year.
In effect, XRP noted quite a long green candle on 26 April and ended up appreciating by over 36% that day. The uptrend on the charts further continued over the next few days. Thus, something similar can be expected this time around too.
Now, on the whole too, whale transactions have been on the rise since July. Also, a host of prominent spikes have been recorded on the chart of late.
Stars aligned in XRP's favor
Apart from the organic growth in the number of huge transactions, most of XRP's metrics pictured bullish signs at the time of writing. Coin age, for starters, has been inclining north for quite some time now. The increasing age is a sign that old coins have started becoming dormant and long-term investors are in accumulation mode.
Now, this sign is quite healthy for XRP's rally to sustain itself.
The intra-day MVRV ratio has also started hovering in the positive territory of late, making XRP a lucrative investment option at this point. If this metric manages to inch further in the coming days, new participants would automatically be drawn towards this coin.
Furthermore, the intensity of bullishness on the Price DAA Divergence chart has also intensified over the past week. The same underlined the sound state of the daily active addresses and network activity.
While whales might have aided XRP in defying its monotonous downtrend, the positive state of other metrics will help the altcoin continue on its uptrend. Thus, it is just a matter of time before XRP breaches the $1.5-benchmark and inches higher.
Whale Moves Over $1,057,000,000 in Ethereum – Here's Where the Crypto Is Headed
Large cryptocurrency transactions tracker Crypto Whale is revealing that an unknown digital wallet just transferred over a billion dollars in Ethereum (ETH).
A whale moved 229,766 ETH on November 3rd, when the second-largest token by market cap was trading above $4,604. The transfer was made for a fee of just 0.010 ETH, or $46.
🚨 🚨 🚨 🚨 🚨 🚨 🚨 🚨 🚨 🚨 229,766 #ETH (1,057,608,364 USD) transferred from unknown wallet to unknown wallethttps://t.co/4rAcCeUXCF— Whale Alert (@whale_alert) November 3, 2021
According to block explorer Etherscan, the funds were sent to an unknown wallet which also received 0.020 ETH (about $92) from a Coinbase wallet a few minutes after the massive transaction.
The destination wallet now holds 229,766.49 ETH currently worth $1.03 billion, making it the 34th-richest Ethereum wallet in the world.
Crypto Whale detected several other large Ethereum transactions this week, including the transfers of 20,000 ETH, worth $90.54 million, from crypto trading platform Kraken, and 21,487 ETH, worth $99.41 million, from digital assets exchange Binance.
🚨 🚨 🚨 🚨 🚨 🚨 🚨 🚨 🚨 20,000 #ETH (90,542,373 USD) transferred from #Kraken to unknown wallethttps://t.co/OZZJGIFVaN— Whale Alert (@whale_alert) November 4, 2021
🚨 🚨 🚨 🚨 🚨 🚨 🚨 🚨 🚨 21,487 #ETH (99,415,117 USD) transferred from #Binance to unknown wallethttps://t.co/yHigNfcusj— Whale Alert (@whale_alert) November 3, 2021
🚨 🚨 🚨 🚨 🚨 🚨 🚨 🚨 🚨 🚨 46,195 #ETH (210,847,211 USD) transferred from unknown wallet to unknown wallethttps://t.co/Jz2xk7qDDS— Whale Alert (@whale_alert) November 4, 2021
🚨 🚨 🚨 🚨 🚨 🚨 🚨 🚨 🚨 🚨 27,500 #ETH (124,503,937 USD) transferred from unknown wallet to unknown wallethttps://t.co/MbomjiwtoN— Whale Alert (@whale_alert) November 3, 2021
🚨 🚨 🚨 🚨 🚨 🚨 🚨 🚨 🚨 🚨 26,805 #ETH (120,917,788 USD) transferred from unknown wallet to unknown wallethttps://t.co/FmXRqEr8bU— Whale Alert (@whale_alert) November 3, 2021
🚨 🚨 🚨 🚨 🚨 🚨 🚨 🚨 🚨 🚨 25,700 #ETH (115,936,455 USD) transferred from unknown wallet to unknown wallethttps://t.co/IFeNPp7Tfb— Whale Alert (@whale_alert) November 3, 2021
The massive transactions were made as Ethereum hit a new all-time high. ETH breached a record price above $4,600 on Wednesday, and at time of writing the token is trading at $4,481, data from CoinMarketCap shows.
Crypto analyst Michaël van de Poppe forecasted last month that Ethereum could surge to as high as $5,000, but warned that the coin could first see a price correction before rising.