An Anonymous New Whale is Holding 850 Billion SHIB Coins Worth $40 Million
Recently a wallet with 850 billion coins was discovered. According to whale stats, the SHIB coins are worth over $40.2 million. However, the coins have not been moved yet, and this is bringing a lot of concerns, especially to holders who were anticipating a sell-off.
Currently, crypto holders are taking profits after the huge bull run in the crypto market. Many don't want to wait for the fall to fall further. the SHIB holders are, however, adamant about selling their coins, awaiting another bull run.
The whale's wallet holds almost 20% of the overall supply of the meme coin. But it's still dormant with no transactional activity for some time now. If the meme can further its gains, the SHIB holders will be at the highest profitability level towards the end of the year.
Since June this year, whales' domination in SHIB has been undeniable, making the coin's listing on various exchanges like eToro, Coinbase, and Binance. It has, however, expected to receive new listings on Robinhood, which will catapult its price because of the flooding customer base.
SHIB Price Pattern And Technical Analysis
Shiba Inu trade volume is still dropping across all exchanges, indicating that not many are buying the meme. However, there could be another rally for the meme coin because its biggest fan is Elon Musk.
Recently Musk's tweet showed Vikings arriving at the moon before the U.S. Its relation to crypto might not be anything at all. However, after the enthusiasts connected the dots, the meme coin skyrocketed again over 18%.
The current dip in Shiba Inu is healthy and an opportunity for investors to buy as many meme tokens as possible waiting for the bull run. However, many analysts look forward to the coin removing another zero from its trade by the end of the year.
The technical analysis shows SHIB's price lingering a little bit past the 50 EMA. The price is very critical and might be falling to around $0.000055. If Shiba Inu gathers its strength, it might break the %0 EMA and head towards the new all-time high at $0.000090. However, the RSI indicator is still weak.
This indicates that SHIB investors are still on the loss, and a little patience is needed to give the meme time to regain its momentum. Even though the selling pressure is still high, it's still possible that Shiba Inu will recover quickly, unlike any other token.
Shiba Inu Price Prediction
For the meme coin to remain bullish, it needs to break above the $0.000055 level. Not all investors are in losses, with about 600,000 SHIB addresses making a profit on their investments.
Pending that the market is still in the consolidation mode, SHIB investors and the SHIBA army might push the prices higher creating a new all-time at 0.000091 by the end of 2021. the profitability might not be that much, but for the short-term period, it's good revenue.
Currently, the price of SHIB is 0.000051 at the time of writing. It ranks 11th below the dogecoin, with a market cap of $26 billion.
SHIB Price Triumphs Toward New Milestones! Will Shiba Inu Flip Dormant ADA and XRP?
Shiba Inu (SHIB) has achieved a new breakthrough by excelling beyond a 1 million user base although its price has been trading 50% below its ATH. The meme coin has managed to drag the attention of a larger user base amid raising FUDs over the new Covid strain and US inflation. However, an update of the breakthrough and generation of subsequent higher lows in the recent past stimulated community growth. 
SHIB Adoption Peaks!
Moreover, the SHIB token was recently listed on the Kraken exchange on high user demand, followed by which the token enjoyed significant gains. A surge in the excitement towards the asset has been prompting other popular exchanges to list the meme token. Interestingly, a popular Brazilian cryptocurrency exchange Mercado Bitcoin is all set to list SHIB on December 2nd, 2021. So, the meme coin now gets exposure to a larger user base. 
Owing to the recent developments, investors pile up their portfolios with a huge chunk of SHIB tokens. A reputed healthcare service provider Ask the Doctor has recently purchased approximately 31 billion SHIB worth $1.5 million USD. In addition, the institute would soon enable SHIB payments with their healthcare partners. 
SHIB to Challenge Cardano and Ripple?
SHIB price has seen exponential growth since the start of the quarter with record-high gains. However, prime coins under the top 10 such as Cardano and Ripple have been depreciating in their market cap with nil volatility. In the recent rally, SHIB's trading volume on the Binance exchange has surpassed Bitcoin's trading volume. Hence, it would be no surprise, if ADA and XRP fail to find any momentum in the short term, then the meme coin would easily outstrip them.
However, SHIB's price has managed to break $0.00003849 followed by its listing on the Kraken exchange. Along with fundamentals, the altcoin holds a bullish technical perspective to chug up toward new highs. RSI is at 45.65 favoring a bull run to commence soon, hence it would again breach the resistance around $0.00004258.
Collectively, traders are pleading SHIB to be listed on Robinhood. If speculations come into reality and altcoin manages to keep up the price momentum, then Shib would soon skyrocket to break old records. 
Shiba Inu price edges closer to another 50% upswing
Shiba Inu price has dropped 18% into a high probability reversal zone, hinting at a new leg-up.
Investors can expect SHIB to shatter intermediate resistance levels and tag the $0.0000625 resistance level.
A breakdown of the $0.0000362 support will invalidate the bullish thesis.
Shiba Inu price looks ready for a reversal as it enters a crucial support area that is likely to trigger a massive uptrend. This move has a high chance of occurrence as it allows sidelined buyers who missed the initial run-up to get in on the next leg-up.
Shiba Inu price prepares for liftoff
Shiba Inu price rose 50% in under two days as it triggered an upswing on November 28. This rally set up a swing high at $0.0000543 and has dropped 23% to where it currently trades – $0.0000422.
Interestingly, SHIB has entered the high probability reversal zone, extending from $0.0000400 to $0.0000431. This is an oversold area that is likely to trigger an inflow of buying pressure from investors that missed the initial spike in price.
Therefore, market participants can expect Shiba Inu price to reverse its downtrend soon. The resulting uptrend will take a jab at the range high at $0.0000543 and attempt to move higher. In this case, SHIB will revisit the $0.0000579 and $0.0000625 resistance barriers.
In total, this run-up from $0.0000415 would indicate a 50% gain for Shiba Inu price.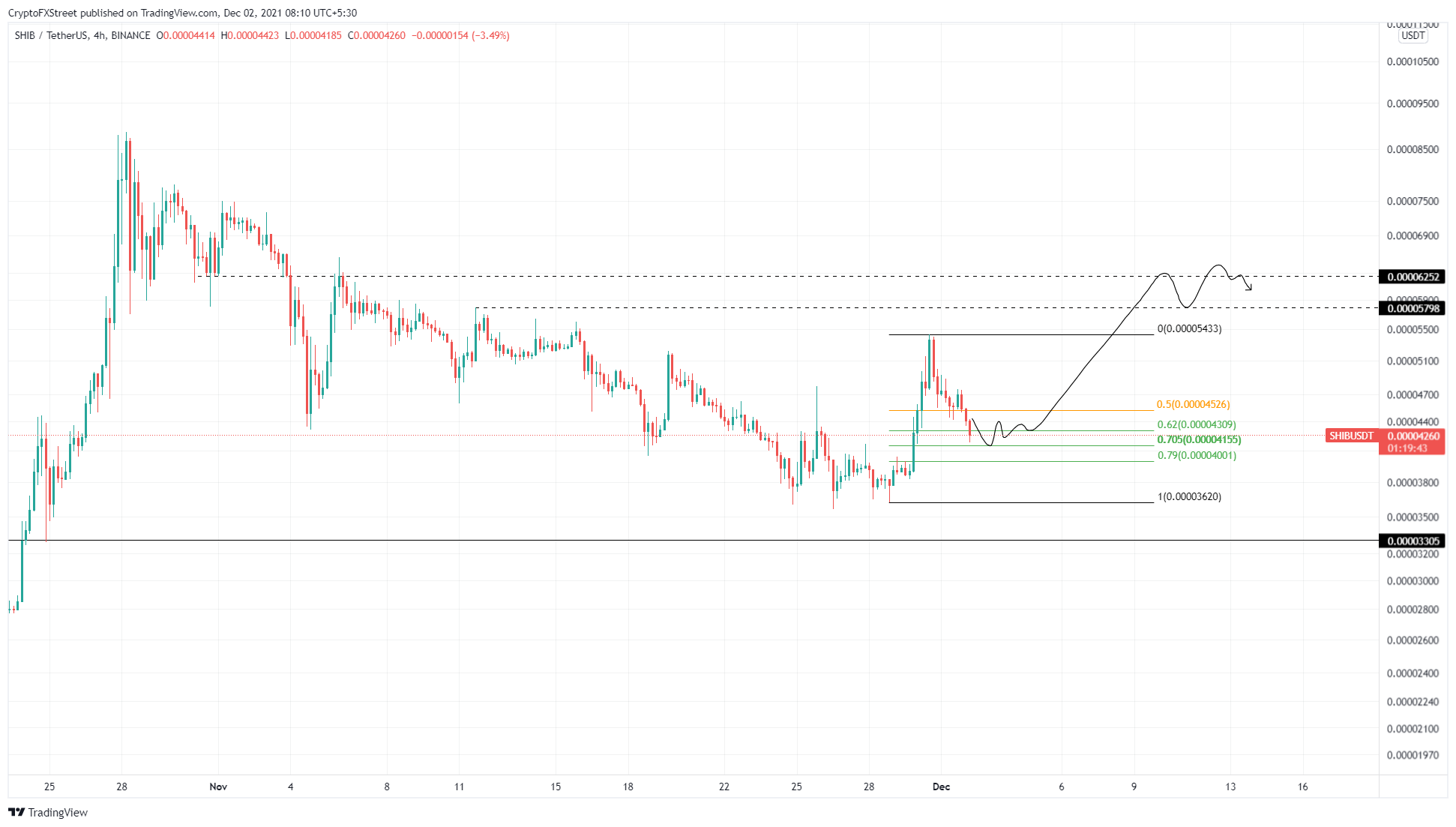 SHIB/USDT 4-hour chart
While things are looking gloomy at the moment, investors can expect a decent bounce from Shiba Inu price soon. A failure to do so could result in a breakdown of the 79% Fibonacci retracement level at $0.0000400 and a revisit of the range low at $0.0000362.
A daily close below this level will create a lower low and invalidate the bullish thesis. In such a case, Shiba Inu price could tag the $0.0000330 support level.
Healthcare Company Adds Shiba Inu to Its Balance Sheet
A Toronto-based healthcare company now holds Shiba Inu on its balance sheet.
Ask The Doctor, a Canadian online healthcare company, has added $1.5 million worth of Shiba Inu to its balance sheet, according to an announcement posted on its Twitter account.
Kraken facilitated the seven-figure buy. As reported by U.Today, Shiba Inu started trading on the San Francisco-based cryptocurrency exchange on Tuesday.
Ask The Doctor has added ~$1.5M USD (approx 31B $shib) to our balance sheet via Kraken.

We are 72 hours away from accepting #SHIB with our healthcare partners. pic.twitter.com/NHG17druCh— Ask The Doctor ® 🇺🇸🇨🇦 (@askthedr) December 1, 2021
The medical information website will also begin accepting the meme cryptocurrency with its healthcare partners within the next three days.

It already allows clients to pay with Dogecoin for certain services in the U.S. and Canada.   

The Toronto-based company was launched in 2010, allowing its clients to connect with medical professionals via text messages or video streaming. Notably, its list of co-founders includes former NBA player Israel Idonije and former NBA star Dikembe Mutombo.
In 2016, Ask The Doctor started accepting Bitcoin payments, becoming the first healthcare company around the globe to embrace crypto.
The reason for adding the new payment option was to offer customers who share sensitive medical data more privacy.