SHIBA INU (SHIB) Continues to Inspire Millions Across the World
Market capitalization refers to the total dollar market value of a company's outstanding shares of stock. Commonly referred to as "market cap," it is calculated by multiplying the total number of a company's outstanding shares by the current market price of one share.
At the time of reporting, the market cap of Shiba Inu was at 26.402B. Top Cryptocurrency exchanges where for trading in SHIBA INU stock are currently Binance, Mandala Exchange, OKEx, Huobi Global and FTX.
The Shiba Inu dog inspired millions of people across the world to invest money into tokens with the dog's image on it. The meme coin which started off to be a Doge Killer has gained speed and value. Initially the tweets and associations with Elon Musk and Vitalik Buterin improved the price, and now the meme coin has developed a momentum of its own.
Shiba is unique because, The SHIBA INU website welcomed dog-inspired artists from across the world to foster the "artistic Shiba movement" thus bringing SHIBA INU community into the NFT market.
SHIBA INU created a campaign with Amazon Smile to collect donations to rescue real, live Shiba Inu dogs with the Shiba Inu Rescue Association.
For those who do not know, 50% of the total token supply is locked on Uniswap, and they "threw away the keys!" The remaining 50% was been "burned to Vitalik Buterin." And those who want to know more should google to see what happened to the tokens burned to Vitalik.
Those who are trying to understand Shiba Inu should understand a few other tokens listed on the website LEASH that has "been unleashed and will not rebase," the BONE, and the "Dogecoin Killer."
Binance.US expressed: SHIB is now available for purchase directly with USD on our Buy Crypto portal. Buy Crypto portal allows for easy one-time or reoccurring purchases.
It also helps to know about how Shiba Inu coins are being burned. Many feel that SHIB burning the coins is not a good thing. The circulation of SHIB coins is not decreasing, rather coins are being sent to wallets no one has access too. The more they burn the more supply is coming out and the number of coins keep increasing. Very recently a lot of burns are happening and it just looks like more is coming.
Community Response: Am I missing something here, all day I sit on here trying to promote SHIB. We have companies asking if they should accept us and do surveys etc, but always don't do anything.
Don't invest if you can't handle the lows. Nothing is promised. Hang in there buy the dips. It's consolidating right now the bull run is right around the corner
News Source
$200 Million Worth Shiba Inu and Other Tokens Stolen from BitMart Exchange
Cayman Islands-headquartered cryptocurrency exchange BitMart has suffered a $200 million hack, according to data provided by blockchain security company PeckShield.
Initially, PeckShield tweeted that $100 million worth of tokens were stolen from one of the exchange's Ethereum hot wallets.
Shiba Inu (SHIB) is at the top of the list of affected assets. The hacker made away with 893.8 billion SHIB tokens (roughly $33.4 million at press time).
Estimate loss of @BitMartExchange: ~$100M. Here is the list of the transferred-out assets and their amounts pic.twitter.com/mUKYsuTxYZ— PeckShield Inc. (@peckshield) December 5, 2021
Saitama (SAITAMA), Dogelon Mars (ELON) and Akita Inu (AKITA) were also among more than 20 cryptocurrencies that were stolen from Bitmart.
Later, PeckShield also added $95 million worth of Binance Smart Chain-based tokens. SafeMoon (SAFEMOON) accounted for almost half of the sum, with the hacker pocketing 29.4 trillion tokens ($43.8 million at press time).
BitMart has acknowledged the security breach in a statement, claiming that only a small percentage of its total assets has been affected by the incident.
According to Sheldon Xia, BitMart is yet to determine the possible methods that were used to pilfer the wallets.  
1/3 We have identified a large-scale security breach related to one of our ETH hot wallets and one of our BSC hot wallets. At this moment we are still concluding the possible methods used. The hackers were able to withdraw assets of the value of approximately USD 150 millions.— Sheldon Xia (@sheldonbitmart) December 5, 2021
The attacker has already started withdrawing their stolen funds with the help of Ethereum-based mixing service Tornado.cash.
According to CoinGecko, BitMart is in the top 20 exchanges by trading volume.
Last month, TechCrunch reported that it was seeking a valuation of $300 million
Shiba Inu Remains Top Holding in Whale Wallets After Market Drops by 25%
While most traders are selling their holdings amid cryptocurrency market correction, SHIB remains one of the strongest positions on whale-tier addresses
Shiba Inu meme token has been the most popular token among whales during both local bull and bear cycles on the cryptocurrency market. With the current bloodbath continuing on both the Bitcoin and altcoins markets, Shiba maintains its strong place on whale-tier addresses, according to WhaleStats.
Whale wallet holdings
According to the total whale holdings in the 1,000 largest Ethereum wallets, Shiba Inu still remains the largest position among whales with $2 billion worth of tokens held currently. While the USD value of holdings remains the same, the percentage (or the dominance) among whales has decreased significantly.
At press time, Shiba Inu holdings remain at 8% dominance, while "Other" smaller tokens account for 7.89% of all holdings coming closer to the dog-based meme coin.
Market performance
Unfortunately for its investors, Shiba Inu did not become a safe haven asset and lost approximately 15% of its value. Compared to the market in general, SHIB token was in the middle of the biggest losers leaderboard, sitting with tokens and coins like Doge, Ethereum and Avax.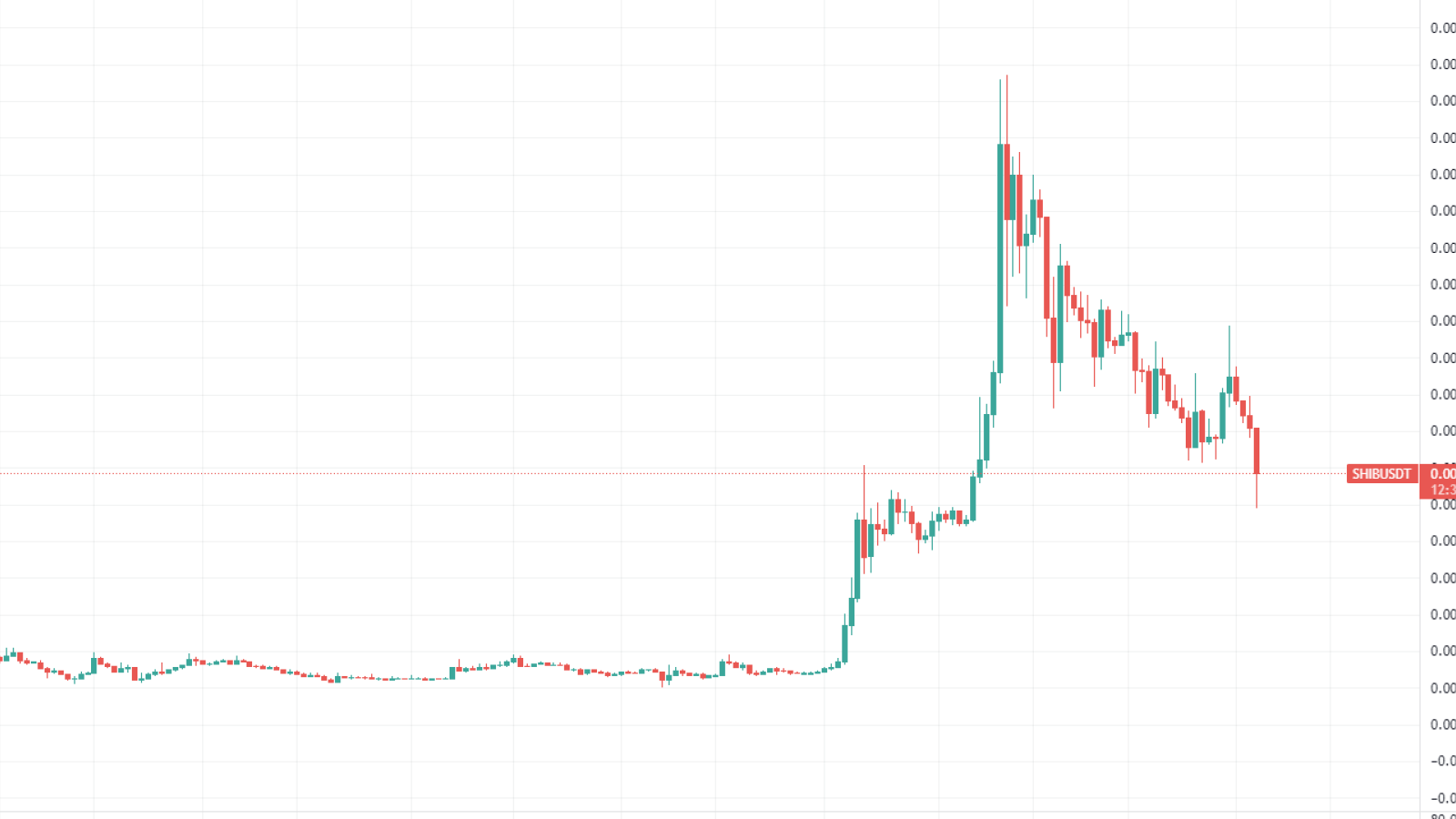 After a strong correction, Shiba Inu now remains at a total loss of 66% from its last peak. At the beginning of the week, a rapid and unexpected rally was initiated on the market, which led to a 40% short-term pump of the token's price.
At press time, SHIB token trades at $0.00003453, with 15% negative performance now and 26% minimum.
What are the chances for Dogecoin, Shiba Inu to be rescued by immediate recovery
Just like large-cap coins, the state of the market's meme-coins too has been in dire straits over the past few hours. DOGE and SHIB had in fact shed more value in the past day when compared to the past 7-days in total.
Despite the massive dip, both the meme-coins were seen exhibiting signs of recovery, at press time. As can be seen from the chart attached below, the past three odd hours have fairly been good for both these coins.
DOGE managed to pull up its socks and register two green candles in the aforementioned timeframe. SHIBA's recovery, on the other hand, looked even more concrete as it successfully managed to register three-successive green candles on its hourly chart.
Interestingly, their volumes too [depicted below the candlesticks] have been decently high over the last couple of hours. Thus, indicating that a fair share of participants has indeed started "buying the dip."
So, will they start barking louder now?
Less than a week back SHIB broke above its descending channel and registered consecutive green candles. It however did dunk in value right after. The latest dip, in retrospect, didn't seem to be too deep.
On the daily chart, SHIB was seen trading slightly below the 61.8% Fibonacci level, at the time of writing. If it continues to project green candles over the next couple of hours, it would manage to reclaim $0.00003798 as support.
However, if it fails to do so, then SHIB could fall to a level as low as $0.00002413. In such a scenario if bears manage to gain control over bulls, then HODLers can expect this coin to revisit any level around $0.00000648.
DOGE's prospects, on the contrary, looked slightly bleak. Over the past day, the largest meme-coin had broken below most of its supports and was seen trading at a level reminiscent of what was recorded way back in July. Earlier during the day it, in fact, crawled to a low level that was last seen only in April.
So, if the downtrend continues for DOGE on its charts, and it manages to break below its $0.158 support level, then there are high chances of it paying a visit to $0.101.
Nonetheless, it managed to uphold its green-candle trend on the lower timeframe, it would gradually be able to negate its losses and inch back to $0.2 after crossing $0.182.
Community 'pats'
Well, the community usually plays a key role in helping meme-coins recover. At the time of writing, the sentiment data from Santiment projected quite an interesting trend.
Over the last couple of hours, DOGE mentions on social media have, by and large, been positive. In fact, the positive sentiment has successfully been able to out shadow the negative sentiment. If the trend heads in the same direction, then community members might successfully be able to aid the coin recovery, despite the sluggishness on its price chart.
A similar trend was observed with SHIB too. Now, this essentially means that the community members are still backing both DOGE and SHIB, despite whatever has happened over the past few hours.
Well, even though meme-coins usually tread on Bitcoin and other large-cap alts' pre-carved path, they've managed to defy that trend a host of times in the recent past. So, irrespective of the state of the broader market at this stage, these two coins might end up surprising market participants. The odds of their recovery seem to slightly outweigh the odds of them continuing with their respective downtrends at this point.