TIME Magazine to hold Ethereum on balance sheet in metaverse content deal
TIME Magazine will become the first major publishing company to hold Ethereum on its balance sheet after a deal with Galaxy Digital.
TIME has already been holding BTC after it was paid in the cryptocurrency earlier this year by Grayscale.
---
Cryptocurrencies are gradually bridging the gap from speculative to mainstream assets, with more companies holding them in their balance sheets. However, it's mostly been Bitcoin that has seen adoption in this sector, including from Microstrategy and Tesla. TIME Magazine has expanded to the largest altcoin, becoming the first major publishing company to hold Ether on its balance sheet.
TIME is one of the world's largest and most renowned publications. The New York City-based media giant launched almost a century ago and in that time, it has consistently stayed as a trusted bi-weekly magazine. With a circulation exceeding three million, it ranks as the second highest-circulated weekly behind People. It claims to have over 20 million weekly readers.
Now, TIME will have ETH on its balance sheet.
The magazine partnered with Galaxy Digital, the investment firm founded by Wall Street veteran Mike Novogratz.
The partnership is centered on the metaverse, an emerging sector that's getting a lot of attention in recent weeks. TIME will partner with Galaxy to educate its readers about the rapidly-evolving sector in a new newsletter to be named "Into the Metaverse."
The newsletter will explore how our physical and digital selves are merging in the metaverse world and engage with the visionaries leading this bold new world.
Novogratz commented, "Over the next decade, the metaverse will become an increasingly important part of the world economy; our physical and digital realities are already becoming hard to distinguish. We look forward to partnering with TIME, an iconic brand driving innovation, as we seek to bring readers, creators, and the curious into the metaverse and demystify the tremendous amount of transformation happening within."
TIME to hold Ether
And as TIME promotes the metaverse, it will also take a bold step itself in accepting payments in Ethereum, and not cashing out. This will be the first time that a major publication accepts ETH.
Keith Grossman, the President of TIME, commented:
Galaxy Digital truly understands the massive growth potential for the metaverse and Web3, and the team is playing an integral role in helping to educate the traditional world on this evolution. I am so thrilled to partner with such visionaries as we combine the power of media and the metaverse to educate our readers and trailblaze towards a more immersive virtual future."
Earlier this year, TIME announced that it would start to accept cryptocurrencies as payment for subscriptions. In March, it further offered an exclusive series of three of its covers as NFTs at an auction.
In April, TIME partnered with Grayscale on a cryptocurrency video series. The Barry Silbert-led company paid TIME in Bitcoin and the publication pledged to keep the BTC on its balance sheet.
.
Ethereum is trading at $4,120 at press time, down 2.4 percent in the past 24 hours. It's down 15 percent from its all-time high of $4,860 which it set a week ago. Ethereum's downward trend is not unique with most other tokens taking a hit in the past week as the market settles after a couple of weeks shooting up.
Ethereum's trading volume has held up quite well despite the drop in its price, an indication that investor interest hasn't dropped. In the past 24 hours, it stood at $23.3 billion, even higher than when Ethereum was hitting its ATH a week ago.
Crypto Analyst Nicholas Merten Makes Massive Ethereum Prediction for End of Bull Cycle – Here's His Target
Prominent crypto analyst Nicholas Merten says that top smart contract platform Ethereum (ETH) may grow another 325% before the current bull cycle comes to an end.
In a new strategy session, the host of DataDash tells his 458,000 YouTube subscribers what he thinks it will take for Ethereum to eventually smash the $20,000 level.
"If everything goes perfect for Ethereum, if we get that opportunity to be able to get ETH to launch properly, people using roll-ups, whether it be zero-knowledge roll-ups or optimistic roll-ups, generally 'layer-2 solutions,' we could see a $20,000 Ethereum this cycle. I know it sounds crazy but when you look at the logarithmic chart we've seen these kinds of percentage returns before."
Rollups are solutions that execute transactions outside the main Ethereum chain, but record transaction data on it. The two types of roll-ups are zero-knowledge (ZK) rollups and optimistic rollups.
The closely followed analyst says that if Ethereum maintains solid fundamentals, a rally to the $20,000 may not be as overly optimistic as it sounds. He notes that such a gain would only be about half of what ETH achieved in the first five months of 2021.
"I think it's very reasonable we could see this kind of price level. Somewhere between our neutral and optimistic target. To play it safe, I would say that we've got a really solid steady stream of price action for Ethereum ahead of us. The key thing to understand is that there are periods of this cycle where Ethereum outpaces Bitcoin, which makes these higher targets reasonable."
Ethereum is currently trading for $4,685 at time of writing, up 7% over the last week while Bitcoin has remained almost completely sideways in the same timeframe.
Ethereum price builds the momentum to hit new all-time highs
Ethereum price develops an entry condition before a test of $5,000.
The outperformance of Bitcoin is likely to be sustained.
Downside risks remain but are limited.
Ethereum price is up more than 16% for the week, reflecting a resurgence of buying pressure despite the last three weeks of uncertainty. Point and Figure Analysis indicates a bullish entry opportunity is present.
Ethereum price action prepares for another run at $5,000
Ethereum price is positioned to be the primary leader in the cryptocurrency space again. It has broken out above the upper trendline of the bear flag it was trading in, denying any short sellers an opportunity to continue further selling pressure. The $4,800 price level is the final resistance zone that bulls must cross to put Ethereum at new all-time highs.
A double-top at $4,800 currently exists on the $50/3-box reversal Point and Figure chart. That double-top top creates what is likely the final buying opportunity before Ethereum hits its new all-time high. Therefore, the hypothetical long setup is a buy stop order at $4,850, a stop loss at $4,600 and a profit target at $6,250. The projected profit target is derived from the Vertical Profit Target Method in Point and Figure Analysis.
Conservative traders may wish to wait for a pullback from the current double-top and then look for a triple-top to develop. Additionally, conservative traders could wait for a Bear Trap, Bearish Fakeout, or Bearish Shakeout pattern before going long.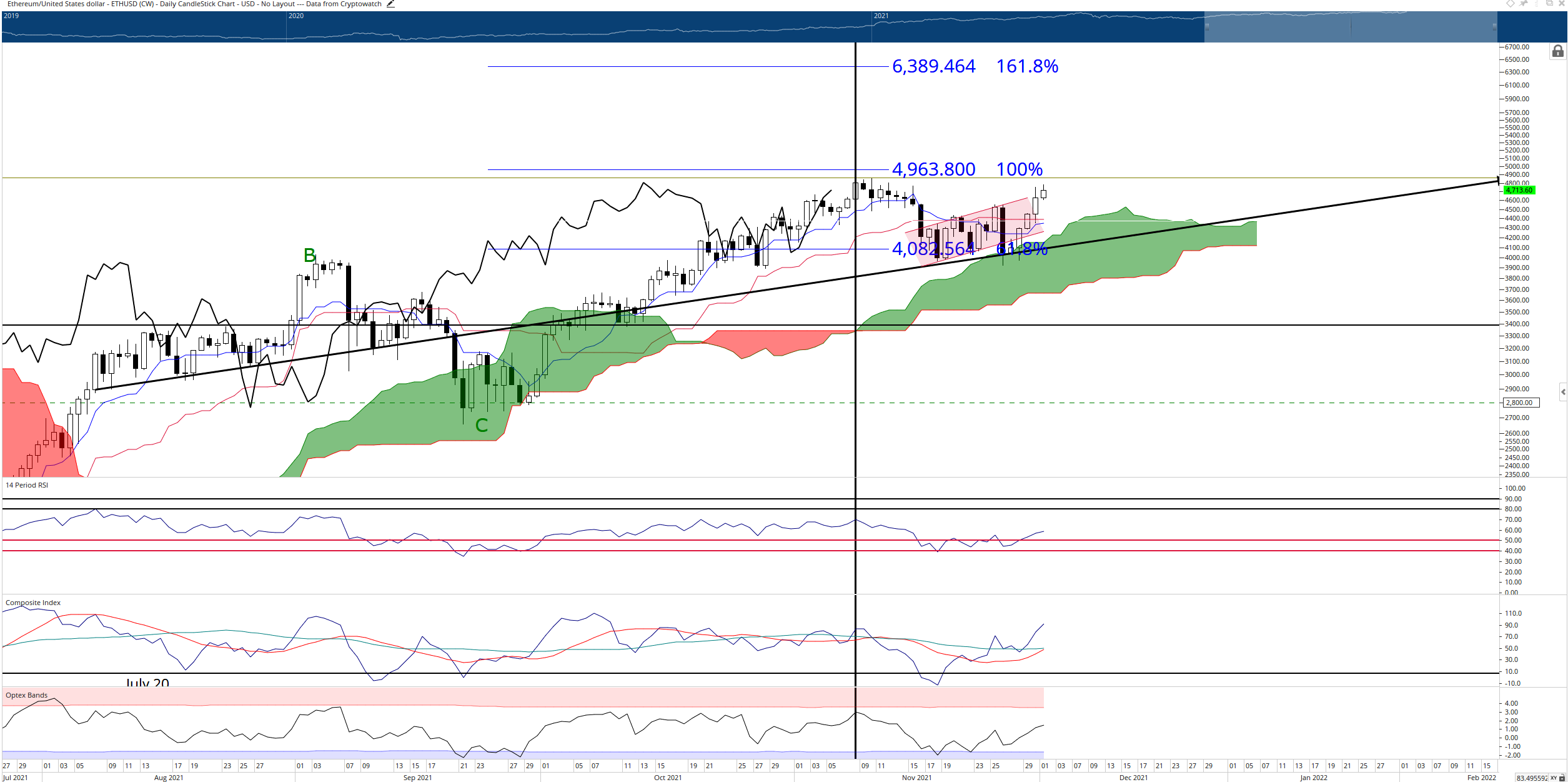 ETH/USDT Daily Ichimoku Chart
However, downside risks remain. Ethereum could very quickly develop a deep retracement towards the $3,300 level despite a breakout above the former bear flag. Hidden bearish divergence is now present on the daily Ichimoku chart, warning traders that the current upswing may be a false move. A daily close that returns Ethereum inside the bear flag would likely trigger a move south and invalidate any bullish entry opportunities on the Point and Figure chart.
Ethereum-Based Altcoin Erupts 280% in Just Seven Days After Announcing New Gaming Partnership
An altcoin that specializes in financial services is surging after forging a new partnership with one of the hottest metaverse games.
The price of Request Network's native token REQ exploded 280% to the upside as news spread that popular virtual world The Sandbox (SAND) had started using Request's basket of accounting services.
The altcoin rose from $0.20 to $0.76 in a matter of days. At time of writing, REQ is trading for $0.73.
According to the project's website,
"Payment experiences should be free from artificial barriers imposed by closed ecosystems. We work together with leading innovators and organizations in the decentralized financial (DeFi) ecosystem to create seamless financial experiences."
Main features of the Request Network include generating invoices to receive payments in different cryptocurrencies as well as accounting tools for financial management.
The Sandbox co-founder Sebastien Borget says that only Request Network offered the scope of solutions needed to ensure efficient workflow.
"Payments and accounting are challenging for large companies that deal in crypto. Making manual payments to large numbers of blockchain wallet addresses, and recording the transactions took up precious time and energy from the team each month.
We really needed a way to automate payments to our employees and contractors, and easily account for the company's crypto transactions and assets during annual financial audits.
Using Request Finance has helped us slash the time we spent on making crypto payments by 90% every month. That frees up our time and mental resources to focus on building a better platform for our community of creators and gamers."
Request Network has forged a number of partnerships as well, including with Maker (MKR), Aave (AAVE), Ocean Protocol (OCEAN), and The Graph (GRT).