ADA Price Is Down 40%, The End-Game for Cardano?
Cardano's (ADA) price has plummeted 40%.
Many think this is an end-game for Cardano.
Solana has now flipped Cardano in the top 10 cryptos.
Crypto price action sentiments are not yet on a flat tire. This time, one of the major Ethereum-based rivals, Cardano (ADA) seems to be facing a hard time in its price performance. In that sense, does this represent the end-game for Cardano or there is more hope for it in the coming days?
According to a report, Cardano's native token ADA, has its price dropped by over 40% in the market. The drastic price drop commenced from Cardano's all-time high (ATH) when it was nearly changing hands for good in terms of price action.
Beginning of its rally of late, several other cryptos have taken ADA's downtrend as a huge advantage to perform strongly, more and more. Particularly, Solana (SOL) garnered huge momentum and has presently flipped Cardano within the space of the top ten cryptos.
Technically, like how people thought that the launch of Cardano's much-anticipated smart contract will bring something better, eventually, it seems that it's just toying around. Many attribute ADA's underpriced action to some of its pieces of infrastructure that got delayed during the launch. With this, lots of developers can't release their DApps built on the Cardano blockchain for now.
Meanwhile, on-chain projects such as Solana, Algorand, Elrond are already having DApp support on their network. That said, despite anything that will happen, there is more hope for Cardano to regain its full strength than ever before.
Charles Hoskinson defends Cardano, explains ISPOs, and their possible regulatory implications
Cardano founder Charles Hoskinson has called out critics who say the network has recently gone dormant.
He also explained the concept of ISPOs and how regulatory policies could limit their uses.
---
Cardano founder Charles Hoskinson has given a status report on Cardano blockchain. He also gave a detailed explanation of the new Cardano-based fundraising method utilizing Initial Stake Pool Offering (ISPO).
In a Nov. 30 broadcast shared on Twitter, Hoskinson silenced critics alleging recent inactivity of the network. Cardano has been experiencing high developer activity, he notes as he displays some of the project's building on the network.
Cardano, the MELD Protocol, and ISPOs
More importantly, the tech entrepreneur covered ISPOs – a new crypto fundraising strategy propagated by the non-custodial banking protocol MELD.
"An ISPO is a liberating new way for investors and the community to support MELD using the Cardano blockchain," reads the MELD official website.
Interested persons get to participate in the ISPO by delegating their ADA tokens to one of 10 MELD's public stake pools. Delegation happens through Cardano-based Yoroi or Daedalus wallets, and users get to choose their preferred staking period. Delegators get rewards in the form of MELD tokens proportional to the duration and amount of ADA staked. Staked ADA is not lost as users get refunds at a later time.
Notably, the ISPO fundraising effort began at the start of July and is set to close on Dec. 8. Its idea stemmed from the concept of stake pool operators (SPOs). The latter has been functioning since the 2020 launch of the Cardano Shelley era. ADA holders simply stake their tokens to pools to earn rewards in ADA while the SPOs get a fee. The more the number of registered stake pools, the higher the degree of network decentralization. Differently, MELD Labs receives either 100 or 50 percent of the staking rewards depending on the staking pool used.
Regulatory liabilities and ADA price movements
Hoskinson notes that this method could raise security offering concerns with the US Internal Revenue Service (IRS). This has been the case for some projects that raised money to support their further development.
Additionally, the "draconian" infrastructure bill brings with it new reporting requirements for crypto brokers, and there are concerns that ISPO delegators may be liable. Similar regulatory concerns have led to the delisting of ADA by eToro. Eventually, ISPOs may be forced to exclude US citizens, Hoskinson adds.
That said, Twitter user @TITW_STAKEPOOL has criticized the fact that about 23 SPOs are minting 50 percent of blocks on Cardano. Eventually, the small single-pools will be pushed out by the multi-pools, increasing the degree of centralization, he warns.
At press time, our data shows that ADA was trading at $1.59, down 0.6 percent in the day. The digital asset is now the sixth-largest by crypto market cap, having lost the fifth position to rival Solana (SOL).
What to expect from Cardano's [ADA] price this week?
Cardano's [ADA] indecisiveness comes at a time when the broader crypto market attempted to revive the bulls. After an impressive September, the asset went on a dramatic decline.
Over the past week, Cardano's [ADA] losses declined to 3.96% as it traded at $1.56. The sixth-largest crypto-asset hasn't flushed out all the yearly gains but it was almost 50% down since ATH earlier this year. Will the investors finally see a clear-cut uptrend this week?
Cardano [ADA] Technicals Look Dull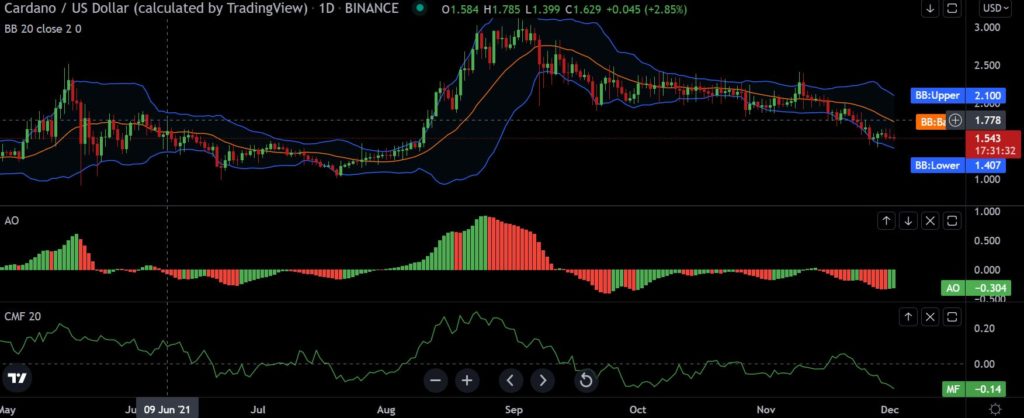 ADA's volatility has taken a mild hit after the price broke out from the month-long descending channel pattern. Despite the bullish breakout, the price was seen consolidating, and the decline in volatility depicted that trading may continue within the range of $1.6-$1.4. A breach from this demand zone would take time.
The formation of closing green candles of Awesome Oscillator [AO] indicated a switch to a weak bullish momentum. On the other hand, the Chaikin Money Flow [CMF] is in the negative zone meaning, intense capital outflow from the coin market.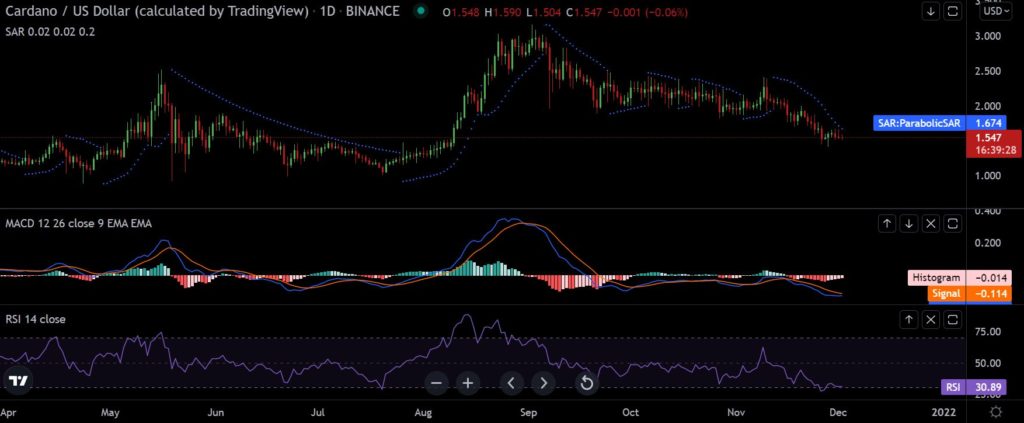 On the brighter side, the MACD is gearing up for a bullish crossover after treading on the negative side for almost a month. Relative Strength Index [RSI] is yet to retreat from the oversold region.
ADA is expected to trade in the current region for some time now. After a period of consolidation, the asset may find the necessary momentum and climb higher.
Negative Funding Rate
Lately, Cardano has seen tremendous network activity after launching the much-anticipated smart contract functionality earlier this year to steer the network to host decentralized finance [DeFi] applications.
As it heads towards the Basho phase, things are looking better for the protocol. Along the same lines, IOHK had earlier stated,
"As a decentralized permissionless blockchain, Cardano is open to anyone who wants to use it or build on it. Recent hard forks (adding native tokens and smart contract capability) have brought many new users into the Cardano ecosystem, and we have seen rapid growth (and spikes) in transaction volumes and network traffic."
Despite ADA's initial growth leading up to the Alonzo upgrade, the price has remained uneventful and the above analysis depicts a similar fate in the coming days.

Moreover, Cardano's funding rate curves on most exchanges do not look optimistic either. In fact, the latest Coinglass chart demonstrated that the metric was headed down to the negative territory. This trend has been in continuation since the last week of November. A reading such as this indicates a dominant short sentiment and that traders are bearish about ADA. 
Cardano Price Analysis: ADA retests $1.60 resistance again, breakout to follow?
Cardano price analysis is bullish today.
ADA/USD has spiked towards the $1.60 resistance again.
Higher high already set.
Cardano price analysis is bullish today as we have seen a break above the previous consolidation area. Likely ADA/USD will continue even higher, with the next major resistance seen at $1.75.
The cryptocurrency market has seen a bearish momentum return over the last 24 hours. Bitcoin declined by 1.04 percent, while Ethereum by 2.85 percent. Meanwhile, Terra (LUNA) is the top performer, with a gain of voer 10 percent.
Cardano price movement in the last 24 hours: Cardano sets lower low, quickly moves back towards previous highs
ADA/USD traded in a range of $1.53 – $1.62, indicating substantial volatility over the last 24 hours. Trading volume has declined by 3.23 percent, totaling $1.74 billion, while the total market cap trades around $53.44 billion, ranking the coin in 6th place overall.
ADA/USD 4-hour chart: ADA currently tests previous highs
On the 4-hour chart, we can see strong bullish momentum over the last 24 hours as previous highs are getting broken.
Cardano price has seen a strong increase over the last hours, counter to the overall trend seen over the past weeks. After setting a new major swing low at $1.415 last week, ADA/USD saw quick rejection higher to the $1.60 mark.
From there, the market started to consolidate sideways for several days. After several rejections of further upside, ADA saw a clear lower low set overnight around $1.52. The market quickly reversed from there, leading to a spike above the previously formed consolidation today.
Since the Cardano price action has set a strong higher high over the past hours, we could be seeing a major trend reversal beginning. The next resistance is located at $1.75 and, if reached, would indicate the return of strong bullish momentum.
Cardano Price Analysis: Conclusion
Cardano price analysis is bullish as we have seen a strong spike above the previous highs over the last hours. Therefore, we expect ADA/USD to continue even higher later today, with the next major target at $1.75.
While waiting for Cardano to move further, see our articles on the Best Crypto Wallet 2021, Decred Wallet, and Ripple vs SEC.