Shiba Inu and Dogecoin: The Most Searched Cryptocurrencies on Google USA During November
Bitcoin is the largest cryptocurrency by market capitalization, but Dogecoin and Shiba Inu are the ones that americans find most interesting.
Whoever thinks that meme cryptocurrencies are useless at this point might want to revise their expectations. A recent study suggests that in much of the United States, people are more interested in puppy-themed meme coins like Dogecoin or Shiba Inu than in the big serious projects that claim to be a financial revolution.
Although Bitcoin and Ether occupy more than 60% of the total marketcap of all cryptocurrencies, during 2021, Dogecoin and Shiba Inu have won the hearts of Americans, trending in 30 of the 50 United States.
Dogecoin Conquers Almost Half Of The United States
According to a study by research firm The Advisor Coach covered by Business Insider, there was an average of 7 million searches for content about Dogecoin last month. Such a level of interest exceeds the averages for Bitcoin and Ethereum combined. According to Business Insider, such spike cand be linked to the Dogefather's influence:
"The rise in interest can be partially attributed to the endorsement of Elon Musk who stated earlier in the year that Tesla would accept dogecoin as a form of payment,"
And although the popular financial publication The Motley Fool catalogs Dogecoin as a "hyped token with virtually no real-world utility," it seems that things could change in the near future with a series of capital investments and Elon Musk's interest in improving Doge's code to adapt it to global usability standards.
Dogecoin is the most popular currency in 23 American states, including Florida, Hawaii, New Jersey, and Arizona. In fact, the United States is the country with the most overall searches for Dogecoin, with 97 points out of 100 in Google Trends, second only to Turkey – which has a fraction of the population.
Shiba Inu Wants To Be The Alpha Dog
Shiba Inu is not far behind. The Dogecoin spin-off already dominates searches in California (the U.S. tech hub), Washington, Nevada, Wyoming, Texas, North Carolina, and New York.
Just as a contrast, Bitcoin reigns in 10 states and Ethereum in 8. Cardano is Colorado's favorite.
The market for meme cryptocurrencies emerged as a sort of social phenomenon during the coronavirus pandemic. Cryptocurrencies like Dogecoin, Shiba Inu, Floki Inu, and others benefited from several pumps in social media despite not having significant fundamentals.
However, Dogecoin and Shiba Inu have grown so much that they have conquered a spot in the Top 10 of cryptocurrencies with the largest market capitalization. As of right now, Dogecoin is on the 10th spot and Shiba Inu on number 12.
And considering that the main component of money (its value and acceptance) is purely subjective, perhaps it is time to reconsider views and take memecoins more seriously.
SHIB Community Burned About 2 Billion SHIB in November
There have been a total of 7,409,202 $SHIB tokens burned and two transactions in the last hour.
According to shibburn, the SHIB community, dubbed the "SHIB Army," burned about two billion SHIB in November. A total of 410,298,489,440,804 of the one quadrillion initial supply has been burned. Tokens that are burned are permanently removed from circulation. The decrease in circulating supply is predicted to raise the price of Shiba Inu in this instance.
According to Shiba Inu's burn tracker, shibburn, a total of 410,296,586,422,853 SHIB tokens (41.02966%) have been burned from the initial supply of one quadrillion at the beginning of November.
As of Dec. 1, this number had grown to 410,298,449,011,405 (41.02984% of the initial supply), representing a near 1.9 billion increase in tokens burned within the time frame.
Shiba Inu is about to undergo significant alterations that are likely to increase its value and boost its price. Shytoshi Kusama, the SHIB team's lead developer, recently discussed the potential of Shiba Inu's gameplay expanding into the "Metaverse."
Gaming will also facilitate the burning process, as in-app purchases made from the Shiba Inu game will be used to burn a large amount of SHIB to lower the token's supply. Currently, the SHIB supply is burned only when the owner of a Shiboshi NFT pays $100 in SHIB to change the NFT's name.
SHIB is trading at $0.00004230 as of press time.
Shiba Inu Has Become Mainstream, Says Mark Zuckerberg's Sister
There's room for two canine coins, according to Randi Zuckerberg
Randi Zuckerberg, a sister of Meta CEO Mark Zuckerberg, has recorded a short explainer about canine meme coins, which has been published on her official YouTube channel.
In her video, she weighed in on the surprising success of "Dogecoin killer" Shiba Inu, claiming that the token has gone mainstream.

Despite the rivalry between Dogecoin and Shiba Inu, Zuckerberg believes that there's room for both of these canine coins:
I didn't even know there was room for one of those, but apparently there's room for two.
The former Facebook spokesperson also mentioned numerous spinoffs of the two "flagship" canine coins, including Dogelon Mars.
She then recommended her viewers to "have some fun" with their crypto but not to bet their farm on meme coins, channeling the advice of Tesla CEO Elon Musk.
Earlier this week, Zuckerberg, a long-time crypto proponent, joined cryptocurrency exchange Okcoin as a member of its brand advisory council.
Ethereum Whale Buys Another 28 Billion SHIB Coins
"Gimli," ETH whale, recently bought 28,236,296,316 SHIB ($1,169,829 USD)
Ethereum Whale "Gimli" just bought another 28 billion SHIB coins worth a staggering $1.1 million, according to Whale Stats. Despite declines in the Shiba Inu price of late, either whales or large entities are taking the opportunity to accumulate more of the SHIB token.
The famous whale "Gimli" appears to admire Shiba Inu to the point of accumulating SHIB at every opportunity. On Nov. 30, U.Today revealed that the anonymous whale purchased a further 24.8 billion SHIB tokens valued at $1 million.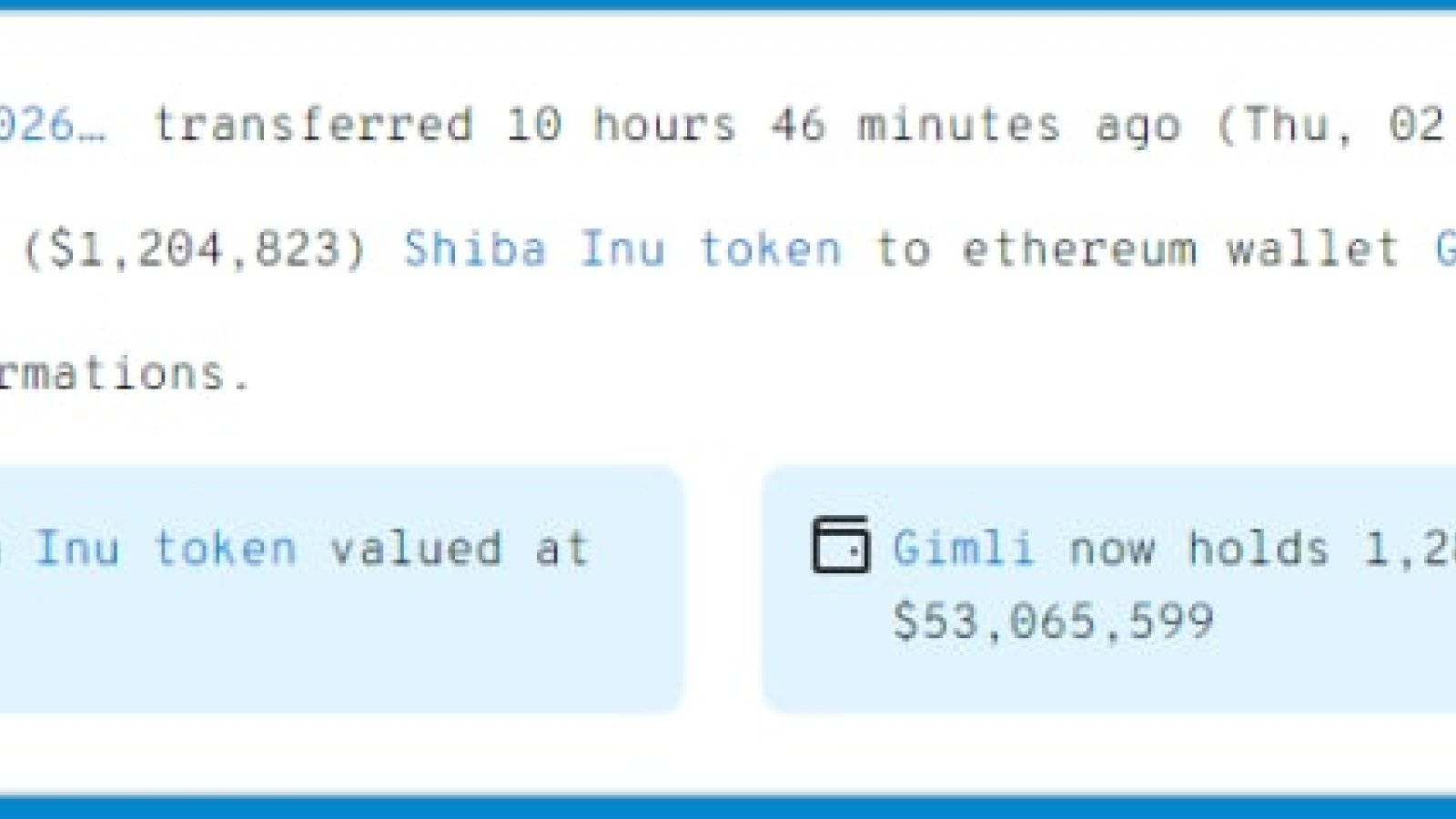 Overall, the famous "Gimli" whale now holds 1.2 trillion Shiba Inu coins worth a whopping $52.9 million.
Shiba Inu returned to the spotlight after its 40% rally as Kraken became the latest exchange to allow trading of the Shiba Inu token. Pressure on Robinhood to list Shiba Inu keeps mounting as a Change.org petition in favor of this listing has more than 542,000 signatures at the time of writing.
Shiba Inu was exchanging hands at $0.00004130 as of press time.