Why Tron is all set for a week of bullish action
Tron is set for a bullish week after its price bounced back from a bottom sloping trendline which functioned as support. After overcoming a near-term hurdle present at the 20-SMA (red), TRX would need to overcome some key swing highs to set a fresh local high at the 78.6% Fibonacci level.
At the time of writing, TRX traded at $0.105, up by 0.8% over the last 24 hours.
Tron Daily Chart
Since mid-August, Tron snapped four higher lows at $0.076, $0.092, $0.088 and $1.057 and has respected the boundaries of a bottom sloping trendline. In fact, TRX has set up bullish weeks of trade each time its price has bounced back from this trendline. Following a fifth retest, TRX eyed an extension of its present bull run.
Once the daily 20-SMA (red) is overturned, TRX would need to best 15 October's swing high of $0.122 and 15 November's swing high of $0.129 in order to set a peak at the 78.6% Fibonacci level. However, according to the Visible Range Profile, TRX could between the 61.8% and 78.6% Fibonacci levels for an extended period due to presence of some rigid supply and demand zones.
In order to maintain ground above its value high zone, TRX would need to add consistent buy volumes above $0.15. In case sellers overtake market control, TRX would call upon its defenses at the 38.2% Fibonacci level. On the downside, a move to $0.085 and value low area can be expected if the lower trendline is flipped bearish.
Reasoning
For the moment, TRX's daily indicators maintained a neutral outlook. The RSI and MACD held around their respective mid-lines while the Awesome Oscillator depicted the lack of market momentum on either side. Based on these readings, TRX could trade sideways, just below its 20-SMA (red) over the coming days. However, expect more favourable readings once TRX manages to close above its short-term MA.
Conclusion
TRX was in store for a bullish week after rebounding from its lower trendline. Once sell pressure at the 20-SMA (red) is bested, Tron could form a new peak at the 78.6% Fibonacci level provided certain swing highs are overcome with strong buy volumes.
TRON price kick-starts 20% rally as TRX shatters vital trend line
TRON price breached through a declining trend line on November 29, signaling the start of a new uptrend.
A minor downswing to $0.09 is likely before TRX rallies to $0.109.
A daily close below the $0.082 to $0.087 demand zone will invalidate the bullish thesis.
TRON price experienced a two-week downswing that ended recently with an uptick in buying pressure. This move suggests that TRX has kick-started an uptrend and is likely to continue higher.
TRON price looks to set up higher highs
TRON price has corrected 30% over the past two weeks and set a swing low at $0.089. Connecting the swing highs between November 22 and November 29 using a trend line reveals a bear trend line and a declining resistance level. A potential increase in buying pressure reversed the trend and broke this hurdle, propelling TRX by 7.7% to where it currently trades – $0.096. Going forward, investors can expect TRON to head lower and retest the $0.092 support level before firmly launching.
The immediate resistance level at $0.10 is the first hurdle TRX will encounter after a 10% upswing. Clearing this barrier will allow TRON price to retest the 50% Fibonacci retracement level at $0.109. This move will indicate a 20% upswing from the current position and is likely where the upswing will face a decisive moment.
If the buying pressure continues to increase, investors can expect TRON price to retest the 62% Fibonacci retracement level at $0.11 or the following one at $0.12.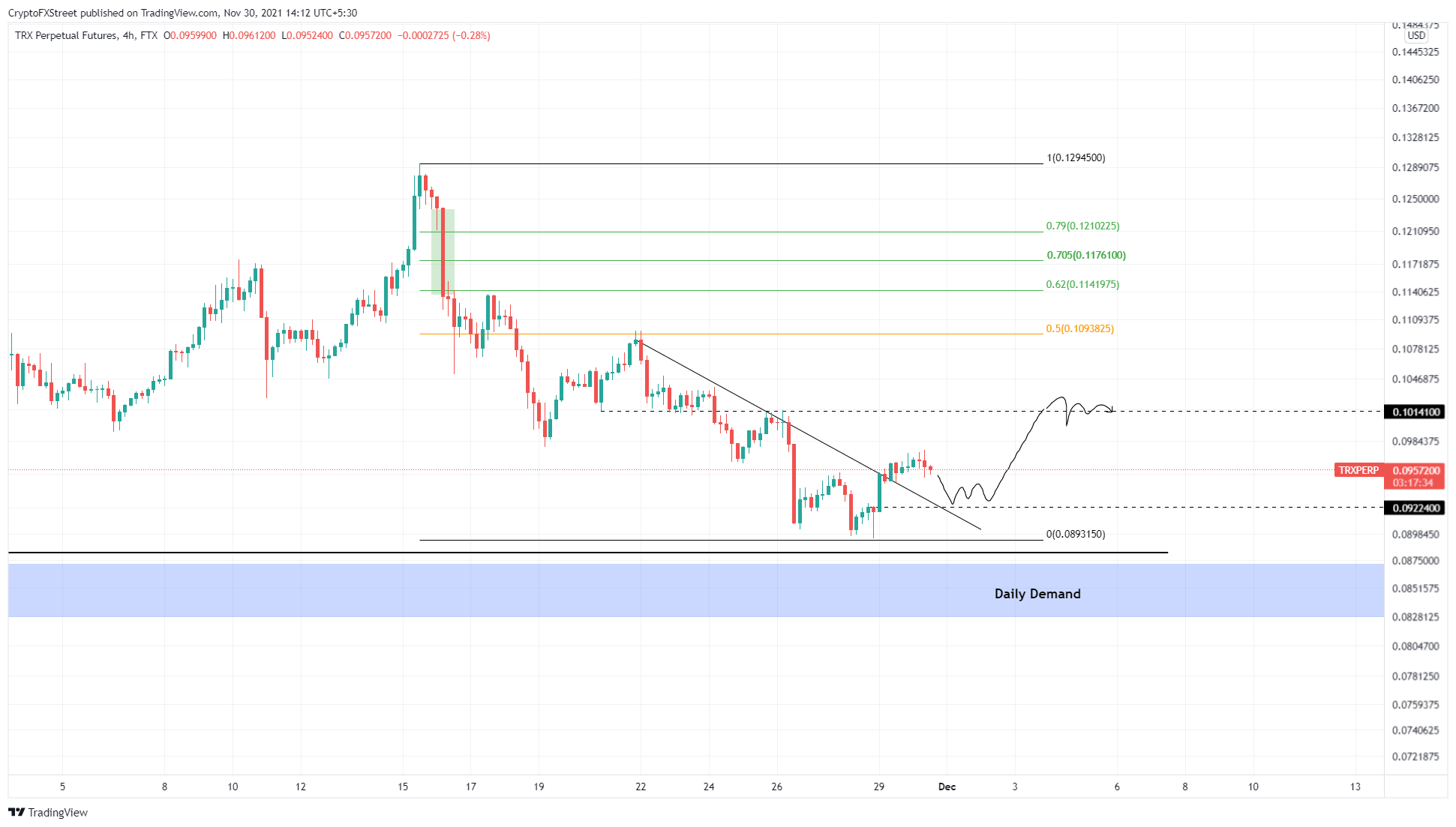 TRX/USDT 4-hour chart
TRON price needs to stay above the $0.92 support level, a failure to do so will indicate a lack of buying pressure and push TRX down to the daily demand zone, ranging from $0.082 to $0.087.
As long as TRX stays above this area of support, buyers can make a comeback. However, a daily close below $0.082 will create a lower low and invalidate the bullish thesis.
TRON bears remain in control but TRX price downside limited at $0.08
TRON price action shows a bearish Ichimoku breakout developing.
Oscillator readings indicate that any move lower could be limited.
Strong support exists near the $0.08 value area.
TRON price has entered into the most bearish trading conditions on its daily Ichimoku chart since June 2021. An Ideal Bearish Ichimoku Breakout entry was generated last Friday, but it could be a developing bear trap.
TRON price action has mixed signals, may dip to $0.08 before creating new highs
TRON price has displayed a relatively muted response to the steep drop on Friday. The resulting sell-off on Friday positioned TRON into extremely bearish trading conditions, but the bears have been unable or unwilling to keep up with the selling pressure.
Reasons why the perceived inability for short-sellers to take control could be due to the gap between the daily candlestick bodies and the Tenkan-Sen. Additionally, the Optex Bands oscillator shows TRON price trading in extreme oversold levels, not seen since July 2021.
A key test of near-term resistance is ahead at the critical $0.10 value area. $0.10 is not just an important psychological number, but it also contains the 2021 Volume Point Of Control, Tenkan-Sen, and Senkou Span A. Sellers may be waiting to trigger bearish pressure on TRON price at that level.
The 50% Fibonacci retracement and second-highest high volume node in the 2021 Volume Profile, share the $0.09 level. If TRON price falls below that support, then a quick trip towards $0.08 is probable. The 61.8% Fibonacci retracement is at $0.08, along with a high volume node.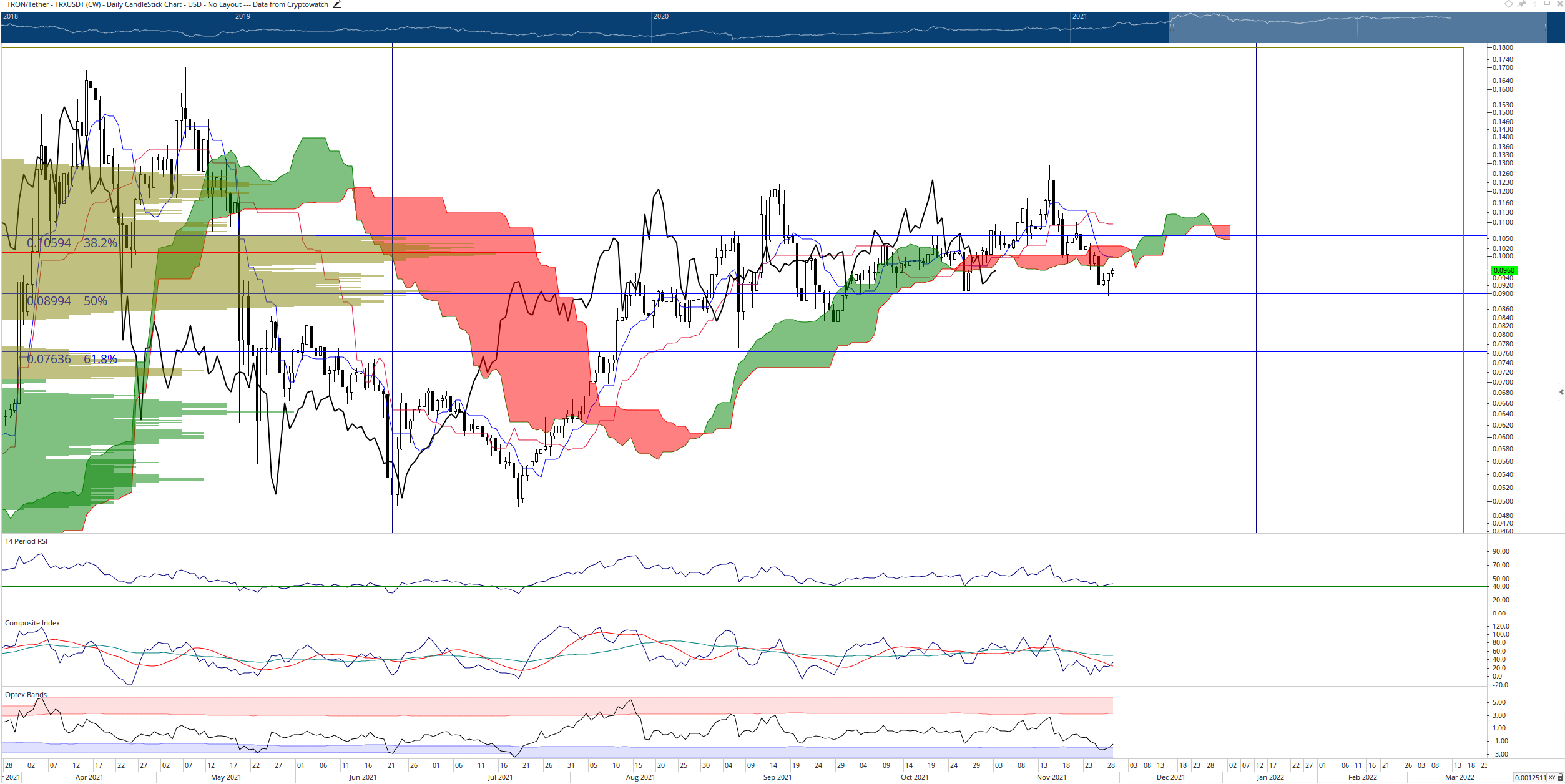 TRX/USDT Daily Ichimoku Chart
For TRON to resume a clear uptrend and a move towards new all-time highs, it must fulfill an Idea Bullish Ichimoku breakout entry. For that to occur, TRON has an extensive road ahead of it. TRON would need to close at or above the $0.115 value area to resume the prior bull market.
Cardano and Tron Will Soon Be Removed From eToro
The trading app has cited unspecified regulations as the reason behind the delistings.
Trading platform eToro has announced that it will delist Cardano (ADA) and Tron (TRX) for American users.
The company did not explain why those assets were targeted or which regulations influenced its decision.
The new policy will take effect in late December.
Trading app eToro has announced that it will remove Cardano (ADA) and Tron (TRX) from its listings before the end of the year.
Policy Will Hit eToro Users in December
The new policy means that eToro users will not be able to open positions in those cryptocurrencies beginning on Dec. 26.
Additionally, users will not be able to receive staking rewards for the two cryptocurrencies beginning on Dec. 31.
These restrictions will only apply to users in the United States, according to the policy update posted by eToro on Tuesday.
The company cited "business-related considerations in the evolving regulatory environment" as the reason for the delistings, but did not say which regulations influenced its decision.
Neither TRX nor ADA has been targeted by regulatory action. It is possible that new reporting requirements for crypto brokerages in the U.S. have played a part in eToro's decision, but this does not explain why TRX and ADA were specifically targeted.
Crypto Market Is Largely Unaffected
Though early reports suggested that each token had seen losses, both had recovered by the time of writing. As of 3:30 PST on Nov. 25, Both ADA and TRX saw gains of roughly 0.5% over 24 hours.
Given that Cardano ranks among the top six tokens, it seems unlikely that other exchanges will follow eToro's lead and delist it. TRX ranks somewhat lower as the 32nd largest cryptocurrency, but it does not seem to be a target for delistings, either.
In fact, both coins have recently gained new listings elsewhere. Cardano's ADA token was listed on Bitstamp on Wednesday, while Tron saw a TRX ETN listed on Deutsche Börse in September.
Furthermore, eToro is primarily a stock trading app with crypto features, meaning that its regulatory concerns may not reflect those of dedicated crypto exchanges.