Edward Snowden Explains Why He's Not Into Dogecoin and Shiba Inu
The former CIA subcontractor explained why he's not into all flavors of dog money after taking aim at "centralized garbage coins"
Famed whistleblower Edward Snowden has clarified his stance on the canine coin mania in a series of recent tweets.
The 38-year-old cybersecurity expert claims that he looks at cryptocurrencies of the likes of Dogecoin and Shiba Inu with distaste because of his poor sense of humor.
He's also concerned about the fact that many buyers might mistake dog money for a legitimate investment, which will hurt them financially.
Leave the nice dog man alone. I've never been a fan of any flavor of dog money, because a) I am a humorless scold and b) I think a lot of earnest people will mistake it for an investment and get hurt, but Billy has imo always tried hard to be a positive voice.— Edward Snowden (@Snowden) November 21, 2021
Yet, the former National Security Agency contractor, who blew the whistle on massive surveillance programs conducted by the U.S. government, had some words of praise for Dogecoin co-founder Billy Markus, claiming that he's "a positive voice" within the cryptocurrency community.
He went on to mention that he respects people who treat canine coins as a frivolous joke instead of trying to present them as something serious.
As reported by U.Today, Snowden warned his five million Twitter followers against splurging their hard-earned money on Shiba Inu, riling up the community of the hottest meme coin of the year. Notably, SHIB is down roughly 35% since Snowden's tweet.
"Centralized garbage-coins"
Without naming names, Snowden took aim at venture capitalists who write negative things about Bitcoin while promoting "centralized garbage-coins" that these VCs happen to have a huge stake in.
There is a strain of wealthy VC-guy who pretends to do you a favor by "warning" against Bitcoin (or whatever) while hyping centralized garbage-coins that they coincidentally happen to own an enormous stake in.

If you ever make it, don't be that guy. If you are that guy, change.— Edward Snowden (@Snowden) November 21, 2021
He also mentioned that the servers that he used to leak highly secretive information to journalists were paid for with the help of the largest cryptocurrency.
The former CIA subcontractor, however, stressed that he wasn't a Bitcoin maximalist.
When confronted about his support for Zcash, an anonymity-focused cryptocurrency that recently transitioned to proof-of-stake, Snowden said it had addressed Bitcoin's "enormous" privacy problem.
Shiba Inu to revive bullish outlook if SHIB holds above this critical support level
Shiba Inu price continues to trend lower as it records lower lows, failing to reverse the period of underperformance.
However, the prevailing chart pattern suggests that SHIB could be preparing for a 42% surge if it tackles the remaining resistances ahead.
The canine-themed token must hold above $0.00003457 to avoid invalidating the bullish outlook.
Shiba Inu price action has failed to galvanize investors' enthusiasm as SHIB continues to create lower lows and lower highs. Although the canine-themed token's momentum has shifted to the downside, the prevailing chart pattern suggests that a slice above $0.00004457 could put a 42% on the radar.
Shiba Inu price eyes 42% ascent
Shiba Inu price has formed a falling wedge pattern on the 12-hour chart, suggesting a bullish outlook for the token. The governing technical pattern indicates that SHIB could surge 42% toward the 61.8% Fibonacci retracement level at $0.00006363 if the dog-themed coin slices above the pattern's topside trend line at $0.00004457.
Before Shiba Inu price could reach the aforementioned optimistic target, SHIB has a few obstacles to tackle ahead. The first area of resistance for the token is at the 21 twelve-hour Simple Moving Average (SMA) at $0.00004337, then at the 100 twelve-hour SMA at $0.00004538, before it confronts the upper boundary of the prevailing chart pattern at $0.00004457.
If Shiba Inu price manages to slice above the aforementioned resistances, additional hurdles may emerge before the token reaches the bullish target. The following obstacles for SHIB are at the 38.2% Fibonacci retracement level at $0.00004819, then at the 50 twelve-hour SMA at $0.00004991, then at the 50% retracement level at $0.00005591.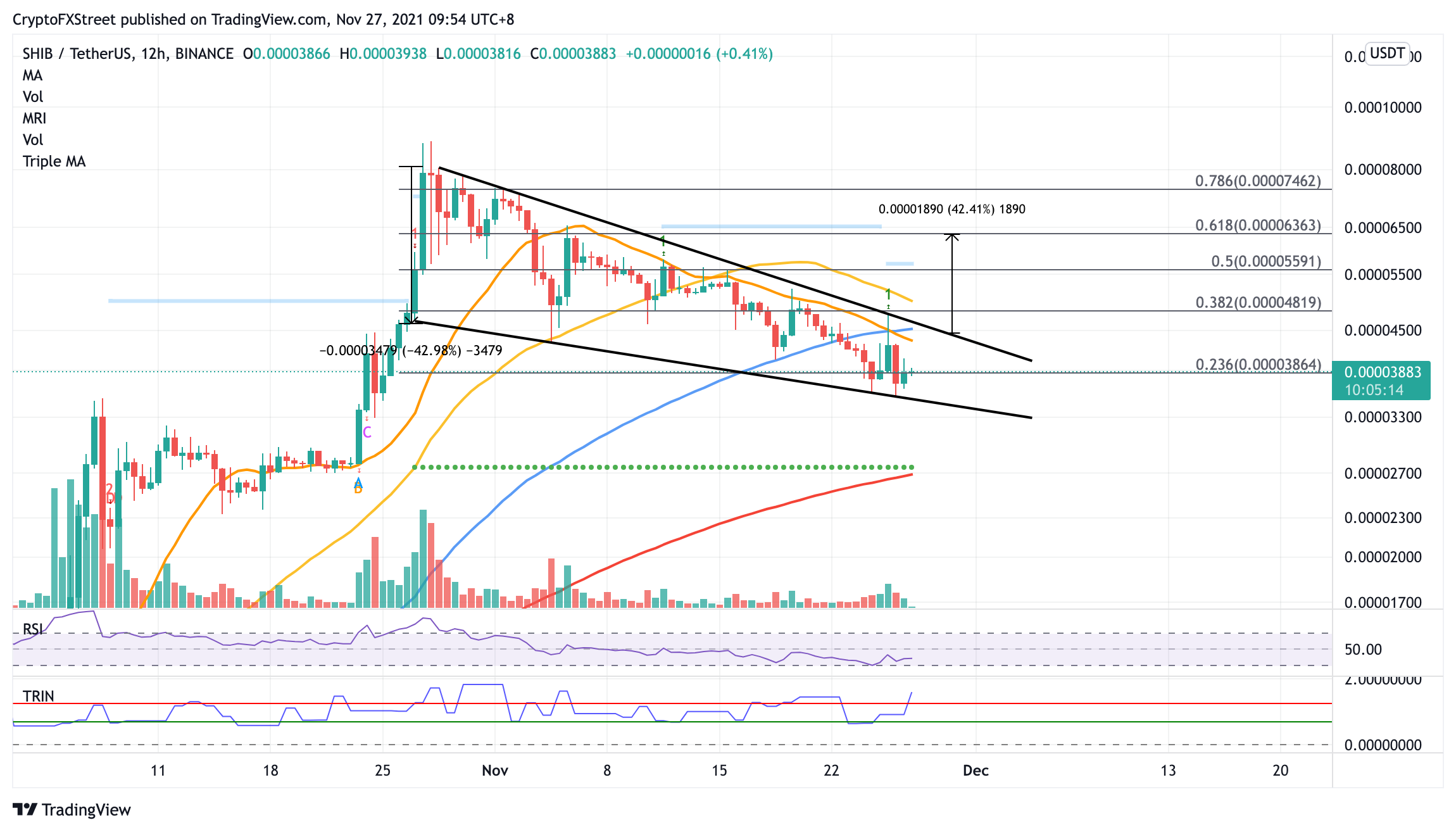 SHIB/USDT 12-hour chart
However, if selling pressure increases, Shiba Inu price could retest critical support levels before restoring its uptrend. The first line of defense for SHIB is at the 23.6% Fibonacci retracement level at $0.00003864. The lower boundary of the falling wedge pattern at $0.00003457 would act as a crucial foothold for the token, as breaking below this level would invalidate the bullish outlook.
If Shiba Inu price witnesses a catastrophic sell-off, SHIB could fall further, reaching the 200 twelve-hour SMA at $0.00002695, which sits near the support line given by the Momentum Reversal Indicator (MRI).
Newegg Confirms That It Will Accept Shiba Inu
It's official: Shiba Inu will be accepted by electronics retailer Newegg.
Electronics retailer Newegg has confirmed that it will accept Shiba Inu, the second-biggest canine cryptocurrency, in a tweet.
The announcement was front-run by the cryptic tweet posted by the official Twitter account of the cryptocurrency and project lead Shytoshi Kusama.
As reported by U.Today, they tweeted the egg emoji together with the #friendshib hashtag. 
Rumors about Newegg adding Shiba Inu to its list of available cryptocurrency payment options started flying last week after the City of Industry-based company tagged the two major Shiba Inu accounts on Twitter, asking for a direct message.
The veteran internet retailer introduced Bitcoin to its clients in 2014.
In April, it also added Dogecoin, the original meme coin.
Overall, Newegg presently supports 11 cryptocurrencies.
It's not clear when Shiba Inu will appear on the list of payment options.
Shiba Inu (SHIB) Metaverse: Here's Everything You Should Know About Meme Currency's Gaming Venture
Shiba Inu (SHIB), the 12th largest cryptocurrency by market cap and the most popular meme currency at the moment is looking to build its Metaverse. Shiba Inu team announced they have onboarded William David Volk, former Vice President of Tech at Activision, one of the largest game developers in the US who boasts of a 36-year long career in the gaming industry.
Volk would be key to Shiba Inu's development of Play-to-Earn (P2E) NFT games that would help the meme currency consequently transition into its Metaverse. The development of the Metaverse will begin in 2022 and will be built in-house by the SHIB team. Shytoshi Kusama, the project lead at Shiba Inu games revealed their Metavese approach would be quite different from Facebook.
ITS TIME #SHIBARMY Meet Shiba Inu Games' consultant William Volk (FORMER VP OF TECH AT ACTIVISION), (.@william_volk )🤯, .@Newegg #CyberMonday🤑, my take on the FBI "Metaverse" (FaceBook Inc) 😮‍💨, & the future of gaming in THIS medium! LFGGGGGGG! https://t.co/F0t5x5PhQ2— Shytoshi Kusama™ (@ShytoshiKusama) November 26, 2021
Shiba Inu's team seems to be eager to shed the "joke currency" tag and become one of the early movers in the Metaverse. The leading meme currency is planning to incorporate the best of all current trends, be it P2E NFT gaming or Metaverse.
Can Shiba Inu Games Announcement Bring Back the Bulls?
Shiba Inu team continues to make great headway in terms of new functionalities and services, however, November has proven to be bearish for the SHIB price. The altcoin has lost more than 55% of its valuation from its all-time high of $0.0000885 in October.
The altcoin has seen constant bleeding throughout November as evident from the one-day chart. SHIB price is currently moving in a descending channel on the 1-day price chart, and the recent Metaverse announcement could help the meme currency make a bullish breakout after nearly four weeks of bearish momentum.
Metaverse tokens have been the talk of the crypto town recently with two major projects The Sandbox (SAND) and Decentraland (MANA) hogging all the limelight with their mammoth price surge. SAND price surged over 10X in November while MANA recorded a 7X surge. Apart from the price surge, some of the virtual properties in these metaverses have already fetched millions of dollars in the bid, making them costlier than some of the posh New York real estate.
Shiba Inu is banking its hope on the current Metaverse trend which could eventually bring back the bulls for the meme currency.