MATIC price eyes 20% pullback while proposal to deploy Uniswap on Polygon gains traction
MATIC price hints at a 15% downswing as the $1.51 swing low breaks down.
This move could push the Layer 2 token to $1.41 and, in dire cases, $1.30.
Uniswap governance forum saw a proposal that discusses deploying the AMM to Polygon.
MATIC price has been consolidating for the past ten days and hints at a further descent to support levels. This downswing is a result of the violation of a recent swing low and the bearish outlook of the big crypto from a short-term perspective.
Proposal to launch Uniswap on Polygon
Uniswap governance forum saw a proposal to deploy the Automated Market Maker (AMM) on Polygon to reduce the gas fees considerably. With the popularity of Ethereum in the 2021 bull rally and the entry of new investors, the gas fees have skyrocketed. These 'push and pull' mechanics have been around for as long as one can remember. 
Despite the implementation of the London hard fork and the introduction of Proof-of-Stake mechanics, the cost has not seen a staggering reduction that will allow retail investors to transact on the ETH blockchain without having to pay massive gas fees.
Polygon has become the go-to scaling solution for Ethereum, and other platforms like SushiSwap, Matcha, Aave, Curve, Balancer, etc., have all launched their respective platforms on the Polygon PoS. Since Uniswap has not done the same, this proposal aims to do that.
If successful, this will further add a tailwind to the already bullish fundamentals of the MATIC token. While the adoption of Polygon is bullish from a long-term perspective, the short-term technical outlook for MATIC price shows bearish signs.
MATIC price to return to mean
MATIC price breached through the November 10 swing low at $1.51 on November 16. This downswing indicates that the market makers are anticipating the token to head lower. So far, Polygon reacted below the $1.67 resistance barrier and dropped 6.4% to where it currently trades – $1.57.
Going forward, investors can expect MATIC price to continue its descent to retest the $1.45 and $1.41 support levels. While the Layer 2 token will likely consolidate around $1.41, market participants should expect the market makers to drag the token down to fill the Fair Value Gap (FVG).
Therefore, a breakdown of these two barriers should knock the MATIC price to $1.30, constituting a 22% drop from $1.67.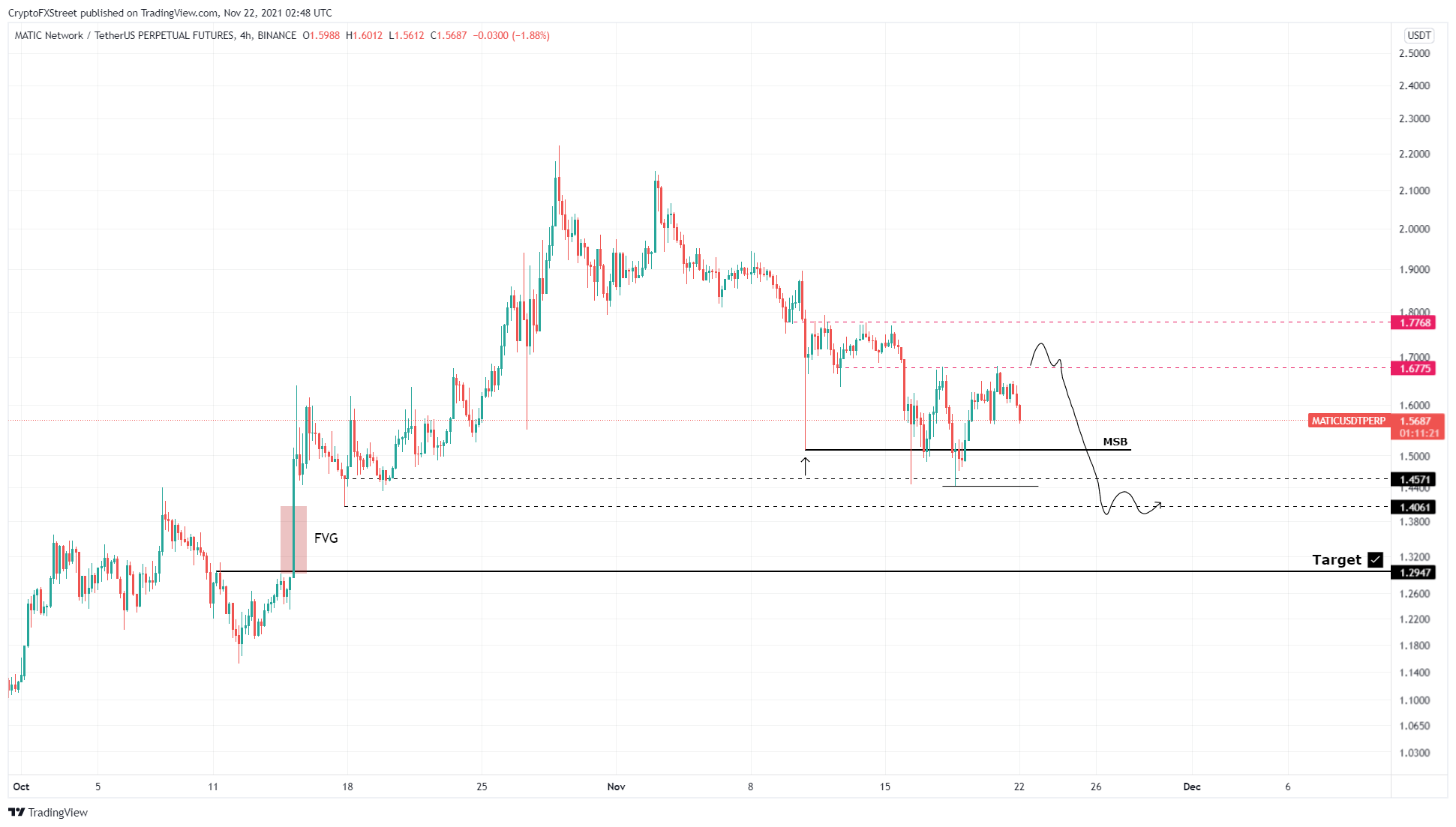 MATIC/USDT 4-hour chart
While the downswing is likely, MATIC price could head higher and sweep the $1.67 resistance barrier for 'buy stop' liquidity. If this uptick in buying pressure pushes Polygon to produce a higher high above $1.77, it will invalidate the bearish thesis.
Polygon (MATIC) Analysis: Will MATIC cross above the $2 mark?
MATIC is currently trying to gain back its bullish momentum falling due to market correction a couple of days ago
The current market price of MATIC has been up by 9.94% over the past 24 hours
Its monthly performance has been down by 10.97%
Polygon, or MATIC, has been suffering from a bearish trend for quite a long time. The token with a current market rank of 19 and market dominance of 0.47% observed a steady rise in its price on November 29 for a whole day. After achieving a local breakout, the token then descended 20% of what was achieved the day earlier for a steady position in the market. The market cap of MATIC is now 2.35% greater than it was a couple of hours before. The trading volume registered an increment of 37.02%. The MATIC/BTC pair enjoyed a surge in its value by 2.68%. Meanwhile, the MATIC/ETH pair was downgraded by 1.31% during the intraday session.
The 30-minute chart above explains the current short-term scenario of MATIC. Its current climb can only be dubbed an attempt because the current value has come down to $1.73 from $1.87 in a single day. However, one can hope for a better tomorrow as the trend lines (white lines) drawn at the top and bottom of the current trend candles hints at a continuous bullish trend in the future. At first, the 30 MA line resists the climb, but the 100 MA line has been seen running upward to support the current price action.
MATIC's current rally get a hand of support from the oscillators
MATIC fell prey to the volatility in the last week and gave breakouts and low settling results. The 4-hour chart shows the current position of the token concerning its past long-ranged data. The MACD line is above the zero level, and the signal line, hence the token, looks bullish. But the MACD line has formed a curve and may go down by a level or two if a dip occurs. The RSI graph stays in the neutral zone with a possibility of getting into the overbought zone.
The resistance is at $1.88 and $1.99. The support levels are present near $1.49 and $1.65.
Conclusion- MATIC is proposing a better upclimb after suffering from volatility and disturbance in its market price. One can consider MATIC at its current market value for a buy or wait for its price to drop further to enter the market. However, after the dip, one should conduct research and analysis on the token again to look out for any abnormal symptoms or trend reversals.
Resistance- $1.88 and $1.99
Support- $1.49 and $1.65
Workflow Automation Platform PARSIQ Integrates Polygon Network
PARSIQ announced today that it has completed the integration of the Polygon network into its platform for dozens of projects.
Blockchain monitoring and workflow automation platform PARSIQ has recently completed the integration of the Polygon network into its ecosystem.
PARSIQ Integrates Polygon
According to a Monday press release shared with CryptoPotato, investors, traders, and development teams can now access several Polygon blockchain data in real-time via the PARSIQ platform, acquire immediate feedback, and explore various monitoring solutions concepts.
PARSIQ employs several cutting-edge technologies designed to help users create custom workflows from real-time data streams.
Leveraging PARSIQ's Smart Triggers feature, a reverse oracle solution, project developers can easily gather on-chain data and allow blockchain activities to trigger predefined actions on real-life applications while reducing the overall workload.
Interestingly, these Triggers can be created seamlessly by any user, regardless of their coding background.
Speaking on the just-completed integration, PARSIQ CEO Tom Tirman said, "Polygon's popularity has proved its value as a leading scaling and infrastructure solution for Ethereum…

PARSIQ is delighted to bring Polygon users our suite of products, like Smart Triggers and wallet TRACKR, allowing automations triggered by real-time on-chain activity and providing enhanced security services. With Polygon we share a common goal in bringing blockchain technology to the world, and we're excited about the potential of this ongoing partnership"
Additionally, PARSIQ recently introduced ABI, which allows users to import custom smart contracts onto its platform to clarify the kinds of events they wish to monitor.
Boosting Polygon
The technology, as well as many others that PARSIQ has to offer will boost the Polygon ecosystem and help to discover several new use cases, products, services, and opportunities.
The Polygon network is developing at a breakneck pace, providing both speed and cost-efficiency. The integration with PARSIQ will help equip individuals and project developers using Polygon with different tools needed for their growth.
Some solutions like the PARSIQ IQ Protocol, designed for staking and renting of tokens, will help power the tokenomics of many Polygon projects that are currently available and those that will be developed in the future.
PARSIQ noted that Polygon is a great addition to its network and will help further improve the integrity of both ecosystems.
Polygon Price Analysis: MATIC/USD set to break the intraday highs of $1.69
Polygon price analysis is bullish today.
MATIC/USD saw another selloff overnight.
MATIC/USD is currently trading at $1.63
The triangle price pattern is bearish today, as we anticipate recovery to follow after another drop. Since the support level of $1.55 was recognized again, MATIC/USD should recover some of its losses during the next 24 hours.
The Awesome Oscillator displays red bars today, as MATIC/USD continues its drop. Since the triangle price pattern is bearish today, we should see MATIC/USD recover some of its losses during the next 24 hours. Losing another $0.2 against USD overnight left an impact on sentiment towards this cryptocurrency.
The Awesome Oscillator rhythm displays red bars today, suggesting that bears control MATIC/USD. Another drop is expected, with the supporting zone now located below the current price point at around $1.5. Before resuming its uptrend, another corrective period could be required before reaching higher levels again – this would allow for support increase in MATIC/USD prices against USD and other currencies on exchanges worldwide.
A more significant breakout can be expected once the triangle pattern is terminated. For reversal signals to occur, though, the Support at $1.55 would need to be broken. A move above the $1.7 resistance could then challenge for further gains towards $2.
MATIC/USD 4-hour chart: MATIC looks to retrace from $1.55
On the 4-hour chart, further downside was rejected for the Polygon price supports the $1.55 mark prevented further downside.
The price of a triangle has been on a significant climb in recent weeks. After establishing Support at $1.45, MATIC/USD began to establish higher lows, reaching a high of approximately $1.70 on the 25th of November.
The MACD indicator displays a blue bar today, signaling that the overall momentum is bearish. This could be because the market is still awaiting news on MATIC/USD's plans before implementing any major changes in price action against USD and other currencies.
The Bollinger bands are wide apart today, suggesting volatility is low. Traders seem to be sitting back and not reacting to any changes in price support. However, if Polygon manages to push through $1.55 this morning (GMT), we should see significant upwards progress towards the next resistance level at $1.7.
Polygon Price Analysis: Conclusion
The price of a triangle has been steadily rising since late May. The bulls have consistently pushed the price higher, and the traders are still bullish on this pair despite its fall from $1.60 to $1.55 overnight. After another drop overnight to the $1.55 support, we anticiSupportrecovery, which is favorable for investors who believe in triangles as an investment strategy due to future price movemSupportdicated by preceding highs and lows over time.