Addresses Holding Shiba Inu ($SHIB) Surpass One Million as Price Drops
Adoption of the meme-inspired cryptocurrency Shiba Inu ($SHIB) is seemingly still growing, even as the price of the cryptocurrency keeps on dropping along with the rest of the cryptocurrency market.
According to a report from cryptocurrency security firm CertiK, there are now 1.05 million Ethereum addresses with SHIB in their balance as the cryptocurrency consistently kept adding between 30,000 and 40,000 new users on a daily basis.
The report notes that the top 10 holders hold around 64% of SHIB's circulating supply, which means whales control a very significant portion of the meme-inspired cryptocurrency. Whale holdings are a concern to some investors as if they decide to start selling their holdings en masse prices could crash.
As CryptoGlobe reported, crypto analytics firm Santiment noted last month that SHIB whales have been influencing the cryptocurrency's price, as when whale transactions above $100,000 occur, prices rise.
🐳 #ShibaInu is back up to $0.00002885 while the spotlight is back on #Bitcoin and its close-in on its new #AllTimeHigh. But keep an eye on $SHIB's whale transactions exceeding $100k. When these transactions come in bunches, price rises generally follow. https://t.co/oeGN85BpXS pic.twitter.com/G9kJopNTHE— Santiment (@santimentfeed) October 18, 2021
It's worth noting the one million figure only reflects wallets on the Ethereum blockchain and not individual holders. One SHIB holder can, for example, hold dozens of wallets, while another wallet can have the funds of thousands of holders if they custody their funds on an exchange, for example.
Exactly how many people hold $SHIB isn't known, although some believe that there may be more users on cryptocurrency exchanges than on the blockchain. Top trading platforms like Binance, Coinbase, Huobi, FTX, and Gemini have all listed the meme-inspired cryptocurrency over time.
Shiba Inu's price hit an all-time high of $0.0000885 earlier this year after its price exploded over a retail trading frenzy. It has since plunged to at press time trade at $0.00004242.
Some analysts have warned investors that even though SHIB's price is extremely low, the cryptocurrency has a market cap of over $23.3 billion and as such its upside may be limited, with cryptocurrencies like Binance Coin (BNB) – the third-largest by market cap – sitting at $99 billion.
As reported, digital asset-focused research firm Delphi Digital has revealed that historically dog coins, meaning cryptocurrencies inspired by the popular Shiba Inu meme, have historically been "a pretty good indication of an overheated market."
New SHIB Whale Holds 3.2 Trillion Shiba Inu Tokens Amid Accumulation Spree
An anonymous buyer has over 3.2 trillion SHIB tokens in his possession after a recent  accumulation spree
According to WhaleStats, the crypto market has witnessed the birth of a new SHIB whale. The anonymous buyer, who has been on a recent accumulation spree, now holds nearly 3.2 trillion SHIB tokens.
In three large transactions, the SHIB whale bought $120,342,829 million worth of Shiba Inu to join the growing list of large holders for the dog-themed coin.
Woof! Woof! 🐕

👏🤔 New #SHIB whale was born!!!

Holds 3,243,484,849,528 $SHIB ($120,342,829 USD)

Transactions:
1⃣https://t.co/s75pLi2zme
2⃣https://t.co/9Dgz2ZybXN
3⃣https://t.co/Z3RYcqwRyv

Welcome to the #ShibArmy Family! pic.twitter.com/vM4Ei3SHlg— WhaleStats – the top 1000 Ethereum richlist (@WhaleStats) December 8, 2021
The first large transaction appeared on the blockchain about two days ago when the whale bought nearly 3.15 trillion Shiba Inu tokens, or $105,487,757 worth. This was followed by two transactions within a period of 30 minutes of 84.7 billion SHIB ($3,233,066) and 8 billion SHIB ($275,776) on Dec. 7.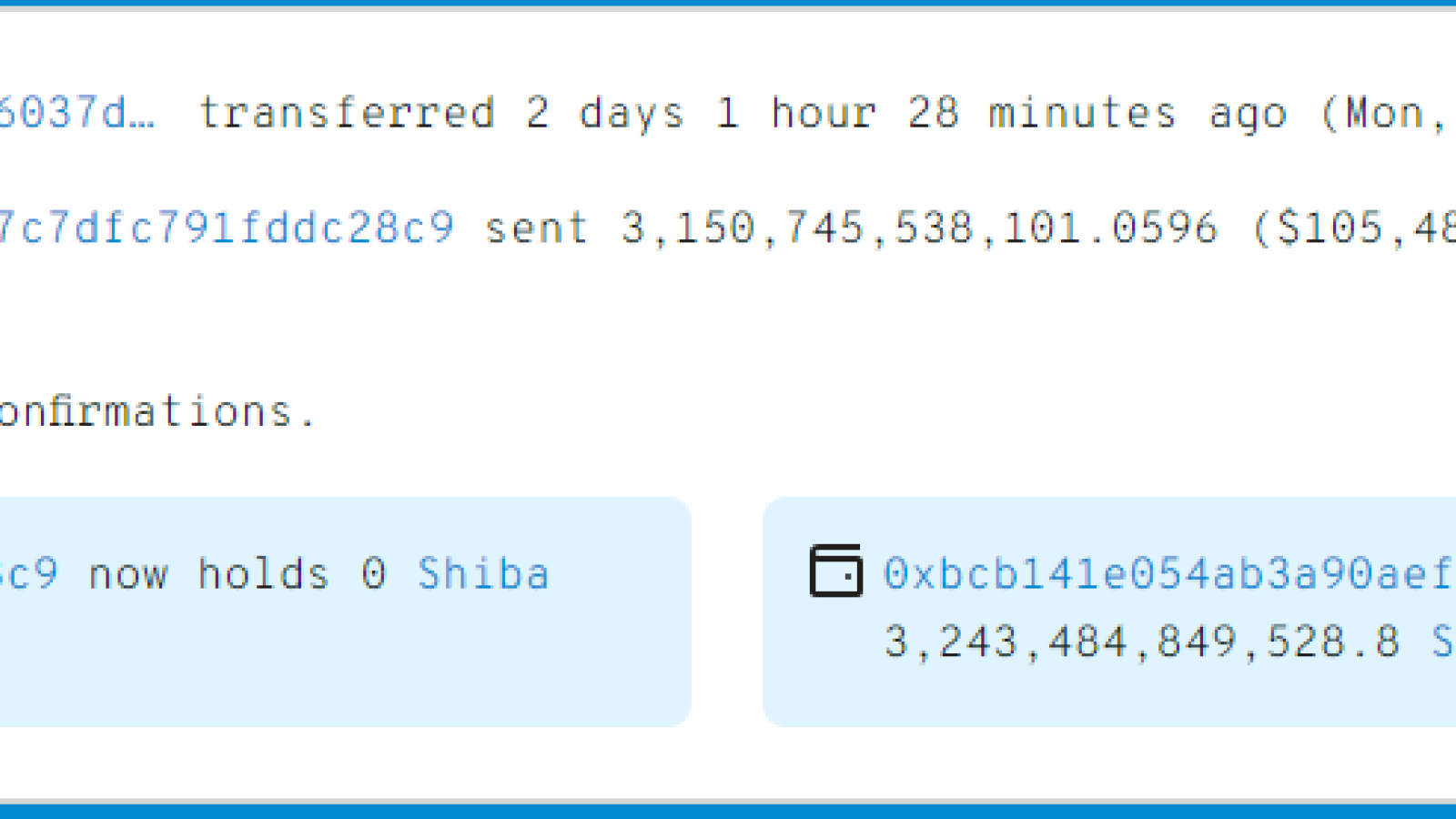 As of press time, SHIB was trading at $0.00003620.
SHIB adoption continues to grow
As reported by U.Today, SHIB is now listed as a payment method on Travala.com to book over 3 million travel products worldwide. California-headquartered electronics seller Newegg stated in late November, integrating Shiba Inu through a partnership with payment processing service BitPay.
Likewise, AMC, the number one movie theater chain in the world, became the first BitPay customer to decide to accept Shiba Inu. In mid-November, CEO Adam Aron confirmed that the new payment option would be added in early 2022.
Dogecoin Killer Shiba Inu to Start Trading on Bitstamp
Despite snubbing Dogecoin earlier this year, Bitstamp has now listed rival Shiba Inu.
Bitstamp, one of the longest-standing cryptocurrency trading platforms in the world, has listed Shiba Inu (SHIB) in what appears to be one of the most significant endorsements for the meme coin to date.

Deposits and withdrawals have already been opened, with trading kicking off on Dec. 9 at 8:00 a.m. UTC.

Apart from Shiba Inu, Perpetual Protocol (PERP), dYdX (DYDX) and Gala (GALA) have also been added to Bitstamp.

It is worth mentioning that the aforementioned cryptocurrencies will not be available in the U.S. and Singapore for now.

As reported by U.Today, Bitstamp also listed Cardano (ADA) in late November.
Quality over quantity
Bitstamp, which was launched all the way back in 2011 as a European alternative to the now-defunct Mt. Gox exchange, is known for its strong emphasis on regulatory compliance.

Sticking to its conservative listing policies, the Luxemburg-headquartered exchange chose to ignore Dogecoin despite the immense retail interest that pushed the price of the original meme coin through the roof in early 2021.

Bitstamp CEO Julian Sawyer commented on the snub in September, claiming that the exchange chooses quality over quantity. He took issue with centibillionaire Elon Musk's influence on Dogecoin's price action:
The issue is that if you go to some that are hyped up by a billionaire's tweet, or crashes on a billionaire's tweet, we don't think that's right.
Bitstamp remains the largest European exchange by trading volume.
SHIBA INU Forecast December 8, 2021
SHIBA INU is trading at the time of the publication of the forecast at the level of 0.00003715, and continues to move within the correction and the downward channel. Moving averages indicate a bullish trend. Prices broke through the area between the signal lines upward, which indicates pressure from buyers of the coin and a potential continuation of growth from the current levels. As part of the SHIB/USD rate forecast, one should not consider an attempt to develop a bullish correction in the value of a digital asset and a test of the resistance area near the level of 0.00003995. From where a rebound is expected again downward and an attempt to continue the fall of the SHIBA INU cryptocurrency with a potential target below the level of 0.00003005.
SHIBA INU Forecast December 8, 2021
An additional signal in favor of reducing SHIB/USD quotes for tomorrow will be a rebound from the resistance line on the relative strength index (RSI). The second signal will be a rebound from the upper border of the descending channel. Cancellation of the growth option for the SHIBA INU cryptocurrency will be a fall and a breakdown of the 0.00004695 area. This will indicate a breakdown of the resistance area and continued growth of SHIB/USD quotes with a target above the level of 0.00004995. Confirmation of the fall in the cryptocurrency will be the breakdown of the support area and the closing of quotations below 0.00003155.
SHIBA INU Forecast December 8, 2021 suggests an attempt to develop a small correction of the coin and test the resistance area near the level of 0.00003995. Then, the continuation of the fall to the area below the level of 0.00003005. An additional signal in favor of reducing SHIBA INU will be a test of the trend line on the relative strength index (RSI). Cancellation of the fall option will be a strong growth and a breakdown of the 0.00004695 area. This will indicate a continued rise in the cryptocurrency with a target above the level of 0.00004995.