Algorand price to rally 20% as ALGO approaches a crucial demand barrier
Algorand price has slithered lower and looks ready for a retest of the $1.59 to $1.69 support area.
A bounce from this barrier is likely to propel ALGO by 20% to $2.08.
A breakdown of the range low at $1.52 will invalidate the bullish thesis.
Algorand price has been on a downtrend for the past four days and has led to a crucial support level. A retest of this barrier could provide the bulls with a necessary oomph to kick-start an upswing.
Algorand price ready for a reversal
Algorand price has dropped 15% over the past four days and is currently hovering above the $1.59 to $1.69 demand zone. Interestingly, this zone is present just above the range low at $1.52. Therefore, investors can expect a trend reversal for the altcoin.  
Moreover, a dip into the support area mentioned above will likely replenish the bullish momentum and trigger a potential upswing. After a 15% run-up from $1.69, ALGO will face hindrance around the $1.97 resistance barrier. Clearing this hurdle will push it toward the 50% retracement level at $2.08, constituting a 20% ascent.
While this is a short-term target, if the buying pressure persists, investors can expect Algorand price to retest $2.16, coinciding with the 61.8% Fibonacci retracement level.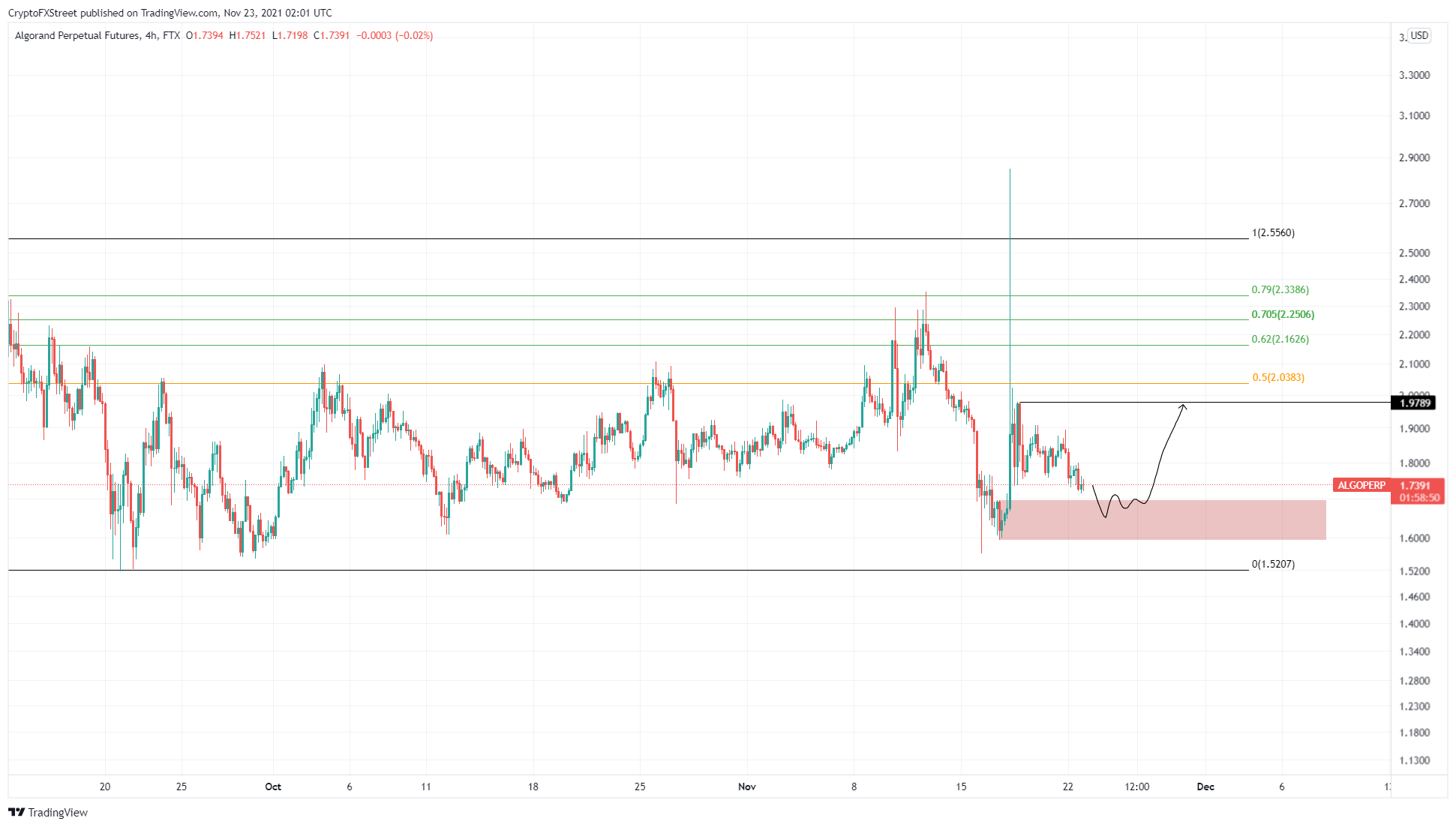 ALGO/USDT 4-hour chart
While things are looking up for Algorand price, a breakdown of the $1.59 to $1.69 demand zone will create trouble for the bulls. If the selling pressure continues to build up, causing a 4-hour close below the range low at $1.52, it will invalidate the bullish thesis.
In this case, market participants can expect ALGO to crash 9% to retest the $1.37 support level.
Algorand Price Analysis: Can ALGO Price Initiate A New Rally With This Bullish Pattern?

The ALGO coin maintains an overall bullish trend in its technical chart. The coin price has recently bounced back from crucial support of $1.56, and now with a double bottom pattern, it suggests a possible rally in the upcoming trading session. Watch out for these resistance levels in a long position.
Key technical points:
The ALGO price bounced back from the $1.56 support level
The ALGO price reclaims the 50-day EMA line
The intraday trading volume in the ALGO coin is $737.6 Million, indicating a 68.18% hike.
Source- ALGO/USD chart by Tradingview
The ALGO/USD chart displayed the price resonated in a rising channel pattern in the daily time frame. On November 16th, the coin price provided a decisive breakdown from its support trendline, indicating a great short opportunity for crypto traders.
Though the ALGO price provided a decent retest to the new resistance trendline, the coin couldn't pass an important support level of $1.56, providing significant demand pressure below this level.
The Relative Strength Index(56) indicated an impressive recovery concerning the recent bullish reversal from the bottom support.
ALGO/USD 4-hour Time Frame Chart
Source- ALGO/USD chart by Tradingview
The ALGO coin showed a double bottom pattern in the 4-hour time frame chart. However, in addition to the neckline of the $1.56 mark, this coin will also be facing resistance from the ascending trendline, which was earlier providing good support in a parallel channel.
Furthermore, the price has already provided a breakout from these resistance levels, and if the price shows good sustainability above them, the crypto traders should get a good entry opportunity to go long.
Moreover, the crypto trader can expect the next resistance level for the price at $2.1, followed by 2.28
Hivemind Launches $1.5 Billion Venture Fund, Partners With Algorand

Renowned Wall Street veteran Matt Zhang has reportedly launched a $1.5 billion venture capital (VC) firm named Hivemind Capital Partners, per Bloomberg reports. The VC was launched to help crypto-based startups, as well as blockchain projects who are invested in building the infrastructure of the crypto industry.
Hivemind Focused On Building Crypto Infrastructure
While announcing Hivemind earlier today, former Citi executive Matt Zhang discloses that the underlying strategy will be to use part of the funds to encourage crypto-based startups. Not only that, but it will also prioritize projects whose focus is on improving crypto infrastructure and building virtual worlds. Lastly, Zhang says the remaining part of the fund will also be used in trading digital assets.
Meanwhile, as part of the efforts towards achieving the primary aims and objectives of Hivemind, the VC has collaborated with Algorand — a proof-of-stake (PoS) protocol. Algorand is a big deal of a blockchain project. Ranking in number 21, its native ALGO token is valued at over $11.3 billion in total market capitalization, per Coinmarketcap data.
Venture Capital on The Rise
Meanwhile, something noteworthy in the crypto industry this year, is that venture capital has been high on the rise, with promising startups seeing funds to the tune of billions of dollars.
And with this $1.5 billion raised, Zhang's Hivemind joins the league of dozens of other unicorns — a term used to describe startups with a valuation of over a billion dollars. Recall that Coingape earlier reported about Silicon Valley venture firm Andreessen Horowitz launching a $2.2 billion crypto fund in June, which was the largest ever as at that time. However, investment firm Paradigm, surpassed the June funding when it announced its own $2.5 billion funds in November.
One thing is for sure, and as Zhang claims, blockchain technology gained with its collaboration with Algorand, will go a long way in providing entrepreneurs in the crypto business, with infrastructure support that is not presently available.
3 Reasons to Buy Algorand
Algorand's ability to collaborate with other blockchain networks is a key factor investors may be overlooking.
Key Points
Algorand's smart contracts and use cases provide investors with tangible real-world utility.
The potential of its network provides investors looking for growth-oriented cryptocurrency networks with a key reason to own its digital token, Algo.
The external collaboration of Algorand's network is unique, making Algo a cryptocurrency to consider.
Created by Massachusetts Institute of Technology professor Silvio Micali in 2017, Algorand (CRYPTO:ALGO) is a relatively new player on the cryptocurrency scene. Algorand's main network was made public in mid-2019, giving this cryptocurrency network a total time in the market of only about a year and a half. 
Sure, the cryptocurrency world operates at light speed. A year and a half might be a lifetime as far as cryptocurrencies or blockchain networks are concerned. However, the fact that Algo, the native cryptocurrency of the Algorand network, has grown to become a top-25 cryptocurrency by market cap (just under $12 billion at the time of this writing) is impressive.
As with other cryptocurrency networks, Algorand's purpose is to facilitate efficient and smooth transactions. However, investors note that this network has a number of other features that make it stand out among its cryptocurrency peers.
Let's dive into a few key reasons cryptocurrency enthusiasts may want to consider owning some Algo right now.
1. Interoperability is increasingly important
Cryptocurrency networks have generally focused on developing unique blockchain networks providing unique benefits to users and investors. The advent of relatively "closed" cryptocurrency ecosystems has forced investors to consider one particular cryptocurrency or blockchain network over another.
In the case of Algorand, a paradigm shift is underway. It is well known for its ability to work across various blockchain networks. That is, developers on Algorand can create digital assets or smart contracts on the blockchain's Layer-1 network. For reference, a Layer-1 cryptocurrency technology is an actual blockchain, while Layer-2 technologies add an abstract operating model that helps increase the efficiency and scalability of the Layer-1 assets. Algorand's Layer-1 network provides a blockchain-based ecosystem that allows fungible and non-fungible tokens from other blockchains to communicate with each other.
In other words, Algorand has created a way to launch multichain projects. Developers can build a range of applications that work well across various blockchains. This feature — known as interoperability — allows for a level of connectivity most other blockchains do not have. External collaboration could very well be the future of where blockchain networks are headed. In this regard, Algorand appears to have a leg up on the competition.
For cryptocurrency investors bullish on connectivity within a decentralized space, Algorand's network is certainly an intriguing option to consider.
2. Smart contracts and use cases provide utility
Among the cryptocurrency networks that are gaining attention right now for their smart contracts and use cases is Algorand. Indeed, the ability for cryptocurrency users to engage in various value-added activities is increasingly important.
Sure, as a store of value, an argument can be made to own and hold cryptocurrency. However, for those looking at cryptocurrency investments as representative of a truly innovative technological shift, Algorand is an intriguing choice.
The Algorand network uses two types of smart contracts to enable transactions without a centralized third party: stateless smart contracts and stateful smart contracts. Stateless smart contracts are among those that investors might already be familiar with. These smart contracts facilitate various transactions to be authorized when certain agreed-upon conditions are met. Stateful smart contracts, on the other hand, are where data can be stored in perpetuity and can be used for broader purposes.
On the basis of these smart contracts, various use cases are possible. These range from stablecoins being launched — USD Coin (CRYPTO:USDC) and Tether (CRYPTO:USDT) are two prominent examples — to non-fungible tokens (NFTs), decentralized finance (DeFi) applications, and a range of other uses.
Algorand is a fast-growing network in this regard, powered by the Algo token. Accordingly, investors in Algo are generally keen on the utility the Algorand network provides relative to its cryptocurrency peers.
3. Algorand's growth potential is impressive
One of the factors cryptocurrency investors and traders will like with Algo is the positive price momentum it has seen of late. It has been a five-bagger over the past year, and a double-up over the past three months.
This sort of growth has propelled Algorand higher in the cryptocurrency rankings. As a relatively young token, it has the sort of recent momentum that investors banking on future upside potential should appreciate.
One of the key drivers of this momentum over the past year has been Algo's listing on prominent exchanges. Coinbase Global listed Algo in June of 2020, a move that brought near-immediate credence to this cryptocurrency and its network. Algo prices also spiked higher this week as the leading cryptocurrency exchange in South Korea added support for the Algo/South Korean won trading pair.
As more investors look to build out a more diversified portfolio of cryptocurrency holdings, Algo stands as a large-cap option for those intrigued by what the DeFi world has to offer.
Buying anything because others are doing so isn't necessarily a smart investing strategy. However, picking high-growth options with strong positive momentum can provide a greater statistical probability of success in the near term. Accordingly, those with short-term investing time frames may want to consider cryptocurrencies like Algo right now.
The bottom line
For hypergrowth investors, finding investments that provide unique competitive advantages and moats is important. In the cryptocurrency world, there is certainly no shortage of such options.
However, Algorand's unique network provides interoperability along with functionality that is truly enticing.
Of course, like other digital tokens, Algo is not without risk. This token's value depends upon the market consensus of its value, and the value of the underlying Algorand network. Accordingly, volatility can be expected.
However, those seeking a hypergrowth option in the cryptocurrency space today have reason to consider Algo. This is one of the top cryptocurrencies I've got on my watch list right now.