Elrond Price Prediction: Will EGLD Price hit $1K by 2021?
The projects based on DeFi are undergoing a sustained skyward move. And trend momentum seems to be picking up pace as traders have been looking out for a more quick, secure, and scalable platform. While Elrond has been one of the revolutionary projects, pivot towards DeFi and NFTs to drag the traction of a larger user base.  
The unique protocol has seen dramatic growth throughout the year as it is a highly scalable, fast, and secure blockchain platform for distributed applications. It is established to provide high-level interoperability with fast execution speed compared to other smart contracts platforms.
Would like to invest and be on the edge to know in detail everything about the asset. In this article, we will discuss thoroughly the Elrond price prediction for 2021 and beyond. Also, you will have a clear outlook on whether EGLD Price will rise or crash.
Overview
| | |
| --- | --- |
| Cryptocurrency | Elrond |
| Token | EGLD |
| Price | $ 0.0000 |
| Market Cap | $ 0.0000 |
| Circulating Supply | $ 0.0000 |
| Trading Volume | $ 0.0000 |
| All Time High | $ 0.0000 January 1, 1970 |
| All Time Low | $ 0.0000 January 1, 1970 |
What is Elrond ?
Elrond (EGLD) platform being a blockchain protocol seeks to provide fast and secure transaction speeds by using sharding. The EGLD's smart contracts execution platform has the potential to handle 15,000 transactions per second. 
The Elrond blockchain has its own native token named as eGold or EGLD, which is utilized to pay network fees, rewarding network validators, and staking. Elrond works on a Secure Proof-of-Stake consensus mechanism in which nodes must stake their EGLD tokens to participate in the validation process.
Elrond is a highly scalable blockchain network powered by Proof of Stake and an adaptive sharding mechanism. According to its whitepaper, it intends to develop its ecosystem and establish Elrond as a store-of-value asset.
Fundamental Analysis
The network's main aim is to eradicate some drawbacks found in earlier blockchain projects like full decentralization, cross-chain interoperability, robust security, and high scalability. The project specifies itself as a technology ecosystem for the new internet including fintech and decentralized finance. Its native token eGold or EGLD is used for paying network fees and rewarding validators.
Founded by Beniamin Mincu, Lucian Mincu, and Lucian Todea, the platform encourages developers to build on it and provide 30% of the smart contract fees as royalties. The company also maintains a specified supply of ELGD tokens which is staked on its network all along the first year. The validator nodes also receive a 36% annual rate.
Elrond Price Prediction 2021
EGLD entered the year 2021 with a trading value of $24.80. On a bullish note, Elrond started an upward trajectory and progressively hit the highest levels in mid-February. However, the price declined to a certain extent, yet raised high during April around $227 and dropped again.
The market crash happened on May 19th, 2021, EGLD's price dropped from $239.45 to $59.45 on 22nd July 2021. The EGLD price hovered around $85 for August month. EGLD regained bullish momentum in the month of September trading at $280.96.
EGLD Price for Q4: The Elrond price has brought significant profits in the ongoing quarter. The asset has made its swift move with continued collaborations and upgrades. However, the network has introduced its Maiar DEX as it has commenced into the DeFi space. The altcoin hit ATH at $516.79 on 23rd November.
If bulls continue to predominate the space, the asset would approach $700 by the year's end. On the contrary, trend reversal would lead to a decline of the price to support $270. With average buy and sell orders, the asset would claim $400 by the end of 2021.
EGLD Price Prediction 2022
Elrond might continue the year 2022 with a price of $525 by the start of January. The price might reach newer heights with initiating certain partnerships and developments of its protocol by the community. By the end of 2022, EGLD might be traded at $1k. The token may decline to the $500 mark if it fails to perform well.
Price Prediction For The Next 5 Years
In 5 years, EGLD might concentrate on enhancing the scalability and interoperability of the platform and the price is expected to rise high if the community succeeds to provide the required updates and developments by the users. It might even compete with other altcoins platforms amid transaction speeds. The currency may sink around the $350 mark if the market continues to be volatile for a longer period of time. However, the highest level Elrond price could reach by the end of 5 years$958, Elrond could hit the $5000 mark.
Market Prediction For EGLD Price
WalletInvestor
As per wallet investor predictions, EGLD is forecasted to hit a maximum price of $531.845, minimum it would flip to $409.730. The token is expected to trade at an average price of $469.799. Walletinvestor anticipates EGLD to trade at an average price of $1342. And maximum price expected is $1408.310, minimum it would plunge back to $1278 by 2025.
Digitalcoinprice:
Digitalcoin price analysts predict the ELGD price would reach $702.37 by the end of 2021 and $1468.70 by the end of 2025.
Gov.Capital:
Gov. capital has changed their prediction for the EGLD price, they expect the protocol to hit a maximum of $578.95. And with average buy and sell pressures it would end up trading at $503.435 by the end of 2021. The website has also made a whopping prediction in the long term, they expect the price to surge maximum of $6762.87. The average and minimum probabilities is being $6054.67 and $5146.47 respectively by the end of 2025.
Our Elrond Price Prediction
Elrond price with certain variations might escalate higher if the community enters into strategic partnerships with certain projects. The price may plunge to $250 if the bulls fail to push the prices high. At the end of 2021, Elrond might be traded well above $700.
| | | |
| --- | --- | --- |
| Year | Potential High | Potential Low |
| 2021 | $700.56 | $240.97 |
| 2022 | $2000.475 | $500.447 |
| 2025 | $5000.27 | $1000.713. |
Historic Market Sentiments
2020
According to Coinmarketcap, Elrond entered the crypto space on 05 September 2020 with a trading value of $17.33. Surprisingly, the token sank to $12.01 within a day of trading. Later, the price started to variate and dropped to $10.11 by the end of September. Further, the coin declined to as low as $7.83 by mid-October and the currency managed to be stable with certain variations and reached $9.07 by the end of November.
Dramatically, Elrond steadily started to rise in December. Interestingly, the token hit $29.26 at the end of December as it was recognized by the marketers and further declined to $23.76 to end the year's trade.
FAQ
Is Elrond using the Proof of Work consensus algorithm?
No, Elrond uses the Proof of Stake consensus algorithm.
What makes Elrond a unique currency than others?
Elrond is unique than other currencies as it is developer friendly, secure and efficient mechanism.What is the transaction processing time of EGLD?
EGLD can process 10000-15000 transactions per second.Is Elrond a profitable investment?
Yes, Elrond might be a profitable investment for the long term as it is anticipated to rise.
Where to trade Elrond?
Elrond can be traded on the popular exchanges like Binance, CoinDCX, EtoroX, OKEx, WazirX and many more.
Elrond price remains overbought, forcing EGLD to retest $300
Elrond price has been in a solid and persistent uptrend since the week of June 25th.
No major pullbacks have occurred in over 23 weeks.
Overbought conditions on the weekly and daily chart indicate a pullback is imminent.
Elrond price has been one of the biggest surprises in the altcoin space for 2021. Rising more than 780% from the June 25th 2021 open at $82.55 to the all-time high recently made on November 23rd at $544.25, it is due for a pullback – one that might be sustained.
Elrond price positioned for a 26% drop to the $300 value area
Elrond price is the definition of overbought on the weekly Ichimoku chart. The Relative Strength Index has two overbought settings in a bull market: 80 and 90. Elrond's Relative Strength Index pushed to the first overbought level at 80 and then moved even higher to hit 90 before facing swift rejection and now dropping below the 80 level. The 'hook' on the Relative Strength Index warns of a steep drop in price action.
The Composite Index, likewise, shows extreme overbought conditions in Elrond price. The arrow on the chart below shows the general rise in Elrond price with higher highs ever since February 2021. However, the arrow on the Composite Index shows a series of lower lows during that same period. This is a development known as regular bearish divergence, warning that the current uptrend will face a correction or broad trend change very soon.
The Composite Index has dropped below the fast-moving average while simultaneously printing a lower high, so a dip is expected. If Elrond closes the weekly candlestick below the Tenkan-Sen at $381, the next Ichimoku support level is a shared support zone in the $300 value area. The Kijun-Sen ($300) and the 38.2% Fibonacci retracement share the same value area and likely act as solid support.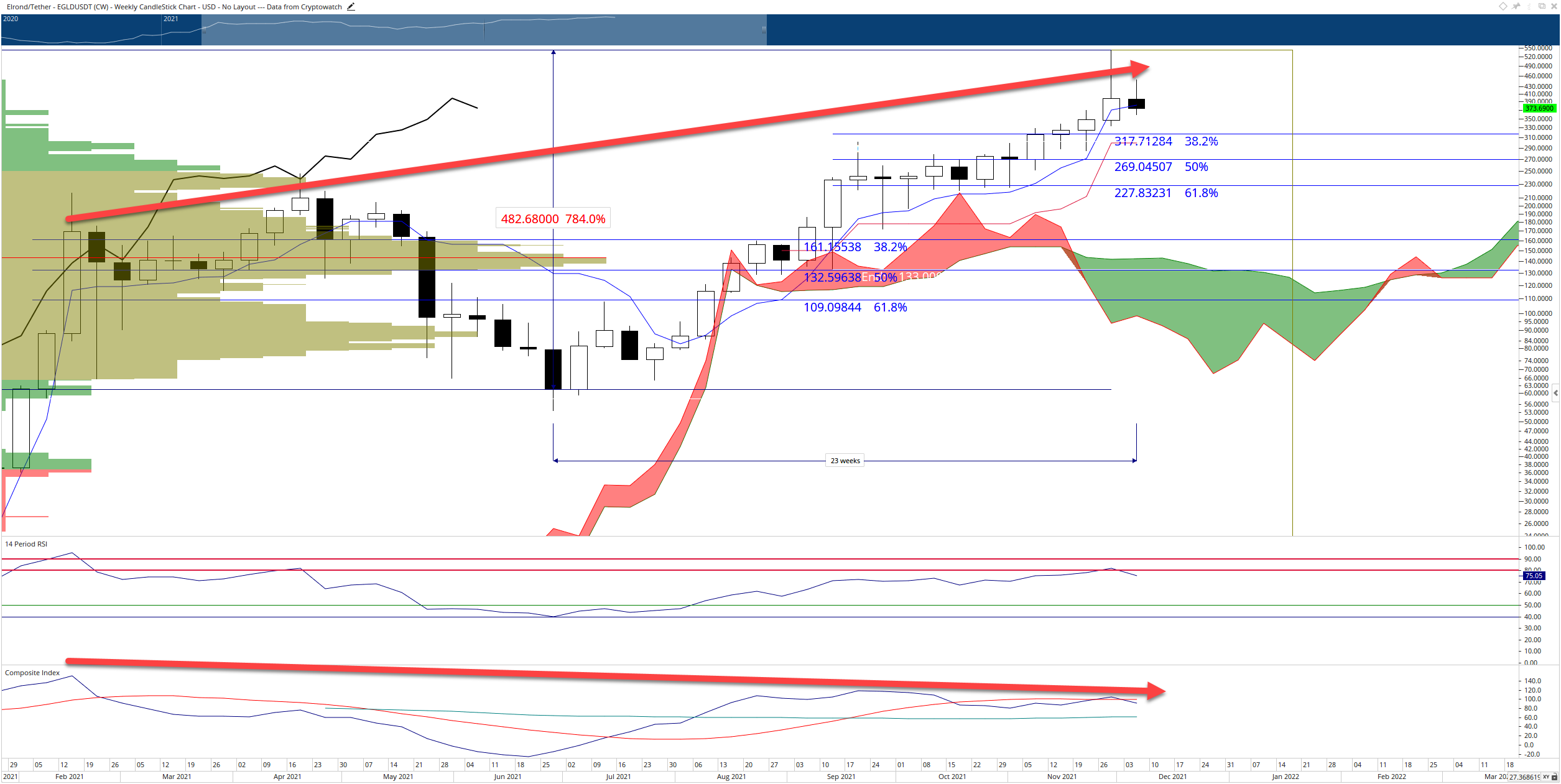 EGLD Weekly Ichimoku Chart
But traders should be aware that Elrond price has respected the Tenkan-Sen as support for almost half a year. Additionally, it remains in price discovery mode, so it isn't unlikely to return to bullish price action. A weekly close above the weekly open would invalidate any near-term bearish retracement projections.
Elrond price might plunge to $280 as fear takes over investors
Elrond price is in its fourth consecutive day of losses after hitting new highs at the beginning of the week.
EGLD price has accelerated its downtrend as global market sentiment is acting as a headwind for cryptocurrency assets.
Expect another 30% correction before bulls engage in buying the dip at around $280.
Elrond (EGLD) continues its downside move after tumbling from towering all-time highs at the beginning of the week. Bulls are struggling to build support to keep price action in check. Bears pushed Elrond price further to the downside with the move accelerated by bulls booking profits and releasing supply. EGLD price rolled over today as part of  a global sell-off in the markets driven by Covid fears. Expect EGLD price to look for firm support, as multiple plateaus present themselves to the downside.  
Elrond price further corrects, plenty support levels to slow down aggressive selling
Elrond price sees bulls in a rout after missing out on the chance to take  profits after hitting new all-time highs at $560,00, at the start of the week. Now downside has accelerated and pierced the monthly R3 resistance at $420 and the 61.8% Fibonacci retracement level at $404.64. 
EGLD bears will want to keep  the momentum going to the downside,  but it may ease at around $363 where they will face the R2 resistance level and the 50% Fibonacci level at $344. These two elements will already have slowed down the bearish move and triggered profit taking along the way.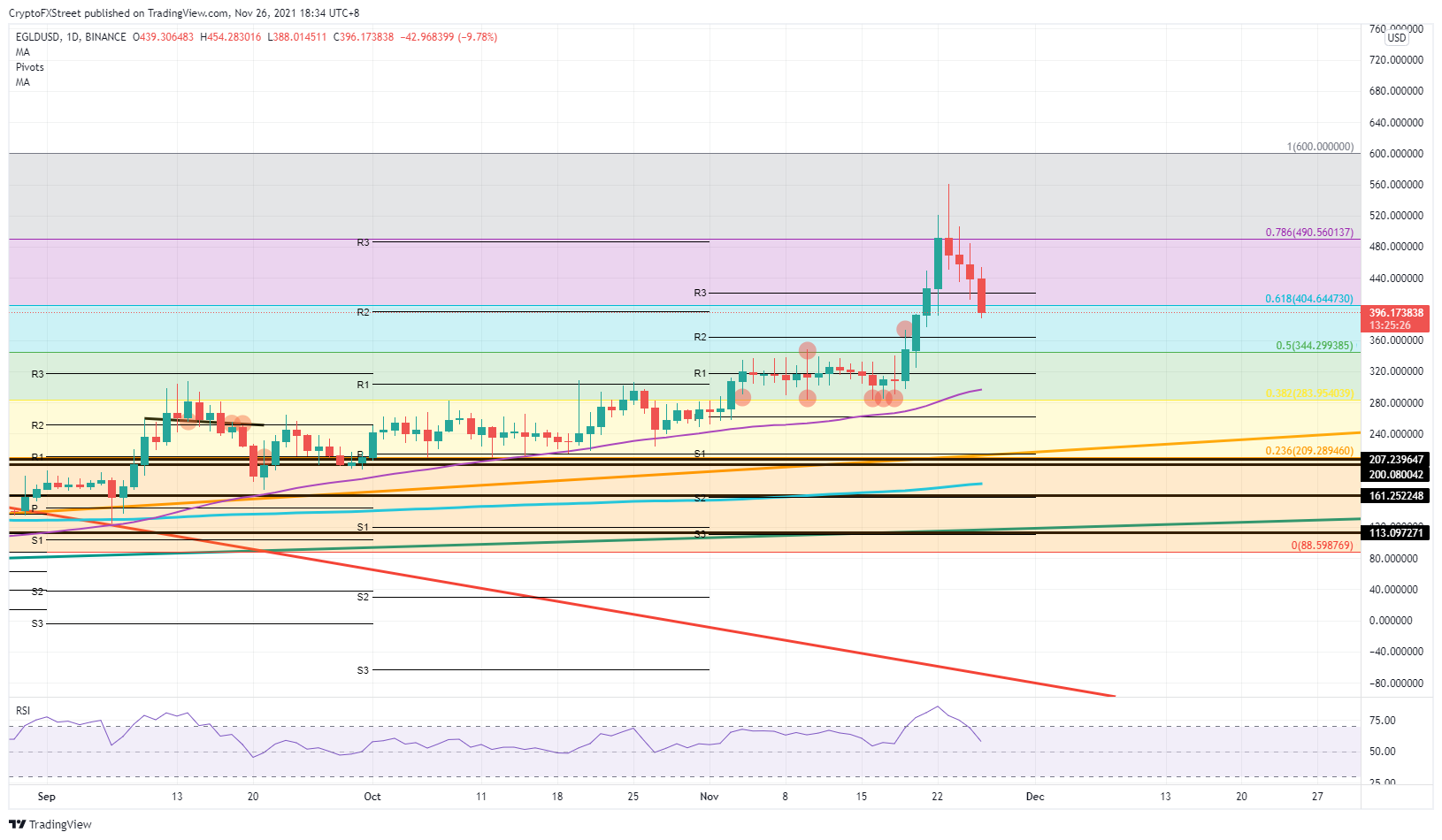 EGLD/USD daily chart
As bears  push EGLD price down to test the monthly R1 resistance level at $320, it will give bulls the chance to pick up some Elrond at a discount. . With the 55-day Simple Moving Average (SMA) proving its support since September on several occasions, expect the downtrend to halt at $296, for a bounce and a quick spike back up towards $344, which is the 50% Fibonacci level.
Since it is likely that by then, the nervousness in the markets will have calmed down, expect investors to take the opportunity to pick up EGLD at a discount, pushing it  further towards $490, by the end of next week.
Here's What's Next for Decentraland, The Sandbox and Elrond, According to Crypto Analyst Michaël van de Poppe
Cryptocurrency analyst and trader Michaël van de Poppe is warning traders against buying Decentraland (MANA), The Sandbox (SAND) and Elrond (EGLD) at their current prices.
Van de Poppe tells his 148,000 YouTube subscribers that following the "epic runs" of these three altcoins, it's time for investors to take profits in Decentraland, a virtual-world blockchain; Elrond, a scalable blockchain; and The Sandbox, a gaming platform.
"…if you are in those projects, I think the point has come to actually take profits, especially when it comes to MANA and SAND. Those have been running heavily. You have to take profits before a heavy correction starts to take place because at this point the downwards momentum might be heavier than the upwards momentum."
Looking at the Elrond/Bitcoin (EGLD/BTC) chart, the crypto analyst says that buying opportunities are gone until a correction adjusts prices to the 0.005 BTC ($291) and 0.006 BTC ($349.20) level.
At time of writing, Elrond is trading at $427 while Bitcoin is exchanging hands at $58,200.
"If you're seeking for any trade opportunity right now, I think the opportunities are quite gone. But the [EGLD/BTC] chart itself says that every level gets a beautiful retest taking place here before it starts to continue.
So I'm looking at any of these two levels [between 0.005 BTC and 0.006 BTC] to take any entry from, based on a daily time frame."
Van de Poppe says he's hoping to pick up SAND if it retraces down to about 0.00007 BTC ($4.07). The asset is trading at $7.27 at time of writing.
"So SAND, I'm not interested in trading this one at all. I'm going to look at anywhere in this region [below 0.00007 BTC] for any scalp opportunities."
Decentraland's MANA is trading at $5.10 at time of writing. According to the crypto analyst, MANA could drop to around 0.000055 BTC ($3.20) where it could present opportunities for longer-term trades. He recommends looking for scalping opportunities if it starts trading below 0.00007 BTC ($4.07).
"You can start looking for scalp rates here [0.00007 BTC]. But more likely, we're going to get into this region here [around 0.000055 BTC] where you want to take some trades."