Top 3 Price Prediction Bitcoin, Ethereum, XRP: Altcoins to outperform leading cryptos
Bitcoin price at risk of a deeper push south as upside potential is limited.
Ethereum price develops a bull-trap pattern, warning of some continued weakness.
XRP price may find some bullish momentum due to a key Ichimoku time-cycle.
Bitcoin price faces a double-bottom pattern on its $1,000/3-box Reversal Point and Figure Chart hinting at a substantial drop ahead of the Thanksgiving weekend. Ethereum price filled a prior gap between the bodies of the weekly candlesticks and the weekly Tenkan-Sen, but downside risks remain. XRP price may begin a new swing higher because of a Kumo Twist.
Bitcoin price faces -16% drop ahead of Thanksgiving holiday and weekend
Bitcoin price has developed a double-bottom on its Point and Figure chart, creating a short opportunity for the bears. The hypothetical short entry is a sell stop order at $55,000, a stop loss at $59,000 and a profit target at $42,000. While the Vertical Profit Target Method in Point and Figure Analysis projects an actual target of $37,000, likely, the neckline (black diagonal line) of the prior inverse head-and-shoulders pattern will act as support.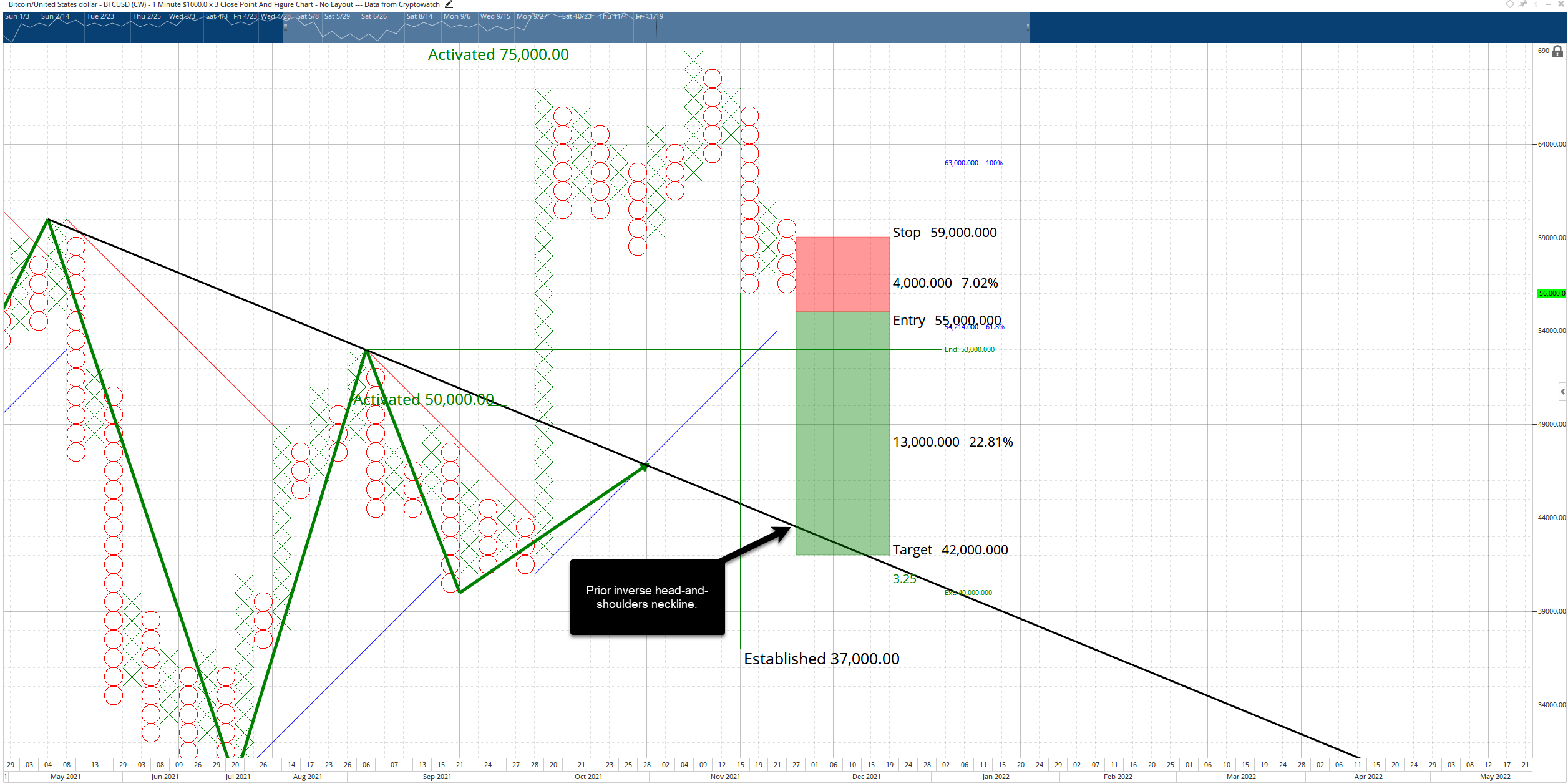 BTC/USD $1,000/3-box Reversal Point and Figure Chart
Bulls could invalidate the near-term bearish bias by pushing Bitcoin price to a close above the former 100$ Fibonacci expansion level at $63,000. From there, a renewed push to all-time highs would likely commence.
Ethereum price likely to face continued weakness
Ethereum price, like Bitcoin, shows signs of continued weakness ahead. A bear trap pattern is in development on Ethereum's $25/3-box Reversal Point and Figure chart. This pattern can create substantial selling pressure as late-term buyers inevitably turn into sellers as prices accelerate their movement south.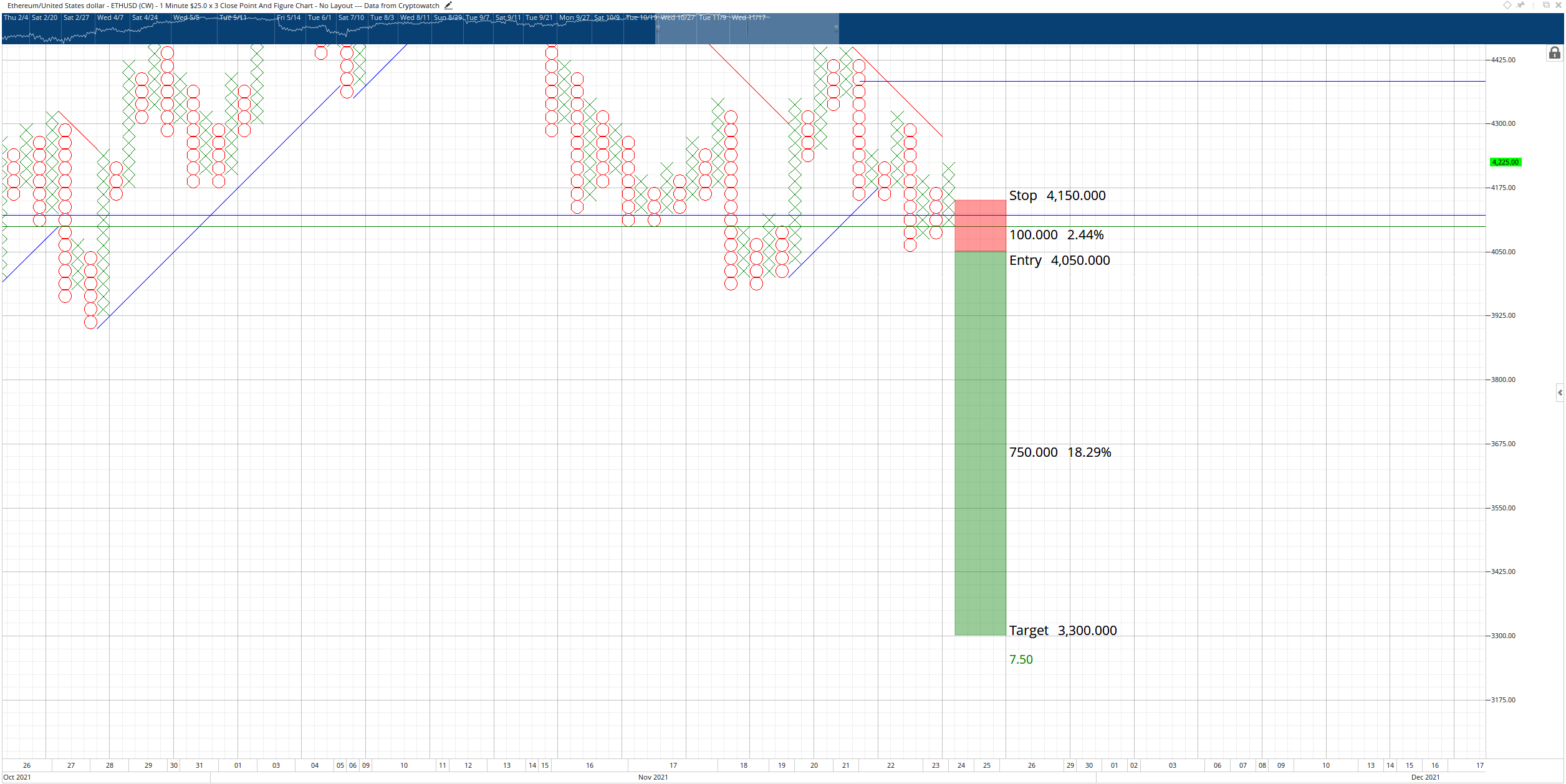 ETH/USD $25/3-box Reversal Point and Figure Chart
The theoretical short entry is a sell stop order at $4,050, a stop loss at $4,150 and a profit target at $3,300. However, the weekly Tenkan-Sen (not shown) is at $3,800 and could limit any further downside pressure for Ethereum. Therefore, any daily close above $4,400 would invalidate the short trade idea.
XRP price could lead altcoins to outperform Bitcoin and Ethereum
XRP price has undoubtedly had a bearish past two weeks. From the November 10th swing high, XRP is down over 24%. However, the Kumo Twist coming up on November 24th could end that downtrend and move higher. Kumo Twists, when Senkou Span A crosses above or below Senkou Span B, are often periods where significant major and minor swing highs and lows are found.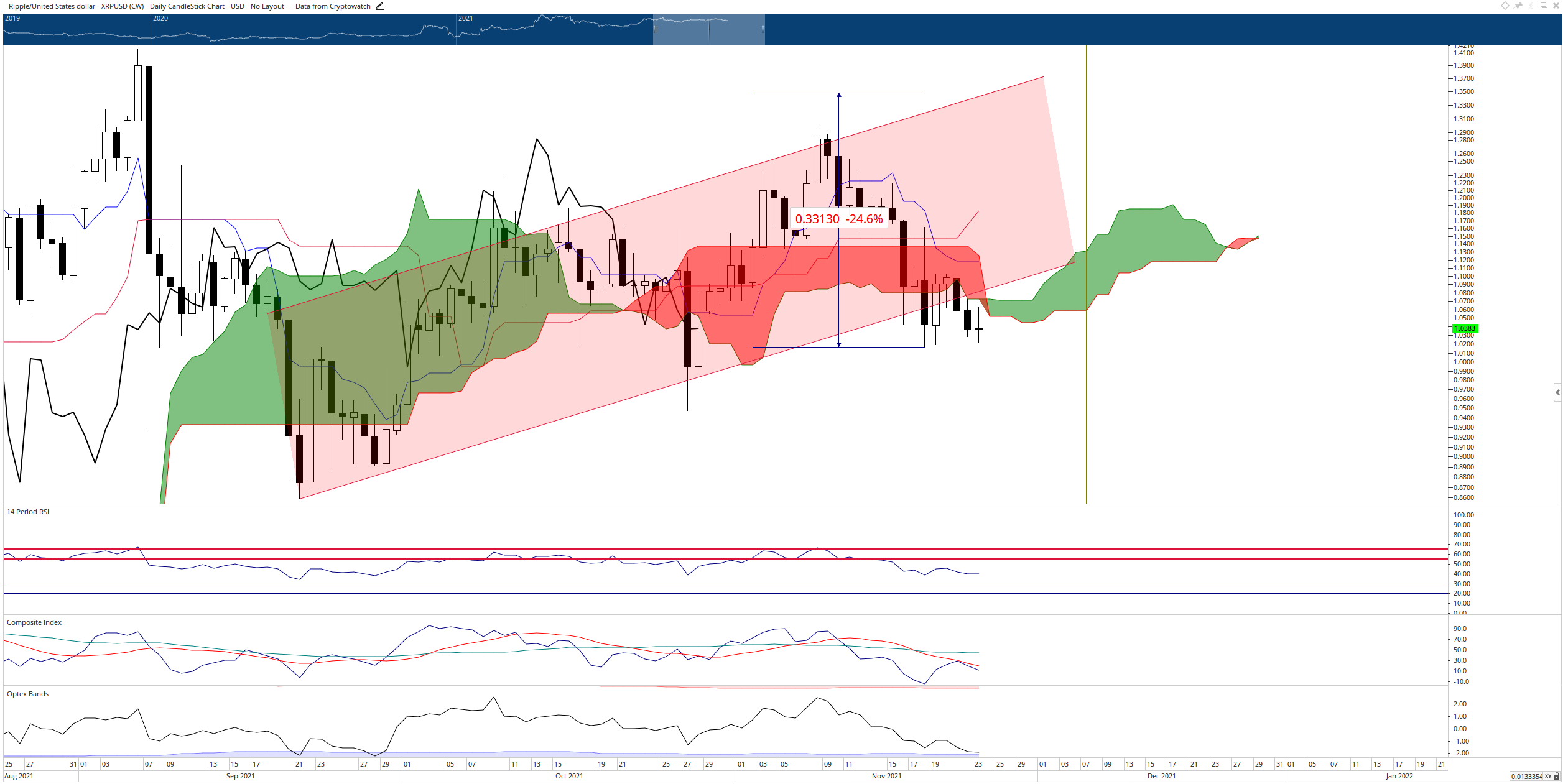 XRP/USDT Daily Ichimoku Chart
XRP price would need to close at or above the $1.19 value are to return to a bullish market. From there, XRP is poised to begin its run above the $2.00 value area. However, if XRP remains below the Cloud ($1.05) throughout the week, a steep drop towards $0.84 is next.
ETH/BTC Ready to Break Higher? Not So Fast, Some Analysts Say
A much-discussed chart among crypto traders in recent days has been the ethereum (ETH)/bitcoin (BTC) chart, with many claiming it looks primed for a sharp move higher. However, some are still betting on an opposite outcome, with investor demand also indicating stronger appetite for bitcoin.
The potential break-out for ETH has gotten a fresh round of attention following strong outperformance of ETH over BTC during the past week. At 11:57 UTC on Tuesday, ETH was up 11% over the past 7 days, while BTC was up 2.5% over the same time period.
The notable difference in performance came at a time when the stock market has tumbled over renewed coronavirus fears, with the US S&P 500 futures currently down by about 2.9% from its all-time high on Monday last week.
And as has been pointed out by many in recent weeks, bitcoin is still behaving more like a risk asset that fluctuates with the stock market, than a safe haven hedge like gold. This relationship has once again been demonstrated in recent days, some crypto traders have argued.
Gm. $BTC and equities are down but $ETH is holding well. Probably nothing..— CoinMamba (@coinmamba) November 30, 2021
The ETH/BTC chart has also been pointed to by Raoul Pal, founder & CEO of Real Vision, who said recently that he sees it as "the most important chart in digital asset markets right now."
"A break higher will lead to more risk seeking into year end," Pal said, suggesting that we may be entering a new bullish period for altcoins.
However, as usual, not everyone agrees with the narrative that ethereum is about to break higher relative to bitcoin. According to the popular crypto trading educator and Crypto-TA.nl founder Crypto_Ed, the ETH/BTC chart is not breaking out yet, and instead may be looking at a move lower.
"I see many tweeting ETHBTC chart looks so good….. All I see is a rising wedge with bearish divergence and it looks more like it's gonna break down," he said, adding that the same also holds true when looking at the same chart with a longer time frame.
So many comments I should look at higher TF…
Well, that's what I taught ~2000 students in past years: "always start at the highest possible TF"

Daily TF: symmetrical triangle, usually in an ABCDE.
E doesn't need to go completely to the bottom but will do a pull back pic.twitter.com/ZpyeI3bGDo— Crypto_Ed_NL (@Crypto_Ed_NL) November 29, 2021
Similar takes were also shared by other traders.
Futs a bit heavy as well, tough conditions thought we were looking better earlier— Depression BTC (@depression2019) November 30, 2021
Growing capital flows
According to last week's Digital Asset Fund Flows report from CoinShares, bitcoin appears to be enjoying greater momentum than ethereum in terms of capital flows into regulated investment vehicles.
As reported, last week, BTC saw the largest inflows in 5 weeks totaling USD 247m (compared with USD 114m a week earlier) following the launch of another investment product in Europe, they added. ETH saw inflows totaling USD 23m last week, compared with around USD 13m a week earlier.
3/ demand – we track weekly investment flows via our @CoinSharesCo report

in the last 11 weeks, we've seen $2.7B of inflows into bitcoin ETPs alone. demand continues unabated, and w $5.5T of dry powder on the sidelines, there's plenty of capacityhttps://t.co/Ivu9apdYqv— Meltem Demir◎rs (@Melt_Dem) November 29, 2021
Moreover, Marcus Sotiriou, a sales trader at the UK-based digital asset broker GlobalBlock, is also demonstrating a bullish stance towards bitcoin.
"Bitcoin appears to be forming a falling wedge pattern which is historically bullish and has a higher probability of breaking to the upside than the downside," the trader wrote in an emailed comment, adding:
"If the down trending line of resistance is broken, bitcoin may be on its way to retest the all-time-high as the technical target is around that region."
At 11:57 UTC, BTC traded at USD 57,600, up 1.4% over the past 24 hours. At the same time, ETH stood at USD 4,581, up 6.3% over the same time period.
Ethereum Price Analysis: ETH gains 20 percent from the Sunday low, peaks at $4,750?
Ethereum price analysis is bearish for the rest of today.
ETH/USD saw further upside above $4,550 previous high.
Resistance is currently found at $4,750.
Ethereum price analysis is bearish today as we expect a retracement to follow after a strong spike higher was seen again today. However, ETH/USD bulls are likely exhausted after reaching $4,750, and we can expect a retracement over the next 24 hours.
The cryptocurrency market has seen bullish momentum continue today. The market leaders, Bitcoin and Ethereum, have gained 2.45 percent, while Ethereum 8.1 percent. Meanwhile, the rest of the top altcoins follow with similar results.
Ethereum price movement in the last 24 hours: Ethereum retests $4,400 as support, spikes to $4,750
ETH/USD traded in a range of $4,332.10 – $4,753.27, indicating strong volatility over the last 24 hours. Trading volume has increased by 37.24 percent, totaling $26.25 billion, while the total market capitalization trades around $555.6 billion, resulting in a market dominance of 20.73 percent.
ETH/USD 4-hour chart: ETH rejects further upside at $4,750
On the 4-hour chart, we can see the Ethereum price reacting after reaching the $4,750 resistance, likely indicating the end of the current rally.
Ethereum price has seen strong bullish momentum return since Sunday. The rally came after a strong drop of almost 15 percent on Friday when Ethereum found support at $3,950 once again.
From there, consolidation followed until another test of the support was seen late in the weekend. Bulls quickly rejected further downside, leading to a swift rally higher over the next 24 hours.
By the start of Today, Ethereum price had already cleared past the $4,400 previous resistance. After a slight retracement, another more upside followed Today, leading ETH to a new high at $4,750.
Ethereum Price Analysis: Conclusion
Ethereum price analysis is bearish today as we saw strong resistance reached at $4,750 after a 20 percent advance over the past days. Therefore, we assume bulls are exhausted, and ETH/USD should be headed for a retracement later today.
While waiting for Ethereum to move further, see our articles on the Best Crypto Wallet 2021, Decred Wallet, and Ripple vs SEC.
Bitcoin close to US$57,000, Omicron and Hard Fork variant from BSC – Market Summary
This Tuesday (30), although bitcoin (BTC) has not yet managed to surpass the level of US$59,000, altcoin Shiba Inu (SHIB) increased about 30% after being listed on brokerage Kraken.
Check out today's Market Summary the focus of local investors, who have moved from the new Covid variant to the Precatório PEC, and the news on the cryptocurrency market that could impact your portfolio.
Bitcoin and the stock market
Over the weekend, bitcoin suffered from the high volatility of the cryptocurrency market as well as fears over the new Covid variant. So it was trading lower, close to $55,000.
Consequently, the drop ended up suggesting to some investors that the correlation between Bitcoin and the stock market would be greater than we had imagined.
One good thing about Bitcoin is that it tends not to be correlated with most other major asset classes. In particular, outside of liquidity crises, where everything tends to move in parallel, Bitcoin and the stock market have largely been decoupled.
According to analyst firm Ecoinometrics, Bitcoin's recent downward movements do not necessarily condition a correlation between the two markets. As the company says, "just zoom out". For a long period of time, Bitcoin was not correlated with the stock market.
"Cracks are exactly what you expect during a liquidity crisis and a recovery fueled by printing money," according to Ecoinometrics. "When Bitcoin establishes itself in periods of lower volatility, the correlation with the stock market increases. When we have volatility peaks, the correlation goes back to zero," he added.
So, for all practical purposes, you can still regard the BTC and the stock market as standalone bets.
At the moment, the leader of cryptocurrencies is trading at US$ 56,998 – R$ 319,261 in the main Brazilian brokers, according to CoinGoLive. Its market capitalization is still below $1.1 trillion and dominance below 40%.
Ômicron scares
The strong tumble of global markets last Friday opened room for a correction movement in most risky assets on the Brazilian stock exchange yesterday.
Brazilian investors, attentive to the progress of the Precatório PEC and without neglecting the news about the omicron variant of the new coronavirus, saw the Brazilian stock market close with a moderate rise. Stock market rose 0.58%.
After some discomfort with reports that the government is considering a new "war budget" if the PEC dos Precatórios does not pass, the speech of the secretary of the National Treasury, Paulo Valle, reinforced that the government does not have a "plan B" for the aid Brazil.
At the same time, the president of the Senate, Rodrigo Pacheco (PSD-MG), reiterated that the PEC can be analyzed by the House's plenary on Thursday.
Read more: Federal Police are in panic because of cold bitcoin wallets, says newspaper
In the exchange market, the real ended up falling. The correction of emerging currencies was uneven, amidst the discussion about what will be the Fed's monetary policy reaction to the omicron threat. Therefore, the American currency closed up 0.28%, to R$ 5.61.
Binance Smart Chain prepares to fork
Most altcoins have remained relatively calm on a daily scale. Ethereum (ETH) has an increase of less than 2% in one day, but is above $4,400. A few days ago, ETH had dropped to less than $4,000.
Binance Smart Chain (BSC), the blockchain created by the eponymous brokerage, is getting ready to go through a hard fork on Tuesday.
The upgrade to version v1.1.5 of the BSC, dubbed 'Bruno', will be done during block 13,082,000 and represents a complete fork of Binance's core network, needed to introduce a number of ecosystem improvements.
The main change in this update is the introduction of a new real-time token burning engine, first introduced in late October in proposed BEP-95 enhancements. In addition to the new economic model, the hard fork 'Bruno' also promises to speed up the synchronization of nodes by more than 60%.
Despite the lull among altcoins, Shiba Inu (SHIB) jumped about 30% after being listed on brokerage Kraken.
The result of the main altcoins in the last 24 hours is as follows: Ethereum (+3.32%), Binance Coin (+1.10%), Solana (-1.06%), Cardano (+0.08%), Ripple (+0.84%), Polkadot (+0.91%), Dogecoin (+6.03%), Shiba Inu (+30.07%), Avalanche (+7.73%) and Earth (+10 .90%).
According to CoinGoLive, the market capitalization of all crypto assets rose to $2.7 trillion on Tuesday.
Follow the crypto market news on the Cointimes Telegram group (log in) and have a great day of trading.
NovaDAX is completing three years!
One of the largest cryptoactive brokers in Brazil turns three in November and you are the winner!
There will be up to 30 currencies with zero rate for transactions and over 80 currencies listed, with instant cash withdrawal and high liquidity.
The cryptocurrencies at the best rates on the market! Simply activate the Novawards free program and enjoy reduced rates by up to 75%.