XRP Whale Withdraws 10 Million Coins from Exchange
This XRP whale believes in the market by withdrawing 10 million coins from the exchange
While Bitcoin and major altcoins face a spike in funds inflows to exchanges, this XRP whale decided to withdraw his/her holdings from a large centralized exchange, according to the Whale Alert bot on Twitter.
On the transaction page, data suggests that a transfer has been made between two exchange addresses. But it is most likely just a hot wallet transaction to one of the exchange addresses, which is then being transferred to an unknown wallet address.
🚨 10,000,000 #XRP (10,452,769 USD) transferred from #Bithumb to unknown wallethttps://t.co/OftmfRM3Q9— Whale Alert (@whale_alert) November 23, 2021
As of now, funds remain on the whale's address without being moved anywhere. Whenever users withdraw their transactions from exchanges, they tend to hold them for a longer period of time rather than selling on the exchange if the volatility increase appears on the market.
Currently, XRP is moving in the same range as it did previously: the coin is trading around $1; that is why the community put it in the "stablecoin" category. Ripple has been moving in the $1 range for more than three months at this point, periodically testing new highs.
The most recent positive price action of Ripple tracked back on Nov. 9 when XRP reached $1.30 but then swiftly retraced down to $1.03. At press time, XRP is trading with 0.6% of daily gains and relatively low volatility compared to price actions on Bitcoin that have moved from $58,000 to $56,660.
XRP and Other Top Cryptocurrencies Now Accepted by Croatia's Largest Supermarket Chain
Crypto is becoming mainstream in Croatia because of Konzum
Konzum, the largest supermarket chain in Croatia, which was founded all the way back in 1957, has begun accepting cryptocurrencies in its online store, according to a Dec. 1 report by Zagreb-based newspaper 24sata.

The lineup of supported digital currencies includes Ether (ETH), Bitcoin (BTC), XRP, Stellar Lumen (XLM) and Bitcoin Cash (BCH), as well two stablecoins (Tether [USDT] and DAI).

Shoppers are now able to buy groceries, hygiene items, household supplies and other items with the aforementioned cryptocurrencies.

Konzum partnered with Croatian fintech company Electrocoin to use its PayCek system to facilitate crypto payments.

They spent several weeks testing the service before the official rollout in the run-up to Christmas.
Crypto is coming to Konzum's physical stores
Crypto payments will also gradually become available in Konzum's physical stores throughout the country.

The company will begin with 60 locations that have self-checkouts. After that, new payment options will be introduced in 630 stores of all sizes throughout Croatia.
XRP Seeks Fresh Rally as Investors Look to Key Events in 2022
Ripple announced plans to launch Liquidity Hub in 2022 to assist financial services entities in providing customers with the capacity to buy and sell securities
Ripple has announced a financial liquidity hub planned for 2022. XRP seeks a fresh rally past the $1 mark at December's start amid investors' hopes for upcoming events in 2022 that might impact the price.
The goal of Ripple's Liquidity Hub, which will launch in 2022, is to assist financial services entities in offering their clients the opportunity to buy and sell cryptocurrencies. The functionality will provide enterprise clients access to digital assets from a variety of sources, including market makers, exchanges and over-the-counter trading desks, according to the San Francisco-based company.
Second, according to Ripple CEO Brad Garlinghouse, the ongoing Ripple-SEC lawsuit will be resolved in 2022. "Ripple is seeing pretty good progress despite a slow-moving judicial process," according to the CEO. The SEC accused Ripple and its officials of selling $1.3 billion worth of tokens in an unregistered securities offering in December 2020.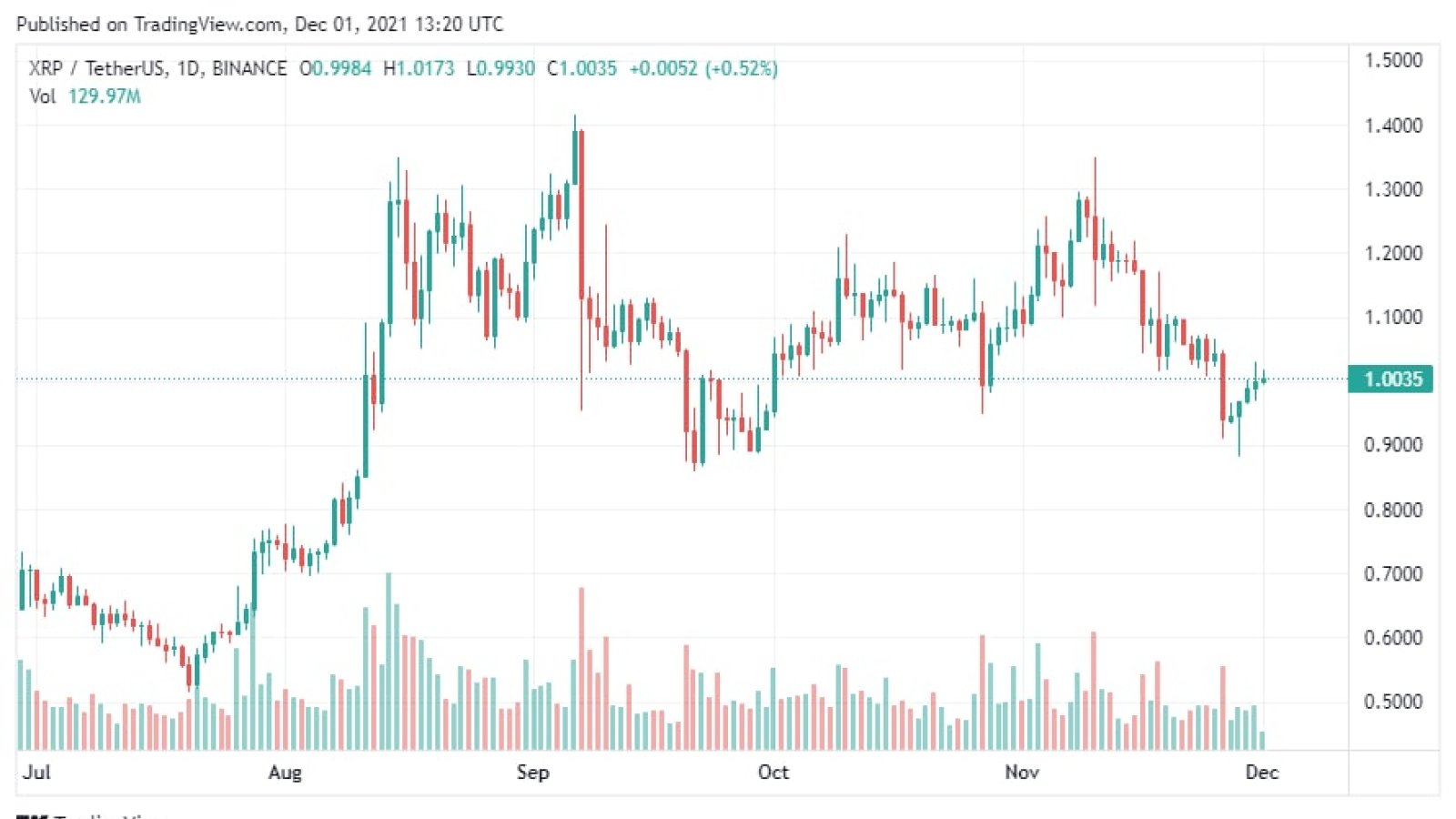 XRP/USDT Daily Chart, Courtesy: TradinView.com
XRP has improved in price since the Friday sell-off, where it marked lows at $0.87. The cross-border token currently trades at $1. If the buyers of the remittance token push above $1.00, pending buy orders will be filled and market makers will provide more liquidity.
XRP nodes run by Ripple fell out of sync for over 5 hours, disrupted wallet services
Public XRP ledger nodes "s1" and "s2" run by Ripple fell out of sync with the XRP ledger for over 5 hours yesterday.
Non-custodial XRP wallet Xumm was not functioning well, disrupting usage and accessibility.
Ripple engineers to work on increasing public node capacity.
XRP continues flooding exchanges, whale moves 40.4 million worth of tokens and sells on Binance.
XRP ledger needs improvements to its "Trust Line" related traffic to increase the capacity of nodes to handle simultaneously active users. 
Out of sync XRP nodes disrupt wallet services
Two XRP nodes run and maintained by Ripple and developers, "s1" and "s2," recently fell out of sync with the network. The disruption lasted 5 hours, and users of non-custodial wallets like Xuum and xrplcluster.com were impacted.
The public XRP Ledger nodes by @Ripple @RippleXDev, "s1" and "s2" (full history) are out of sync. with the XRP Ledger for over 5 hours now.

This results in apps using these services (like our own @XummWallet xApps (if https://t.co/HzBcVgXrl2 is too busy) not functioning well.— XUMM Support (@XummSupport) November 30, 2021
Though XRP has a throughput of 1500 transactions per second (tps), this does not account for "Trust line" transactions on the network.
When users plan on receiving payments in anything other than XRP, they need a trust line to that asset's issuing account. This helps avoid token spam and gives users the power to decide what assets to hold and receive without any negative effect on the XRP wallet or balance.
The amount of "Trust lines" and tokens on the XRP network has exploded beyond the tested or expected numbers. This has disrupted the activity of the XRP ledger's public nodes. XRPL public nodes and clusters are being scaled up but aren't ready for a higher volume of "Trust lines" transactions. 
A cryptocurrency analyst, @WKahneman, shared his outlook on the challenges faced by XRP Ledger in a recent tweet. 
A synopsis of recent XRPL issues cherry picked from @WietseWind & @XummSupport threads. Lots to learn & maybe even free them from answering the same ?'s over and over. It's a long thread but see it through. Some important XRPL things are going on.
1/12https://t.co/gI3KlDyw5U— WrathofKahneman (@WKahneman) November 30, 2021
Transactions on the applications using the two nodes are held up, and switching to other nodes like xrplcluster.com can create backup there.
Ripple engineers are working on increasing public node capacity.
Whales are flooding exchanges with XRP tokens. A mysterious whale recently moved 40 million XRP to Binance and sold the holdings. XRP has failed to recover from the recent price drop.
FXStreet analysts have evaluated the XRP price trend and predicted a nasty bear trap.