Elon Musk Urges Dogecoin Holders to Abandon Centralized Exchanges
Elon Musk has once again spoken out in favor of self-custody
After a brief spat with Binance CEO Changpeng Zhao, Tesla CEO Elon Musk took aim at crypto exchanges.
In a recent tweet, the centibillionaire speaks out is in favor of withdrawing money from centralized trading platforms so that Dogecoin holders control their own private keys.
Exactly— Elon Musk (@elonmusk) November 24, 2021
This is not the first time that Musk has supported the "not your keys, not your crypto" crowd. In February, he tweeted that any cryptocurrency wallet that doesn't allow users to control their funds should be "avoided at all cost."
Back then, Musk also posted a Chuck Norris meme about Mt. Gox, the now-defunct cryptocurrency exchange that lost 850,000 BTC in the devastating 2014 hack.  
This is true power haha pic.twitter.com/Fc9uhQSd7O— Elon Musk (@elonmusk) February 10, 2021
Crypto holders are typically discouraged from holding their crypto on exchanges due to possible hacks or other incidents. However, there are also those who believe that newbies shouldn't self-custody their crypto since the process is too cumbersome and may result in the loss of funds.
Last month, Musk also offered another sage piece of advice to cryptocurrency holders, urging them not to bet their farm on cryptocurrencies amid the peak of the Shiba Inu mania.
Bitcoin Consolidates, Ethereum Inches Higher, LUNA Flips DOGE
Bitcoin price is struggling to settle above the USD 50,000 resistance.
Ethereum targets USD 4,400, XRP is up almost 5%.
LUNA jumped 13% and entered the top 10 club.
Bitcoin price corrected lower and tested the USD 49,000 region. BTC is relatively stable and is currently (04:24 UTC) facing resistance near USD 50,000. A close above USD 50,000 may perhaps push the price towards USD 52,000.
Besides, most major altcoins are gaining bullish momentum. ETH surpassed USD 4,350 and may perhaps gain strength above USD 4,400. XRP is up almost 5% and it is attempting a clear move above USD 0.85. ADA is rising towards the key USD 1.40 resistance.
Total market capitalization
Bitcoin price
After a move below USD 50,000, bitcoin price found support near the USD 49,000 level. BTC started a fresh increase but is trying to reach USD 50,000. A close above USD 50,000 and USD 50,500 might open the doors for more upsides. The next major resistance for the bulls is near the USD 52,000 level.
An immediate support on the downside is near USD 49,200. The next major support is near the USD 49,000 level, below which the price could test USD 47,500.
Ethereum price
Ethereum price found support near the USD 4,200 region and started a fresh increase. ETH cleared the USD 4,350 resistance level and is showing positive signs. A clear move above the USD 4,400 and USD 4,420 levels could set the pace for a larger increase.
On the downside, an initial support is near the USD 4,350 level. The next key support is now forming near the USD 4,220 level.
ADA, BNB, SOL, SHIB, and XRP price
Cardano (ADA) settled above the USD 1.35 level and is approaching the USD 1.38 resistance. The main hurdle is still near USD 1.40, above which it may perhaps rise towards the USD 1.465 level.
Binance coin (BNB) gained almost 6% and cleared the USD 600 resistance. An immediate resistance is near USD 612. A move above USD 612 could even push the price towards USD 630.
Solana (SOL) found support above the USD 180 level. It is recovering losses and trading near USD 190. An initial hurdle is near USD 195 but the main hurdle is USD 200. On the downside, the USD 180 level is a strong support.
SHIB is trading in a positive zone above the USD 0.0000355 level. It is trimming losses and trading near the USD 0.0000370 level. If there are additional gains, the price could test the USD 0.000038 zone. The next major resistance is near the USD 0.000040 level.
XRP price gained almost 5% and even cleared the USD 0.850 resistance zone. If the bulls remain in action, the price might test the USD 0.88 resistance. If not, there could be a fresh decline towards the USD 0.800 support zone.
Other altcoins market today
Many altcoins are up over 5%, including WAXP, NEAR, CELO, HT, EOS, AMP, AAVE, LUNA, LRC, RUNE, 1INCH, and GRT. Out of these, LUNA flipped DOGE and entered the list of the top largest cryptoassets by market capitalization. The price is up 13% and is trading above USD 76. It's also up by 18% in a week. Meanwhile, CELO and NEAR rallied around 20%, while BTT stopped its rally, correcting 11% in a day.
Overall, bitcoin price is consolidating near the USD 50,000 level. If BTC gains strength above USD 50,000, it could start a fresh increase towards USD 52,000 in the near term.
Taking stock of where Dogecoin stands, as it turns eight
In the world of cryptocurrency, meme-coins like Dogecoin manage to become one of the 10 biggest digital assets. Even though DOGE may not still be on the list, at the time of writing, its prospects were not looking too bright.
Happy Birthday Dogecoin
Dogecoin celebrated its birthday on 6 December as the coin completed eight years of existence. In fact, looking at its growth it surely has managed to amass a huge number of loyal followers.
With 67 million addresses and 4.2 million investors, it's safe to say that Dogecoin has had an impact over the years.
It was in the timeframe of one year that DOGE actually made some remarkable gains. The rally that began at the beginning of 2021, took DOGE up by over 15,663% when the meme coin was at its peak. Although, since then it has come down by almost 75%.
Dogecoin even managed to help other meme coins like Shiba Inu rise and become a prominent asset in this space. The altcoin even rose quicker than DOGE, witnessing a 1035% rally within a month. It was soon, followed by a 54% correction, as it was trading at $0.00003603. In fact, SHIB's growth took it farther ahead, with the latter gaining more mainstream acceptance recenlty.
Here is the catch
Now, the question is, what is the point of such gains when most investors aren't making any actual profit? Well, as of now, of the 4.2 million addresses with balance in them, over 43% of them are suffering losses.
This, despite DOGE being one of the most socially popular coins occupying more than 5% dominance in the space. The one big issue DOGE used to have, was its development activity.
But thanks to the regular pushes by the "DOGEfather," Elon Musk, Dogecoin has actually managed to fix that as well. In fact, today the development activity is standing strong compared to what it used to be.
But, looks like its investors are slowly losing patience as for the first time in two months investors' sentiment actually turned negative.
Further, even on its birthday the coin only rose by a meager 3.6% with volumes hovering slightly above 100 million DOGE (ref. Dogecoin price action image).
As of 8 December, DOGE is somehow maintaining the lower trend line of the month-long downtrend wedge, as support and if it fails and flips, DOGE will be in danger. Plus, its birthday will only see more investors leave the party eventually.
Dogecoin bears leave the scene as DOGE rises towards $0.24
Dogecoin price stabilizes near its final support structure.
Selling pressure abates as hints of strong buying activate.
Explosive bullish entry present on the Point and Figure chart.
Dogecoin price holds steady near the $0.18 value area, halting any further downside movement. Buyers appear to be showing up and preparing Dogecoin for a big launch higher.
Dogecoin price action perfectly positioned for a move to $0.24
Dogecoin price action has been a cause of concern for many bulls and long-term hodlers after the Saturday flash-crash. Fears of continued pressure south and a possible move below $0.10 appear to be fading. Sellers are unable or unwilling to push Dogecoin below Dogecoin's final support zone.
The overall structure of Dogecoin price is a bearish continuation setup – a bearish pennant. At its present position, Dogecoin price is at the apex of deciding whether a bear or bull market will begin for Dogecoin.
A massively bullish entry signal is now present on the $0.002/3-box Reversal Point and Figure chart. The theoretical long trade is a buy stop at $0.186, a stop loss at $0.176, and a profit target at $0.240.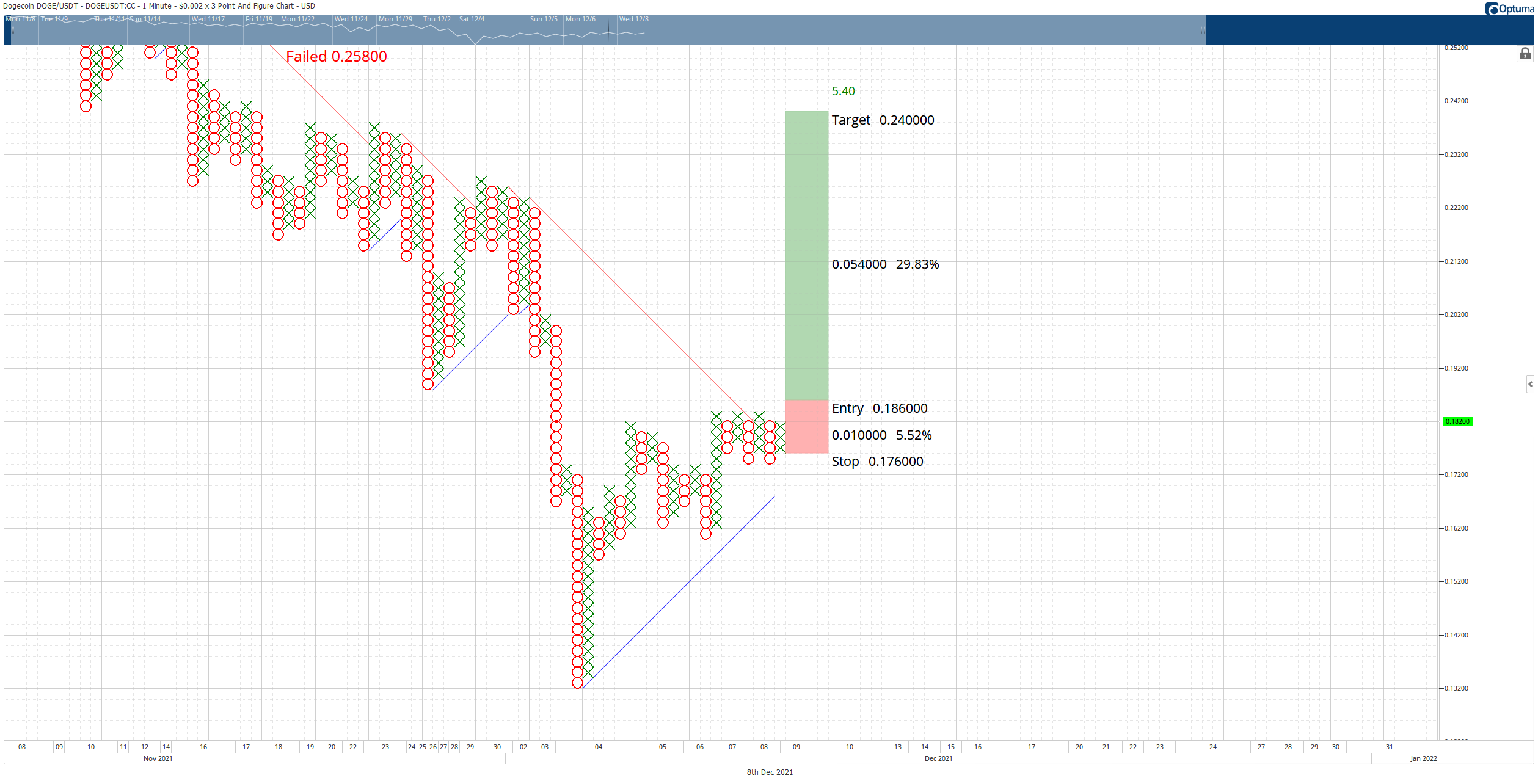 DOGE/USDT $0.002/3-box Reversal Point and Figure chart
The entry is based on a breakout from a quadruple-top bull flag formed immediately after Dogecoin converted into a bull market on the Point and Figure chart. The entry and follow-up buying is essential to deny bears any further control of Dogecoin price direction.
However, a continuation move lower is not entirely out of the cards. If Dogecoin drops to $0.172, that would cause a break of a triple-bottom and return Dogecoin to a bear market on this Point and Figure chart. It would invalidate the long entry and any near-term bullish momentum.