Ethereum Milestone Reached: 1,000,000 ETH Burned
Ethereum has reached another milestone that changes the shape of the coin today
The Ethereum network has reached a major milestone after burning the millionth coin on the blockchain since the implementation of the fee-burning mechanism presented in the EIP-1559 update.
The current Ethereum emission remains at a bit more than two Ethereum coins, which means that assets have not yet reached the long-awaited deflation and the network is still issuing more coins than burns.
Fee-burning mechanism
The fee-burning mechanism was introduced in EIP-1559, which went live back in August. The network has spent only three full months burning $4.2 billion worth of coins. Thanks to the NFT and DeFi industries, the burn rate of the network has been continuously spiking up, which has led to the result that the community sees today.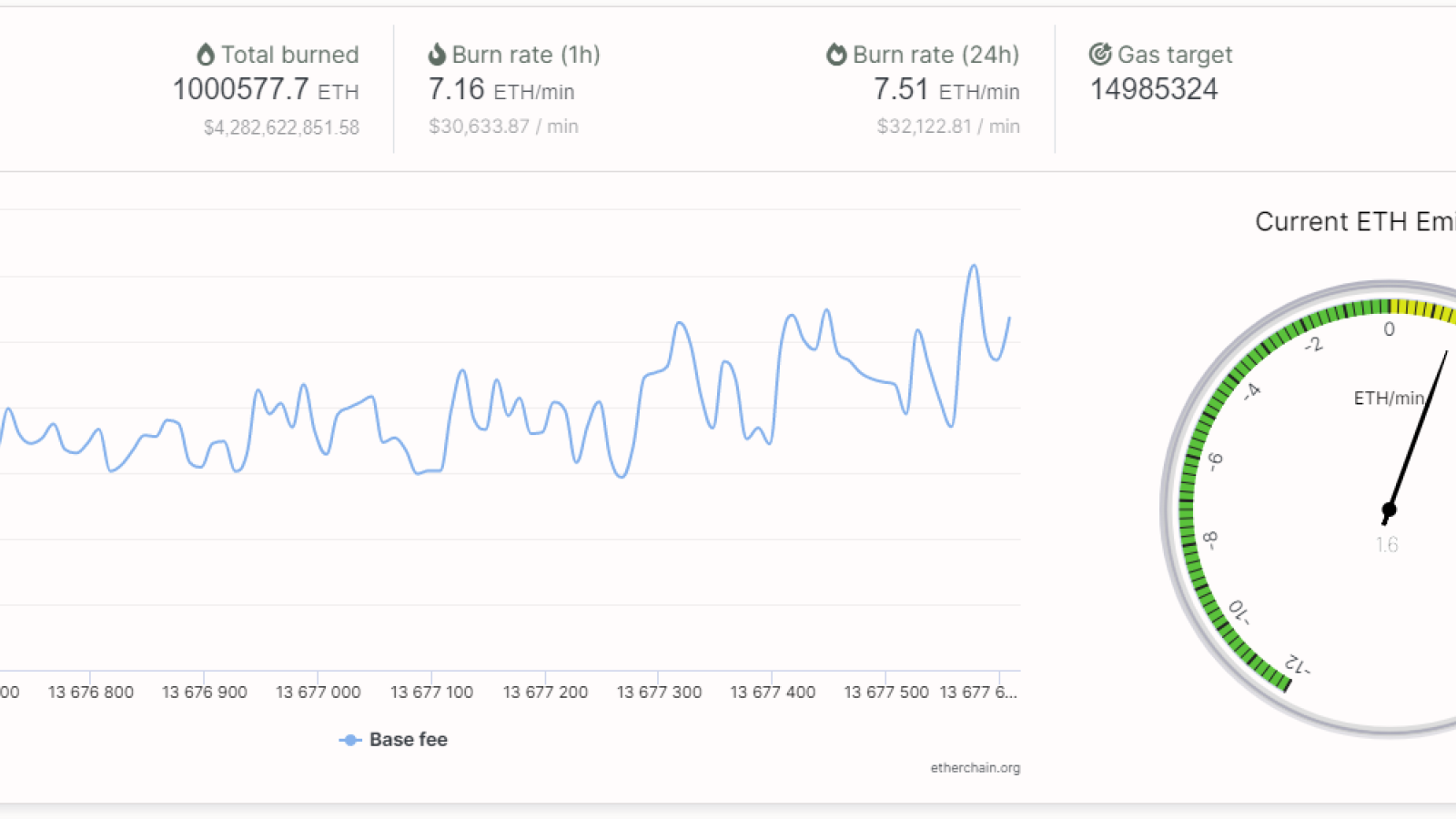 Before the update, the fee structure of Ethereum was working in favor of cryptocurrency miners that were receiving enormous fees in periods of high network congestion. At some point, users had to pay up to $80 to accomplish one transaction only.
With the implementation of the new fee-burning mechanism, fees that previously went to miners are now being burned and moved out of supply circulation, which sometimes leads to the appearance of a "deflationary block." Each deflationary block issues less Ethereum than was previously burned.
How the market reacts
While, in general, the market has positively reacted to the implementation of a burning mechanism that resulted in 74% growth from Oct. 1 to Nov. 9. After reaching the most recent ATH, Ethereum has retraced down by 11% due to the global cryptocurrency market correction.
In the last week, Ethereum's price has been ranging from approximately $4,100 to $4,200 in accordance with other major cryptocurrencies moving with lower volatility compared to the previous week.
Macro Guru Raoul Pal Betting on Bitcoin, Ethereum and Nine Additional Altcoins – Here's His Current Crypto Portfolio
Real Vision chief executive Raoul Pal is revealing most of his crypto portfolio for public viewing.
In a new interview with Thinking Crypto, the former Goldman Sachs executive says that he primarily started out as a Bitcoin (BTC) investor then switched most of his BTC into Ethereum (ETH).
Pal says he then built a basket of 10 equally weighted large-cap altcoins. He later added the smart contract platform Solana (SOL) to his portfolio as well.
In an interview last week, the Real Vision CEO noted 82% of his portfolio is in ETH.
He says in his new Thinking Crypto interview that one of the smaller crypto assets he owns has seen such a significant surge in price that it's ballooned into becoming his second-largest holding.
"What's fascinating is my second-largest holding now, from an equally weighted basket, second to Ethereum, is Sandbox.
I'm bought in, it just went up 20x in the last month and a half, which is crazy.
I mean I would not take that position, second-largest position in Sandbox, but that's where it is, and I'm not rebalancing for the time being."
The Sandbox (SAND) is an Ethereum-based virtual world that allows fans of video games to build, own and monetize their gaming experiences. The project's native token, SAND, is used to transfer value, secure the network and govern the protocol.
Pal also mentions that he bet on the Ethereum-powered decentralized virtual gaming world Decentraland (MANA). Decentraland's native token, MANA, is used as a means of exchange.
The Real Vision CEO says he has also bet on a handful of decentralized finance (DeFi) projects, including the lending protocol Aave (AAVE), the decentralized exchange Uniswap (UNI), and the smart contract platform Polkadot (DOT).
Additionally, Pal notes that he's made a couple of bets on social tokens, including Chiliz and Rally.
Chiliz (CHZ) is a platform for tokenizing sports and esports in order to encourage fan engagement.
Rally (RLY) is a decentralized network that enables creators and brands to monetize their content and offer community benefits.
Pal also says he owns XRP, citing the U.S. Securities and Exchange Commission's (SEC) lawsuit against the payments company Ripple as a primary factor.
Coinbase adds ETH2 ahead of key upgrade this week
The ETH2 coin listed on Coinbase will mirror the original Ether (ETH) token at least up to June 2022.
This comes just ahead of the Arrow Glacier update that would delay the difficulty bomb on Etheruem.
---
Cryptocurrency exchange Coinbase seems to be preparing for a key upgrade on the Ethereum blockchain coming up this week on December 10. The crypto exchange has added a mirrored version ETH2 of the Ethereum blockchain's native cryptocurrency Ether (ETH).
This new version of Ether just tracks the original Ether market data synchronously. As you can see in the below tweet, the cost of purchasing ETH2 is the same as that of the ETH crypto. Interestingly, the two trading volumes, market cap, circulating supply and price turn out to be the same.
Coinbase is already promoting eth2 as a new coin? pic.twitter.com/C67UxooLU0— Nuno (@nvcoelho) December 6, 2021
However, unlike the original ETH, the new ETH2 crypto shows no trading activity. It seems that the newer version will just merely track the ETH market data at least up to mid-2022. It also shows that Coinbase is making all the early preparations for Ethereum 2.0 upgrade. Thus, ETH2 seems to be posing as the native cryptocurrency of the ongoing update of the Ethereum blockchain.
Interestingly, the recent ETH 2 listing on Coinbase happens just before the upcoming upgrade "Arrow Glacier" which will further delay the difficulty bomb.
Arrow Glacier update before Ethereum 2.0
The upcoming Arrow Glacier update on Ethereum will delay the difficulty bomb which would make it difficult for people to mine Ether. However, if the BOMB is triggered, it will slow down the Ethereum blockchain as far as it remains proof-of-work.
One of Ethereum's core developers – Tim Beiko – said that the Arrow Glacier upgrade could probably be the last upgrade before Ethereum 2.0 goes live by June 2022. The Ethereum 2.0 will bring a significant change to the network design. Firstly, this includes a full-scale transition from the Proof-of-Work (PoW) to the Proof-of-Stake (PoS) blockchain.
In the existing PoW Ethereum network, nodes have to validate each transaction to maintain the Ethereum public ledger. However, the Ethereum 2.0 upgrade will introduce "sharding". This will divide the entire network into small segments dubbed "shards". Later, it will randomly assign the nodes to each shard.
This will remove the need for each node to scan the entire chain while improving the speeds and lowering the costs required to maintain the network. These individual shards will share the transaction details with the Beacon Chain, which is the backbone of Ethereum 2.0.
ETH2 won't be a new crypto
The Beacon Chain will validate transactions on each shard while assisting the Ethereum 2.0 network in reaching consensus. It will detect dishonest validators and further initiate penalties by removing a part of the validator's stake from circulation.
The current ETH token will serve as a staking token in the Ethereum 2.0 PoS design. Staking of ETH will allow validators to participate in a network consensus and thus receive block rewards.
Ethereum Challenger Terra Becomes Third-Largest Blockchain by Total Value Locked, Surpassing Solana and Avalanche
Decentralized finance (DeFi) platform Terra (LUNA) has surpassed its rival blockchains to become the third-largest crypto by total value locked (TVL).
Crypto market intelligence firm Delphi Digital says that the Ethereum competitor has now overtaken Solana (SOL) and Avalanche (AVAX) in terms of TVL primarily due to value growth in Bonded Luna (bLuna), which is the token used by liquid staking protocol Lido as collateral to borrow stablecoin TerraUSD (UST) within the Anchor protocol.
"TVL on Terra network overtook Avalanche and Solana, making it [the] third-largest blockchain by TVL after Ethereum (ETH) and Binance Smart Chain (BSC).
It's important to note that TVL numbers are highly reflective alongside native token prices as they are commonly used as collateral in DeFi and as base pairs for DEXes. In Terra's case, DEX base pairs usually utilize Tether instead of LUNA, therefore this growth in TVL is primarily contributed by value growth in Lido bLuna."
The TVL of a DeFi platform is the total value held within its smart contracts. It is calculated by multiplying the amount of funds locked into the network as collateral by the current price of the assets.
Delphi Digital points to how LUNA's rise has helped Terra's stablecoin UST increase its overall supply by 4 billion tokens due to a proposal to mint UST on the Terra network.
"The increase in UST Supply from under $3 billion to $7 billion across mid-November was due to this proposal to mint UST with LUNA in the community pool to grow the Terra ecosystem through UST usage.
UST did another ~$1 billion of growth in circulating supply after 19th November."
LUNA is exchanging hands at $70.85 as of writing, an 46% increase from its 30-day low of $38.06.