First Mover Asia: Bitcoin falls in pre-holiday trading; Ether drops
A recovery in the tether-yuan pairing suggests the Chinese market is slowly recovering from the country's crypto trading ban in September.
Good morning. Here's what's happening this morning:
Market moves: Bitcoin remains around $57,000 a day before the U.S. Thanksgiving holiday while tether's discount to the Chinese yuan mostly recovers from the extended shock of China's September crypto trading ban.
Technician's take: Initial signs of downside exhaustion could stabilize the intermediate-term uptrend from July. Volatility expected to rise.
Prices
Bitcoin (BTC): $57,002 -1.1%
Ether (ETH): $4,250 -2.3%
Market moves
Bitcoin spent most of Wednesday trading below $57,000 with low trading volume, as the U.S. enters the Thanksgiving holiday. Ether dropped below $4,300, a more than 2% decline.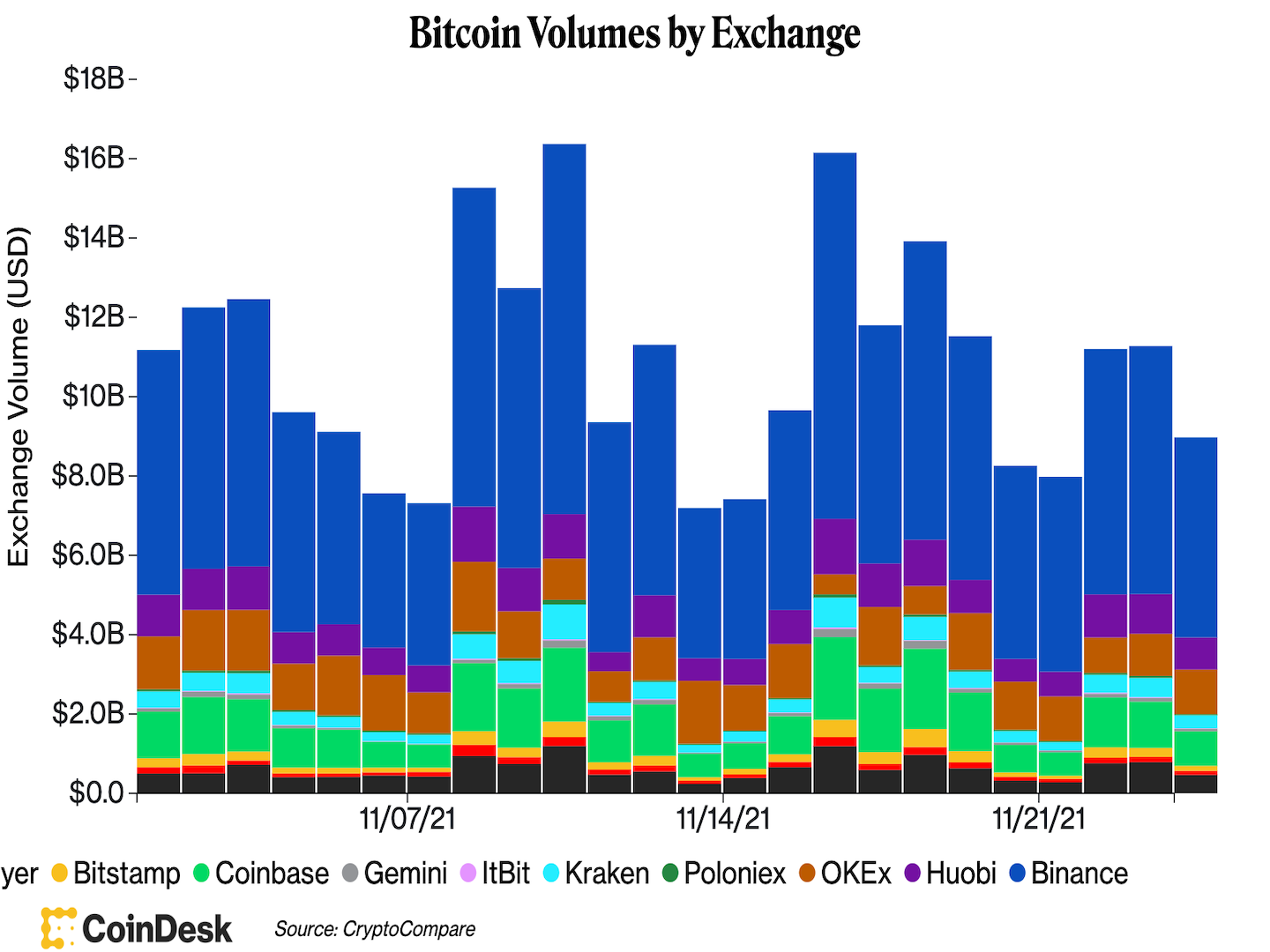 (CoinDesk/CryptoCompare)
Meanwhile, a recovery in the price for the USDT/CNY (tether/Chinese yuan) pair indicated the market in China is slowly recovering from the country's on crypto trading, according to the Hong Kong-based crypto financial service provider Babel Finance.
Babel Finance wrote in its weekly newsletter dated Nov. 22 that tether's quoted prices in the yuan on the over-the-counter (OTC) market have recovered in the past week.
Under normal market conditions, the price of tether expressed in yuan should match that of the U.S. dollar's exchange rate with the Asian currency, but tether has traded at discount since China's ban.
A recovery from this discount indicates that China's crypto market has returned to normal from the ban, which could be good news for the markets due to China's historical significance in crypto.
Technician's take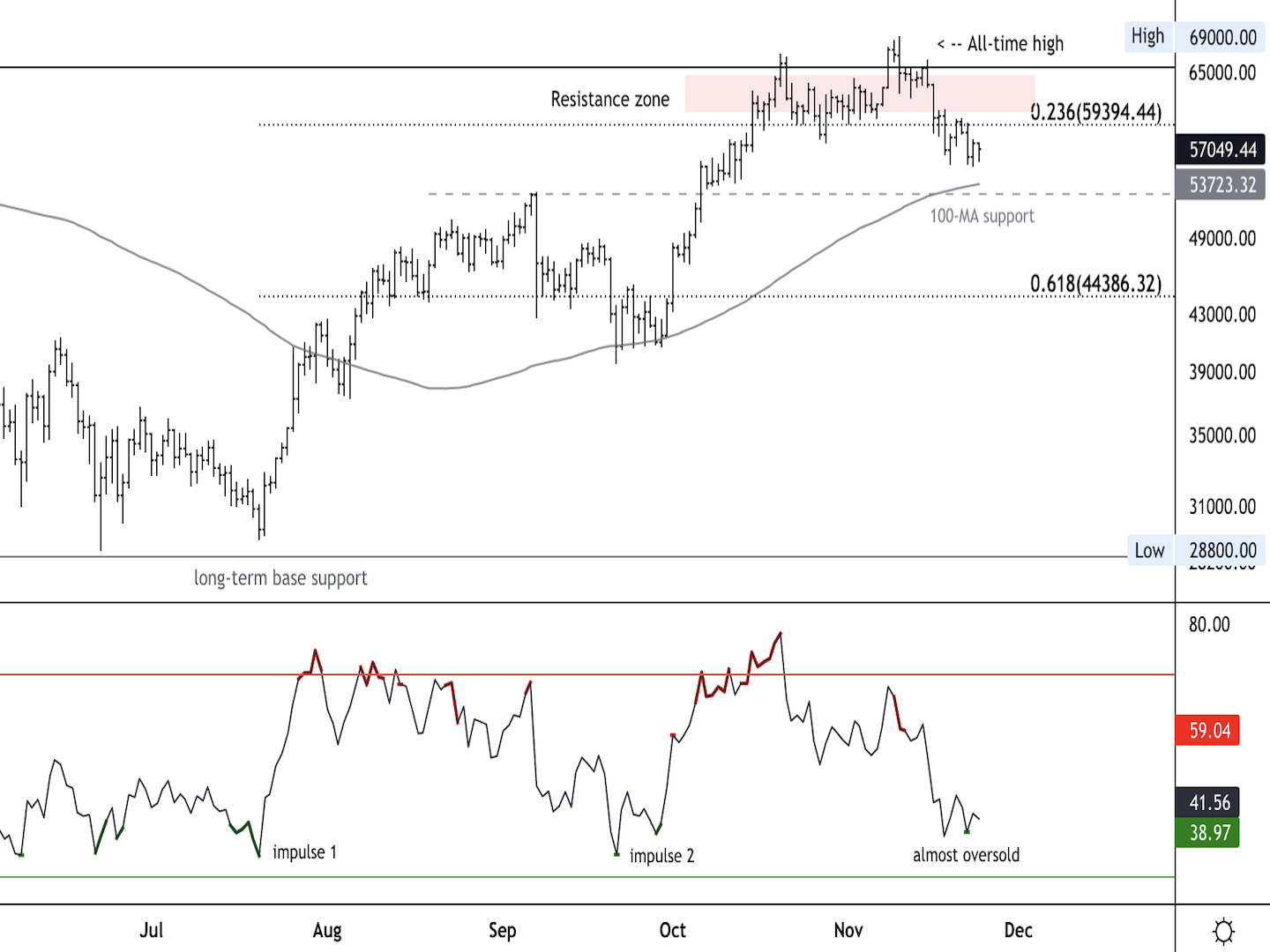 Bitcoin daily price chart (Damanick Dantes/CoinDesk, TradingView)
Bitcoin (BTC) is holding support above its 100-day moving average, which is currently at $53,700. The cryptocurrency was trading around $57,000 at press time and could see further upside toward the $60,000 resistance level over the short term.
The relative strength index (RSI) on the daily chart is almost oversold, similar to what occurred in late-July and September, which preceded near-50% price rallies. Still, buyers will need to break above the $60,000-$65,000 resistance zone in order to yield upside price targets.
Price momentum is slowing on the daily chart, although initial signs of downside exhaustion could stabilize the intermediate-term uptrend from July. Volatility will likely return into the U.S. Thanksgiving holiday, which could lead to sharp price movements over the weekend.
Important events
1 p.m. HKT/SGT (5 a.m. UTC): Japan leading economic index (Sept.)
Macro Guru Raoul Pal Betting on Bitcoin, Ethereum and Nine Additional Altcoins – Here's His Current Crypto Portfolio
Real Vision chief executive Raoul Pal is revealing most of his crypto portfolio for public viewing.
In a new interview with Thinking Crypto, the former Goldman Sachs executive says that he primarily started out as a Bitcoin (BTC) investor then switched most of his BTC into Ethereum (ETH).
Pal says he then built a basket of 10 equally weighted large-cap altcoins. He later added the smart contract platform Solana (SOL) to his portfolio as well.
In an interview last week, the Real Vision CEO noted 82% of his portfolio is in ETH.
He says in his new Thinking Crypto interview that one of the smaller crypto assets he owns has seen such a significant surge in price that it's ballooned into becoming his second-largest holding.
"What's fascinating is my second-largest holding now, from an equally weighted basket, second to Ethereum, is Sandbox.
I'm bought in, it just went up 20x in the last month and a half, which is crazy.
I mean I would not take that position, second-largest position in Sandbox, but that's where it is, and I'm not rebalancing for the time being."
The Sandbox (SAND) is an Ethereum-based virtual world that allows fans of video games to build, own and monetize their gaming experiences. The project's native token, SAND, is used to transfer value, secure the network and govern the protocol.
Pal also mentions that he bet on the Ethereum-powered decentralized virtual gaming world Decentraland (MANA). Decentraland's native token, MANA, is used as a means of exchange.
The Real Vision CEO says he has also bet on a handful of decentralized finance (DeFi) projects, including the lending protocol Aave (AAVE), the decentralized exchange Uniswap (UNI), and the smart contract platform Polkadot (DOT).
Additionally, Pal notes that he's made a couple of bets on social tokens, including Chiliz and Rally.
Chiliz (CHZ) is a platform for tokenizing sports and esports in order to encourage fan engagement.
Rally (RLY) is a decentralized network that enables creators and brands to monetize their content and offer community benefits.
Pal also says he owns XRP, citing the U.S. Securities and Exchange Commission's (SEC) lawsuit against the payments company Ripple as a primary factor.
Mike Novogratz Expects Bitcoin to Stay Above $42,000
Mike Novogratz says that it would be surprising to see Bitcoin below $40,000
Galaxy Digital CEO Mike Novogratz believes that the price of Bitcoin is not going to fall below $40,000.

The crypto mogul told CNBC host Joe Kernen earlier today that he would be surprised to see the biggest cryptocurrency revisiting the aforementioned price level.
"I think $42,000 should hold, that should be the bottom of this move. It would surprise me if it went below $40,000," says @Novogratz on #Bitcoin's latest dip $BTC. "There's so many more people participating on it. It's hard for me to see if going below." pic.twitter.com/4VuYIw01dF— Squawk Box (@SquawkCNBC) December 8, 2021
Novogratz is convinced that $42,000 will remain at the bottom of the ongoing correction.

I think $42,000 should hold, that should be the bottom of this move. It would surprise me if it went below $40,000.

Bitcoin suddenly collapsed 21% on Dec. 4, making crypto traders dust off their $20,000 charts.

The cryptocurrency managed to recover to $52,000 on Dec. 8, but it was rejected there.
At press time, Bitcoin is trading down 2.7%, slightly above the $49,000 level on cryptocurrency exchange Bitstamp.
Novogratz claims that Bitcoin going below $40,000 would result in a significant sentiment shift, adding that such a dramatic drop would make him scratch his head.
The crypto boss remains optimistic due to the increasing number of people participating in the industry:
There's so many more people participating on it. It's hard for me to see if going below.
However, as reported by U.Today, growth investor Louis Navellier recently said that Bitcoin could drop to $10,000 if it were to lose the do-or-die $28,500 support level that managed to hold during a dramatic correction in summer.

After a streak of unsuccessful predictions in 2018, the hedge fund veteran made a prescient call about Bitcoin reclaiming its previous record high of $20,000 by the end of 2020.

Bitcoin is now up 73% in 2021, significantly underperforming some of the top altcoins.
Top Trader Says Ethereum Looks Exceptionally Bullish, Unveils Targets for Bitcoin and Explosive Altcoin Terra
A popular crypto analyst believes Ethereum (ETH), Bitcoin (BTC) and one altcoin are about to blast off and leave the recent market-wide slump in the dust.
The pseudonymous crypto strategist and trader Kaleo tells his 454,000 Twitter followers that ETH's time to shine has arrived as the "king" of the layer-1 blockchain protocols.
The analyst says,
"ETH is so bullish after the most recent flush it's not even funny.
We've seen a major rotation play among the alt [Layer-1s] the past few months.
It only makes sense that the king of the L1s finally has a chance to suck liquidity from the rest of the market and have a run of its own."
Ethereum is about even on the day, trading for $4,346 at time of writing.
Kaleo next looks at Bitcoin and says he still believes the top crypto will reach at least $100,000 during the current cycle.
"I've said it before and I'll say it again – I still expect to see Bitcoin have a parabolic move to top out at $100K+ this cycle.
I'll gladly start scaling out around $150K. I expect it to go higher, but I'm not concerned with nailing the top. Until then, just keep stacking."

BTC currently sits at $50,900 after having battled back from a flash-crash low around the $43,500 level on December 3rd.
Lastly, the crypto analyst lays out his price prediction for the Terra (LUNA) protocol, whose native token LUNA underpins a suite of decentralized stablecoins.
Kaleo tells his followers that Terra reaching the $100 threshold is inevitable.
"LUNA going to $100 from here is only a matter of time."

LUNA has seen some wild price action in recent days, with the altcoin tumbling from $69.66 to $53.64 late last week before surging to $77.37 on Sunday.
The 10th-ranked crypto has since corrected but is back up 5% on the day to $70.74.