Dogecoin price to rally 20% if DOGE can recover recent losses
Dogecoin price has slipped past the 79% Fibonacci retracement level at $0.225, signaling a weak buying pressure.
A quick recovery above this barrier could trigger a 20% upswing to $0.267.
If DOGE fails to flip $0.225 into a support floor, a retest of $0.194 is likely.
Dogecoin price is at a make or break point in its downward cycle as it recently flipped a crucial support level into resistance. If DOGE bulls can quickly recover, investors can expect a run-up. Failing to do so might result in a steeper correction.
Dogecoin price at inflection point
Dogecoin price dropped below the 79% Fibonacci retracement level at $0.225 after consolidating above it for six days. This down move indicates that the buying pressure is weakening. While things are looking grim for DOGE, a potential spike in buying pressure that pushes DOGE to reconquer the $0.225 barrier will be a display of strength.
This move will likely trigger a 20% upswing that pushes pass the intermediate resistance levels to retest the 50% retracement level at $0.267.
In some cases, this climb could extend to $0.283, revealing a 25% gain.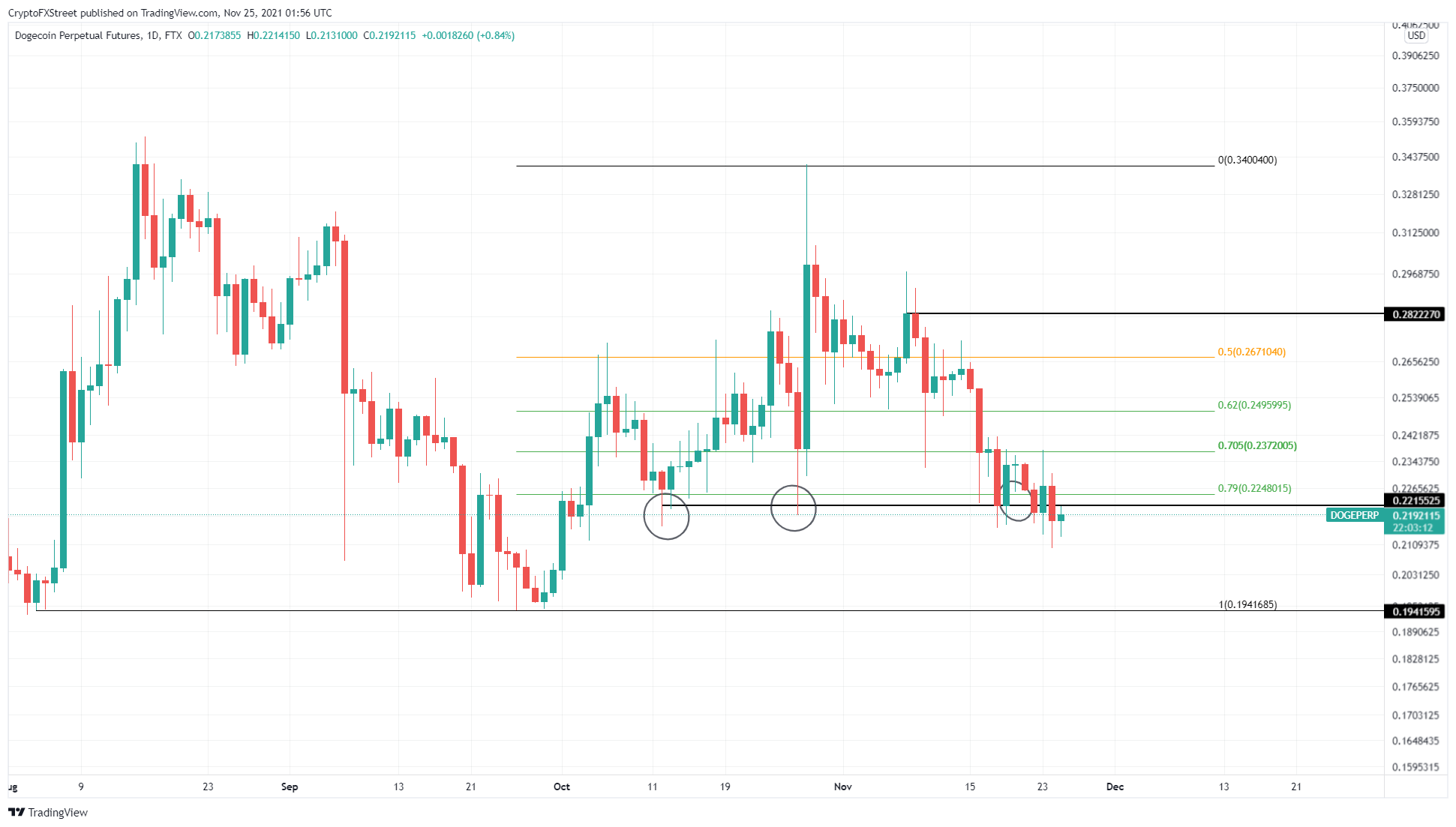 DOGE/USDT 1-day chart
While the bullish narrative is contingent on the recovery above $0.225, a failure to do that might result in unwelcomed situations. For instance, the Dogecoin price could slide straight to the range low at $0.194. This 12% crash places DOGE on a critical level, a breakdown of which could result in a further bearish crash to $0.09.
Therefore, it is significantly important for Dogecoin price to stay above $0.225 for a bullish case and $0.194 to avoid a strong bearish outlook.
Taking stock of where Dogecoin stands, as it turns eight
In the world of cryptocurrency, meme-coins like Dogecoin manage to become one of the 10 biggest digital assets. Even though DOGE may not still be on the list, at the time of writing, its prospects were not looking too bright.
Happy Birthday Dogecoin
Dogecoin celebrated its birthday on 6 December as the coin completed eight years of existence. In fact, looking at its growth it surely has managed to amass a huge number of loyal followers.
With 67 million addresses and 4.2 million investors, it's safe to say that Dogecoin has had an impact over the years.
It was in the timeframe of one year that DOGE actually made some remarkable gains. The rally that began at the beginning of 2021, took DOGE up by over 15,663% when the meme coin was at its peak. Although, since then it has come down by almost 75%.
Dogecoin even managed to help other meme coins like Shiba Inu rise and become a prominent asset in this space. The altcoin even rose quicker than DOGE, witnessing a 1035% rally within a month. It was soon, followed by a 54% correction, as it was trading at $0.00003603. In fact, SHIB's growth took it farther ahead, with the latter gaining more mainstream acceptance recenlty.
Here is the catch
Now, the question is, what is the point of such gains when most investors aren't making any actual profit? Well, as of now, of the 4.2 million addresses with balance in them, over 43% of them are suffering losses.
This, despite DOGE being one of the most socially popular coins occupying more than 5% dominance in the space. The one big issue DOGE used to have, was its development activity.
But thanks to the regular pushes by the "DOGEfather," Elon Musk, Dogecoin has actually managed to fix that as well. In fact, today the development activity is standing strong compared to what it used to be.
But, looks like its investors are slowly losing patience as for the first time in two months investors' sentiment actually turned negative.
Further, even on its birthday the coin only rose by a meager 3.6% with volumes hovering slightly above 100 million DOGE (ref. Dogecoin price action image).
As of 8 December, DOGE is somehow maintaining the lower trend line of the month-long downtrend wedge, as support and if it fails and flips, DOGE will be in danger. Plus, its birthday will only see more investors leave the party eventually.
Dogecoin bears leave the scene as DOGE rises towards $0.24
Dogecoin price stabilizes near its final support structure.
Selling pressure abates as hints of strong buying activate.
Explosive bullish entry present on the Point and Figure chart.
Dogecoin price holds steady near the $0.18 value area, halting any further downside movement. Buyers appear to be showing up and preparing Dogecoin for a big launch higher.
Dogecoin price action perfectly positioned for a move to $0.24
Dogecoin price action has been a cause of concern for many bulls and long-term hodlers after the Saturday flash-crash. Fears of continued pressure south and a possible move below $0.10 appear to be fading. Sellers are unable or unwilling to push Dogecoin below Dogecoin's final support zone.
The overall structure of Dogecoin price is a bearish continuation setup – a bearish pennant. At its present position, Dogecoin price is at the apex of deciding whether a bear or bull market will begin for Dogecoin.
A massively bullish entry signal is now present on the $0.002/3-box Reversal Point and Figure chart. The theoretical long trade is a buy stop at $0.186, a stop loss at $0.176, and a profit target at $0.240.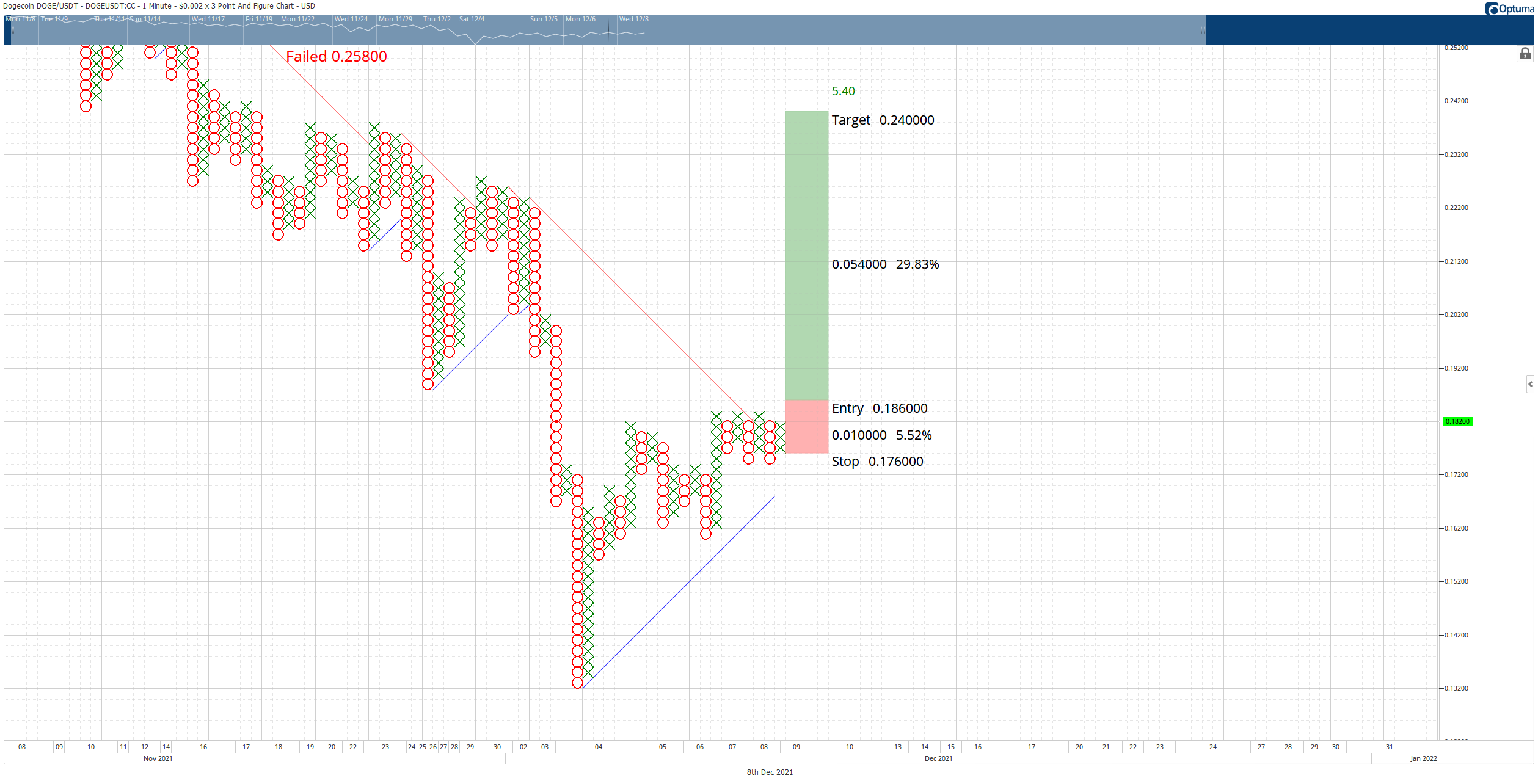 DOGE/USDT $0.002/3-box Reversal Point and Figure chart
The entry is based on a breakout from a quadruple-top bull flag formed immediately after Dogecoin converted into a bull market on the Point and Figure chart. The entry and follow-up buying is essential to deny bears any further control of Dogecoin price direction.
However, a continuation move lower is not entirely out of the cards. If Dogecoin drops to $0.172, that would cause a break of a triple-bottom and return Dogecoin to a bear market on this Point and Figure chart. It would invalidate the long entry and any near-term bullish momentum.
Google Trends Data: 'Dogecoin' and 'Ethereum Price' Amongst Top 10 Most Searched News

As the crypto market began to pick up its bullish pace again, despite the most unexpected crash last weekend, it has become evident that virtual currencies are here to stay. However, surprisingly, in a recently published list by Google trends, it was determined that Ethereum and Dogecoin were more news worthy than the OG Bitcoin. According to Google Trends list of the most searched news across the world, 'Dogecoin' and 'Ethereum Price' secured its place amongst the top ten.
Last weekend, in the most unanticipated crypto market crash, the decentralized industry was hit with its highest liquidation recorded in past 15months, with more than $2.5 billion worth of leveraged positions getting liquidated in merely 24-hours. Furthermore, the market cap dropped by nearly 20% with the loss of over $500 billion. However, the crypto sphere is back on track after its flash sale. While eminent players like El Salvador, bought more of Bitcoin, Ethereum Price conveniently exceeded its $4k mark, while Bitcoin continues to struggle in breaking the $50k bracket.
Ethereum L2 Scaling Solutions
With Ethereum's upcoming L2 scene heating up, the ultimate alt-coin is gaining more traction with each passing day. According to the Ethereum founder, Vitalik Buterin, the Layer 2 scaling solutions on the Ethereum network will revolutionise the crypto sphere by facilitating the safest and most sustainable way to scale Ethereum while preserving decentralization.
Earlier this October, Buterin spoke at the 2021 Shanghai International Blockchain Week, claiming that Ether's L2 will resolve the issues of scalability. He noted that in lieu of the ongoing non-fungible tokens (NFTs) frenzy, together with the fierce growth of decentralized finance (Defi) on the Ethereum network, the mainstream blockchain has become overcrowded, causing problems like high transaction fees. However, he suggested blockchains and NFTs to transfer to L2 to counter scalability and high gas fees issues.
Both, Dogecoin and AMC Stock in Top 10
While Ethereum may be the ultimate alt-coin, Dogecoin is the original meme token. Apart from being Tesla CEO, Elon Musk's favourite, DOGE has established itself in the decentralised industry and found a spot above several Alt-coins will complex technology.
Along with "Ethereum Price" and "Dogecoin", "AMC Stock" has also reserved its place in the top 10 most searched news list. AMC, being the largest movie theatre chain in the United States, does not shy away from incorporating meme tokens to its business. Recently, AMC announced to accept payments in both, Dogecoin and Shiba Inu, making history for commercial giants in crypto.