Ethereum Poised To Dramatically Outperform Bitcoin and Other Altcoins, Predicts Analyst Justin Bennett
A closely followed strategist thinks Ethereum (ETH) is gearing up for an impressive rally that will outshine the rest of the crypto markets.
Justin Bennett tells his 90,400 Twitter followers that ETH's setup on the Bitcoin (BTC) trading chart could see the number-two crypto jump toward the 0.105 and 0.160 BTC levels, equal to about $6,000 and $9,100 at time of writing.
"ETH/BTC looks ready.
I'm thinking ETH outpaces pretty much everything over the next few weeks."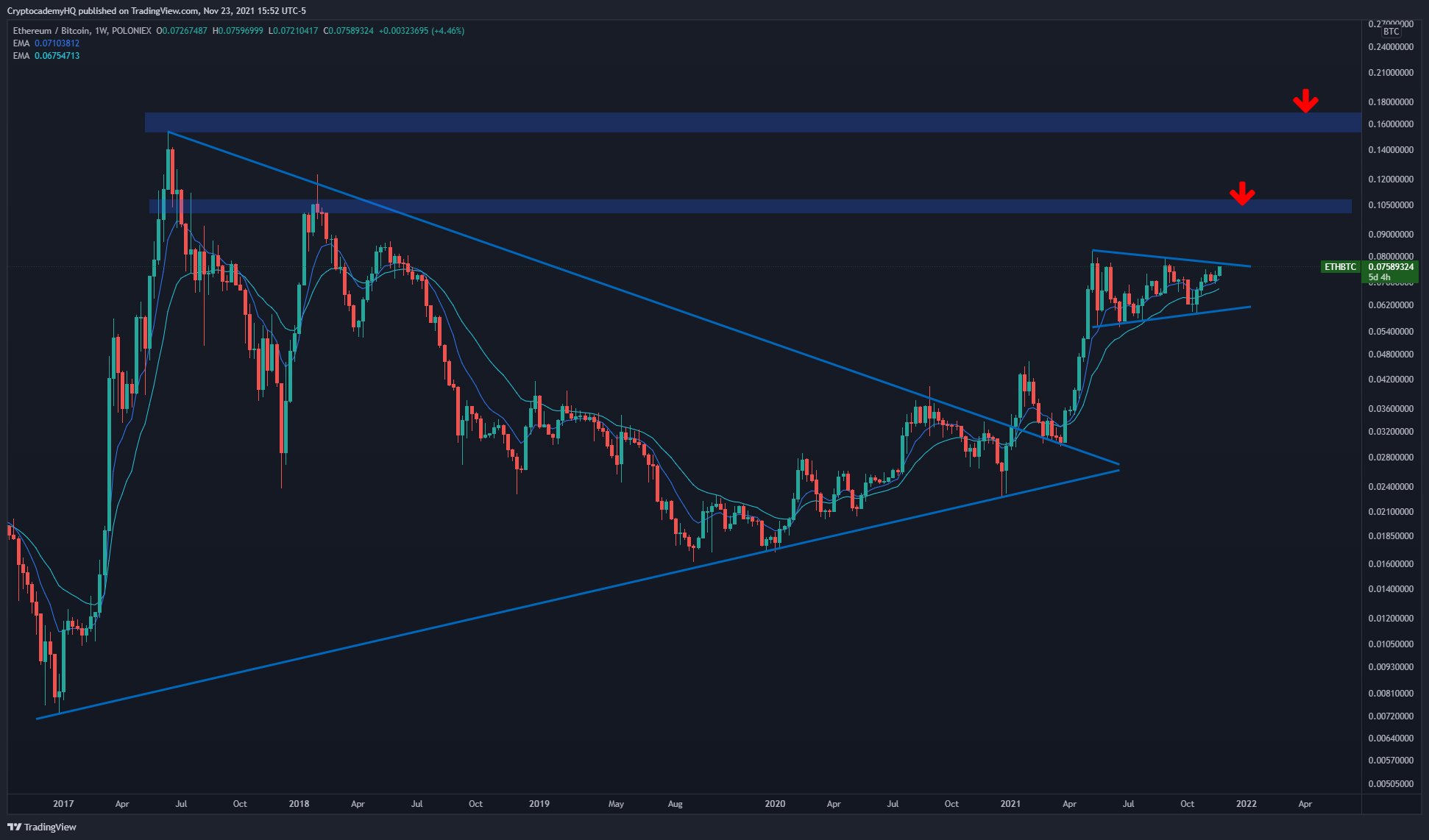 When considering broader crypto trends, the analyst suggests that in addition to BTC, ETH could also offer investors clues about where the markets are headed.
"Everyone is looking to BTC for clues about this cycle. But what if ETH becomes the leading indicator?
At a half a trillion dollar market cap and 19% market dominance, Ethereum is no slouch. Time to pay equal attention to both, [in my opinion]."
Bennett next dives into Ethereum's price levels. He cites $4,000 as critical support and sees a breach of $4,600 as a chance to break out much higher.
"ETH potential higher low above $4,000. Looks bullish to me.
$4,400 is resistance. Above $4,600 and we moon."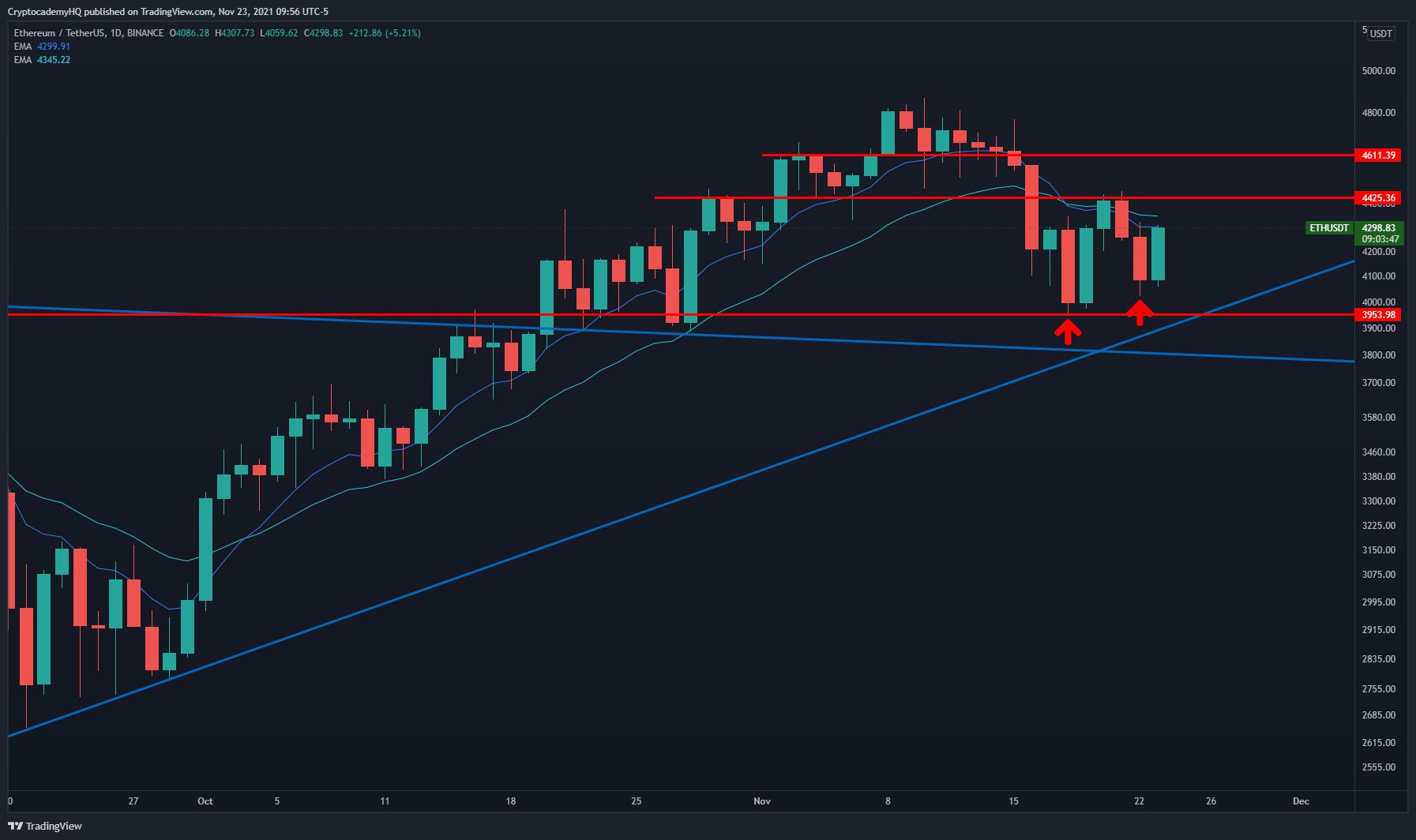 At time of writing, ETH is valued at $4,245, down 2.45% on the day.
Moving on to the top crypto, Justin Bennett says that Bitcoin must hold $55,000 and break past $60,000 if it hopes for a relief rally after recently tumbling from a new all-time high above $68,500.
"BTC looks pretty good here for a relief rally back to the $63,000 region.
Needs to hold the line at $55,000 and get through $60,000."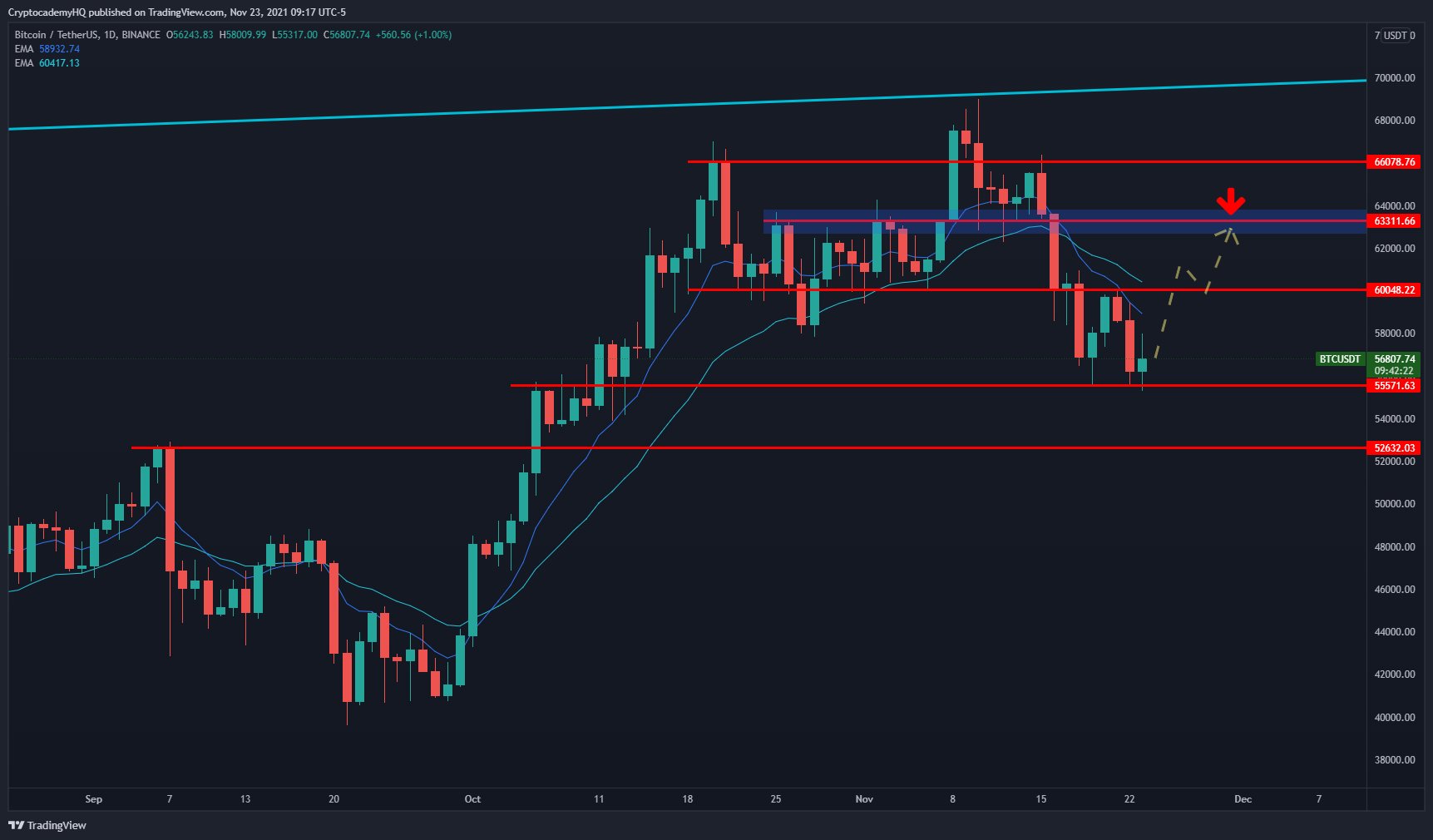 In a follow-up tweet, Bennett remains optimistic as long as BTC can fight past a red candle on the chart.
"BTC, so far, so good.
Break this 4-hour trend line and we're in business."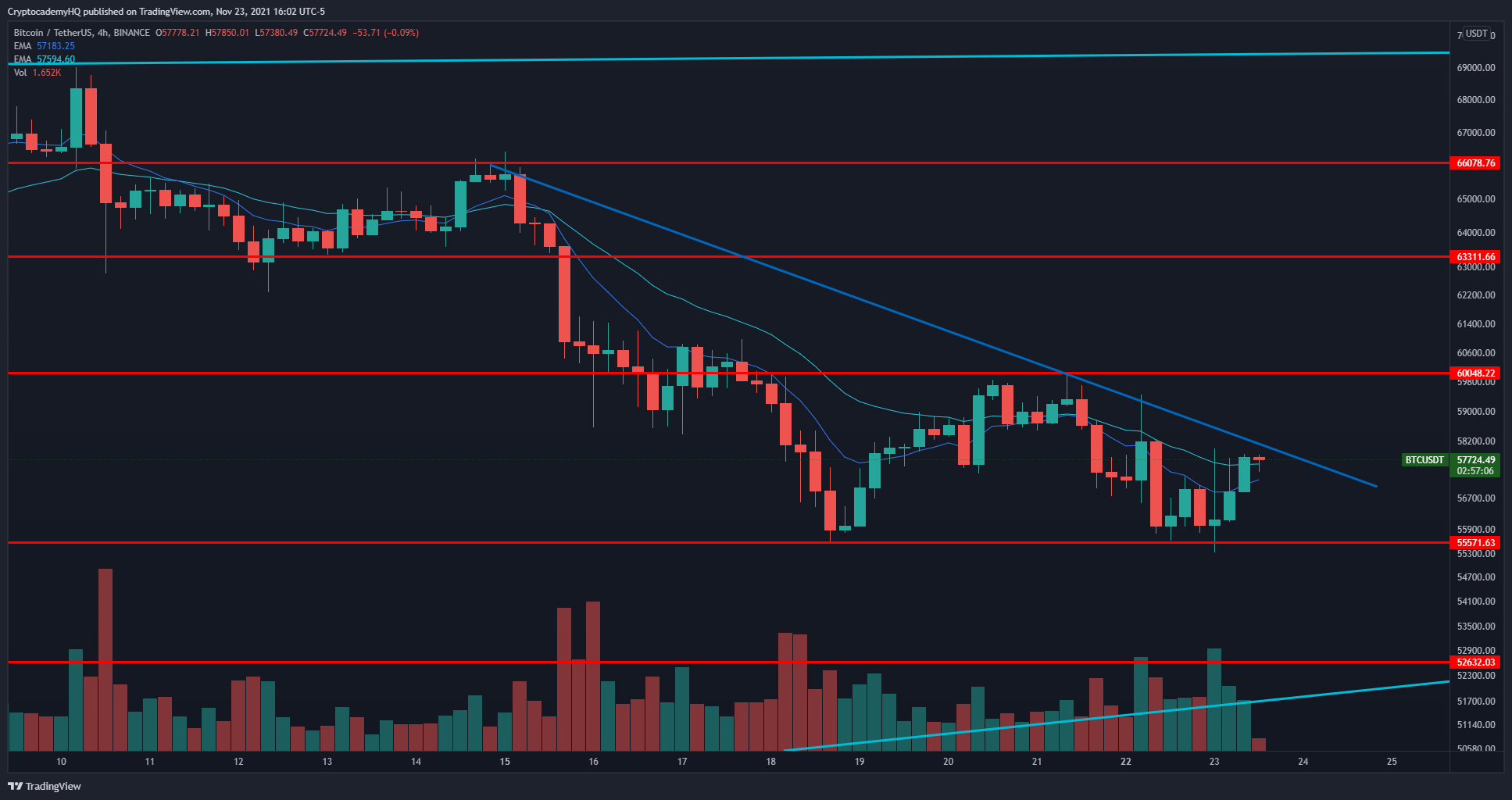 Bitcoin is changing hands for $57,097 at time of writing.
Coinbase adds ETH2 ahead of key upgrade this week
The ETH2 coin listed on Coinbase will mirror the original Ether (ETH) token at least up to June 2022.
This comes just ahead of the Arrow Glacier update that would delay the difficulty bomb on Etheruem.
---
Cryptocurrency exchange Coinbase seems to be preparing for a key upgrade on the Ethereum blockchain coming up this week on December 10. The crypto exchange has added a mirrored version ETH2 of the Ethereum blockchain's native cryptocurrency Ether (ETH).
This new version of Ether just tracks the original Ether market data synchronously. As you can see in the below tweet, the cost of purchasing ETH2 is the same as that of the ETH crypto. Interestingly, the two trading volumes, market cap, circulating supply and price turn out to be the same.
Coinbase is already promoting eth2 as a new coin? pic.twitter.com/C67UxooLU0— Nuno (@nvcoelho) December 6, 2021
However, unlike the original ETH, the new ETH2 crypto shows no trading activity. It seems that the newer version will just merely track the ETH market data at least up to mid-2022. It also shows that Coinbase is making all the early preparations for Ethereum 2.0 upgrade. Thus, ETH2 seems to be posing as the native cryptocurrency of the ongoing update of the Ethereum blockchain.
Interestingly, the recent ETH 2 listing on Coinbase happens just before the upcoming upgrade "Arrow Glacier" which will further delay the difficulty bomb.
Arrow Glacier update before Ethereum 2.0
The upcoming Arrow Glacier update on Ethereum will delay the difficulty bomb which would make it difficult for people to mine Ether. However, if the BOMB is triggered, it will slow down the Ethereum blockchain as far as it remains proof-of-work.
One of Ethereum's core developers – Tim Beiko – said that the Arrow Glacier upgrade could probably be the last upgrade before Ethereum 2.0 goes live by June 2022. The Ethereum 2.0 will bring a significant change to the network design. Firstly, this includes a full-scale transition from the Proof-of-Work (PoW) to the Proof-of-Stake (PoS) blockchain.
In the existing PoW Ethereum network, nodes have to validate each transaction to maintain the Ethereum public ledger. However, the Ethereum 2.0 upgrade will introduce "sharding". This will divide the entire network into small segments dubbed "shards". Later, it will randomly assign the nodes to each shard.
This will remove the need for each node to scan the entire chain while improving the speeds and lowering the costs required to maintain the network. These individual shards will share the transaction details with the Beacon Chain, which is the backbone of Ethereum 2.0.
ETH2 won't be a new crypto
The Beacon Chain will validate transactions on each shard while assisting the Ethereum 2.0 network in reaching consensus. It will detect dishonest validators and further initiate penalties by removing a part of the validator's stake from circulation.
The current ETH token will serve as a staking token in the Ethereum 2.0 PoS design. Staking of ETH will allow validators to participate in a network consensus and thus receive block rewards.
Ethereum Challenger Terra Becomes Third-Largest Blockchain by Total Value Locked, Surpassing Solana and Avalanche
Decentralized finance (DeFi) platform Terra (LUNA) has surpassed its rival blockchains to become the third-largest crypto by total value locked (TVL).
Crypto market intelligence firm Delphi Digital says that the Ethereum competitor has now overtaken Solana (SOL) and Avalanche (AVAX) in terms of TVL primarily due to value growth in Bonded Luna (bLuna), which is the token used by liquid staking protocol Lido as collateral to borrow stablecoin TerraUSD (UST) within the Anchor protocol.
"TVL on Terra network overtook Avalanche and Solana, making it [the] third-largest blockchain by TVL after Ethereum (ETH) and Binance Smart Chain (BSC).
It's important to note that TVL numbers are highly reflective alongside native token prices as they are commonly used as collateral in DeFi and as base pairs for DEXes. In Terra's case, DEX base pairs usually utilize Tether instead of LUNA, therefore this growth in TVL is primarily contributed by value growth in Lido bLuna."
The TVL of a DeFi platform is the total value held within its smart contracts. It is calculated by multiplying the amount of funds locked into the network as collateral by the current price of the assets.
Delphi Digital points to how LUNA's rise has helped Terra's stablecoin UST increase its overall supply by 4 billion tokens due to a proposal to mint UST on the Terra network.
"The increase in UST Supply from under $3 billion to $7 billion across mid-November was due to this proposal to mint UST with LUNA in the community pool to grow the Terra ecosystem through UST usage.
UST did another ~$1 billion of growth in circulating supply after 19th November."
LUNA is exchanging hands at $70.85 as of writing, an 46% increase from its 30-day low of $38.06.
Fourth-Largest Ethereum Whale Pounces on Large-Cap Altcoin, Accumulating $580,000,000 in Crypto
One mega-whale just loaded up on an Ethereum (ETH) token that powers a popular crypto marketplace.
The blockchain-transaction tracker WhaleStats reveals that the unnamed wallet received 14,000,000 FTT, the native token of the FTX exchange. The transaction was worth $581,444,018 at time of sending.
The whale now holds over $1.2 billion worth of FTT with a total value exceeding $3.8 billion and is now ranked fourth on the WhaleStats' list of the top 1000 Ethereum wallets, excluding the ETH cryptocurrency itself.
Popular crypto analyst Smart Contracter is also showing interest in FTT, noting that the Fibonacci ABC spacing between sharp highs and lows on the coin's historical chart offers encouraging signs for future price action.
The trader says in a tweet to his 196,000 followers,
"Been a long while since I played FTT but I actually think a major bottom is in and we go to [all-time highs] from here.
Perfect ABC on super-high timeframes where ABC came below the 0.618 and bull/bear periods are almost 1:1 extension."
In late October news broke that FTX had purchased advertising airtime during the February 2022 Super Bowl as part of a wider push to bring crypto awareness to the mainstream.
Last week FTX also announced the launch of a marketplace for Ethereum-based non-fungible tokens (NFTs).
At time of writing, the FTT token is mostly flat on the day and trading at $42.73.