SHIB INU and their 1,000,000 Holders A Moment in History
SHIB: Such a proud, and amazing milestone for the ShibArmy! SHIB reaches 1,000,000 holders. Today we all cheer, and celebrate this great moment in SHIB's history.
Meanwhile Shytoshi Kusama expressed: As promised, tomorrow I'll have a new Medium giving details about Shiba Inu Games & introduce the consultant/lead who will work directly with the AAA.
Community Reaction and Hype: Exciting for tomorrow game update and huge breakout on cards with all these achievements.
Now, way is free for next million. People should wonder why this huge number still increases! It was a healthy but a needful consolidation, but now way is free for sky-rocketing again.
Shib to the moon I see us reaching 5 million holders within few years. Shib to 0.1 hopefully soon.
Yeah but when will you "really" burn tokens and increase the price? at this rate Shib will never be worth much to anyone but those that are already rich.
Why keep holding? Do you honestly see a major increase in value from here on out because I don't?
I bought my first SHIBA coin about 10 hours ago was I the millionth holder? At .000039 Good timing.
People keep saying as it goes higher there will be a big sell off, I feel it's the opposite. The higher it gets the easier it is for Corps to add to their balance sheet.
I truly believe previous dip was to scare retail into selling, allowing institutions to buy cheaper, They were late to the game, they needed a better entry.
Shiba army be strong. Show our opponents how strong we are. We don't need news from kraken and Robinhood neither from Elon musk. We are united. Be patient and wait for 2 years.
Let us buy more to celebrate. Buy and HODL. The real ShibArmy don't sell, we buy and hold. It can dip until it's soaked, not selling a single token.
Yes, Shiba will keep on growing and reach its 0.01$ just keep trusting the process and have everyone in this, I know that this is gonna all of us millionaires and will be financially free.
When it starts making me money then I will be impressed. Shib is not going to spike again till March 2022. I love shib and I'm a huge hodler. But also I am a realist.
We are Holding strong. Let keep moving. Today marked a great day and a good start up for the big thing which is about to happen. Up Shib.
News Source
New SHIB Whale Holds 3.2 Trillion Shiba Inu Tokens Amid Accumulation Spree
An anonymous buyer has over 3.2 trillion SHIB tokens in his possession after a recent  accumulation spree
According to WhaleStats, the crypto market has witnessed the birth of a new SHIB whale. The anonymous buyer, who has been on a recent accumulation spree, now holds nearly 3.2 trillion SHIB tokens.
In three large transactions, the SHIB whale bought $120,342,829 million worth of Shiba Inu to join the growing list of large holders for the dog-themed coin.
Woof! Woof! 🐕

👏🤔 New #SHIB whale was born!!!

Holds 3,243,484,849,528 $SHIB ($120,342,829 USD)

Transactions:
1⃣https://t.co/s75pLi2zme
2⃣https://t.co/9Dgz2ZybXN
3⃣https://t.co/Z3RYcqwRyv

Welcome to the #ShibArmy Family! pic.twitter.com/vM4Ei3SHlg— WhaleStats – the top 1000 Ethereum richlist (@WhaleStats) December 8, 2021
The first large transaction appeared on the blockchain about two days ago when the whale bought nearly 3.15 trillion Shiba Inu tokens, or $105,487,757 worth. This was followed by two transactions within a period of 30 minutes of 84.7 billion SHIB ($3,233,066) and 8 billion SHIB ($275,776) on Dec. 7.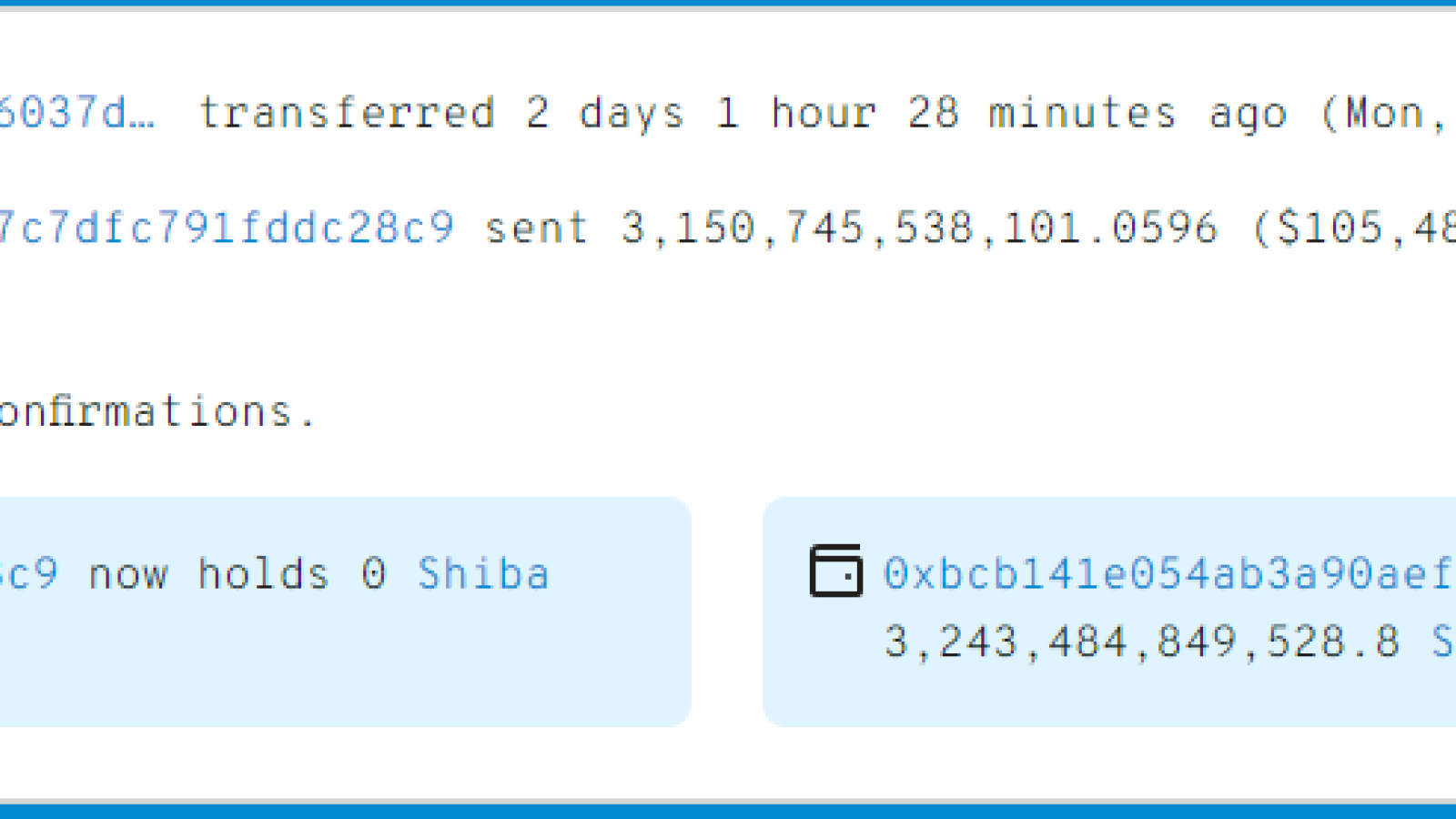 As of press time, SHIB was trading at $0.00003620.
SHIB adoption continues to grow
As reported by U.Today, SHIB is now listed as a payment method on Travala.com to book over 3 million travel products worldwide. California-headquartered electronics seller Newegg stated in late November, integrating Shiba Inu through a partnership with payment processing service BitPay.
Likewise, AMC, the number one movie theater chain in the world, became the first BitPay customer to decide to accept Shiba Inu. In mid-November, CEO Adam Aron confirmed that the new payment option would be added in early 2022.
Dogecoin Killer Shiba Inu to Start Trading on Bitstamp
Despite snubbing Dogecoin earlier this year, Bitstamp has now listed rival Shiba Inu.
Bitstamp, one of the longest-standing cryptocurrency trading platforms in the world, has listed Shiba Inu (SHIB) in what appears to be one of the most significant endorsements for the meme coin to date.

Deposits and withdrawals have already been opened, with trading kicking off on Dec. 9 at 8:00 a.m. UTC.

Apart from Shiba Inu, Perpetual Protocol (PERP), dYdX (DYDX) and Gala (GALA) have also been added to Bitstamp.

It is worth mentioning that the aforementioned cryptocurrencies will not be available in the U.S. and Singapore for now.

As reported by U.Today, Bitstamp also listed Cardano (ADA) in late November.
Quality over quantity
Bitstamp, which was launched all the way back in 2011 as a European alternative to the now-defunct Mt. Gox exchange, is known for its strong emphasis on regulatory compliance.

Sticking to its conservative listing policies, the Luxemburg-headquartered exchange chose to ignore Dogecoin despite the immense retail interest that pushed the price of the original meme coin through the roof in early 2021.

Bitstamp CEO Julian Sawyer commented on the snub in September, claiming that the exchange chooses quality over quantity. He took issue with centibillionaire Elon Musk's influence on Dogecoin's price action:
The issue is that if you go to some that are hyped up by a billionaire's tweet, or crashes on a billionaire's tweet, we don't think that's right.
Bitstamp remains the largest European exchange by trading volume.
SHIBA INU Forecast December 8, 2021
SHIBA INU is trading at the time of the publication of the forecast at the level of 0.00003715, and continues to move within the correction and the downward channel. Moving averages indicate a bullish trend. Prices broke through the area between the signal lines upward, which indicates pressure from buyers of the coin and a potential continuation of growth from the current levels. As part of the SHIB/USD rate forecast, one should not consider an attempt to develop a bullish correction in the value of a digital asset and a test of the resistance area near the level of 0.00003995. From where a rebound is expected again downward and an attempt to continue the fall of the SHIBA INU cryptocurrency with a potential target below the level of 0.00003005.
SHIBA INU Forecast December 8, 2021
An additional signal in favor of reducing SHIB/USD quotes for tomorrow will be a rebound from the resistance line on the relative strength index (RSI). The second signal will be a rebound from the upper border of the descending channel. Cancellation of the growth option for the SHIBA INU cryptocurrency will be a fall and a breakdown of the 0.00004695 area. This will indicate a breakdown of the resistance area and continued growth of SHIB/USD quotes with a target above the level of 0.00004995. Confirmation of the fall in the cryptocurrency will be the breakdown of the support area and the closing of quotations below 0.00003155.
SHIBA INU Forecast December 8, 2021 suggests an attempt to develop a small correction of the coin and test the resistance area near the level of 0.00003995. Then, the continuation of the fall to the area below the level of 0.00003005. An additional signal in favor of reducing SHIBA INU will be a test of the trend line on the relative strength index (RSI). Cancellation of the fall option will be a strong growth and a breakdown of the 0.00004695 area. This will indicate a continued rise in the cryptocurrency with a target above the level of 0.00004995.