Transacting on Solana less energy-intensive than on Bitcoin, Ethereum, report reveals
Those looking at the metaverse from outside the crypto sector are often horrified by the carbon footprint of NFTs or the energy consumed while using Ethereum. However, Solana's Energy Use Report for November 2021 puts numbers into perspective and signals a new trend in the crypto sector – the push to be eco-friendly.
Greener than Google?
Solana's report stated,
"In the November 2021 update, the Solana Foundation determined that a single Solana transaction takes 0.00051 kWh, or 1,836 Joules of energy."
To help readers better visualize this value, the report also provided a list of other common activities and their energy requirements. For example, Solana uses more energy than a single Google search, which reportedly consumes around 1,080 Joules.
However, a Solana transaction is less energy-intensive than working for an hour on the computer, which reportedly needs approximately 46,800 Joules. As Solana plans to onboard 1 billion users and 1 million developers, it's easy to see how the electricity bill adds up.
Coming to blockchains, Solana's per transaction energy consumption rate was many times lower than that of an Eth2 transaction, which used 126,000 Joules, according to Solana's report. Meanwhile, one Ethereum transaction used about 692,820,000 Joules while the same on Bitcoin was a formidable 6,995,592,000 Joules.
Yet another competition?
With Ethereum's gas fees and the heavy electricity bill, there's a lot of pressure on both blockchains and NFT artists to use more energy-efficient platforms. Based on its report and the status of having the fifth-largest market cap, Solana looks like a strong alternative.
However, it might not be the automatic first choice. Avalanche is Ethereum Virtual Machine [EVM] compatible and also prides itself on being eco-friendly. On the flip side, Neon Labs announced it was bringing EVM compatibility to the Solana mainnet. Clearly, the race is far from over.
Introducing Neon EVM on @solana pic.twitter.com/2pDZ5Uckwc— Neon Labs (@neonlabsorg) November 9, 2021
From reports to reality
Well, another contender is Ripple. According to the XRP Ledger, one XRP transaction consumes around 0.0079 kWh. This is more than Solana's 0.00051 kWh per transaction.
However, when Ripple partnered with Bhutan to create the digital Ngultrum CBDC, one major reason for picking the San Francisco-based blockchain company was sustainability. Furthermore, while announcing its partnership with the Republic of Palau to develop the country's digital currency, Ripple claimed its XRP Ledger was chosen since it was carbon-neutral.
Taking these facts into consideration, it seems that more eco-friendly blockchains in the future will need to back their claims with both audits and adoption milestones.
Solana Forecast SOL/USD December 8, 2021
SOL/USD are traded at 198.48 and continue to move as part of a bullish correction and a downward channel. Moving averages indicate a short-term bearish trend in Solana. Prices are bouncing again from the area between the signal lines, which indicates pressure from the sellers of the asset and a potential continuation of the fall from the current levels. At the moment, we should expect an attempt to develop a correction in the value of a digital asset and a test of the resistance level near the 210.55 area. Where can we expect a rebound again and the continuation of the fall in the Solana rate with a potential target below the level of 155.05.
Solana Forecast SOL/USD December 8, 2021
A test of the trend line on the relative strength index (RSI) will be in favor of falling quotes and the SOL/USD rate. The second signal will be a rebound from the upper border of the descending channel. Cancellation of the coin falling option will be a strong growth in the value of the asset and a breakdown of the 245.05 area. This will indicate a breakdown of the resistance area and continued growth in the cryptocurrency rate with a potential target above the level of 285.05. With the breakdown of the support area and closing of quotations below the level of 165.05, we should expect confirmation of a fall in the price because the breakdown of the lower border of the descending channel will take place.
Solana Forecast SOL/USD December 8, 2021 suggests an attempt to correct and test the resistance area near the level of 210.55. Where can we expect a rebound and the continuation of the fall of SOL/USD to the area below the level of 155.05. An additional signal in favor of reducing Solana will be a test of the trend line on the relative strength index (RSI). Cancellation of the fall option will be a strong growth and a breakdown of the 245.05 area. This will indicate a continued rise in the cryptocurrency with a target above the level of 285.05.
Solana price eyes 25% gains as SOL slows down its retracement
Solana price is likely to rally 25% from its current position and retest the $240 level.
However, bears might push SOL below the weekly low at $176 before buyers trigger a 35% ascent to $240.
A swing low below $163 will invalidate the bullish thesis.
Solana price performance has been falling short of late, especially after the December 4 flash crash. But things could be due for a change as SOL presents a buy opportunity that might get more attractive if trapped bears decide to join the party.
Solana price vies to retest old highs
Solana price rose 14% to set up a swing high at $204 between December 6 and December 7. This run-up failed to collect the liquidity resting above $207 and has since retraced 6% to where it currently trades – $190.
Depending on where bulls decide to make a comeback, SOL looks to sweep the swing high at $240 and collect the buy-stop liquidity resting above it. From the current position, this run-up would constitute a 25% ascent.
However, there is a chance that investors might not be done booking profits. In such a situation, Solana price might decide to sweep the weekly low at $176 before it triggers an upswing. In this situation, SOL will aim for a 17% climb to $207. If the buying pressure continues to pour in, the "Ethereum killer" could make its way to $228 and, eventually, the $240 hurdle. In the latter scenario, a move from $176 to $240 would represent a 35% gain for SOL.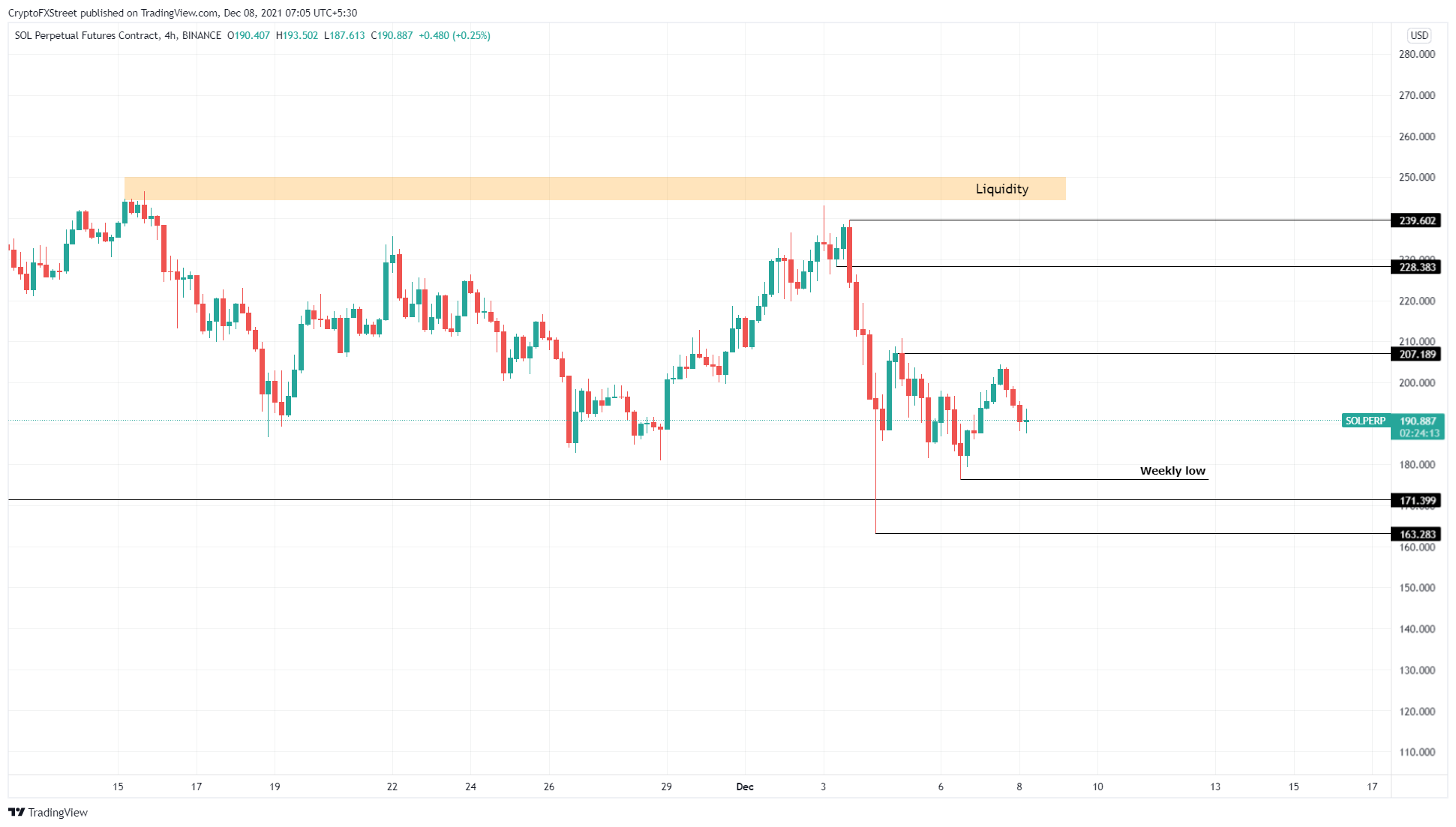 SOL/USDT 4-hour chart
While things are looking up for Solana, a breakdown of the $171 support floor will indicate that buyers are taking their sweet time to make a comeback. As long as the bullish momentum kick-starts here, SOL is in the safe zone. However, if the bears decide to knock SOL down to produce a swing low below $163, it will invalidate the bullish thesis outlined above.
$2.6 Billion Bug in Solana Program Library Disclosed: Details
Researchers from Neodyme, a boutique team focused on security audits, noticed a critical vulnerability in Solana's codebase
In their latest blog post, crypto security researchers from Neodyme shared the design of an attack that may be profitable for "expensive" tokens integrated into Solana (SOL) ecosystem.
"One Lambo per hour"
As per the announcement shared in Neodyme's social network and blog, its members noticed a bug in the token-lending contract of the Solana Program Library. As such, it affected numerous Solana-based DeFi protocols.
We recently discovered a critical bug in the token-lending contract of the solana-program-library (SPL). This blog post details our journey from discovery, through exploitation and coordinated disclosure, and finally the fix.— Neodyme (@Neodyme) December 3, 2021
Aggregated total value locked (TVL) at risk was over $2,600,000,000. The design of the hypothetical attack was quite simple: while depositing n fractional tokens, a user is able to withdraw n+1 fractional tokens.
With Solana's native token, SOL, it will not be effective economically, as 1 Lamport (the smallest fraction of SOL, like Satoshi for Bitcoin, Wei for Ether and Drop for XRP) is only worth about $0.000000220.
However, for Ether and Bitcoin, this scenario can be very profitable. With some technical upgrades, the attack can be executed about 300 times per second. In this case, losses can be dramatic:
We can get this transaction included about 300 times per second, stealing $7500 per second or about $27 million an hour (that is one Lamborghini Huracan every minute).
Bug fixed
In automated mode, this attack becomes profitable even for FTT and RAY tokens.
On Dec. 2-4, Neodyme's representatives contacted a number of decentralized finance protocols (DeFis) on Solana, e.g., Larix, Solend, Tulip, Accumen, Soda and so on.
All teams fixed the bugs in their architecture. Yesterday, software engineer Jordan Audet-Sexton shared in GitHub that the issue is fixed in Solana's main codebase as well.