Is Bitcoin Officially in Bear Territory? Crypto Analyst Michaël van de Poppe Analyzes State of BTC After Deep Pullback
A widely followed crypto strategist and trader is looking at the state of Bitcoin to determine whether the largest crypto asset by market cap has crossed bear territory.
Hours before the deep crypto pullback, analyst Michaël van de Poppe told his 518,000 Twitter followers that he was expecting Bitcoin to correct hard and leave an impression that the bull market is over.
"The scenario is very simple.
People expected a peak bull run in December. Not happening.
Let the market correct due to that.
People will expect a bear market at the low (approx. $47,000-$50,000).
Moon the markets and leave everyone behind.
Supercycle."
With Bitcoin trading below $50,000, Van de Poppe says BTC is still in a bull market and highlights that he believes the correction is now over.
"Overall, this should be the low of a standard 30-40% correction in the markets.
However, corrections are super wicky the past few years in Bitcoin as there's such a massive amount of leverage in the markets.
Through that, we overshoot.
But all good, should be done now."
Looking at the charts, Van de Poppe says there's a decent chance that Bitcoin will launch a V-shaped reversal or a sharp rally where BTC revisits its all-time high around $69,000 by early next year.
"Rounding off the day with this chart on Bitcoin.
I think that the chances for a V-shape recovery are there.
We'll see coming week how it unfolds, but these bounces are significant and good."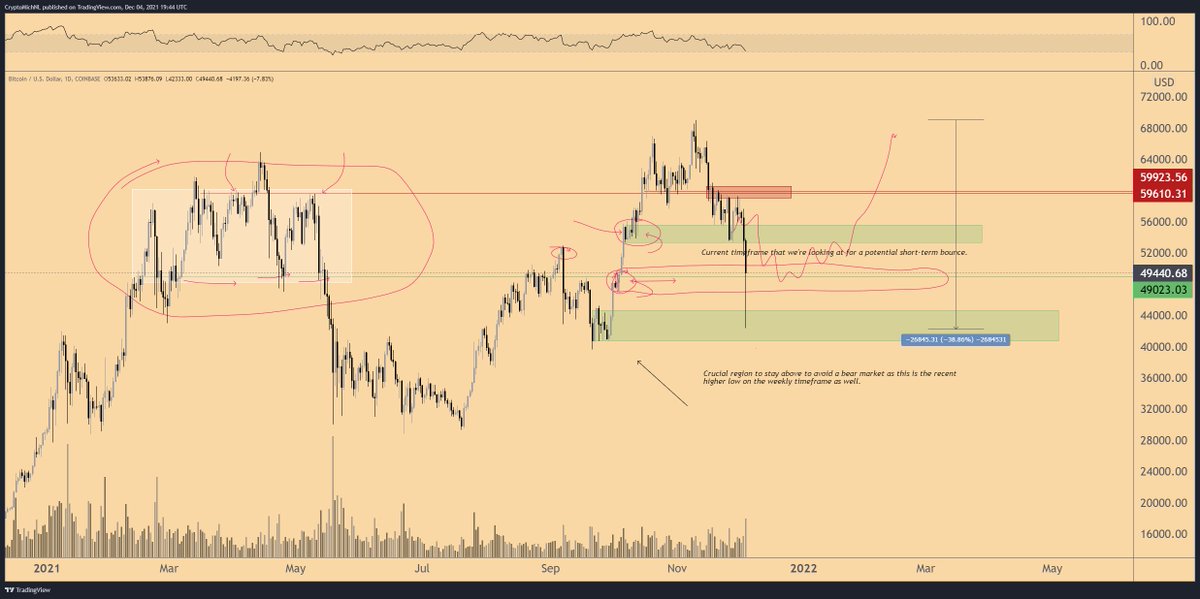 Bitcoin is exchanging hands at $48,994, down over 7% in the last 24 hours.