800 Million XRP Put Back in Ripple's Escrow after 1 Billion Unlocked
Ripple DLT service provider based in San Francisco has locked 800 million XRP coins back in the company's escrow after releasing a staggering billion XRP a day earlier.
Ripple continues to unlock billions of XRP per year despite the ongoing legal battle with the SEC regulatory agency.
800 million XRP shifted to escrow, 200 million added to circulation
According to data provided by Whale Alert tracker of crypto transactions, Ripple has moved three XRP chunks—500 million, 200 million and 100 million tokens—back to escrow, locking them up until June 1, the date when the next billion XRP will be released automatically.
Thus, Ripple has injected 200 million XRP tokens in the circulating supply on the cryptocurrency market.
These massive XRP releases have been going out on the first day of each month since 2017. The plan is to release 55 billion XRP, which means that these huge XRP lumps will stop coming out of escrow at some point this year.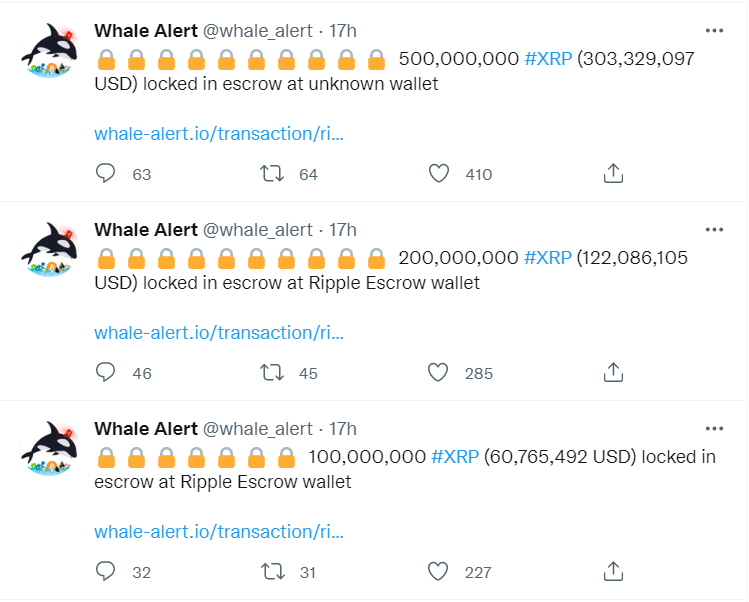 Ripple-SEC resolution likely to come next year"
About a week ago, Ripple's general counsel, Stuart Alderoty, tweeted that he expects the end of the Ripple-SEC case to occur in 2023, as the Ripple legal team and the court are both pushing hard to let it happen as soon as possible.
He referred to this case as a rugpull by the regulatory agency, as with legal action against Ripple Labs, the SEC is hurting U.S. crypto investors that it vowed to protect.
Besides, the regulator is creating a "cloud of uncertainty," according to Alderoty. Over forty million people in the U.S. are now holding cryptocurrencies, and the SEC seems unwilling to provide them with a clear regulatory framework for digital assets, claiming nearly all of them are securities instead.