Vultures Are Circling For Celsius – Is There Still A Chance For Investors?
A stricken Celsius has frozen all withdrawals and has called in restructuring lawyers. Goldman Sachs is hovering in the wings, looking for the rich pickings should Celsius file for bankruptcy. Can Simon Dixon and Bank to the Future save the day?
From the perspective of the average retail investor, Celsius potentially going under is a severe punch to the solar plexus. This company was supposed to be for the small investor, a platform that was fighting the greedy banks, and which gave most of its profits back to its customers.
Now the company has had to call in the lawyers, and they have arrived in the form of the extremely experienced law firm Akin Gump Strauss Hauer & Feld, and restructuring firm Alvarez & Marsal. Leading global bank Citigroup are also on hand to advise on the restructuring.
So Wall Street has arrived en masse, eager to break this upstart crypto company to pieces and to feast on what will probably be bargain basement prices on the assets that Celsius holds.
For Wall Street it's all about money and this is how things unfold when the sharks come in for a distressed company. It's all about how much the big firms can make out of it, and if you are a small investor, then you should know better than to play in the big boys game.
However, there is still a chance. The cavalry has just ridden in with a potential rescue package. Leading the charge is Simon Dixon, and his team at Bank to the Future.
Dixon, still fresh from grieving for the loss of his father, is probably conscious of just how important it is to stop Wall Street from dividing up the spoils and leaving the small retail investors with very little of what they put into the platform.
The self-made billionaire has said that "financial innovation" can be applied to save investor's assets in much the same way that he helped Bitfinex to stave off liquidation back in 2016.
Dixon has used his Twitter account to try and make the public aware of exactly what the 'restructuring' will do to Celsius, and to its investors.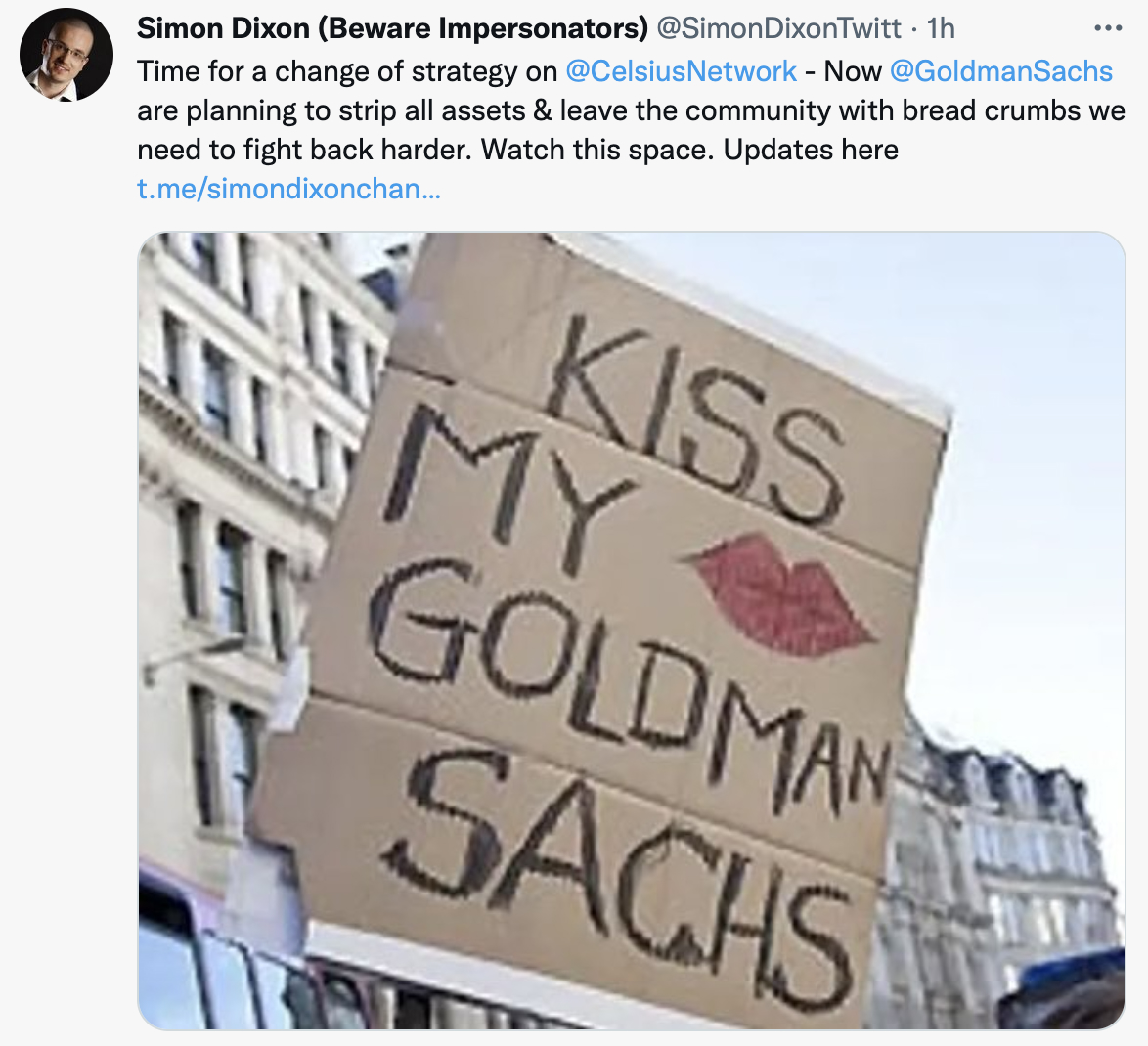 He leaves nobody in any doubt as to his thoughts on Goldman Sachs becoming involved in the situation. He also tweeted that he believed that his proposals for Celsius "are better than Goldman Sachs" and that "if depositors do well that's best for shareholders", and that if depositors do badly then Celsius shares are "worthless".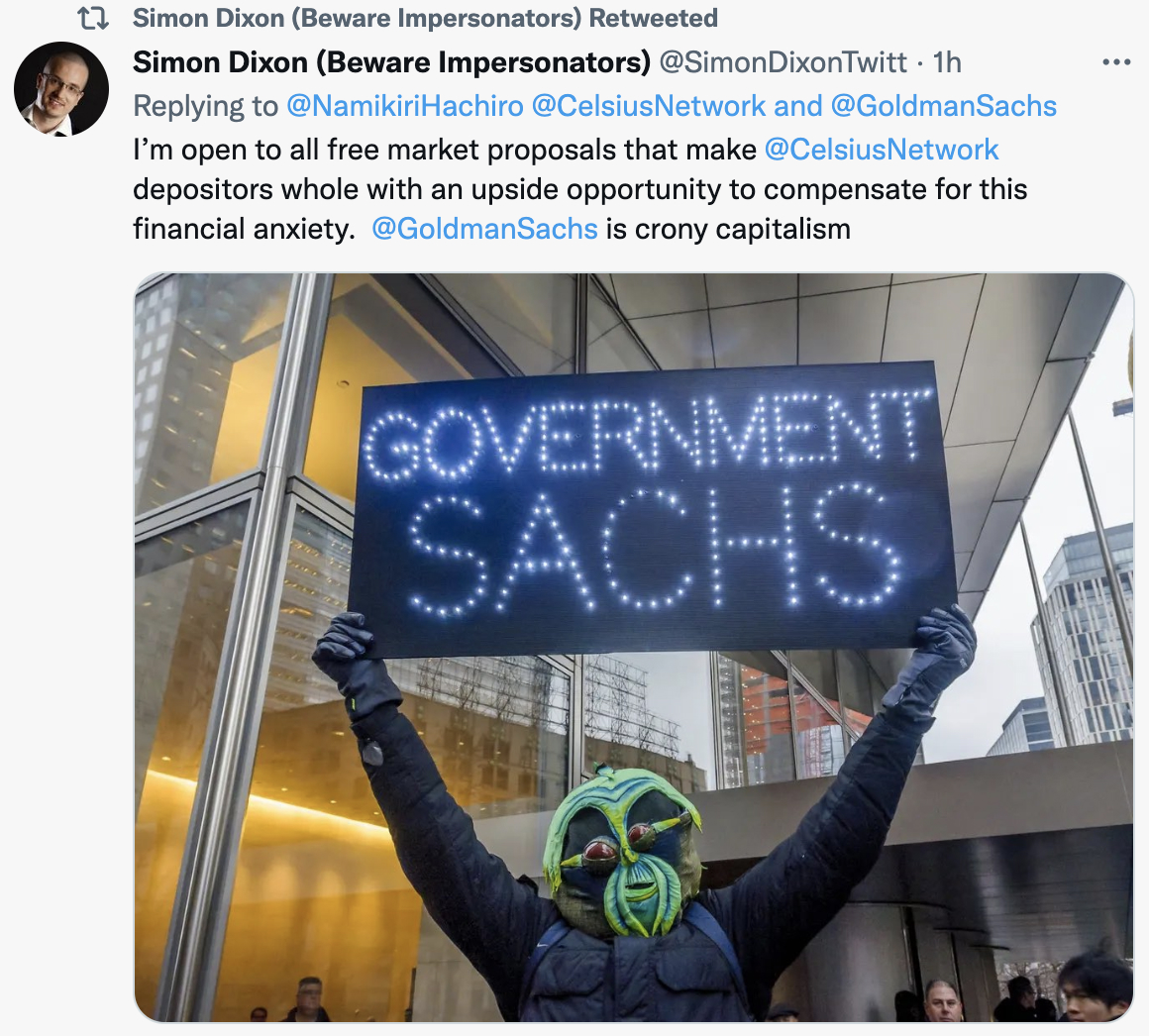 Those from the traditional financial sector, who have looked on with anxiety as the likes of Celsius gave most of their profits back to their investors, will have no doubt been gleeful at its sudden potential demise.
However, crypto is not done. The fight to make finance a level playing field goes on. There will probably be many more failures to come in crypto, but eventually the wild innovation that is taking place in the sector will come up with a system to protect the wealth of the lowly investor.
It is hoped that Simon Dixon can prevail, and that his plan will be accepted so that investor assets can be returnedhttps://cryptodaily.co.uk/2022/06/vultures-are-circling-for-celsius-is-there-still-a-chance-for-investors to them. A Wall Street carve up is the only other option.
Disclaimer: This article is provided for informational purposes only. It is not offered or intended to be used as legal, tax, investment, financial, or other advice.